Walk on Earth a stranger by Rae Carson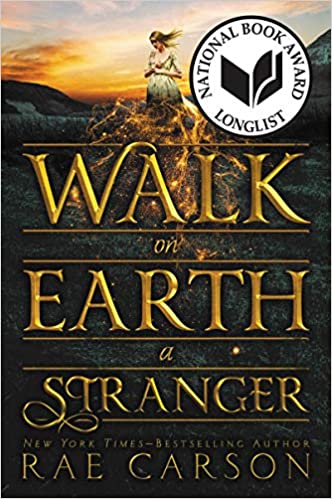 After rereading The girl of fire and thorns series and The empire of dreams, I decided to try the first in The gold seer trilogy, which I had missed when it was first published in 2016. Once again, I had found a book that I could not put down, with a young woman whose courage and determination made it a stand-out read for me, and I rushed to the public library to put a hold on the next two books in the series.
Walk on Earth a Stranger is essentially an historical adventure set in the days of the gold rush to California in 1849 with a small taste of fantasy thrown in. When Leah Westfall's parents are murdered by a man who wants to control her ability to sense gold, she disguises herself as a boy and sets off west following the trail to California, where gold has been discovered. She experiences adventure after adventure on her perilous journey. She is attacked by bandits on the road, and manages to escape them, but her biggest adventures occur on the trail to California, after she meets up again with her friend Jefferson. She must maintain her disguise, working as hard as the young men on the trail and it is her skills that give her the ability to help the young trainee doctor when the trail master's leg must be amputated. Her ability to sense gold helps her track a missing child to whom she has given her gold locket to help him be brave, and she is fearless in her efforts to look after other people in the wagon train.
I found the descriptions of the hardships of life in a wagon train on the road to California engrossing and all the characters, both major and minor, came alive for me. Carson also draws a picture of the diversity of the gold seekers, and the prejudice that faced the confirmed bachelors, African Americans and Native Americans. 
Readers who enjoyed this may also like the mixture of Western and fantasy in the Frontier magic series by Patricia C. Wrede,  Dead reckoning by Mercedes Lackey and Rosemary Edghill and Dread Nation by Justina Ireland.
Themes: Gold mining - United States, Strong female character, Adventure, Fantasy.
Pat Pledger