What Eden did next by Sheila O'Flanagan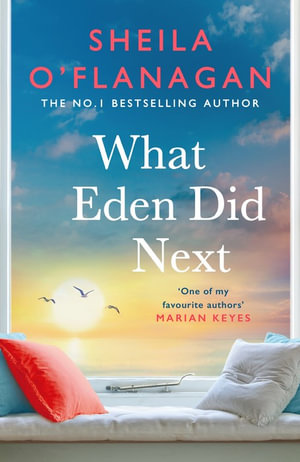 This novel opens with a letter written by Eden to her dear husband, Andy Farrelly. In a sad and wistful manner, Eden reassures Andy how much she loved him, and now how much she misses him. Eden tells Andy that he has a beautiful daughter, who will never know how good and lovely her father was, in a deeply passionate tone. She had not believed in the notion of soul mates, but having lost Andy, she realises how much he had meant to her.
Eden is struggling to cope with Andy's death, but in the letters she writes to him, she tells him how she is managing and how much she loves their daughter, Lila, describing their life together, deeply sad without Andy as father and spouse. She visits the seaside to watch the sun shining on the ocean, the sunsets gloriously reminiscent of their joy in living during their years together. She tells him how devastated she was to lose him, and fills him in with her life in the present time. She has chosen to work as a care-giver, her training as a physiotherapist supporting this choice, as she works with people who are physically compromised, and loves her work.
When Eden bumps into a childhood friend, Rafe, she is captivated by his support of her, and the unlikely coincidence that they have a daughter of a similar age and their girls like each other. Eden is intelligent, and her discovery of Rafe's PhD in nanotechnology supports her realisation of his work and research as important, as he works in a research laboratory in Dublin. While their emotional, intellectual and physical attraction is immediate, there are issues surrounding this situation, particularly the response of Andy's family, who are not as supportive as Eden might have hoped.
This vibrant novel is captivating, O'Flanagan plunging us into the world of a very modern and beautiful Ireland, creating a complex world and a narrative where the characters are challenged to meet their situation, and to make appropriate emotional and pragmatic choices. We are drawn into this world as Sheila O'Flanagan presents a world where sudden changes are disconcerting, difficult to deal with, and demanding of our capacity to adapt to a new world. This beautifully written novel would be highly suitable for adolescent and adult readers.
Themes Family relations, Single parent families.
Elizabeth Bondar