Pony by R.J. Palacio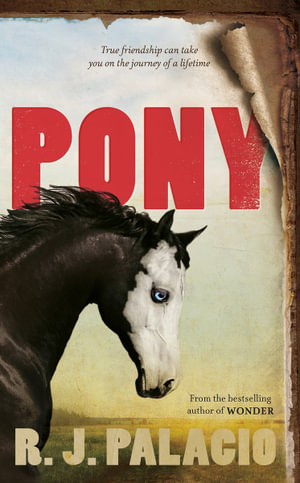 Pony is an extraordinary story by the American author of Wonder. The central voice is a 12-year-old boy called Silas Bird. It begins in a small town called Boneville, Ohio, in 1860. Silas' beloved only parent, Pa, is kidnapped by a bunch of outlaws. Against Pa's wishes Silas chooses to risk his life and follow them, riding a mysterious pony which seemingly returns for him. He faces personal fears in the woods and fortunately convinces a Marshal to take him on his quest to hunt down the kidnappers. Pa has been targeted because of his ability to take photographs using new scientific techniques. Their intention is to use his skills for counterfeiting money. Fortunately, Silas has an imaginary friend only he can see called Mittenwool. Mittenwool guides Silas on his perilous adventure. Silas likens Mittenwool to a ghost/spirit and Silas realizes he can communicate with other such spirits.
There are many great characters in Pony. Silas is a philosophical principled boy who grows stronger and wiser as he faces violent and nail-biting challenges. Sherriff Chalfont's and the gruff Deputy's relationship with Silas add humour and kindness. The spirit/ghosts are not light weight and silly but feel real. There are interesting seeds sewn in the plot, such as the violin case Silas inexplicably takes with him. Historical and scientific tidbits also enrich the story.
I particularly enjoyed the authentic language and unfamiliar words and phrases like "I don't cotton to folderol like that". As an Australian who is not so familiar with US children's literature, I found myself drawing on films like True Grit by the Coen Brothers to understand the time and place. Also, Little Women since it is set in the times of the Civil War. This book is gutsy with shoot-outs and deaths but also has emotional impact and strong themes of goodness and love. Each chapter has a quote to ponder and an old photograph of a person whose image inspired Palacio. It was refreshing to read such a unique story and I believe it will be appreciated by both young adults and adults alike.
Themes Love, Kindness, Courage, Goodness.
Jo Marshall