The bookshop cat by Cindy Wume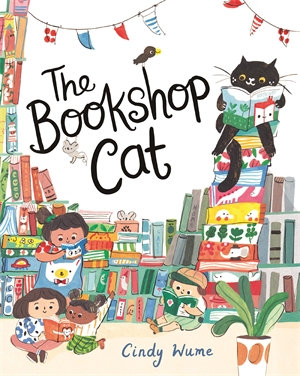 The Bookshop Cat is a wonderfully told story of a gentle book-reading cat who does not quite fit into his busy working family. He says to his family who are always encouraging him to find a job . . . 'With a book, I can go anywhere and be anything I want.' And that is exactly what he does. He travels around the town and he eventually finds his perfect job as a bookshop cat. He and his young employer Violet set out to create a warm and inviting reading space. They tidy the shop, make new displays, order new books and soon the Children's Bookshop becomes a busy and welcoming place. Unfortunately a huge rain storm causes a pipe to burst and flood both the store and the street. Sadly the shop is not visited for days after this. Violet has an idea to take the books and place them all over the town with a map leading back to the store. The family of cats all help as well and soon the shop is up and running again.
The illustrations by Cindy Wume are both vibrant and very appealing. This is a perfect story about the power of books and reading and would be ideal for all bookshops and libraries.
Themes Books, Bookshops, Cats, Reading, Children, Family, Imagination.
Kathryn Beilby