Ghost by Jason Reynolds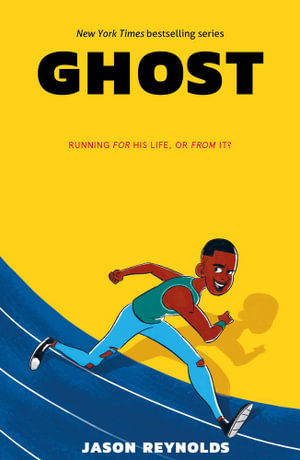 Ghost by Jason Reynolds is book one of a four book series called Run. The subtitle: Running FOR his life, or FROM it? encapsulates the theme of the story.
This book needs to go straight into the hands of reluctant teenage readers (especially boys), into the hands of any student who has had a hard upbringing or is suffering from PTSD, or who is feeling angry and getting into trouble at school, or who gets teased and left out of the crowd or whose parents are struggling financially and unable to buy the fanciest running shoes and gymgear. Actually it would be a delight to read to a Middle years class. It would captivate them immediately.
The reader is drawn into the thoughts and the world of Ghost, the main protagonist. Ghost is in about year 7. The story is from his perspective, told in first person in present tense. Ghost is an edgy, excitable, feisty, active and energetic twelve or something year old. His voice captivates. "CHECK THIS OUT," he begins. He is totally informative. He tells the story like he is right there talking with you. The language is informal and one can't help but warm immediately to Ghost. He's interested in World records. Each chapter reflects this as his story proceeds with him winning the world record for the most altercations, for the fastest try-out ever, for the worst day ever, for the most runaways in a single day, for the longest run after the most runaways in a single day, for the best Friday ever after the worst Wednesday and Thursday ever, for having the best secret, for cleaning the dirtiest car and finally race day.
Middle School readers could not help but identify with Ghost as he gets into trouble and more trouble. He is saved by those all important adult mentors in life who one hopes will be there to step in to support, give tough love and show a boy how to fix mistakes, step up in life and develop self esteem. Ghost is given a chance to join a running team and along the way he begins to make some friends. These friends are the main protagonists of the next three books in the series: Patina, Sunny and Lu.
Jason Reynolds writes about real issues that happen to kids. He is a multi-award winning author. As Ghost touches on issues of gun violence, domestic abuse, poverty and has drug references, younger readers would be advised to read it alongside an adult.
Highly recommended, accessible, warm hearted book for Middle Years readers.
Themes Friendship, Coming of age, Running, Finding yourself and your group, Read aloud.
Wendy Jeffrey