When I see blue by Lily Bailey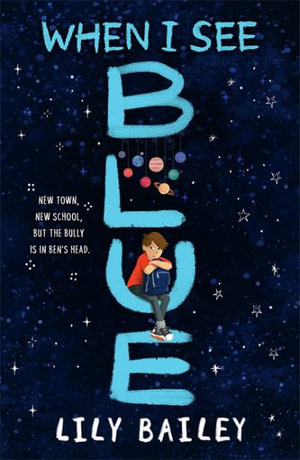 Ben is 12 years old and he has OCD (obsessive compulsive disorder). His family have moved to London for his father's new work and they all hope for a fresh start. Ben's OCD manifests itself in his constant need for things to be in multiples of 4, wearing particular clothes and arranging food on a plate so it doesn't touch. These behaviours are done to prevent bad things from happening. At his new school he struggles to not draw attention to himself so he can avoid the bullying he experienced in the past. However, his mother is an alcoholic and no amount of attending to his rituals can save the worsening family relationships. Fortunately, April, a fellow student, has some insight into Ben's situation. She takes him under her wing and encourages him to take risks and get counselling. Gradually he challenges his own thinking, has greater self-acceptance and inner strength. Things come to a head when April becomes very distressed and ends up in a life-threatening situation.
I found this very serious story compelling reading. The author, Lily Bailey, has personal experience with OCD and campaigns for people to understand it better. She writes respectfully and convincingly and since it is written in the first person you can really get into the way Ben thinks and changes. At times the neglect of his mother and father and the cruelty of other students is believable and heartbreaking. However, the friendship with April, care by some of the teachers and the therapist are heartwarming. Ben and April are such great young people. This story is an important vehicle for developing empathy for those with OCD and for sufferers themselves to have hope. Considering the mature themes of When I see Blue, I believe this book is best suited to young middle years readers. It is similar in themes and tone as Kate Gordon's book Aster's Good, Right Things.
Themes Bullying, Mental health, Divorce, Alcoholism.
Jo Marshall