Tiny wonders by Sally Soweol Han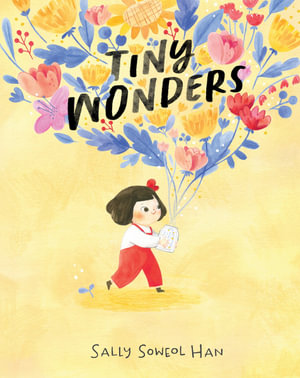 In the picture book Tiny Wonders, young child April worries that her town is too grey, and people are too busy to notice things around them. She remembers her grandmother taking time to wonder about the world and talking with her about the secret language of flowers. Grandma's favourite flowers were dandelions and April goes in search of dandelion seeds. Adults she approaches are not helpful except the shopkeeper who tells April she used to wish on dandelions as a child. April wishes and wishes for dandelion seeds and her wish is answered. She secretly plants the seeds and waits through the seasons for the seeds to grow. The growth of the seed into a flower is beautifully illustrated across a double page spread. In the end of the story April's community begin to make their own wishes and the colour of the town changes.
The detailed and colourful illustrations in this book are hand drawn and painted. At the end of the book is a charming collection of flowers and their meanings which makes a lovely addition to the story. The dandelion endpapers are quite striking.
Author/illustrator Sally Soweol Han is a Korean-Australian artist who has created a gentle and thoughtful picture book that will appeal to younger children and the adults in their lives.
Themes: Flowers, Family, Connections, Wonder.
Kathryn Beilby