The empire of dreams by Rae Carson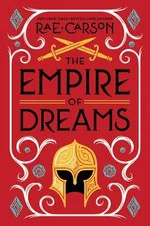 I eagerly picked up this outstanding fantasy novel, based on the name of the author. I had really enjoyed the Girl of Fire and Thorns trilogy many years ago and was delighted to see another book in that extraordinary world. Carson has given her fans a stand-alone novel telling the story of Red Sparkle Stone as she grows into a young woman. The court will not accept her as one of Empress Elisa's heirs, so she decides to join the elite Royal Guard, a group which has never had a woman warrior in it.
Red is indomitable, determined to prove her worth as a guard, but also as a young woman making her way in a man's world. She allows herself to gradually befriend some of the new recruits and when danger faces the empire, she works with Ivan another young recruit and friend of the prince Rosario, to find who is trying to oust the empress.
There is plenty of action and adventure for thrill seeking fans, but the theme that stood out for me was that of soldier sickness. The story is told in both the past in chapters titled Then and the present entitled Now. Red's heartbreaking upbringing and treatment as a child slave is disclosed in flashbacks, while what is happening with the recruits and her gradual emergence as a leader is told in the present. Red occasionally has moments when her past overwhelms her and she sometimes needs to find a safe small place to sleep, but she has learnt to live with this. The author gives an enlightening note about PTSD at the back of the book.
This is a coming-of-age story and will appeal to fans of Tamora Pierce while older readers may enjoy going on to A deadly education by Naomi Novik. I found myself rereading the Girl of Fire and Thorns trilogy and can see why fans of the book asked Carson to write Red's story.
Themes: Coming of age, PTSD, Feminism.
Pat Pledger