Ten lively lorikeets by Grace Nolan. Illus. by Nancy Bevington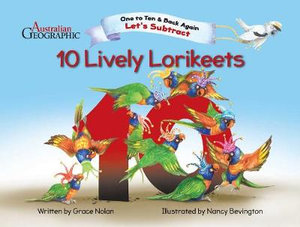 10 Lively Lorikeets is another book in a delightful series of rhyming picture books showcasing early mathematical concepts for younger readers. In this book the young reader is introduced to basic subtraction. Each double page shows beautifully illustrated lorikeets flying away to join other Australian birds. The birds included in the book are magpies, cockatoos, rosellas, kookaburras, galahs, emu chicks, wattlebirds, fairy wrens and lyrebirds.
The clever rhyming text is both simple and appealing e.g. Ten lively lorikeets chatting in a line. One chased a kookaburra then there were . . .
On each page is an easy subtraction equation presented in a horizontal format. At the end of the book are fun learning activities including counting backwards from ten to zero, an explanation of minus and take away plus some subtraction sums for the reader to try on their own.
For teachers or parents this will be a lovely book to share with young children who are just beginning their mathematical journey. The other titles in the series are 10 Naughty Numbats and 10 Bush Babies.
Themes: Mathematics, Counting, Simple Subtraction, Australian Birds, Rhyme.
Kathryn Beilby