10 Bush Babies by Grace Nolan. Illus by Nancy Bevington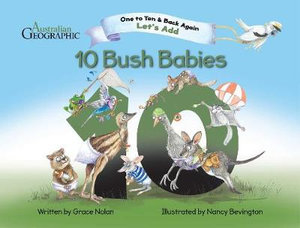 10 Bush Babies is the first in a series of delightful rhyming picture books for younger readers. On each double page a new bush creature is introduced and added to the rhyme e.g. Five bush babies spot a cassowary's chicks . . . a little chick joined them then there were six. The vibrant and beautiful illustrations by Nancy Bevington creatively introduce the younger reader to the following familiar and perhaps not so familiar Australian animals - tree frog, glider, joey, bilby, brolga, cassowary chick, quoll, quokka, gecko and a budgie. The bush babies all have one added characteristic of being a baby - dummy, nappy, rattle, teddy, toy, bottle and a bib. The story ends with the bush babies having a race to see who wins the cup. Who might it be?
There is an introduction to a simple addition sum on each double page and at the end are fun learning addition and counting activities.
This is an endearing story to share out-aloud between an adult and child. The other titles in the series are 10 Naughty Numbats and 10 Lively Lorikeets.
Themes: Rhyme, Counting, Simple Addition, Australian Animals.
Kathryn Beilby