Little Days out: At the pool by Sally Garland illus.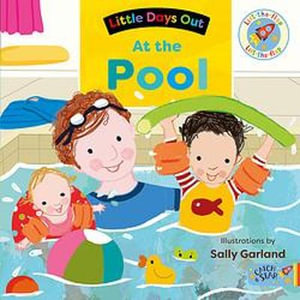 At the pool is a book that will make a lovely introduction to going to a swimming pool for the very young child. Baby has never been to the pool before and the little family go off on their bikes, with Baby hanging on the back of the bike in a child's seat. Lift the flaps with the words 'Town Pool' introduce the reader to the attendant at the reception to the pool and from then on the reader is taken through what happens at the pool. They get undressed in the locker rooms, put on their bathing costumes and the little boy emerges from benind the flap with a noodle and floaties. Then they have lots of fun in the water, which Baby loves. The little boy really enjoys the waterslide and the huge splash that it makes, and they all enjoy lunch after their swim.
The illustrations are bright and cheerful and complement the narrative, reinforcing what happens at the pool. Children who are familiar with going swimming will love seeing familiar things, while those new to the idea will learn what to expect as well as some of the words that are associated with swimming in a pool.
Another book in the Little Days out series (At the park and At the shops), At the pool is sure to be enjoyed by very young children.
Themes: Swimming pools, Excursions, Swimming.
Pat Pledger