Little Days Out: At the shops by Sally Garland illus.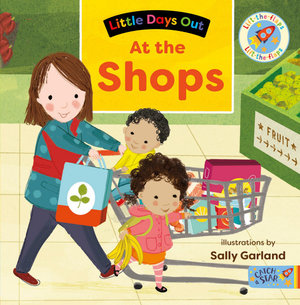 Young children will recognise the familiar trip to the supermarket and have fun identifying the different food that can be purchased there. In this brightly coloured lift-the-flap book, Mum gets ready to take her two children to do the shopping. She decides to carry the baby. Children lifting the flap will discover that a little girl is coming too, riding on her scooter. After a walk, the supermarket's sliding doors will open to reveal the interior. Baby is put in the shopping trolley and opening the flaps the reader will discover that the little girl wants bananas to eat in the fruit section. More shopping for vegetables, freshly baked bread and finally a treat follows.
Toddlers will enjoy this book and will easily recognise the things that are put in the trolley. Their vocabulary will increase as they point out things that they don't recognise and learn new words and ideas about healthy eating. The book is very sturdy and the lift-the-flaps will last the heavy use of eager little fingers opening and shutting them.
The little family is shown as a loving one with happy faces on the mother and her children and it is obvious from the illustrations that shopping is a pleasant adventure for this family. Bright colours are used to illustrate the different types of food and will draw the reader's attention. The prose is sparse, just right for young children who are listening and easy to remember for older children who might want to memorise the text.
Themes: Shops, Shopping, Supermarkets, Food.
Pat Pledger