Little Days out: At the park by Illus. by Sally Garland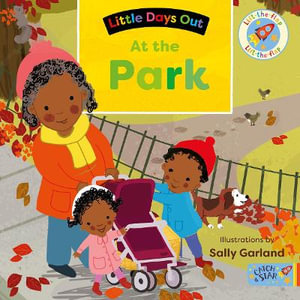 Toddlers will love the familiar scenes that appear in Little Days Out: At the Park and will easily recognise the activities that occur. Granny is seen packing a picnic hamper full of sandwiches, cupcakes and fruit for a little boy and his sister. The accompanying lift the flap shows the park on a beautiful autumn day. The little boy has fun stomping through the leaves and hiding behind a big tree, then finding the swings and building a sandcastle. Finally, after feeding the ducks, the picnic lunch is spread on a blanket and the little boy emerges from his hiding spot behind a lift-the-flap urn of red leaves.
One short sentence on each double page spread, plus one behind the flap, make it an enjoyable read aloud and new vocabulary will be learnt. The simple text is beautifully complemented by the brightly coloured pictures and the lift-the-flaps are easy to manage and very strong, making the book ideal for young children.
Themes: Parks, Picnics, Excursions.
Pat Pledger