Harmony by Richard Yaxley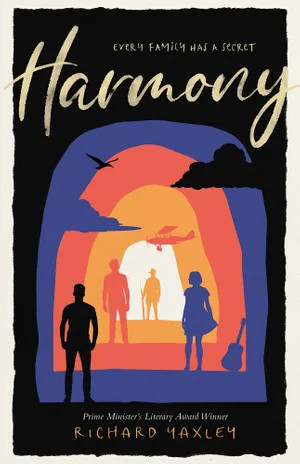 I could not put down this enthralling intergenerational story that starts in 1914 and spans the years to the end of the 20th century. In 1914 Tom Stott falls in love with Gracie O'Donnell, but she has been contracted to another man and he decides to enlist, first going to Egypt and then to the shores of Gallipoli. Gracie has a baby, Ben, who growing up, also seeks freedom from the constricted life in a small country town and moves to London where he meets Aisling. They have two daughters, Maoliosa and Debbie who too seek freedom in very different ways, Maoliosa as a nun and Debbie going to America. It is not until Debbie's son Noah arrives in Australia that the past will be revealed as he meets his great-grandmother Gracie, his grandfather Will, and other relatives.
Yaxley's narrative is very clever. Divided into six parts, he describes succeeding generations with care. The pre-war life on a farm and narrow thinking of some people in Tom and Gracie's time and the excitement of Kingsford Smith's flights and conquering of the skies in Ben's are vividly portrayed. Religion plays a very important role not only for Tom, but for Maoliosa who decides that the orderliness of a convent is the life for her. However, her sister Debbie finds the music of the 1960's gripping and follows her love to the US, leading a nomadic life, carting her young son Noah from place to place. Finally, when Noah comes to Australia, the truth about his place in the world begins to emerge.
There are hints about what has happened, and the astute reader will realise that the secret that Gracie has harboured all these years is the one that glues the story together and will be happy when it is finally revealed in an age when such things are no longer deemed scandalous. As well as secrets, the quest for love is an overarching theme along with the realisation that a love match may not always live up to one's expectations.
As one would expect from the winner of the Prime Minister's Literary Award in 2018 for This is my song, this is a powerful and touching story of one family's voyage of discovery.
Themes Family, Relationships, Secrecy, Intergenerational fiction, Grief, Loss, Historical fiction.
Pat Pledger