The Marvellers by Dhonielle Clayton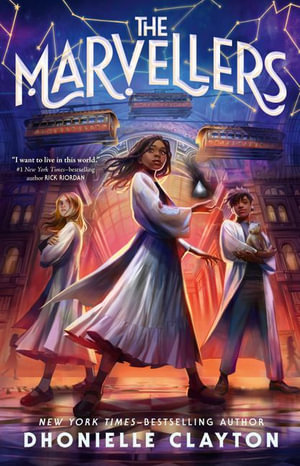 The Marvellers represents a departure for author Dhonielle Clayton from her previous young adult fantasy of The Belles and the modern realism of Blackout. Her latest book is a fantasy adventure for young readers in the style of Harry Potter. Eleven-year-old Ella Durand is of Conjuror heritage, the first conjuror ever to be sent to the amazing school of the Marvellers, the 'Arcanum Training Institute for Marvellous and Uncanny Endeavors'. It's like a Hogwarts but very multicultural with students from all over the world, and it's a whole lot more sparkly. Clayton clearly has a picture in her mind of the magical world she has conjured up and while the curiosities and spangles may be a bit overwhelming the main thread of the novel makes sense and picks up subtly on themes of racism, bullying and exclusion, which she knows so well how to present.
Clayton dedicates her novel to 'the kids missing from magic stories who started to believe that there was nothing marvellous about them'. Without being too explicit it is apparent that Ella is black, she has twists in her hair, and her family believe in African American folk magic. Her two close friends are also misfits in the new school, and they all have to stand up to discrimination and bullying. Ella is an endearing hero, she is bright and cheerful and remains kind and helpful to people who try to put her down. An equivalent would be Yassmin Abdel-Magied's bouncing positive character Layla in You must be Layla.
However, Clayton's magical world allows readers to absorb life lessons about acceptance of diversity, without obvious moralising, and I'm sure readers who enjoy this fantasy will be eagerly awaiting its sequel.
Themes: Fantasy, Magic, Identity, Diversity, Resilience, Bullying, Racism.
Helen Eddy