The Girl of Fire and Thorns stories by Rae Carson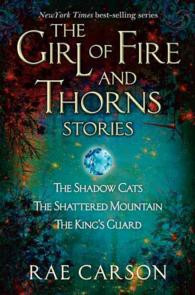 As a fan of the The girl of fire and thorns series, I couldn't resist picking up these three novellas, originally published digitally. They were an enthralling read, giving the background to beloved characters in the series. In a note from Rae Carson at the beginning of the book, she writes that when she was an aspiring author, she was given advice "to imagine a rich and unique personal history for every single character, even the minor ones" even though it might not make it onto the pages. Thus, in this trilogy, the reader finds out the secret that Hector must keep forever, when he is a young recruit in the Royal Guard, in the novella The King's Guard. How Mara got her scars and her immense courage in guiding child survivors from her devastated village is described vividly in The Shattered Mountain. The shadow cats brings to life the rivalry between Elisa and her sister Alodia and gives the reader a glimpse into Elisa's life as a younger sister.
I picked these up, thinking that I could take a breather from longer novels, and just read a novella occasionally, but as always I found Carson's plots and characters enthralling, and couldn't put the book down until I had devoured all three novellas. Of course, it helped that I had just finished rereading Carson's trilogy and reading the fourth in the series, The empire of dreams.
This is a series for all readers of fantasy, young and old alike.
Themes: Fantasy, Short stories, Courage, Secrets.
Pat Pledger