The book of hopes by Katherine Rundell ed.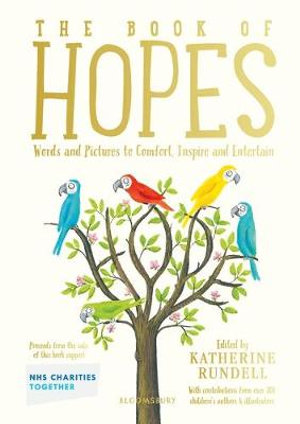 During the Covid lockdown in England in 2020, Katherine Rundell, author of The Wolf Wilder, The Good Thieves and many other popular children's books decided to compile and edit a book consisting of fiction and non fiction short stories of hope in order to cheer young people. The book of hopes comprises short stories, poems and pictures that have been contributed by Rundell's selection of favourite authors - all on the theme of hope. As Rundell says, she is a "possibilityist" and these stories present as gifts of hope from each and every contributor. No story is over five hundred words so they can be picked up and read quickly but the messages contained within are full of wisdom, interest, humour and advice that could prepare children for a lifetime of challenges. These stories have never been published before and are fresh from the pen of each contributor. Originally the book was published online to help inspire children during lockdown. A donation from each print copy sold goes to UK charities including the NHS.
The book of hopes contains over 100 works. Well known and lesser known authors and illustrators have presented their works and they have been organised into multiple categories including animals, the stars, hope in unexpected places, kindnesses, cats, dogs, birds, nature, true stories, crime stories, fairytales and many more. Other works by the contributing authors are provided as a reading list at the end of the book.
When people are upset, sometimes they are only capable of concentrating for a short time. This collection of short texts and illustrations are quick bites that provide a dose of hope in easily digestible format. Beautiful, soft, calming illustrations are scattered throughout and there is much space for contemplation. Each contribution feels like a warming and heartfelt offering from a good, caring and sometimes funny friend.
The book of hope would make a great gift for a child or family to share together. For teachers and librarians it is recommended as a useful, hopeful and inspirational book to pick up and read to children at any time.
Recommended for children as young as 5 up to 12 years.
Themes: Hope.
Wendy Jeffrey