The Wolf Wilder by Katherine Rundell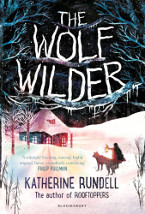 Bloomsbury, 2015. ISBN 9781408872352
(Years: 8-10) Themes: Wolf behaviour; Friendship; Injustice; Alliances; Scheming; Family bonds; Destiny. Set in the western wilds of Russia a hundred years ago this novel tells the story of Feo (Feodora) and her mother who tend to wild wolves. It is tend and not train as wolves are their own masters.
Many of the aristocrats of the time like to keep the wolves as pets but when this does not work out they are sent to Feo and her mother for rehabilitation back into the wilds. Their neighbours do not like this practice as the wolves threaten their livelihood by eating wildlife that will be their food for the winter.
The army intervenes and threatens Feo and her mother that if they continue to care for the wolves then there will be consequences. A watch is put on their house and eventually Feo's mother is taken to St Petersburg for 'questioning'.
The guard who was sent to watch their house was a young boy who deserts the army to travel to St Petersburg to help Feo find her mother.
Thus begins an adventure involving the new friendship and alliances made along the way.
Wendy Rutten
Editor's note: Teacher's notes are available.