Stunt kids by Trent Roberts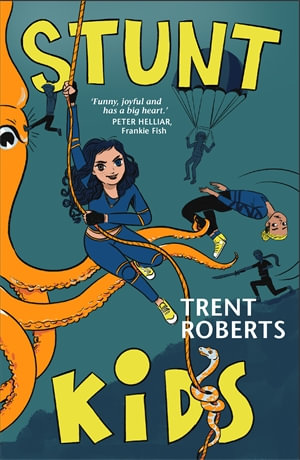 This is the first novel by Australian comedic scriptwriter Trent Roberts, following picture book A dinosaur ate dad's hair in 2019.
Gretel Grey is 12 years old. In the five years since 'The Accident' she has lived the safest life possible and has been homeschooled (her mum calls it the School of Safe and Sensible Ideas, or SOSASI). She wears full protective gear when outside the house and is not allowed to have any friends.
This sounds very depressing but in a hilarious misunderstanding, Gretel finds herself dropped off at Stunt Camp for three weeks.
My absolute favourite characters in this book are stunt camp leaders, Rocket and Flame. They are full of warmth, kindness and confidence, and both take the time to encourage and support Gretel as she joins them. Gretel is anxious and is really not sure she belongs but Flame notices the anxiety and teaches a calm breathing exercise. Rocket assures Gretel that they "don't get excited by natural ability" but by "kids who are prepared to try and fail". Together their infectious energy, enthusiasm and positivity rubs off on Gretel and she decides to stay.
If this book was just set at Stunt Camp it still would've been great with its messages about embracing differences, being yourself, and taking some risks, but the focus soon changes to thwarting a bad guy.
In this new storyline the stunt kids have to work together in the real(ish) world, knowing and using each other's strengths and weaknesses while thinking and acting quickly. The story moves along fast with intense action scenes, crazy stunts, and heaps of twists and turns. The friendship and bond between the kids strengthens as they come to anticipate what comes next, and to rely on each other.
I won't spoil the ending but will wrap up by saying this book is a ridiculous amount of fun. It has short chapters and is easy to read - there's lots of engaging dialogue and no long explanations or scene setting. It's warm hearted, funny and optimistic and will appeal equally to middle grade boys and girls.
Themes: Adventure, Humour, Friendship, Anxiety, Bravery.
Kylie Grant