Spotlight please: It's Stevie Louise by Tanya Hennessy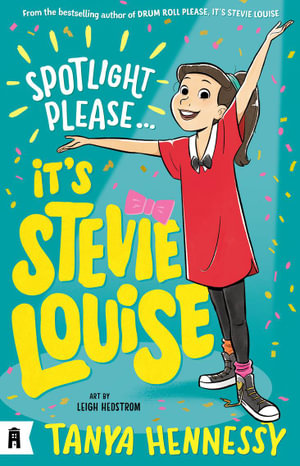 Well she's back! Stevie Louise and her Lunchbox Production Crew have returned, and are still as loveable, relatable and entertaining as ever! Children are sure to enjoy this book, even if they haven't read the first in the series, Drum Roll Please….It's Stevie Louise.
Stevie Louise and her friends from the Lunchbox Production crew are ready for some more fun and laughter! She and her friends love performing and creating shows to entertain everyone. The Lunchbox Productions is the best thing ever, but keeping up with the cost of costumes, props and sets could be the downfall of their great enterprise. Where could they get the money to keep their loved and fun past time in operation? When they hear of a talent show with prize money, they set about to put together a winning act. This could be the difference between Lunchbox Productions continuing or closing. They are super excited, until they hear about the stiff competition they are up against. From dancing grannies, singing goats and fire twirling singing sensations, will Lunchbox Production Crew have what it takes to bring home the prize money or will disaster strike?
Spotlight Please….It's Stevie Louise, written by multi-talented comedian and social media personality, Tanya Hennessy is the second book in the already popular series, Stevie Louise. Hennessy has written another fast paced and entertaining novel. This story is an easy read, with slightly larger print and a smattering of different fonts for enhancement. Along with great illustrations throughout, this makes for a highly engaging read, even perhaps for those reluctant readers. It could also make a terrific read aloud to children aged 6–8 years of age, due to its fast paced storyline and highly relatable characters that effortlessly capture the audience's attention.
With an underlying message for the importance for honesty, team support and self-belief, this book is a feel-good winner!
Themes: Humour, Friendships, Performing, Creativity, Honesty, Teamwork.
Michelle O'Connell