Sky dragon : Ride the wind by Anh Do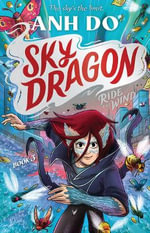 SkyDragon: Ride The Wind written by Anh Do is the third book in one of the author's latest series for middle grade and reluctant teen readers. The story begins where the second book Fly Free ended with Amber fighting to evade the clutches of the evil Agent Ferris. She has been knocked out but comes to and with support from her loyal friend Justin is able to escape. Amber hurries to the home of her kind-hearted carer Irene and fills her in on her adventures. Irene is ready to move away in order to keep Amber safe but Amber refuses as she desperately wants to find out if her nemesis Firefighter is her beloved brother. She heads back to her isolated cabin in the woods and fortunately her insect friends warn her of imminent danger and she is able to avoid capture again. Sadly, her cabin is torched, she is homeless once more and retreats to Irene's house. They leave the town and head to another bigger city. Here they encounter Money Man, a greedy villain from the E-Boy series, as well as a new evil character known as Trouble, who combines forces with Money Man to wreak havoc on the city. Amber steps in to help the residents, E-Boy joins her and they try to outwit the villains.
This third book is full of excitement, nasty villains and quite physical confrontations. Book Four is coming soon and readers will continue to be intrigued by the growing connections between Skydragon, Firefighter and E-Boy. The graphic images by James Hart add to the appeal and engagement of the story.
Themes: Insects, Fantasy, Conflict, Danger, Mystery, Evil, Violence.
Kathryn Beilby