Scaredy bath by Zoe Foster Blake. Illus. by Daniel Gray-Barnett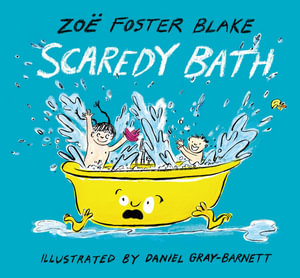 Zoe Foster Blake has come up with another hilarious story, following her very successful, No one likes a fart. Complemented by hilarious illustrations by Daniel Gray-Barnett, this is likely to be just as popular with young children.
Scaredy Bath dreads bath time with the two exuberant young children who invade the bathroom, screaming and carrying all sorts of toys and gooey stuff. Scaredy Bath even has to put up with the hairy one as well, but when the family goes on holiday boredom sets in. Then when a very tiny one appears, Scaredy Bath hopes that things will be calmer – but is in for a surprise!
The narrative moves along smoothly and is a joy to read aloud. It is such a funny story and youngsters will appreciate the bath time story being told from the point of view of the bath, a fabulous way for parents to help children overcome their fear of the water. Family life will be easily recognised – the children covered in dirt and spaghetti, sometimes running from Dad, but always caught and sometimes racing up to the bathroom, crashing and shouting on the way.
Set against a blue background, with black outlines, the illustrations are just wonderful. The joy and enthusiasm of the children having a bath are evident. There are splashes everywhere and an occasional comical naughty moment that children will pick up on. The expressions on the faces of the long-suffering Scaredy Bath and the toilet with a moustache and heavy black eyebrows, are priceless as well.
This book is a keeper for me and I can see it becoming a firm favourite with families, helping to make bath time as enjoyable for children as it is shown so energetically by the author and illustrator.
Themes: Bath time, Family love, Humour.
Pat Pledger