Nelson Eggplants and dinosaurs by Andrew Levins. Illus. by Katie Kear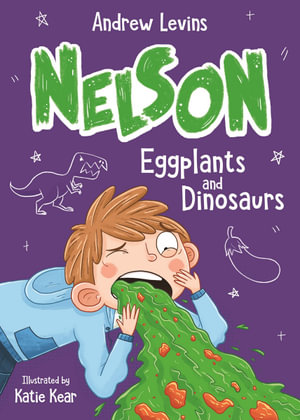 This is the third instalment in the action-packed series about Nelson and his vegetable-enabled superpowers. Previous titles (Pumpkins and Aliens, Broccoli and Spies) have already seen Nelson discover that pumpkin makes him super strong and broccoli turns him invisible...the only problem is he HATES eating them! But being a superhero calls for desparate measures, so in his trusty bumbag Nelson carries around an assortment of the very things he despises the most. He also has on hand a feather so that he can vomit and get back to his normal self. Children in this target age group will love the vomiting (it's even featured on the front cover) and the high-action fight scenes, which are described in great detail.
In this story, somebody is stealing every book about dinosaurs from every library and bookshop in the country and the only one left is in Nelson's school library. Can he protect the book and find out who is behind this crime? In an almighty coincidence a taste of unwanted eggplant sees Nelson turn into a giant purple dinosaur and that might be just the superpower he needs to defeat the awful robot villain who is trying to erase all evidence of dinosaurs.
Black and white illustrations are scattered throughout the story, with pops of purple in homage to the featured aubergine. This is quite a long chapter book with extended blocks of text, so suited to more advanced readers in the target age group or as a readaloud. This will be of most interest to children who enjoy funny stories about ordinary kids with superheroes and epic battles with evil villains.
Themes: Superpowers, Action Stories.
Nicole Nelson