Nelson : Broccoli and spies by Andrew Levins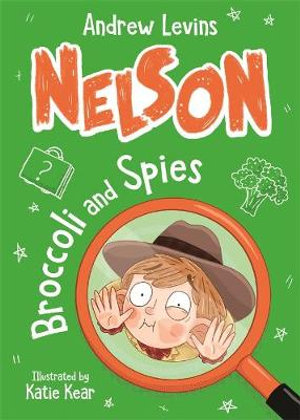 Nelson hates vegetables but in this story he discovers that broccoli gives him the power to turn invisible. He discovers this, and that vomiting turns him visible again, when he and best friend Olive go to stay with his Grandparents. Nelson's ex-spy Grandma wants him to use his superpower to catch whoever is stealing her award-winning pumpkins. In a lie that backfires, his Grandpa also teaches him to tap dance. In his pursuit of the pumpkin stealers, he is helicoptered away to spy headquarters that are inside a volcano (a reference to James Bond in You Only Live Twice here!). Tap dancing comes in handy as a way to escape drones firing rockets at him.
Broccoli and Spies is a lightweight, wacky story written for young readers who need short, easy to read, illustrated chapter books. Stories like these have plenty of hooks for reluctant readers and for these reasons they are definitely worthwhile. There's plenty of bodily functions, slapstick action and humour. The essential ingredients of a spy series; modern gadgets, vehicles and villains, are all here. Plus, the characters have funny food names like Agent Licorice and General Gruyere. Cartoonlike illustrations by Katie Kear definitely match the text, some are full or double page. There is effective use of fluoro-green throughout to match the vegetable hero, broccoli. Children who like Anh Do's WeirDo series will most likely enjoy the Nelson series too.
Themes: Spies, Superheroes.
Jo Marshall