Let's go! On a digger by Rosalyn Albert. Illus. by Natalia Moore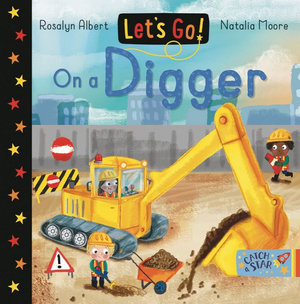 This is one in a series of board books about vehicles (others include On a Rocket and On a Train). Short text and large illustrations make for a perfect toddler book that will hold attention and encourage discussion and new vocabulary. The story is told in first person ("Let's go on a digger and dig up lots of mud: I scoop it high into the air and drop it with a thud") and the characters working on the construction site even look like children, so listeners will be able to put themselves into the story. Technical and mathematical language is used to good effect (high, deep, joysticks, boom, treads, heavy, caterpillar treads) and will give children the vocabulary to use in their own imaginative play or when making observations. It is no secret that toddlers are fascinated by machines and while there is no shortage of suitable books on these topics this is another good addition to any library catalogue or home collection.
Themes: Board Book, Rhyming Story, Diggers, Construction.
Nicole Nelson