If this gets out by Sophie Gonzales and Cale Dietrich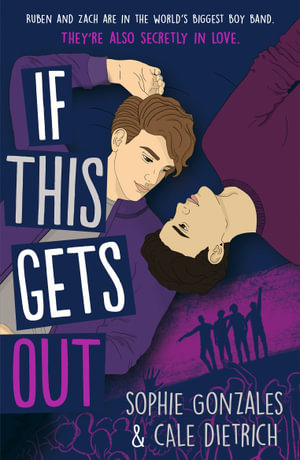 'Saturday' is one of the world's biggest boy bands, and Ruben and Zach are two of the members. The whole band are great friends, with Zach and Ruben being best friends. Ruben struggles under constant pressure from management to stay in the closet, and his patience is wearing thin. Luckily, he has Zach to talk to, and the other members of the band, Angel and Jon. Then the band sets off for a tour of Europe, with an intense schedule and lots of pressure. Ruben and Zach's close friendship progresses into romance, adding a whole new level of demand from their management team. With the potential threat of losing their fan base if this gets out, will they ever be able to be themselves?
This love story is told in dual perspective of the two main characters - Zach and Ruben. The story develops nicely through the whole novel, with the characters and plot all being feasible as a possible real life occurrence. Authentic characters, with flaws and emotions, give this novel depth, as well as keeping readers engaged. Numerous themes are tackled in the book, including looking at the music industry and how it treats members of the LGBTQIA+ community, the pressures involved with being an artist, drugs, drinking and partying (and overdoing it) and standing up for yourself. Fans of Autoboyography by Christina Lauren, What If It's Us by Becky Albertalli & Adam Silvera, as well as the Heartstopper graphic novel series by Alice Oseman will enjoy this male-male romance.
Themes: Love Stories, Romance, Contemporary, Boy Bands, Music, LGBTQIA+, Travel, Drugs, Pressure.
Melanie Phillips