Heartstopper volume 4 by Alice Oseman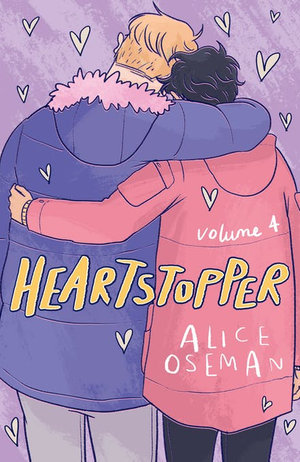 This volume of the Heartstopper graphic novel contains chapters five and six of the ongoing story of Nick and Charlie's developing relationship. The boyfriends have come out to their school friends and are moving into their final school years but Charlie's anxiety is ramping up as he worries about declaring his love for Nick. He is also having problems eating which is worrying Nick who doesn't know how to help his friend. At the same time Nick's mostly absent father doesn't know about his son's gender preference and a family event is looming.
Navigating this difficult time of life with all its complications is delicately and authentically depicted. Helped by family and a close group of friends, who are not afraid to ask difficult questions when they see the boys struggling, Charlie acknowledges his friend's mental illness and that he can't cure him but he and their group are able to help. 'Love can't cure mental illness" p. 1073, but the following pages show just how supportive they can be. "Sometimes people need more support than just one person can give" p. 1087, and it is not only Nick and Charlie who need friends but others who don't fit in to mainstream gender roles including teachers. Eventually Charlie gets the help he needs and his long journey towards recovery begins.
Well-paced with just the right amount of important information inserted at the right moment, Charlie and Nick's story is full of affection and fun in black and white comic graphics presented in varied frames with handwritten text making it very accessible even without reading the previous volumes. There are mental health resources at the end though these are mainly UK based. According to the author illustrator's website the series began in 2016 as a serialised ongoing webcomic and there is a wealth of extra content online all of which will be of interest to young adults especially from the LGBTQ community or their friends and family.
Themes: LGBTQ issues, Anorexia, mental illness, friendship.
Sue Speck