Hometown haunts #LoveOZYA horror tales by Poppy Nwosu ed.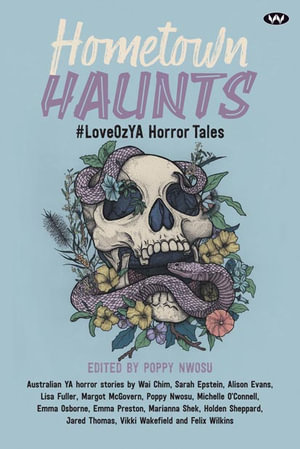 Just in time for Halloween, or any time for fans of horror, comes this book of fourteen highly scary tales that will grip any reader – not to be read alone in the dark! With short stories from highly respected Australian authors from diverse backgrounds, there is sure to be something to appeal to everyone.
Books of short stories are great for people who are having difficulty settling into the often very long modern YA offerings, and there are some outstanding stories here. One that I will never forget is Stop Revive Survive by Sarah Epstein. If you ever see a mobile home parked in a rest area on your travels, I guarantee that you will not stop there for a break after reading this gritty, gory tale. Vikki Wakefield in her Heart-shaped stone, explores bullying and revenge, "when Arlo trades part of herself in exchange for belonging and vengeance". Seek and destroy by Jared Thomas looks at the cover-up of the discovery of the remains of Aboriginal people on a mining site and the way the spirits come after the offenders – a frightening read indeed. Angel eyes by Alison Evans is about werewolves and angels, not to mention The EYES, eyes that appear on the bodies of the young adults who turn into wolves and hunt in the night. Do I see it all now? by Michelle O'Connell is an unforgettable graphic story about 'growing up being neurodivergent and undiagnosed," while Best years of your life by Felix Wilkins brings out the horror of adolescence. Other stories look at lockdown: The Party by Wai Chim and the graphic story It's quiet now by Emma Preston, where the monsters come out. And Poppy Nwosu's theme of grief has an uplifting conclusion in Nature Boy.
This is a collection that is a worthy addition to any library and the stories would also be great to read aloud in class and camps. Readers who like horror might like to continue with Small spaces and Deep water by Sarah Epstein and Highway bodies by Alison Evans, as well as The woods are always watching by Stephanie Perkins.
Themes: Horror.
Pat Pledger