Haven: A small cats big adventure by Megan Wagner Lloyd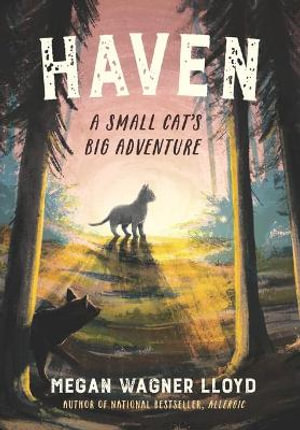 Homeless kitten Haven is enticed by the smell of baking bread and stumbles into Ma Millie's house to find a safe and loving home. Haven enjoys her protected life in Ma Millie's isolated cottage which is situated at the edge of the forest, until Ma Millie becomes very ill and can no longer care for Haven or herself. Haven manages to leave their home in search of help and attempts to find assistance from their nearest neighbour Jacob.
Haven's adventures take her back through the dangerous forest, the home of the fox and the bobcat. The fox helps Haven and decides to be her ally, assisting her quest to visit the town and track down help. Their adventure proves to be full of dangers and unknowns with the domesticated Haven unaware of the wider world but even a fox is not safe when a wily bobcat is on the hunt.
Haven and True (the fox) develop a close friendship but Haven will still eventually have to face the hardest test of all-by herself.
Megan Wagner Lloyd is the author of the graphic novel, Allergic and has written several picture books including Finding Wild.
This small novel deals with issues such as friendship, trust and self-confidence. There is a death in the story but this is handled with sympathy and understanding.
The appealing cover features both Haven the cat and the fox and the text is broken up into 38 small easy to read chapters.
I recommend this book to readers aged 7 to 10 years.
Themes: Friendship, Trust, Self-confidence.
Jane Moore