Allergic by Megan Wagner Lloyd and Michelle Mee Nutter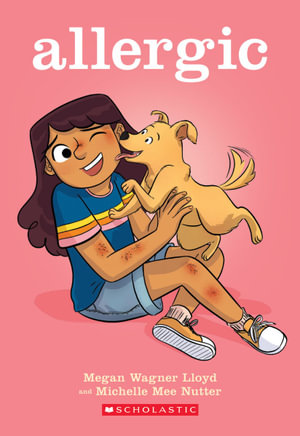 It is Maggie's tenth birthday and she has been promised a puppy but when they go to get it she has an allergic reaction. She had set her heart on having a dog; her twin brothers have each other and her parents are expecting a new baby; a dog would be hers, filling a gap in her life. However allergy tests show she has a severe reaction to anything with feathers or fur and having a dog is out of the question. To make things worse Maggie is anxious as a boundary change means she has to start at a new school leaving her friends behind. Determined, Maggie sets out to find a pet alternative that doesn't have fur or feathers and a new neighbour turns out to be a new friend to help with the quest. Meanwhile a course of injections over the next few months aims to alleviate Maggie's severe allergic reactions. There is no instant cure for Maggie's allergies but she learns to manage her condition with help. There are a lot of setbacks as she negotiates a difficult period in her life but a loving family and a good friend help her through the difficult times. She is able to develop stronger relationships and move towards a rich and fulfilling future.
This colourful comic style graphic novel is well paced with some strong characterisations particularly in the depiction of a loving family being supportive of each other. It is an engaging story with some valuable information about allergic reactions. Megan Wagner Lloyd's website has a page of 'Megan's Comics/Graphic Novel Writing Resources" that some might find useful and Michelle Mee's website has some inspirational examples of her illustrations.
Themes: Allergies, Pets, Family, Friendship.
Sue Speck