Fart and Burp are superstinkers by Zoe Foster Blake. Illus. by Adam Nickel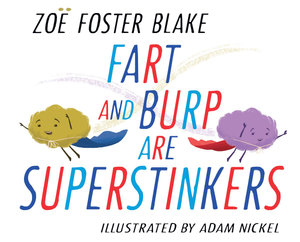 In this companion volume to No one likes a fart Burp is worried about the fact that no one likes her and Fart and that people only have bad things to say when they are around. However, Fart says 'if we are happy that is all that counts'. Burp felt really happy when she was able to use her bad smell for good, so the pair then decide to use their smell power for good.
When Burp and Fart come up against a problem that they are not able to help with, they realise they need help. They find their friend Sewie who agrees to help them. The three of them hurry back and work together to get the children out of a dangerous building just in time.
Even though the three of them are super stinkers Burp was very happy that they were able to use their power to help others.
This story shows the importance of being yourself. Everyone can be a superhero they just need to find their power. I highly recommend this book.
Themes: Humour.
Karen Colliver