Dinosaur Honk! The Parasaurolophus by Peter Curtis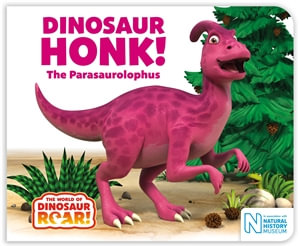 Dinosaur Honk! is another in the very popular The World of Dinosaur Roar! series and features the Parasaurolophus, a dinosaur that makes a honking sound like a goose. Dinosaur Honk loves to make a noise, waking up everyone and even making the rainforest floor shake. But sometimes she warns others of danger approaching and even uses her honk as a signal to start races between the dinosaurs.
Told as a rhyming story, Dinosaur Honk is a fun read aloud and fans of the series will recognise other characters like Dinosaur Boo, Dinosaur Whizz, Dinosaur Flap and Dinosaur Thud. Written in association with the Natural History Museum, the young reader will learn about the Parasaurolophus, especially from the double page spread at the back of the books which gives interesting facts about the dinosaur and then asks the reader to go back and find the features in the book. A helpful pronunciation guide is also given, and little children will love learning this new word. Bright and colourful illustrations are a feature of this series and Dinosaur Honk has a particularly appealing smiling face.
Another addition to a fascinating series will be eagerly read by pre-schoolers.
Themes: Dinosaurs.
Pat Pledger