Coco and the butterfly by Laura Bunting and Nicky Johnston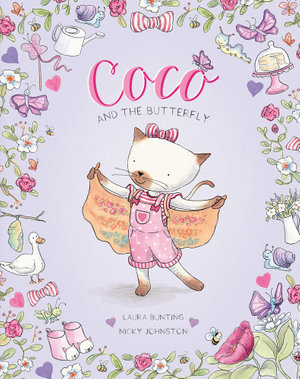 Coco and the butterfly is the second book in a new series by Laura Bunting the first being "Coco, big city kitty". It is a beautifully illustrated large format picture book with an embossed cover. The soft watercolour, pencil and ink illustrations portray the mood of the story perfectly and are reminiscent of books such as Ruby red shoes by Kate Knapp. It is quite a different type of book from her previous offerings in collaboration with her partner Philip Bunting such as "Koalas eat gum leaves", "Kookaburras love to laugh" and "Lyrebird".
Coco has moved from her big, exciting city apartment to the country, and she is not happy about it. She hates nature, such as bugs, noisy birds and scary trees and they all seem to be invading her everyday life too much for her liking. After pleading with her parents to move back to the city she runs outside to avoid more unpacking and meets a caterpillar who seems to be as afraid of change as Coco. As Coco tries to help the caterpillar, she helps herself to see that some changes are not as bad as they first seemed.
Coco and her family are wonderful characters and portray a close loving family trying to make a better life for themselves away from the rat race of the city. Children will recognize and appreciate the things that Coco's parents are doing to make life in her new home better for her and they will look forward to future adventures from Coco.
Themes: Change, Moving house, Country life, Cities, Nature.
Gabrielle Anderson