Ceremony: Welcome to Our Country by Adam Goodes and Ellie Laing. Illus. by David Hardy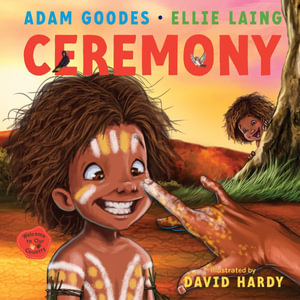 The Go Foundation, aiming to empower Indigenous kids through education was set up by Adam Goodes and Michael O'Loughlin in 2009, and underlies Goodes' books, bringing ideas and history to a wider group of children, through brilliantly illustrated stories of community. The first, Somebody's Land (2021) pointed out the truism that Australia was occupied before European settlers landed at Sydney Cove in 1788. And in this book, Ceremony, we are invited to country to look at the ceremonies and customs of Adam Goodes' family in the Flinders Ranges in South Australia, home of the Andyamathanha people. Here we walk with the families coming together for ceremony.
In four line rhyming stanzas the story unfolds. Cousins meet each other, new friendships are made, the aunties, sisters and mothers go off together while the uncles, brothers and fathers go in a different direction. Each group has dances and stories belonging only to them. Bodies are painted, while the clap sticks are hit together, beating out a rhythm. The girls dance the emu the swan and the snake dances while the boys dance the kangaroo, their legs shaking together.
After much dancing and yarning, the fire is built up and a kangaroo cooked for all to share. After such a full day, sleep comes easily, minds full of the stories they have heard and will pass on at another ceremony.
This lovely story following the families getting together for ceremony, reinforces the place that story holds in all our lives. Here the Andyamthanha families meet to pass on story, to greet each other, to rekindle friendships, to build new friendships, to have fun, to share dance and story and food. The lively illustrations by Barkindji man, David Hardy reflect the environment of the Flinders Ranges with its tall eucalypts, caves, water holes and weathered hills. Readers will spot many birds and animals seen in these hills and valleys, while Andymathanha words are used within the text, sending readers to the list of words given on the endpapers. Hardy's animation background is reflected in his amusing illustrations, the children full of life and mischief as they learn from their elders at the ceremony. Aiming to share their traditions, dances, song and stories, the book will draw in readers, eager to learn of the world's oldest continuous surviving culture and share in the wealth of stories it has produced.
Reading about the three people who collaborated to bring this book makes fascinating reading as is the information about the Go Foundation. Teacher notes are available on the publisher's website.
Themes: Aboriginal stories, Ceremony, Celebration, Flinders Ranges, Andyamathanha (South Australia).
Fran Knight