Somebody's land by Adam Goodes and Ellie Laing. Illus. by David Hardy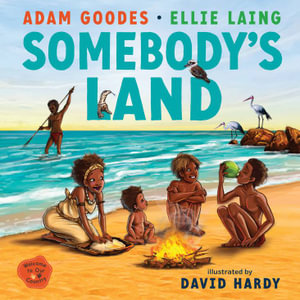 This evocative picture book encourages a different way of looking at our past. This glorious promotion of thousands of years of Aboriginal custodianship of the land we call Australia overturns the two words, Terra Nullius, so etched into old history books and now shown to be baseless, a pair of words uttered through ignorance.
In presenting this book, Goodes, Laing and Hardy aim to fill in the background to the words repeated at ceremonies and events all over Australia today.
These words acknowledging the Indigenous history of our country are given more context, one that younger and older reads alike can mull over and digest.
Repeated refrains capture our attention as the truth is revealed.  The first, 'For thousands and thousands of years, Aboriginal people lived in this land we call Australia', is followed by four lines of text which in each instance, covers an aspect of the culture and lifestyle of the Aboriginal people. We see on each page, bold images of people going about their daily routines: making tools, dancing, building, playing, telling stories, eating together, all living on Country.
This is followed by a four lined refrain:
When the white people came
they called the land
Terra Nullius.
They said it was nobody's land
But it was somebody's land.

These repeated four lines will make readers stop and think, to reevaluate, to weigh up what they have believed in the past. The four lines are like a mantra, forming a place in your thought process, impelling a change of thinking, a way of viewing that for some may be uncomfortable. And the book as a whole is a wonderful launch pad for discussions and conversations both at home or school, in play groups or libraries.
Hardy's vibrant illustrations fill each page with colour and life. An Indigenous illustrator, he has worked for Walt Disney Animation Studios, and has written and illustrated books for Penguin and Magabala. His distinctive style using Photoshop and a digital tablet will thrill younger readers as they view the habitat, lifestyle and country of the people in the book.
I love the touches of white encroachment on the land: the ship, the reenactment of the raising of the British flag on this 'Terra Nullius', despite being offered food, the chopping down of trees. Hardy compares what was and what is now with the wide view of Sydney on the lat two pages, contrasting with the pristine bush at the start. I love the image of the dark emu, a reference to the books which have turned people's thinking on its head in recent years.
I recommend this to people of all ages and hope along with the authors for a future where we will all walk together. Teacher's notes and a guide for parents and carers are available from the publisher.
Themes: Aboriginal history, Aboriginal culture, Aboriginal themes.
Fran Knight