Review blog
Click here for the ReadPlus Review Blog RSS feed. Copy the link location into your feed reader.
Click here to see all reviews
Dec 10 2018
Santa's high-tech Christmas by Mike Dumbleton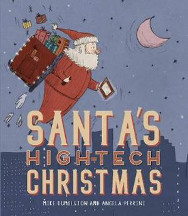 Ill. by Angela Perrini. New Frontier Publishing, 2018. ISBN 9781925594270
(Age: 4+) Highly recommended. Themes: Christmas, Santa Claus, Technology, Verse, Humour. When Santa goes high-tech this year, he of course, being an older gentleman, has problems with the new equipment. While delivering the presents from his sleigh, the screen on his iPad goes blank, so he doesn't know what present to give to whom. He is distraught, after all, he has spent the whole year preparing for this night, touching up the marks on his red car, and making sure he is up to the minute with his high-tech gear. His list on his iPad keeps him informed about who to give a present to, and he even uses a rocket-pack to deliver the gifts after parking his car in places where car parks are in short supply. But in rocketing up to the next child, he drops his device, causing him to sigh most loudly, waking a young girl in the building. She is able to restore his device to its normal function, and sends him off to complete his work on Christmas Eve, telling him to contact her if he needs help. Which he does with a funny twist in the tale.
Readers will laugh out loud at the situation Santa finds himself in, recognising the frustration that comes with technology when it doesn't do what it is expected to do. Mike Dumbleton's sense of humour shines through, giving the readers a technically adept Santa, using devices with ease, until a small problem occurs. Readers will love Santa's attempts at bringing his work up to date, and think of other ways he could use technology to improve his lot.
Perrini's delightful illustrations reflect her Italian heritage with Christmas in the northern hemisphere: snow covered fields and roofs, a heavy doona on the bed and wood fires in the houses, all delighting Australian audiences used to the heat and sun of December in the southern hemisphere.
A wonderful read aloud, the rhyming text lends itself to repetition and learning sections to read with the adult reader, while predicting the rhyming word at the end of each line. A whole heap of good fun is to be had at this time of the year, with a beautifully presented book such as this offering a very funny tweak on the usual fare.
Fran Knight
BUY IT ON
Dec 10 2018
The Aussie ABC Christmas by Nancy Bevington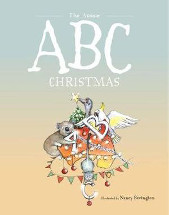 New Frontier Publishing, 2018. ISBN 9781925594256
(Age: 4+) Themes: Christmas, ABC, Alphabet book, Humour, Australia. Replicating what many teachers ask their classes to do at Christmas, this ABC book offers a few different words to align with the alphabet. Many letters are combined with easily identifiable Christmas words: 'carols', 'milk for Santa', ' reindeer' and so on, while others such as 'angel', 'gifts', ' holiday', 'beach', 'joy' etc, are words associated with other times of the year, rather than specifically Christmas words. So readers will have an interesting slant on what words actually are Christmassy, and I think astute teachers will take advantage of the words offered to winkle out just what Christmas means to the people in their class. The book lends itself to offerings from all the students in the class, being inclusive and wide ranging about what Christmas means when you live in Australia. For children born elsewhere the opportunity is given here for them to share what Christmas means to them and what words best represent their Christmas, for those born in a different household, the opportunity is there to share again what Christmas means to their family.
What I have learnt over the years is that Christmas is different for every family, each having their own traditions and ideas, customs and food, whether you were born here or not, born into a religious family or into one where Christmas has no religious affiliations at all, whether you are in a family of two or a whole heap, each is different. And while this nostalgic book attempts to show the common things about an Australian Christmas, it is what is left out that might be more important for many children.
Fran Knight
BUY IT ON
Dec 04 2018
Mince spies by Mark Sperring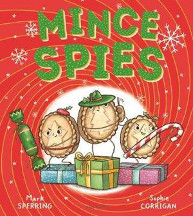 Ill. by Sophie Corrigan. Bloomsbury, 2018. ISBN 9781408893463
(Age: 3+) Highly recommended. Themes: Christmas, Competition. When all the Christmas goodies: gingerbread men, Christmas sticks, puddings, yule logs and so on, fall to the floor in the supermarket, something must be done. The super spies, Mince Spies come jetting in to unravel the mystery.
Told in verses, children will love predicting the next word in each line, as the Mince Spies do some sleuthing around the supermarket to find the culprit. With their flaky pastry jetpacks they hide within the shelves, waiting. But time moves slowly until their walkie talkies come to life, and they fall to the floor with their cheesy breadsticks and whipped cream cans at the ready. Imagine their surprise when they find that the Brussel Sprouts are working together to rid the shelves of all the Christmas goodies, throwing them to the floor with abandon. Readers will laugh out loud at the antics of the Sprouts and sympathise with their reasoning. But someone else must come and help with a solution, and Santa himself appears. All is neatly resolved, and the readers will be happy at the way the sprouts are appeased.
Told in verse form, supported with funny, detailed illustrations the story will have readers laughing out loud at the antics of the Mince Spies and Sprouts, as they almost come to blows over what is eaten at Christmas. Children will love reprising the sorts of goodies they have at this time of the year, and wonder at a winter Christmas where Sprouts are served.
Fran Knight
BUY IT ON
Nov 30 2018
Whitebeard by M. C. D. Etheridge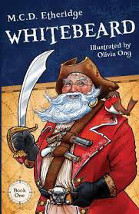 Flash Knight, 2018. ISBN 9780648359005
(Age: 8-10) Themes: Pirates, Christmas, Fantasy. Whitebeard is a fantastical mix of pirates, derring-do acts, fights on the High Seas and has a motley cast of characters with Captain Whitebeard at the helm. This madcap adventure is fast-paced, overflowing with Christmas references and plenty of piratical plundering.
Captain Whitebeard is the fiercest pirate on the High Seas, his ship Rudolph's Revenge is crewed by seven tough men Dasher, Dancer, Prancer, Comet, Cupid, Donner and Blitzen, as well as one feisty female Vixen. Just before Christmas, they use sneaky disguises to board a Spanish galleon, fight the crew and seize all the booty, gold and jewellery. Underneath his tough exterior, Whitebeard shows kindness when he releases the slaves chained up on board. One of those released is Gretchen the evil witch who uses her large emerald Green Envy to cast spells and cause major problems.
Compounding their problems even more, is Captain Jack Frost who's pursuing his archenemy Whitebeard. He lost the sight in one eye during a ruthless fight. Onboard the Frostbite are twelve zombified mummies with blades instead of limbs; these Swiss Army Knives dressed as Swiss Guards are primed to cut down Whitebeard and his crew.
Etheridge keeps up a fast pace, adding so many side plots, dreams, poems, sea shanties, extra characters and settings to the mix. The descriptive narrative is filled with alliteration, tongue twisters - 'powder monkeys trained for peanuts' and 'freebooting French filibusters'! Be prepared for singing mermaids who've lost their children and the evil trolls who've captured them ready for a tasty meal. He includes many festive signs including a special robin who guides Whitebeard's decisions and a dream of his childhood and first love Mary who also tells him the right way to live. The author's historical references jump over two centuries from the Great Fire of London, to the Age of Pirates and then to optometrists! Olivia Ong's graphic line drawings add to the drama and excitement of Whitebeard.
Rhyllis Bignell
BUY IT ON
Nov 29 2018
A miniature Christmas ed. by Beattie Alvarez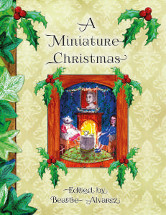 Christmas Press, 2018. ISBN 9780648194514
Recommended. A miniature Christmas is an anthology of stories all written by both emerging and established Australian story tellers, based on the theme of 'miniature'. There are 12 wonderful stories that feature characters such as elves, goblins, fairies and even genies.
The stories are all equally fun and interesting; with a Christmas twist of many different forms. There is a modern story about an app that comes to life, a short story with magical disappearing green men typing on a computer and even a story about a lifelong miniaturist passing on his skilled trade to his granddaughter. All of the stories are steeped in Christmas spirit and will delight readers from approximately 4 years of age.
I loved that each story had its own illustrator, who presented the story in their own way using a variety of mediums such as pencil drawing, painting, models and cartoon-like characters. This added to the book as I could compare and contrast the different stories and illustrators, picking and choosing my favourite parts of each. The final pages of the book also give a wonderful little behind the scenes story about each author and illustration - a finishing touch that I personally enjoyed.
My 4 year old enjoyed the shorter stories such as 'The Vaswe Elves' and 'Quack', whilst Master 8 was able to read all the stories at his leisure. There were a few difficult words, but he enjoyed this Christmas themed book none the less.
This is an interesting and engaging compilation of books put together by Beattie Alvarez, which would be well placed on any library or book shelf at Christmas time. Beautiful illustrations and a great range of writing styles, all from Australians!
We give it 4 out of 5.
Lauren Fountain
BUY IT ON
Nov 28 2018
Hopping around the Christmas tree by Johnny Marks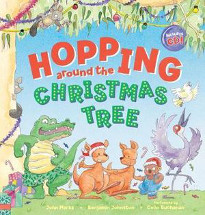 Book and CD. Ill. by Benjamin Johnston. Performed by Colin Buchanan. Scholastic, 2018. ISBN 9781743811429
(Ages: 3-6) Recommended. Themes: Christmas. Colin Buchanan, former Play School presenter, brings great energy to this very catchy Christmas sing-along. The classic song, Rockin' Around the Christmas Tree is given an Australian twist, as Aussie animals begin to gather for a bush Christmas celebration. The words are mostly all changed but fit perfectly with the tune, making it easy to sing along. In fact, it is difficult to read - it demands to be sung! The illustrations are crisp, cheerful and full of action, mirroring the energy of the song. Sometimes these adaptations suffer because in the attempt to get the words to fit the tune sentences start to lose meaning. That is not a problem here - it really is well done. Each verse features a different animal (joeys are 'hopping around the Christmas tree, at the Christmas party hop'; cockatoos are 'flapping around the Christmas tree, let the Christmas bells sway'). This is a real treat for young ones who will love dancing and bopping along. Perfect for schools and music teachers as well.
Nicole Nelson
BUY IT ON
Nov 28 2018
Dear Santa by Elise Hartley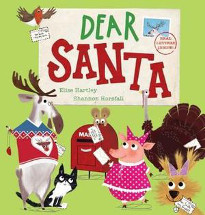 Ill. by Shannon Horsfall. Scholastic, 2018. ISBN 9781742993683
(Ages: 5-8) Themes: Christmas, Letter Writing, Humorous Stories. This is a collection of mostly unrelated letters from different animals to Santa. There is a letter from a moose asking if he could take the place of a reindeer on the sleigh, one from a skunk asking for lots of very nice-smelling gifts for Christmas and one from an emu asking for a jetpack to help him fly. There is also a final postcard from an elf who has popped off for a holiday in the sunshine. The humour in here is mostly suited to older children as many of the references won't be understood by those younger (the turkey asks for Santa to give everyone chicken and vegetarian cookbooks). There is one narrative thread running through the letters which helps to hold it all together (the mouse asks Santa to take away the cat he left him last year, the cat asks for rollerblades to catch the mouse, the dog asks for a new skateboard because the cat next door borrowed his). Older children will pick up on all of these threads and will understand the witty humour in each letter.
Nicole Nelson
BUY IT ON
Nov 28 2018
Excuse me, Santa! by Dave Hughes and Holly Ife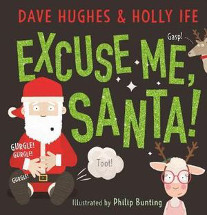 Ill. by Philip Bunting. Scholastic, 2018. ISBN 9781742997896
(Ages: 4-7)Themes: Christmas, Humourous Stories, Manners. This is a follow up to last year's Excuse Me! and it is basically the same story except this time it is Santa with gas instead of Martha May. It is Christmas Eve and Martha May has been polite all day when she is 'woken up by the sound of very loud, and very impolite, eating'. There in her kitchen is Santa and she has caught him eating the reindeer's carrots. 'Delivering presents makes me so hungry!' Santa admits. Martha May, being the well-mannered young girl she is, offers Santa some Christmas pudding. Santa just keeps eating and eating and Martha May is too polite to tell him to stop. 'Gurgle! Gurgle! Gurgle' goes Santa's belly. Back in the sleigh, Santa can't move: he's too heavy. 'Christmas is ruined!', the reindeers announce. Meanwhile, Martha May whispers an idea in Santa's ear and he lets out an incredible fart that 'sounded like Jingle Bells, it smelt like cinnamon and it sparkled like glitter'.
This is a completely silly story but kids will no doubt think that Santa farting is hilarious. This will be loved by fans of the first Martha May book and toilet humour aficionados.
Nicole Nelson
BUY IT ON
Nov 14 2018
Ho! Ho! Ho! There's a hippopotamus on our roof eating Christmas cake by Hazel Edwards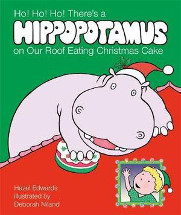 Ill. by Deborah Niland. Penguin Random House, 2018. ISBN 9780143790679
(Age: 3-6) Recommended Themes: Christmas. There are quite a few Hippopotamus books in this series now and this latest one follows the same signature style that has made the books so popular over many years. Short sentences, noisy words and big bold illustrations bring the hippo on the roof to life and let children's imaginations run wild. This time he brings all the fun of Christmas: baking a Christmas cake, writing a Christmas list (the hippo's list is very long and full of cake), dancing, decorating the Christmas tree (hippo's tree has cake of course, making gingerbread, wrapping presents, turning on the Christmas lights, dressing up in Santa suits (hippo's outfit is complete with Christmas nail art), singing carols, and leaving treats out for Santa and the reindeer.
The illustrations are filled with such fun and children will delight in pointing out what hippo is doing and laughing at his antics. This will remind parent readers of the joy and fun children find in preparing for a family Christmas and will appeal to all fans of the hippo, new and old. It is an absolute delight and perfect for Aussie kids.
Nicole Nelson
BUY IT ON
Nov 14 2018
We're going on an elf chase by Martha Mumford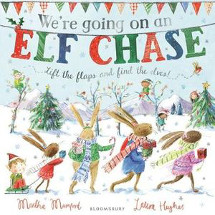 Ill. by Laura Hughes. Bloomsbury, 2018. ISBN 9781408872413
(Age: 4+) Recommended. Themes: Christmas, Elves, Hunt, Lift the flap book, Verse. Fingers will just love lifting the flaps in this book as the reader is asked to work with the bunnies on their wintry quest to find the elves. Four very warmly wrapped bunnies walk through the snow to find the elves hidden in various places on each page. Sometimes lifting the flap reveals an elf, sometimes something associated with Christmas: presents, a candy cane, a stocking.
Through the woods, passing penguins and polar bears, the bunnies have their work cut out for them as they travel north. Through snow and wintry weather, past gingerbread houses, and stables with reindeer housed in them, they finally reach the place in the North Pole where many elves are working, wrapping presents for Christmas Eve. Then they must rush back home and be tucked up in bed for when their turn comes for someone very familiar to land upon their roof.
A very cute introduction to the ideas around Christmas which we all hold dear: stockings, elves, reindeer, gingerbread, fir trees, snow and so on, this will have broad appeal at this time of the year, and the rhyming lines encourage prediction of the next word, and underline the ideas of poetry, as well as being good fun for kids looking under the flaps.
Fran Knight
BUY IT ON
Nov 14 2018
Santa Claus vs the Easter Bunny by Fred Blunt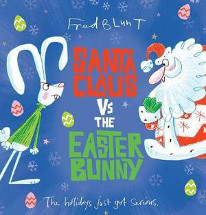 Ill. by David Cornish. Allen and Unwin, 2018. ISBN 9781760634698
(Age: 5-10) Humorous Stories. 'Santa Claus and Easter Bunny live next door to each other. Santa was a jolly fellow. Bunny was not.' Bunny's bad attitude to life is because he has to make the chocolate, turn it into eggs, wrap the eggs and deliver the eggs ON FOOT. Santa on the other hand, has a workforce of elves, a herd of magic flying reindeer and gets tasty treats at every stop. 'EVEN THE DUMB REINDEER GET A CARROT! I'D SETTLE FOR A CARROT. I LIKE CARROTS. IS IT TOO MUCH TO ASK FOR A CARROT' says Bunny on his rant. He wants to get even with Santa and the ungrateful children of the world so he pumps Santa's toy making machines full of chocolate. The plan backfires. The children are ecstatic! Toys made out of chocolate! Santa has made Christmas even better, they say. Bunny is distraught. He packs up his workshop and has decided to leave for good when Santa knocks on his door . . . but instead of being angry Santa offers him a partnership and thanks him with a bag full of carrots. 'Bunny was a happy bunny indeed, and as for Santa, Well, he was always happy'. The cartoony illustrations are busy, vibrant and humorous. They perfectly match with the style and tone of the story. Santa is this massive, ever-smiling, slightly daft looking man and Bunny is a scrawny, snivelling mess. This is a completely crazy story but is well written and full of flair. Older children will love its crude humour and will probably be asking for chocolate toys for Christmas this year. It isn't a book to share with younger children though, whose pure understandings of Santa Claus and the Easter Bunny as altruistic and kind will be irrevocably challenged.
Nicole Nelson
BUY IT ON
Nov 14 2018
Santa Bruce by Ryan T. Higgins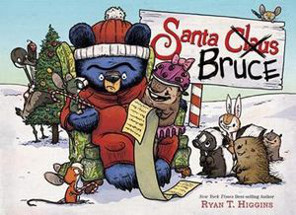 Bruce
book 4. Disney-Hyperion, 2018. ISBN 9781484782903
(Age: 7+) Recommended for its humour. Themes: Christmas, Santa Claus, Humour.
Santa Bruce
is the fourth in a series about Bruce, a very grumpy bear, who is often the victim of mistaken identity, in this case Santa Claus. Bruce does not like holidays and is not impressed when his friends the mice, drag in a huge Christmas tree. All he wants to do is stay in bed, but his friends have other ideas - they want 'to enjoy a cozy snow -filled Christmas together.' Bruce didn't like fun or cheer or the cold, so he started to wear long red underwear and a red hat leading to another mistaken identity - a woodland creature asking him if he was Santa, everyone else believing he is Santa and from then on he is enticed to finally deliver Christmas presents to all the forest animals.
The contrast between the very large and very grumpy Bruce and the very cute and very small mice and other woodland creatures makes for a very funny experience for the reader as the wonderful illustrations show the crossness of Bruce's face while the happiness of all his little friends is very vividly portrayed. I particularly liked the page showing the geese trying to pull Santa Bear on the sled, and then the following page which shows Bear having to pull the sled and carry the huge bag of presents himself. Cold wintery scenery also brings the northern Christmas season to life.
Readers familiar with other books about Bruce the Bear will love this one, while readers new to the characters will have an enjoyable and humorous read to lighten their day. Not for younger readers who might start to have questions about Santa's identity.
Pat Pledger
BUY IT ON
Nov 02 2018
Noni the pony rescues a joey by Alison Lester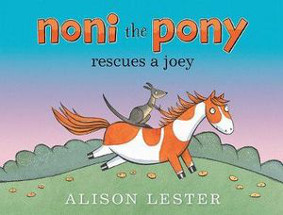 Allen and Unwin, 2018. ISBN 9781760293123
(Age: 3+) Highly recommended. Themes: Horses, Australian animals, Environment, Habitat. Noni the pony rescues a joey will captivate its audience, already thrilled at the first book about Noni the pony (2010) and Noni the pony goes to the beach (2014). All the right ingredients are brought together, Noni, of course, with her two friends, Coco and Dave, and an array of Australian animals for young children to recognise and name while they have this rhyming story read to them. They will thrill at predicting the word to end each line, and work with Noni and her friends as they try to find the joey's parents.
Lester entrances her readers with a story of loss, but as Noni asks each animal she meets, the joey finds her mob, and along the way small pieces of information are given teaching the audience some of the habits of these animals. So many of the animals are asleep, being nocturnal, the koala and her joey asleep because of their poor diet, the echidna is digging, the father emu is looking after his chicks, and finally as evening falls the other wallabies come out to graze, and the joey is reunited with the family.
Lester's recognisable illustrative technique will delight younger readers as they will be able to find other books by this prolific Australian author in the library.
The range of animals that live in Waratah Bay will intrigue readers as they note the echidna, possum, quoll, koala, wallaby, goanna, emu, wombat and platypus, and feel impelled to find out more about these Australian animals and their habitat and habits, perhaps looking for them in their own neighbourhood or seeking them out at the zoo.
Fran Knight

BUY IT ON
Nov 01 2018
Doctor Who: Twelve angels weeping: Twelve stories of the villains from Doctor Who by Dave Rudden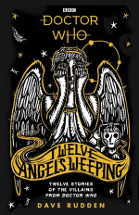 Ill. by Alexis Snell. BBC Children's Books, 2018. ISBN 9781405938273
(Age: 12+) Recommended. Themes: Science fiction. Doctor Who. Time travel. Monsters. Aliens. Robots. Villains. Life on other planets. Twelve short stories featuring the villains from the Doctor Who series will enthral any fan of Doctor Who and probably encourage many who haven't seen all the series to go back and find them. The author Dave Rudden must have an immense knowledge of and love for the series to be able to write convincingly of all the monsters and villains that are described in this set of stories. As a fan of the series I was reminded of many episodes that I had seen and some that I had missed.
The introduction reminds the reader that 'Everywhere in the universe, on every planet that has existed or will exist, there is a winter...' and that 'stories are a light in themselves' and then goes on to explain the light that is carried in these stories. All were very readable and will be particularly enjoyable for Doctor Who fans, but some stood out for me. One was 'Student bodies', where a young PHD student, Donovan Claire, tries to record what is happening to her as her memories are stolen by something strange and alien. The reader also finds out about River Song's youthful exploits at the university. In 'Judoon the rhino of twenty-three Strand Street', 10 year old Patricia meets an alien rhino and learns that she needn't restrict herself to the narrow pathways that Mother Superior and her father expect of her. Of course a volume about Doctor Who would be incomplete without a story featuring Daleks, and the reader will be mesmerised by 'Daleks, the third wise man', and the doctor as the Renegade.
Each of the stories has a full page black and white drawing by Alexis Snell and each one vividly illustrates the villain in the following story - some may give you nightmares!
A must for any Doctor Who fan, this group of short stories will be welcomed in a library or as a gift.
Pat Pledger
BUY IT ON
Oct 26 2018
A Christmas Carol by Charles Dickens, retold by Tony Mitton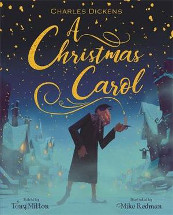 Ill. by Mike Redman. Orchard Books, 2018. ISBN 9781408351673
Highly recommended. Themes: Christmas; Charles Dickens; Generosity; Poetry; Rhyme. This is wonderful poetic rendering of the classic story from Charles Dickens, A Christmas Carol. Mitton has told this story of transformation in a clear and simple way, with rhyme seeming unforced and natural and therefore very appealing for a young reader. The younger generation are unlikely to read Dickens' original work, but references to the old Miser Scrooge who is changed on Christmas Eve when confronted with a number of ghosts, has become part of the common experience and vernacular and therefore this story is worth sharing in this easy to read form.
The illustrations provided by Mike Redman are delightful, with initially dark and sombre detail befitting Dickens' work. (Scrooge's work chair is impossibly high, and his office is grey and dismal). When Scrooge finally repents of his former ways and generosity flows to Bob Cratchit and his ailing son Tiny Tim, colour flows more freely.
This is an easy to read book and can quite easily be used by many to reflect on the need to consider others at Christmas and to be generous with what we have . . . before it is too late.
Highly recommended.
Carolyn Hull
BUY IT ON
Oct 12 2018
The Christmas tale of Peter Rabbit by Emma Thompson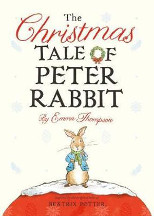 Ill. by Eleanor Taylor. Frederick Warne, 2018. ISBN 9780241352885
(Age: 4+) Recommended. Themes: Christmas, Poultry. Emma Thompson, the renowned actress, has written another tale about Peter Rabbit in this board book, beautifully illustrated by Eleanor Taylor. Peter is very excited about Christmas and can't contain himself in the kitchen, upsetting three bowls of mincemeat. Mrs Rabbit sends him off on an errand to get him out of the way, and then he bumps into Benjamin Bunny and William the turkey, who confides in the pair that the McGregors "say that on Christmas Day they are to have me for dinner!"
Peter and Benjamin are determined to save their friend and come up with many ingenious ways to hide him from the McGregors, including under a rhubarb-forcer by the compost-heap and in the coal shuttle, but his magnificent tail-feathers always gave him away. Finally they came up with a solution - and children will have fun suggesting ways of hiding a turkey with a very full set of tail-feathers.
Thompson has succeeded in writing a narrative that reads aloud very well and will be enjoyed by children, as they follow the dilemma of William and his two friends. Parents and teachers should be aware that younger children may need to be introduced gently to the idea that turkeys are killed and then roasted for Christmas dinner.
The illustrations are done in the vein of the original Peter Rabbit drawings, and are charming and often humorous.
Overall, a delightful addition to the Peter Rabbit tales.
Pat Pledger
BUY IT ON