Review blog
Click here for the ReadPlus Review Blog RSS feed. Copy the link location into your feed reader.
Click here to see all reviews
Sep 17 2019
I need a parrot by Chris McKimmie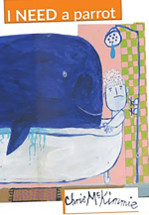 Ford St, 2019. ISBN: 9781925804287.
(Age: 4+) Highly recommended. Themes: Wants and needs, Humour. McKinnie's quirky play with words and illustrations will appeal widely as the boy in the story says simply, I NEED a parrot. Ideas will stream into the readers' minds as they too ask the question, what do I need? A parrot is probably the last thing many would admit to needing, so the question arises, why a parrot? With that question in mind, the ideas will come thick and fast as the illustrations show the boy rejecting a parrot hand puppet and a turkey, questioning a whale in his bath (blue of course) and a shark in his pool, telling the reader that he already has a bear (although not a real bear) and a cat. He promises that he will clean its cage, teach it words, feed it and love it.
Up to this point, the boy is adamant that a parrot is what he needs and the reader will go along with story but seeing the parrot in a cage will stop them in their tracks and make them take a breath. The story changes from a boy's wanting a parrot to the awfulness of a large bird kept in a cage, where once he had a sky full of blue in which to fly. And that point is underlined with a page filled with blue, a huge sky for the bird to fly freely. The boy now says 'Oh', realising the consequences of his demand. But over the page, McKinnie brings another bolt of humour, one all readers will recognise.
McKimmie's humour packs a wallop: lulled into the voice of the hero, going along with his well rehearsed reasons and promises to persuade his parents about the inclusion of a parrot in the household, the aim of the story changes to more of an environmental one, where the parrot's needs, not the boy's, are paramount.
It makes for a thrilling read, laughing along with the recognisable wheedlings of a child in wanting something, then pushed into the thought for something other than themselves, children will question the need of a parrot in their lives. The idea of a parrot, or any pet bird in particular, is brought into question with the series of cages shown throughout the story.
McKimmie's illustrative style is most distinctive, and readers will recognise the images he uses, a multiplicity of techniques including collage, paint, pencils and gouache, with ease, recalling other books they have read.
The images build a domestic background against which the boy pleads his case, his face looking directly at the reader, forming a bond. Laugh out loud illustrations will evoke comment as the theme changes in the book, pushing the readers to give more thought to their requests.
Fran Knight
BUY IT ON
Sep 17 2019
The music makers by Meredith Costain and Danielle McDonald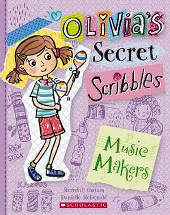 Olivia's Secret Scribbles book 8. Scholastic, 2019, ISBN: 9781760660048.
(Age: 6+) Recommended. Themes: Musical instruments, Diaries, School. Olivia loves to share her special thoughts and record her school life in her secret diary, scribbling, sharing her feelings and drawing her activities. After The Music Makers give a special performance at the school assembly, they share their musical instruments with Olivia's class. When Bethany suggests their Year 2 class perform a musical item at next week's assembly, all the students come up with lots of fun ideas. Mr. Platt their teacher suggests they play a recorder song, but that doesn't work out.
With a little creative planning, Olivia comes up with an exciting concept: create new musical instruments by reusing and upcycling things from home and school. With everyone on board, some of her class research ideas on the computer and Olivia seeks help from Mr. Snarski in the library. To add to the excitement and creativity, there's a little mystery when their instruments are sabotaged at night. What a special super-duper performance, each class member has a special role, even Mr. Platt helps create a unique sound wall!
The music makers is Meredith Costain's delightful eighth book in the popular series, filled with bright bubbly characters, plenty of creativity, teamwork and fun. Splashes of purple bring a liveliness, with Danielle McDonald capturing the excitement, the preparations and the unique musical instruments.
Rhyllis Bignell
BUY IT ON
Sep 17 2019
Misrule by Jodi McAlister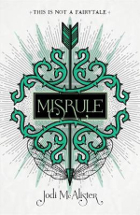 Valentine book 3. Penguin, 2019. ISBN: 9780143793465. pbk, 404 pgs.
(Age: 14+) Recommended. Themes: Paranormal, Fairies, Murder, Diversity. Fans of the Valentine series will be thrilled with this stunning conclusion. It is best to read the series in order (Valentine, Ironheart and Misrule) as each book continues immediately after the other one with the story of Pearl Linford and Finn Blacklin taking centre stage. Pearl is all alone. Finn is a captive back in Fairyland and there has been a gory murder in her neighbourhood. Pearl is determined to find out what is happening and to come up with a plan to rescue Finn depending on a fairy holiday called Misrule.
Misrule is not for the faint hearted. There is plenty of gore and rather scary moments to give the reader breathtaking chills as Pearl struggles with the machinations of the fairies, not knowing who she can trust and what to do. However as fans of the first two books will be very aware, Pearl is no swooning heroine, but strong, intelligent and resilient and with the help of friends and occasional allies, attempts to thwart the Fairy Prince's plans and rescue the love of her life.
Without giving away too much of the plot, it is enough to say that the action is fast paced, the characters are well developed and the combination of normal life with a Fairy Court all make for a gripping read. And the snarky narration by Pearl will also keep the reader engaged with the plot.
Fans of Holly Black will love this series and I look forward to reading any future books by the author.
Pat Pledger
BUY IT ON
Sep 17 2019
The butterfly garden by Michael Torres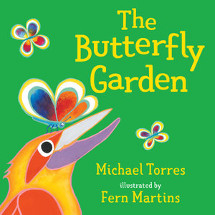 Illus. by Fern Martins. Magabala Books, 2019. ISBN: 9781925936995.
(Age: 2-5) Themes: Board book, Caterpillars. The butterfly garden is a fun and cheeky introduction to the life cycle of a caterpillar. The illustrations are bright and vivid and the butterflies feature bleeding tie-dyed colours that highlight the powdery nature of their wings. White and green backgrounds and yellow detail are used to great effect, making the sparse illustrations really pop off the page. There are also some interesting and effective techniques used to create a sense of movement and the passing of time. Another page uses an extreme close up of the kookaburra to show the caterpillar's reflection in his eyes. The story itself is about a hungry kookaburra eyeing off a fat caterpillar. 'That's my brother. You can't eat him' says a nearby butterfly. The kookaburra won't believe it; they look nothing alike! 'He will soon' says the butterfly, and they watch as the caterpillar wriggles off to build a cocoon and crawl inside. The kookaburra thinks he is being tricked so he waits and waits and to his surprise out comes a handsome (a nice change from beautiful) butterfly. There is a nod to dreaming stories here as well, with the ending explaining how the kookaburra got its laugh. This is a great concept and the illustrations are fantastic but unfortunately the text falls just a little flat.
Nicole Nelson
BUY IT ON
Sep 17 2019
Game on by Alex Miles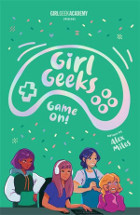 Girl Geeks book 2. Penguin, 2019, ISBN: 9780143795063.
(Age: 9+) Themes: Skateboarding, Gaming, Friendship. Alex Miles in collaboration with the Australian Girl Geek Academy presents her second junior novel Game on in the series Girl Geeks. This series is written for girls who love online gaming, skateboarding and stories about friendship and loyalty.
Niki, Maggie, Hamsa and Eve developed their friendship through developing a computing project for their class. Niki who loves online gaming invites the girls to attend a LAN party on the weekend. TrickiNicki is her online persona and she enjoys gaming with her guy friends, Felix, Max and Archie as Team Jupiter. She is fearless and loves competing. The Castle Capture Cup is an upcoming national televised esport event with a competition open to young gamers. Niki is super excited to enter her name for selection in the competition. She even coaches her friend Maggie giving her gaming tips and strategies.
An unfortunate skateboarding accident resulting in a broken thumb stops Niki from participating in the competition. Her friends rally around her and work together to find a solution, even though Niki is angry and unappreciative. Even Eleni her beautiful older sister steps up to help. With her close circle of friends working together, there are some surprises and plenty of excitement at the Castle Capture Cup event.
Alex Miles explores themes of loyalty, stereotypes, friendship, school and family life in Game on. The Girl Geeks series is written to encourage girls to learn and embrace computing, gaming and technology. The books are written in conjunction with The Girl Geek Academy which aims to empower one million girls and women in these fields by 2025.
Rhyllis Bignell
BUY IT ON
Sep 16 2019
The adventures of Anders by Gregory Mackay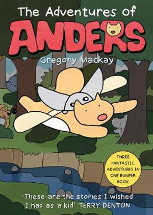 Allen and Unwin, 2019. ISBN: 9781760632076.
(Age: Junior readers) Highly recommended. Anders is a very appealing hyperactive yet easily scared squirrel who makes friends easily and has a lot of adventures. The first story in this compilation finds Anders at school on the last day of term. The colourful comic style frames are filled with detail, easily identified characters with no emphasis on whether they are boy or girl, and interesting points of view. Bernie (an elephant) is a new student in the class and Anders befriends him. They walk home together through the woods and hear noises that might be 'the Green Grabber' the older kids talk about. The chapter ends with what looks like an alien nearby, in a laboratory with a strange aircraft on the roof. The holidays start for Anders playing at home then at cousin Eden's house. They play on the trampoline and then with a bow and arrow Eden has made. Anders makes one too, to hunt the Green Grabber and Eden offers to help build a cubby in the woods. The next day Anders goes to play with Bernie in his cardboard box hideout and they design their cubby. They decide to check out the clearing in the woods but emerge in a world of the imagination (wavy lines around the panels make this clear) They cross a desert, requiring a trip to the fridge for ice blocks, and enter some rubbery tubes eventually to pop out into the reality of the clearing in the wood. They collect stuff to build their cubby but the next day it is all gone. While looking for it they come across strange footprints leading to a building in the woods, when the Green Grabber comes they are very scared but Eden meets him and finds out that he is really Dr Larsen who is building a giant telescope at the observatory where Anders' dad works. He offers to help them with their cubby. Each chapter develops a new adventure as the holidays progress including one where Anders finds a large beetle which he names Skip. Skip clings to Anders' back and flies with him so their adventures get more wide ranging. Scattered through the chapters are opportunities for learning about things like comets and aircraft and volcanoes but mostly the adventures are about having fun with your friends.
This bumper book of 445 pages includes three stories, two of which have been published previously. First time independent readers will enjoy the challenge of reading this themselves. The captions are short and the language accessible, the pictures support the text but add to it considerably. The short, contained chapters make this a good bedtime read and junior readers will still find enough to absorb them in this highly recommended book. Teacher's tips and a book trailer are available from the publisher's website.
Sue Speck

BUY IT ON
Sep 16 2019
Dr Seuss's Horse Museum by Dr. Seuss, illus. by Andrew Joyner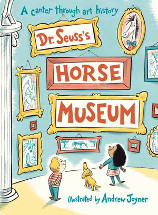 Puffin, 2019. ISBN: 9780241425725.
(Age: All) Highly recommended. Themes: Art history. With the words, 'A canter through art history' on the front cover the reader is well aware of the topic of the book and will discover what art is and how artists have represented horses though the ages. The book is based on a manuscript and notes by Dr Seuss that was recently uncovered, and Andrew Joyner has brought together iconic figures from Dr Seuss's book as well as his own engaging illustrations.
A definition of what is art is given right at the beginning and the young reader is told to look at some of the different ways that artists have represented horses in their work. They are instructed to
Look it over
Think it over.
Talk it over.
From then on the book explores work from prehistoric times, and ancient Chinese culture and many, many artists like Picasso, Manet, Magritte, Pollock and names that aren't as familiar, Katsushika Hokusai, Marino Marini, and Rosa Bonheur. As the children look at the paintings they also learn about the kind of art they represent, like Realism, Impressionism, and Surrealism. There is plenty of humour in the illustrations to keep the young reader engaged and older readers who have an interest in art will be fascinated by this easy to understand tour through art history, instantly recognising some of the more famous horse paintings and being intrigued by others.
The back of the book contains images of the works and information about the artists, with the time period that the artist was alive. Notes from the publisher discuss Dr. Seuss' lifetime interest in art and Andrew Joyner's approach to illustrating the book. Teacher's notes are available to download.
This would be an excellent addition to any library and would make a fabulous gift for any child who is interested in art.
Pat Pledger
BUY IT ON
Sep 16 2019
Theodore the unsure by Pip Smith
Illus. by Beau Wylie. Scholastic, 2019. ISBN: 9781760661861.
(Age: 4+) Recommended. Themes: Lions, Hair, Decision making. Unsure Theo has been made King of the Whole Animal Kingdom. He lives in the grasslands of Africa. But he is indecisive and worried that he should be king. He cannot make up his mind about anything. Breakfast can take hours as he tries to make a choice between ostrich eggs and camel milk.
But one very hot summer when the one tree on the savannah is wilting, and all the animals are very hot, his mane begins to grow and grow. It grew so much that he has to make a decision about cutting his hair as it is now unmanageable.
He asked his advisor, Babs for help, and Babs scours the earth canvassing opinions, and tallying the results. And everyone has an opinion! But the results are decidedly No.
But Theodore thinks about the poor cold polar bears and the shivering penguins while his hair simply grows longer and longer in the sweltering heat.
So he makes a decision, one that helps a variety of animals and keeps him in place as the King of the Whole African Kingdom.
Children will laugh out loud at the trials of Theodore never being able to make a decision. His procrastination is very recognisable as he teeters between the rights and wrongs of what to do.
The efforts Babs goes to help make that decision are very funny and parody the interviews, questionnaires and surveys that seem part of our daily lives.
The illustrations are a delight, with the most amazing looks on Theodore's face, reflecting his indecision and worry about making up his mind. And I love the endpapers, surveying the savannah in the hot bright daytime, then the same place at night, two hipos absorbed in reading their books by lamplight under the stars.
Fran Knight

BUY IT ON
Sep 16 2019
Hasina by Michelle Aung Thin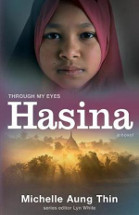 Through my eyes series. Allen and Unwin, 2019. ISBN: 9781760637286.
(Age: 11+) Highly recommended, Myanmar, Rohingya, Islam, Buddhism, Survival. Through my eyes, a series of marvellous books set in contemporary war zones where children live in peril, offers a new book, Hasina, set in Myanmar. Here the Rohingya are refugees in their own country, many spilling into neighbouring Bangladesh to avoid the bloody raids by government forces. The noise of helicopters cuts though the reader when on page one, Hasina is transfixed by their attack, only taking shelter when her aunt Rukia pulls her inside. Her aunt and cousin have left their own southern village in search of shelter after riots four years go, the Buddhist Burmese turning against their Muslim neighbours.
But when the men come at night, murder in their eyes, Hasina, her brother Araf and cousin Ghadiya escape into the Rakhine forest, returning to the village days later where they are confronted by a quiet ruin, houses burnt down, their families gone.
The story of their survival is gripping and real, readers taking in the reasons for this conflict, nationalism mixed with greed, religion mixed with past grievances, power struggles taking precedence over conflict resolution and peace.
Michelle Aung Thin was born in Myanmar, in the year of the military coup and left with her parents when she was an infant. She grew up in Canada, has worked there and in London, now living in Australia.
Series editor and series creator Lyn White has extensive experience as a primary classroom teacher, teacher-librarian and EAL teacher. Her work with refugee children motivated her to create the acclaimed Through My Eyes series of books set in contemporary war zones. Lyn also created and edited the Through My Eyes - Natural Disaster Zones series that pays tribute to the courage and resilience of children who are often the most vulnerable in post-disaster situations. Lyn continues to teach EAL and is an education consultant and conference presenter. (Allen and Unwin series website)
Fran Knight
BUY IT ON
Sep 16 2019
Funny Kid Slapstick by Matt Stanton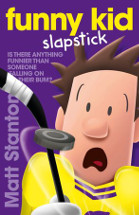 Funny Kid book 5. HarperCollins, 2019. ISBN: 9780733339486.
(Age: 8+) Recommended. Funny Kid Slapstick by Matt Stanton is Book 5 in what seems to be a very funny series. The main character Max has the ability to make anyone laugh, especially when times are grim. He really is the Funny Kid and I think, a very loveable character.
In this book, Max and his friends have been forced by their teacher Miss Sweet (who definitely isn't!) to join the ice-hockey team. They aren't the best team, they are younger than their rivals the Redhill Rhinos, and they have Mr Armstrong for a coach (who hates Max). It seems that things may not be very funny at all, but in actual fact Max still made us laugh!
My 9 year old son scored this book first and really enjoyed it. He isn't a huge fan of reading in general, and for him to read an entire book in a reasonable amount of time IT HAS TO BE GREAT! He started reading and every night continued until the end. He said his favourite part was the whole thing,'but I really really loved the pictures! They are so funny and good for the story'.
I must agree with him. I enjoyed Matt Stanton's style of writing, I liked how he asks questions of the reader to engage them and I also picked up on the level of literacy required for this book (and I am guessing the series). I think that purposefully he has written using words that are familiar and easy to decipher meaning that struggling or disengaged readers will feel a sense of confidence when sitting with this Book. My favourite part, as is my son's, is the pictures. They are simple black line drawn cartoon characters but my goodness they add SO much to the story! Their facial expressions are spot on, they are well placed within the story and do not obstruct the reader too much.
If the reader enjoys Diary of a Wimpy Kid then they will love this series. It would be best given to readers 8+, and especially those who are not confident or a little behind their peers.
A great book, and I would suggest series!
Lauren Fountain
BUY IT ON
Sep 16 2019
Mr Walker and the perfect mess by Jess Black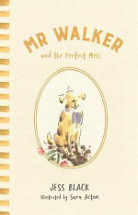 Illus. by Sara Acton. Random House. Australia. ISBN: 9780143793113. 77p hardback.
(Age: 5+) Highly recommended. Themes: Family, Independent Reader. Mr Walker and his hotel family scramble to deliver an important function under the marquee whilst continuing regular services to guests. To make matters worse the staff need to organise a surprise farewell gift for their beloved groundskeeper, Josephine. Everything was more or less going to plan until the heat wave caused a power failure, followed by a thunder storm. During the blackout, Henry and the others make good use of Mr Walker's problem solving skills.
Our hero, introduced to us in The Tales of Mr Walker, is a real-life labrador who is the ambassador for Guide Dogs Australia at the Park Hyatt hotel in Melbourne. Out of all Jess Black's characters, none are more charming than Mr Walker, for whom one master or one nuclear family is not enough.
Every adventure is made special by both Sara Acton's stylized rendering of Mr Walker and the hard cover, which is as solid and safe in our arms as a half grown puppy. Mr Walker is young at heart but exemplifies persistence and grace, instinctively bringing out the best in Jess Black's human characters and readers.
Mr Walker demonstrates his expansiveness and service by being a valuable member of Henry Reeves' staff and the stalwart of the Hotel. Mr Walker and the Perfect Mess, is another life lesson from Mr Walker that will embrace younger readers, most of whom love stories about dogs. Let's be honest, we each want to be the person, Mr Walker believes us to be. Activities for the series are available.
Destined to be in demand, titles in the series include: Mr Walker and the Dessert Delight, Mr Walker Gets the Inside Scoop and Mr Walker Braves the Night.
Deborah Robins
BUY IT ON
Sep 13 2019
Dumazi and the big yellow lion by Valanga Khoza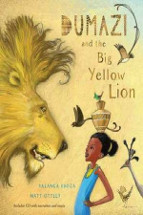 Illus. by Matt Ottley. Scholastic 2019. ISBN: 9781742994116.
(Age: 4+) Highly recommended. Themes: Fable, Lions, Africa, Folk tale. When Dumazi walks from her village to the waterhole, a calabash on her head she hears a lion bemoaning its fate in the bushes. He has been caught by a hunter's rope trap and cannot get out. He promises Dumazi that if she releases him he will not eat her. She releases him only to find that he intends to break his promise. She takes him to see some other animals to see what they say about the lion eating her, but each that she sees, has their own reason for telling the lion to go ahead and eat her. The giraffe recalls that Dumazi is a human and humans are responsible for setting things on fire and building fences which have restricted the animal's jungle home. She asks the elephant, and the elephant shows her his half sawn off tusk, taken by poachers, so tells the lion to go ahead and eat her. But the monkey derides the lion, saying he will tell all the animals that the lion was caught in a rope trap and laugh at him. He then cleverly gets the lion to show hm the rope trap and how he was caught, so entangling himself again. The clever monkey slips back into the jungle warning the lion not to make promises he cannot keep, and deploring his behaviour towards Dumazi who saved his life.
This wonderful tale full of the sights and sounds of Africa, will be adored by all readers, intrigued with the brave Dumazi wanting to release the lion but cautious lest it try to eat her. Her solution of finding what other animals think reveals the problems humans have brought to this land, and the cleverness of the monkey in trapping the lion over again will bring gales of laughter from the audience.
Ottley's wonderful illustrations depict a broad sweep of Africa, with smaller animals and insects at Dumazi's feet. The drawing of the lion completely helpless in the path of the stampeding buffalo will evoke sympathy in the reader, despite his duplicitous behaviour towards the Zulu girl. Ottley creates images from a different perspective, uses shadows to create interest and drama, and enfolds much of the book in a glorious sun shiney golden hue. I loved every page.
Fran Knight
BUY IT ON
Sep 13 2019
The Unlisted by Justine Flynn and Chris Kunz
Lothian, 2019. ISBN: 9780734419552.
(Age: 10+) Recommended. Themes: Action thriller, Brainwashing, Dissent, Families. What a roller-coaster ride, The Unlisted is a great read and also an ABC TV/Netflix tie-in! Dru Sharma hates the dentist and persuades his twin brother Kal to take his place when he is supposed to have a compulsory school dental check-up. When Kal begins to show signs of super strength and their friend Tim goes missing, Dru realises that something is terribly wrong. The Infinity Group is aiming to take over the thoughts and actions of kids everywhere and it's only the Unlisted who can withstand the brainwashing. Can Dru and his companions keep out of danger and stop the spread of Infinity Group's control?
This is an action packed novel that has everything that the adrenaline junkie reader could wish for - the short chapters and cliff hanger endings that push the reader to continue on, dangerous situations, villains, mystery and surprises. In addition the main characters are likeable and their family is a hoot, with a grandmother who rules the roost and feeds them well and an aunt who might be part of Infinity Group's conspiracy.
The Unlisted will have immediate appeal with its dark cover showing the twins and an Unlisted group deep underground and its TV tie-in. Reluctant readers may be drawn to it, and readers who enjoy an action suspense story will be eagerly waiting to grab the next books in the series. Reading notes at the conclusion of the book are a welcome addition.
Pat Pledger
BUY IT ON
Sep 13 2019
Ninja Kid 4: Amazing Ninja! by Anh Do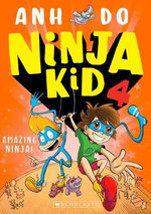 Scholastic, 2019. ISBN: 9781760662837. 186p. pbk.
(Age: 6+) Recommended. Themes: Action/Adventure. In Ninja Kid4: Amazing Ninja! we can look forward to Anh Do's winning formula. From the first pages, we know that Dr Kane will be menacing Duck Creek and Nelson will somehow need Grandma Pat's best ever invention - an animal translator helmet. Anh Do's comedic skills endow him with perfect timing. He knows too well that his verbal and visual foreshadowing will provide readers with both the plenitude and humour to keep them coming back for more.
In this episode, Neilson and Kenny, aided by Sarah and Tiffany, are determined to perfect their circus acts, to win the chance to perform in the circus, soon to be passing through Duck Creek. Charles, the Mayors son, and a mysterious man with an amazing breakdancing rhino, prove stiff competition. The children are not disappointed, rather they are excited to witness the next rhino performance. Of course things quickly get out of control.
But when does Dr Kane become involved and just how will Nelson and Kenny use the Animal Translator to protect the citizens of Duck Creek?
Anh Do writes and draws the events in the plot with his usual blend of mirth and vigour - and most importantly, without giving away the identity of the Ninja Kid! In Amazing Ninja!, fans of the Ninja Kid can anticipate more word play, exaggerations, and hilarity from the whole Kane family, minus one - Kenny's absent Dad. Don't leave Kenny alone to ponder the paradoxes shrouding his Dad's disappearance. Ninja Kid 4 sees Kenny developing his Ninja Kid persona.
Deborah Robins
BUY IT ON
Sep 13 2019
First encyclopedia by DK Publishing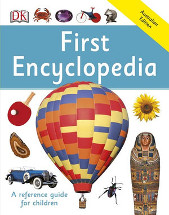 DK, 2019. Australian edition. ISBN: 9780143795025.
(Age: 5-8) Highly recommended. Highly illustrated with easy to read text, this is an ideal reference book for younger children. DK consistently publish well researched and beautifully formatted books and this is no exception with its 168 pages of beautiful photographs and interesting information.
The book is divided into the following sections: Contents page which refers to World regions, People and society, History of people, Living world, Science and technology, Planet Earth, and Space and the universe. The last heading, Reference section, contains a quiz, Glossary, index and key to measurements among other subheadings.
Each sub section is divided into a double page spread that gives easy to understand information, and details like record breakers, and a question on the bottom of the left hand page and the answer on the right, but printed upside down. Some of the sections refer the reader onto to associated parts of the book; for example the reader is sent from Rainforests to 'turn and learn' to pages about Plant life, Trees and forests, and Climate and seasons. Some of the sections also give a historical background: for example, in Science and Technology, the section Flying machines, informs the reader about the first plane, as well as more modern aeroplanes.
Young readers will find a wealth of information between the covers of First encyclopedia, and will have fun browsing through the pictures and reading the interesting snippets of information. They may then go on to pursue further in-depth knowledge of things in which they are particularly interested.
Pat Pledger

BUY IT ON
Sep 12 2019
JT, the making of a total legend by J. Thurston and J. Phelps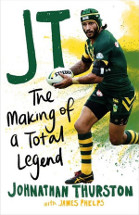 Harper Collins, 2019. ISBN: 9781460758618. 236p.
(Age: 11+) Highly recommended. Themes: Autobiography. No self-respecting North Queenslander could bypass this autobiography for children, even though we've read the adult version, Jonathan Thurston - the autobiography. Or have we? James Phelps has shifted gear for younger readers in helping JT reveal less of the professed sook and comedian and more of the insecure-delinquent-turned-mindful-hero, intent on 'showing up' anyone who labelled him too small or too unorthodox to become a professional NRL player. Phelps and Thurston tease out the details of JT's self-made sports stardom by deconstructing his methods and alluding to his many character strengths for want of academic strengths. Thurston has a degree of curiosity and humility, when as a young player he doggedly sought to learn the finer points of a particular skill firsthand from more proficient players. Equally, he exhibited a choreographer's ability to practise chunks of his performance in stages, piecing them together incrementally with an indomitable brand of persistence.
Equally, and unlike Thaiday in Rise: The Sam Thaiday Story - co-authors JT and Phelps, are honest about the details of JT's brush with delinquency. Whilst apologetic and to some extent mortified, JT clearly describes events involving his car stealing screw driver and the reasons for his both his foolishness, and his salvation. No allusions or vague admissions like, 'I did a bad thing' with no context, as in the Thaiday story. By comparison, we must admire the respect and transparency that JT affords the legions of children who have admired and will continue to admire, his considerable sporting achievements.
JT, the making of a total legend is JT's acknowledgement that family and community must be part of our life's journey. His managers, parents, wife and wider family invariably counselled him to make the best personal, career and legacy decisions and he had the open heart and good sense to realize that integrity and responsibility are equal privileges and opportunities for those with both extraordinary self-belief and talent. Congratulations gentlemen, the world is going to love this forthright and fun narrator so much more than your first JT autobiography. Readers of any age won't regret meeting JT in this book. The details are his alone to tell, and what little is left out, is somehow absorbed as unspoken wisdom. An awesome ride of an autobiography - perfect for one of the greatest-of-all-time sporting legends.
Deborah Robins

BUY IT ON
Sep 12 2019
The long call by Ann Cleeves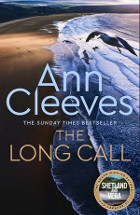 Two Rivers book 1. PanMacmillan, 2019. ISBN: 9781509889570.
(Age: Adult - Senior secondary) Recommended. Themes: Mystery and suspense, Detectives, Down syndrome. Fans of the Vera and Shetland series are in for a real treat with Cleeves' new series starring Detective Matthew Ven a quiet introspective man who is leading a team in North Devon. When a man with an albatross tattooed on his neck is found dead on the beach, Ven finds himself uncovering secrets from his past and present. Then a young woman with Down syndrome disappears and Ven has more than one mystery to solve.
Cleeves builds up a slow, comprehensive picture of Matthew Ven, his background as a child in The Brethren, a strict evangelical community, his subsequent denial of that community and his gradual coming to terms with himself. The beaches and dunes, small villages and The Woodyard, a place for disabled and mentally impaired people, are all described meticulously and the reader gets to know the area very well.
The long call is a character driven novel. Not only does the reader get to know Matthew, but Jonathon his partner. The two detectives who are Matthew's off-siders, Jen and Ross, each have strengths and weaknesses as detectives and as people and their background stories are fleshed out as well. The women, Lucy, Christine and Rosa, all who have Down syndrome, are portrayed sympathetically and in depth and play an important role in the story.
Cleeves wraps everything up neatly; the reader is able to reflect back on the clues that she cleverly put into her narrative, but which are easily overlooked. A very satisfying beginning to a series, which will be sure to have many followers in the future.
Pat Pledger
BUY IT ON
Sep 12 2019
Amazing dogs with amazing jobs by Laura Greaves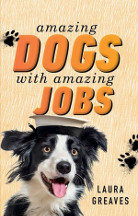 Penguin Australia, 2019. ISBN: 9780143796879. 288p.
(Age: 5+) Highly recommended. Themes: Dogs, Working animals. I must start this review by saying that I absolutely LOVE this book! It is literally a book about awesome dogs that do amazing things - and they are all true stories!
'Dogs have been living with and helping humans for around fifteen thousand years. All those years ago dogs were either hunters or guardians, but today, dogs can do all kinds of amazing jobs.'
This book just really ticks lots of boxes for me. It contains 30 stories about a variety of dogs, each one written with a young audience in mind. It asks questions of the reader and links experiences from their lives to that of the amazing dog. I really liked this aspect as when I read chapters to my 9 year old he was able to find topics he could relate to, he also liked working out which countries the dogs came from and where they were located in the world!
Each amazing dog has a 'Dog File' which gives a quick overview of the breed, skills and positive parts of the job. This part also helps give the reader an idea of what is to come, and if they would be interested in continuing to read.
It is hard to pinpoint a favourite dog, as they really are all so amazing! But the ones to mention are Bailey the 'Assistant Director of Seagulls' who keeps seagulls from pooing on historic ships, Caesar the Canine mascot for an AFL team and Montgomary who is a doggy blood donor!
This book is not only a fun read, but it has also taught me a whole heap of new things that dogs can do! They can donate blood, they can be artists, actors, assistance dogs, and even owl detectors. It has really given me a new appreciation for canine abilities.
I must commend Laura Greaves on a really well written book. It is full of questions, interesting facts, and sentences that are just written with humour. We give this book 5 out of 5, and is a great book to be read to younger children (5 years +) or be read by readers 8 years and up.
Lauren Fountain
BUY IT ON
Sep 12 2019
Toffle Towers : Fully booked by Tim Harris
Illus. by James Foley. Penguin, 2019. ISBN: 9780143795421.
(Age: 8+) Highly recommended. Theme: Humour. Ten-year old Chegwin Toffle, is a daydreamer of the most advanced kind, who, out of the blue, inherits a hotel. He is determined to make this run-down hotel into a success.
A super fun laugh-out-loud story Fully booked is action packed with loveable characters. It depicts thinking outside the square, using your imagination, the importance of friends and family, with some mystery thrown in.
An engaging plot, funny conversations, pages filled with thought bubbles, lots of word play, and lists and letters will captivate younger readers. It is very well written and the setting is depicted so that the reader can easily visualize what is happening.
Wonderfully illustrated by James Foley, it has cartoon-like illustrations throughout the book, such as 'strange things people might inherit'. Teacher's notes are available.
Donna Isgar
BUY IT ON
Sep 12 2019
Leaping Lola by Tracey Hawkins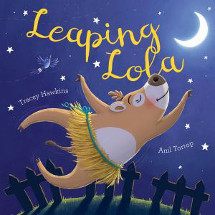 Illus. by Anil Tortop. New Frontier Publishing, 2019. ISBN: 9781925594591.
(Ages: 2-5) Dance, Rhyming Story. Lola is a brown Jersey cow who just loves to dance. But Lola is a milk cow, not a black and white cow; Jersey cows just aren't built to dance, her mother says. Regardless, Lola cannot help it, she clip-clops her hooves, flicks her tail, pirouettes here and spirals there. With the help of her friend, she disguises herself and slips into the Black and White Ball. She's just getting warmed up when . . . splash! A downpour of milk washes her mud disguise away, exposing her for the brown cow she really is.
There are lots of movement words in the story, making it a fun and rollicking read aloud, but the story itself lacks a sense of purpose and the ending doesn't resolve everything as nicely as it could. Teacher's notes are available.
Nicole Nelson

BUY IT ON
Sep 12 2019
Is it Halloween yet? by Susannah Chambers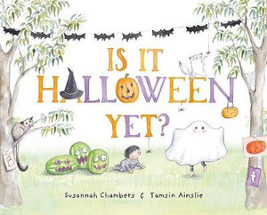 Illus. by Tamsin Ainslie. Allen and Unwin, 2019. ISBN: 9781760297404. 24 pg.
(Age: 4 - 6) Recommended. Themes: Halloween, Family, Humour. What fun to read about a warm and loving family and the tricks and dressing-up for Halloween! Emily is a little girl who is very impatient for Halloween to come. She wants to make a Jack-o-lantern; she spots a vampire bat in a tree and paints her cat black to make it into a witch's cat. As she creates havoc with her creations, her patient mother looks after her baby brother while doing household chores and working on her daytime job. Grandma is also around, gardening and making a Halloween costume for Emily.
Tamsin Ainslie has perfectly created a warm, loving, busy and creative family with her delightful water colour illustrations that abound with humour and warmth. There are lots of fun details for a reader to pursue, especially the myriad of bats and little ghosts that are strung throughout the house. Readers will laugh out loud as they see Mum wrapped around with toilet paper with Emily say 'Are you SURE it's not Halloween yet . . . Mummy?'
The narrative is delightful, with Emily often asking a question or making a statement on one page and her busy mother replying and not noticing just what Emily is up to. This is a really enjoyable book for both children and adults and is one that would become a family favourite when read aloud. And a bonus page at the back contains instructions for making an origami bat that will be welcomed by families and teachers alike.
Pat Pledger
BUY IT ON
Sep 11 2019
A different land by Paul Jennings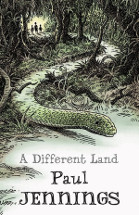 Illus. by Geoff Kelly. Allen and Unwin, 2019. ISBN: 9781760528720. 128 pg.
(Ages: 8+) Highly recommended. Themes: Migration, Resilience, Courage, Loneliness, Difference, Persistence, Cultural acceptance. The snake on the front cover of A different land, slithering its way through thick bush, will immediately grab the attention of readers who will want to know what happens to the three figures in the background. And they won't be disappointed in this short tale of Christopher, his mother and Anton who have travelled 12,000 miles to Australia and then made a long train journey in hope of employment. When the trio arrive though, they find that the pub is very run down and they have to live in a caravan smelling of dead pig.
Jennings explores what it is like to be a migrant in a new and very strange land. Christopher is lonely and missing his familiar homeland, but knows that his mother Pat believes they will have a better future after leaving their bombed home town and the deaths of his twin brother and father. He is determined to find out about Crayfish and his wife Peggy and what he is doing in the bush and at the same time must learn to fit in.
Humour and pathos permeate this story, a companion to A Different Boy and A Different Dog. It would be an ideal read aloud or class novel, examining the aftermath of war, the resilience of new migrants coming to Australia and the courage and persistence of all who try to make a living in the bush. The slight reference background to Anton's story of running away from a boy's home could also be researched by curious readers.
Illustrations in strong black ink strokes by Geoff Kelly add to the atmosphere of the book and give readers an in-depth feel for the bush setting, the wooden buildings, the waves and the boat.
Scroll down the page for teacher's tips from the publisher.
Pat Pledger

BUY IT ON
Sep 11 2019
The Iliad - a graphic novel adaptation by Gareth Hinds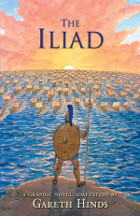 Candlewick Press 2019. ISBN: 9780763696634.
Themes: Ancient Greece, myths/ legends. Homer's epic poem, about the tenth year of the Trojan War, fought around the twelfth century BCE, has endured as one of the greatest war stories of all time, but it is more than a war story, it is one of human heroism and failings, and the interference of gods. To help understand the work, all in beautiful fine watercolours, Hinds presents us with an illustrated cast of characters, important Achaeans, mainly in blue (Greeks) and Trojans, mainly in red, explaining that each character's initial can be found worked into his armour. The other important players are the twelve Gods who are depicted in semi-transparent pastel shades.
A prologue sets the scene, explaining the modern day location of the warring armies, how the war started and the involvement of the Gods. The story picks up as the battle weary Achaeans, camped outside the fortress of Troy make offerings to appease the Gods who have brought sickness to the camp. It is seen that the Gods are angry about the refusal to ransom the daughter of Apollo's priest, taken as a war spoil by Agamemnon, the leader of the Achaeans. He agrees to give her up but claims Achilles' woman Briseis in return. A well placed footnote explains that the army had been raiding allies of Troy and that men and women became slaves, valuable 'spoils of war'. Achilles is furious and withdraws his support. The war continues with the upper hand shifting backwards and forwards between the two armies often influenced by the Gods who struggle to exert dominance over each other. Brave men die on the battlefield, their names recited, ensuring everlasting fame and honour for their families.
The famous finale between the Trojan hero Hector and Achilles is gripping, it is a bitterly fought battle vividly brought to life in the illustrations. The author's note at the end reflects on why we still read the Iliad. 'Humanity is on display with all its nobility and pettiness and violence and tenderness, it is, simply, a powerful story.'
Introducing a new readership to some of the most important works of Western literature has been the goal of Gareth Hinds' wonderful adaptations of classics such as Beowulf, the plays of Shakespeare, and this companion volume to The Odyssey. The adaptation retains the essence of the original with helpful maps and notes but some students may find it long and challenging. However, the characters are the original superheroes and the story compelling, while senior students will find it rewarding it will also appeal to action graphic fans of all ages.
Sue Speck
BUY IT ON
Sep 11 2019
Sea monsters by Sharon J. Yaxley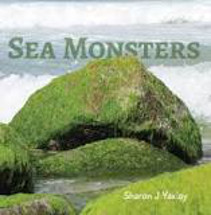 Forty South Publishing, 2019. ISBN: 9780648168881.
(Age: 4+) Highly recommended. Themes: Seashore, Tide pools, Seaweed. A magnificent book of photos from the seashore is given extra life by the inclusion of poetic lines giving the hint about what we are seeing. Not seaweed but monsters with eyes and tusks and jagged teeth, whispering tales from the deep.
The monsters were torn from beneath the ocean and tossed and torn upon the waves, then left on the sand along the beach where their shapes became monsters.
Children will thrill recognising the flotsam they see upon the beach, viewed with different eyes, becoming tails and fins and eyes and tusks, lying in wait for those who venture there, telling stories of what has happened to them, waiting for the next high tide to bring them back on the shore to tell even more stories.
Copious teacher notes are available at the author's website but I would prefer to let the kids take charge and be wowed by the images and how these images could be seen as monsters. I think a class could make wonderful use of this book, sharing experiences by the sea, imagining the monsters seen on the shore, perhaps visiting the beach for themselves to see what they can find. The pictures are simply stunning, taking the reader's breath away as they pour over each page, remembering the feel of the sand, the rubbery texture of the seaweed, the coldness of the water.
Fran Knight

BUY IT ON
Sep 11 2019
Charlie turns into a T-Rex by Sam Copeland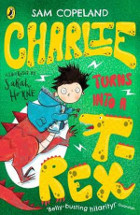 Penguin Random House, 2019. ISBN: 9780241346228. 280p. pbk.
The much anticipated sequel to Charlie changes into a chicken is finally in bookshops. Charlie is sorely tested in Charlie turns into a T-Rex, but gradually team work pays off with Flora, and to some extent Moshin and Wogon too, assisting Charlie McGuffin to master his special ability. As they understand more about the phenomenon, they harness it as a weapon to help Charlie's dad save his job. The last thing Charlie wants to do is sell his house, move across town to live with Aunt Brenda (a peg- legged crazy cat lady) and worst of all - change schools and lose the special connection with his good friends. Solving this problem isn't easy when Charlie's nemesis, Dylan, is intent on unmasking Charlie despite Charlie's affinity with different helpful species like Jean Claude, the pigeon.
The first thing that hits you about Charlie changes into a T-Rex is Sam Copeland's conspiratorial writing style, which rapidly draws you in. While agreeing that there's a touch of Roald Dahl about his work, Copeland's writing is unique and cleverly-crafted. Firstly, the humour targets both children and adults, so while there is plenty of toilet humour, there is also a pop culture element that will make adults smile. This universal appeal reinforces that kids love to hear adults laugh just as much as we love to hear them laugh. An early highlight comes when Charlie discovers that his Cat, Chairman Meow, has a whole other life, in which he believes he has supreme power over his universe.
While this sequel is another split-your-sides-laughing kind of story, the humour has effectively been used as a mechanism for addressing childhood anxiety with the lightest of touches: a tricky issue to deal with at the best of times. Parents and educators all know that children can talk non-stop about a whole range of bizarre and wonderful things. However, they are not always so forthcoming about issues that worry them, and while this book isn't an authoritative source, it gently introduces the benefits of mindfulness and happiness and, of course, the power of friendship. Find out more about this talented author.
Deborah Robins

BUY IT ON
Sep 11 2019
Red by Jed Alexander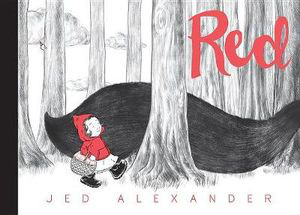 Cameron Kids, 2018. ISBN: 9781944903114.
(Age: 3+) Highly recommended. Themes: Fairy tale, Wordless. A wordless take on the classic tale, Little Red Riding Hood, in which the Big Bad Wolf and other woodland creatures are planning something surprising sees Red scampering through the woodland, meeting the wolf and other creatures along the way. Children will tell her to be careful of the wolf, but a bigger surprise is about to happen. I love the wolf's body seen through the trees, and the red of the girl's cape contrasting with the black and white background, the small creatures welcoming her to the forest, readers needing to look closely at each page to spot them all. The image of an elderly comatose Grandma is turned around as the girl reaches Grandma's house and finds all the animals there waiting for her. The black, white and red illustrations beg the audience to add their own words. They will all know the original story but these illustrations will make them use their imaginations to build a new tale, one in which everything ends happily, wolf included, rather than his stomach filled with stones and drowned.
Fran Knight
BUY IT ON
Sep 11 2019
Computer coding projects for kids by Jon Woodcock and Carol Vorderman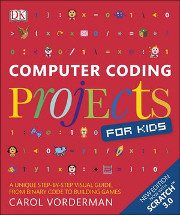 Dorling Kindersley, 2019. ISBN: 9780241317761.
(Age: 8-16) This is a visual step-by-step approach to split complicated code into manageable chunks, so that the most impressive projects become possible. Suitable for complete beginners, this book gives a solid understanding of programming, how to create their very own projects from scratch, and move on to more complex programming languages like Python. Difficult coding becomes easy and fun to understand using Scratch 3.0, the latest software from the world's most popular programming language for beginners.
'Make a Dino Dance Party or create your own electronic birthday cards. Build games, simulations and mind-bending graphics as you discover the awesome things computer programmers can do with Scratch 3.0.' (Publisher)
Donna Isgar
BUY IT ON
Sep 10 2019
Miss Kraken by Nicki Greenberg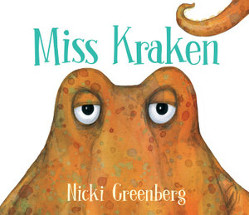 Allen and Unwin, 2019. ISBN: 9781760637743.
(Age: 4+) Highly recommended. Themes: Humour, Read aloud, School, Marine creatures. Kids will laugh out loud at this very funny look at a class's response when an unexpected teacher turns up for the new year. The children's faces show amazement as the large sea creature appears, their expressions at once wide-eyed, quizzical and a little concerned. But there Miss Kraken sits, nestled onto her eight tentacles at the front of the classroom, one leg having written her name neatly on the backboard.
And she is a cranky teacher, writing up an endless list of rules on the blackboard, confiscating all manner of things not allowed, her multiplicity of tentacles coming in very handy (whoops).
When she announces that they are to go on an excursion, the children are disconcerted; usually trips outside the classroom are fun, but with all the rules Miss Kraken imposes, they are not looking forward to their day out.
Greenberg uses pencil, ink and watercolour for her illustrations, using photography with digital drawing and collage to complete these eye popping illustrations.
Miss Kraken is a wonderful creature, her eyes peering out from the font cover, her tentacles spreading across many pages fulfilling a variety of tasks. The children's faces are a scream as they take in their new teacher, showing resignation at the regime imposed, concerned when they cannot find her at the aquarium, only to have their fears return when their replacement teacher shows up.
This is fun from start to finish, readers will love Miss Kraken, the tricks she can do, the fear she engenders and the search for a place to call home in the aquarium.
Touches about school life, new teachers and excursions are priceless, from the students' behaviour, the manager asking where their teacher is, the children changing from poorly behaved to concerned about losing the teacher, their eyes searching in the dark of the muted aquarium. Readers will love recognising the things they have done on excursions and search each watery page for the now elusive Miss Kraken.
The Kraken of mythology will intrigue readers who wish to delve further, and accessing this Kraken site will satisfy their curiosities and augment the fun they will have in reading this book. Scroll down for teacher's tips.
Fran Knight
BUY IT ON
Sep 10 2019
Baby's first jailbreak by Jim Whalley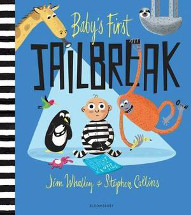 Illus. by Stephen Collins. Bloomsbury, 2019. ISBN: 9781408891810.
(Ages 4+) Highly Recommended. Themes: Animals, Babies. Baby Frank is back. A hilarious follow-up to Baby's first bank heist, this wonderful rhyming story, is full of mischief and cute animals. It is so much fun to read aloud, the illustrations are brilliant, with lots of little details for young readers to spot.
Can Frank and the animals convince the visitors that they belong right where they are? The answer is both yes and no. But what happens finally, you'll have to discover, by getting your flippers, trunks, or other appropriate appendages on a copy of this chuckle-worthy book.
The storyline is great, as it gently introduces the downsides of performing animals, without coming across in a preachy form.
I have to say, this is one of the funniest picture book series, in recent years, with high hopes for more instalments of the adventures of 'Baby Frank'.
Donna Isgar
BUY IT ON
Sep 10 2019
Petal and the really hard riddle by Kathryn England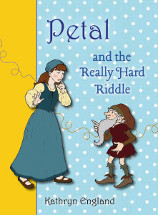 Illus. by David Allan. Christmas Press, 2019. ISBN: 9780648194545.
(Age: 6-8) Themes: Fairy tales. Katherine England's beginning chapter book is based on the Rumpelstiltskin folk tale, one of the less familiar fairy stories. She follows the similar plot lines, reworking the ideas and introducing the cunning twin brother Riddlestiltskin who's up to the same old trickery as his brother.
Petal's father can't help boasting about his daughter, she is clever, grows the most gigantic pumpkins and can even juggle fiery torches hopping on one foot. Of course, when he boasts about Petal's ability to spin straw into gold, things come unstuck. The greedy king summons the girl and locks her in a room with a bundle of straw and a spinning wheel. Poor Petal is unsure about what to do next, when a little bearded man climbs in through the castle window.
He promises to fulfil the king's commands if Petal can answer all his tricky riddles. Luckily Petal has read 'The Giant Book of Riddles' from cover to cover.
David Allan's black and white sketches add liveliness to this easy to read chapter book. Katherine England's ending brings a new interpretation to this fairy story, one which adds a fun conclusion. Petal and the really hard riddle is an easy story tale for young readers.
Rhyllis Bignell
BUY IT ON
Sep 10 2019
Where the river runs gold by Sita Brahmachari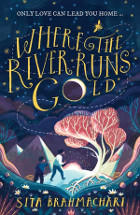 Orion, 2019. ISBN: 9781510105416. 340p; p/b.
Shifa has to protect herself and her brother Themba as she finds out the unfortunate truth about her parentage and the controlling government she lives under in a world supposedly ravaged by an incredible storm. Characters are deep and well developed, with even the seemingly most antagonistic characters having a human side to them. The treatment of Themba's implicit neuro-divergence is fairly respectful. The plot is largely character-based at first, focusing on interactions in an oppressive society, but pivots to a sort of thriller action with escapes and secrets towards the end, in a way that is interesting and doesn't feel jarring, but the conclusion does feel a bit rushed and insubstantial.
The novel tackles a variety of themes, and handles them largely well. There is examination of the expression of creative freedom under an oppressive government as people struggle under ARK's 'freedom farms'. The populace is controlled through complete isolation from and lies about a better outside world, but people fight back with stories and artwork. Treatment of people with neuro-divergence and mental illness is also looked at, as Themba struggles to cope on the oppressive farms and everyone tries to deal with the old lady on the farm. At the core of the plot though, is environmentalism, with the world presumed to be after a mass extinction event and the protection of what natural life remains.
The novel takes place in the fictional 'Kairos Lands' with a vaguely futuristic technology level after recovering from a cataclysm. The setting is well established with some interesting, but not too intrusive, world building.
Vincent Hermann
BUY IT ON
Sep 10 2019
George and the great brain swappery by Cal Wilson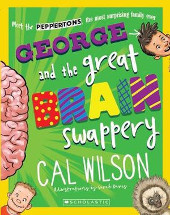 Illus. by Sarah Davis. Scholastic, 2019. ISBN: 9781742762760.
(Age: 8+) Recommended. The Pepperton family are back in the follow-up to George and the great bum stampede, another humorous story by comedian, Cal Wilson.
The Peppertons are a quirky, energetic family. Mum is Professor Pippa Pepperton, an Inventor Extraordinaire. She is always making wacky inventions, so life for the Peppertons is never dull or ordinary.
This is a tale of Mum's newest wacky invention, a 'Brain Swapping Machine', its name giving an indication of the potential for causing havoc. When the machine is stolen by one of George's classmates, and taken on an excursion to the zoo, it's complete mayhem, as the animals and visitors, start behaving rather strangely. This is a tale about chaos.
This is a fun book for young readers, with creative interaction of text and illustrations, interesting fonts and the use of space. This is especially helpful for new readers, who may feel daunted by a full page of text.
Once again, great illustrations by Sarah Davis, that really add extra humor to the story.
Donna Isgar
BUY IT ON
Sep 10 2019
Pig the tourist by Aaron Blabey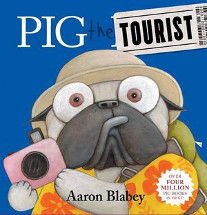 Scholastic, 2019. ISBN: 9781742994123.
(Ages: 3-8) Recommended. Themes: Rhyming story, Travel, Humourous story. Pig the pug is back and this time he's off on a worldly vacation. But he's causing trouble at every destination, with poor Trevor standing by unimpressed and at times distraught. The little details in the illustrations are sure to make kids and their grownups giggle; from Pig's doctoring of Trevor's passport on the endpapers to farting in his first class airplane seat, this is Pig as we know and love him. He is larger than life and more inappropriate and naughty than ever before. He hijacks a hot dog cart in New York, wees on a polar bear in the Arctic, knocks the head of a Sphinx in Egypt and lampoons koalas in Australia. And that's just for a start. 'Unbridled and vast was his need to offend. But every wild party must come to an end . . . Yes, if you treat locals with little regard, they'll come back to bite you . . . ' Yes, Pig meets an unfortunate end again. The rhyming and perfectly rhythmic text is rich and with that melancholic tone unique to Blabey's Pig stories. Lovers of Pig's previous escapades will be fans of his travel antics and Piranhas don't eat bananas fans will love to see the role the piranhas play in Pig's eventual comeuppance.
Nicole Nelson
BUY IT ON
Sep 09 2019
Meet me at the intersection ed. by by Rebecca Lim and Ambelin Kwaymullina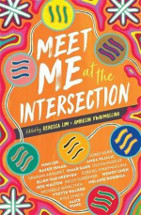 Fremantle Press, 2018. ISBN: 9781925591705.
(Age: 12+) Highly recommended. Themes: LGTQI, Disability, People of colour, Aboriginal people, Prejudice, Schools, Bullying, Migration. With artwork on the cover by Amblein, the circles representing those people marginalised within our society, be they the people of the First Nations as shown by the central circle, or those disabled, people of colour or LGBTIQ or those new to the country, the stories inside the covers reflect where their stories all intersect, they reveal the similarities and differences each story displays, leading to an outstanding recognition of their voices, as diverse and intertwining as is Australia.
I loved reading them and they will attract a loyal following, for those whose stories are reflected in these words and those for whom these words and ideas are new. I adore Kelly Gardiner's mirror on the 1950's, 'Trouble, a time of Frank Sinatra and motorbikes', when expresso coffee was new and to many, suspicious. Where two girls meet over their motorbikes and the world opens.
And Ambelin Kwaymullina's poignant poem, 'Embers' is a cry from the heart for people to be seen as themselves, not in terms of their difference. Anna Pajalik tells a haunting story of trying to blend into school in a monocultural Australia, in 'School of Hard Knocks', showcasing the undercurrents that exist in schools.
Each of the eighteen stories and poems reflects a different approach to being Australian, of being different in Australia, of rubbing up against those for whom difference matters, but in the end everyone simply wants to be accepted for who they are, and these stories are presented to an audience for whom meeting at the intersection might be a new experience but is well worth the trip.
Fremantle Press has published a book that can be read and reread, used in classrooms with ease and one that will encourage others to meet at the intersection.
Teacher's notes
are available.
Fran Knight
BUY IT ON
Sep 09 2019
Mika and Max by Laura Bloom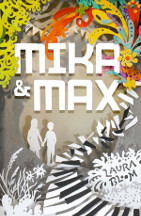 Walker Books, 2019. ISBN: 9781760651145.
(Age: 10-14) Highly recommended. Themes: Friendships; Neuro-atypical characters; Puberty; Coming-of-age. Mika is 13 years old. Her life is changing, her view of herself is shifting and there are pressures at home and in all areas of her life. Some of those pressures are the ones she puts on herself, but life seems to be getting harder and her family do not seem to help. Knowing who she is and even what she should wear, and the way she should behave and where she fits is causing her internal angst. Then she is expected to go to a music festival with her parents and stay with a family that she does not know! But on this weekend away she meets Max, a 10 year old who is non-verbal and on the Autism Spectrum. The festival presents opportunities for her to begin to show some independence, but her connection with Max shows her that friendship sometimes happens, even when you don't expect it. The link they forge though puts them into danger, but ultimately this is a story of discovery that goes beyond the stressful circumstances.
I was delighted that this story was able to reveal a window into the world of the family with a neuro-atypical child. The struggles and joys were there, but the realities were also exposed. Mika's family life was more typical, but it too showed that we can sometimes distress each other without meaning to. Her emotional growth was given a boost by connecting with the younger boy, Max. The drama within the coming-of-age story was compelling and quite exciting. This will be a book to recommend to young pre-teen and early teen readers; it is not difficult or long, but there is a gentle pathos that is appealing. Laura Bloom's own family circumstances have given her opportunity to create characters that are real and believable. Teacher's notes are available.
Carolyn Hull
BUY IT ON
Sep 09 2019
The old lie by Claire G. Coleman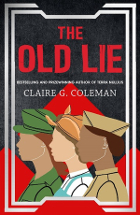 Hachette, 2019. ISBN: 9780733640841.
(Age: 15+) Recommended. Themes: Dystopia, Science fiction, End of the world, Refugees, Biological warfare, Dispossession, Stolen Generations. With excerpts from Wilfred Owen's poems as epigraph for the first chapter, and descriptions of soldiers struggling amid mud, barbed wire and corpses, the reader would be forgiven in initially thinking this novel is set in the trenches of World War 1, however, reading on, we discover that the action is taking place 'far from Country, trapped on a planet light years from Earth', and the soldier we have been reading about, Corporal Shane Daniels, is actually a woman (an Aboriginal woman), fighting a battle to protect the Earth and other planets of the Federation against attacks from the alien Conglomeration forces. The fearless and dashing fighter pilot, Romeo, with a reputation of being caught out in other people's beds, is also a woman - a clever reversal of stereotypes by the author Claire G. Coleman. Shane Daniels and Romeo are caught in a battle fought around space stations overrun with refugees, human and non-human, from planets in the Federation.
Other characters are on-the-run escapee, Jimmy; a strange malnourished waif, Itta; Walker, struggling alone in a desert somewhere; and Williams, a surgeon imprisoned in a laboratory cell. How their lives are connected is not revealed until the end. The common thread is the turmoil that has overtaken the Universe, the violence and suffering as beings are pitted against each other, the stampede of people fleeing danger, spaceships pitted in battle with space stations, and no safe haven anywhere. As we read on we gradually become aware of parallels with the current situation of refugees fleeing danger around the world, the use of biological warfare, past atomic testing on Aboriginal lands, Aboriginal soldiers denied recognition and rights on return from war, and children stolen from their parents. Coleman has found a highly original way to present themes from Australian history in a science fiction format that will engage readers who like that kind of exciting action drama.
Helen Eddy
BUY IT ON
Sep 09 2019
Jinxed! The Curious Curse of Cora Bell by Rebecca McRitchie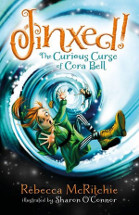 Illus. by Sharon O'Connor. Angus and Robertson, 2019. ISBN: 9781460757642.
(Age: 9+) Highly recommended. Cora lives an ordinary life with her friend, Dot. Each day she leaves her house in the wall and goes out collecting bits and bobs, returning each night to share her finds with Dot who is no longer as agile. One day Dot asks her to find shoe polish and so Cora spends all day searching the city of Urt, running from scavengers and trappers and finally just as she loses hope she finds a tin of shoe polish and a wooden box. Cora opens the box and sets off a chain of events that lead her on a wild and magical journey away from Urt with the help of two fairies, Tick and Tock.
Cora's journey takes her to many magical lands as she attempts to escape from a furious warlock and a Jinx, find out who and what she is and discover where Dot is. Together with her fairy friends, Cora meets hobgoblins, trolls and many magical beings, some of whom are willing to help her, as she tries to escape the warlock and the Jinx and find herself.
This book is an easy read for competent younger readers with adventures, a couple of mild scary scenes, (but nothing that will lead to nightmares) and a great story line. The author has created a story that children will want to believe in and want to visit. Cora's backstory and the journey she takes in this book encourages children to think beyond themselves, wonder what life would be like if you didn't know who you were or where you fit and to imagine what life would be like if like Cora, you could only remember waking up with one eye and Dot looking after you.
My one gripe about the book is that it ends with "to be continued" which is also how the author ended her first book, Whimsy and Woe. I feel this is an unnecessary addition to the story as I felt that the characters had reached a conclusion. I look forward to reading more about Cora's adventures but felt that this made the story feel unfinished.
Mhairi Alcorn

BUY IT ON
Sep 09 2019
I am so clever by Mario Ramos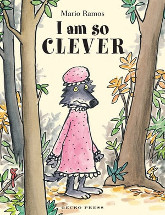 Gecko Press, 2019. ISBN: 9781776572496.
(Age: 4+) Recommended. Themes: Fairy Tales, Red Riding Hood, Wolves. In a turned about version of Red Riding Hood, we have a wolf who thinks he is very clever, being outsmarted by the girl in the red cloak.
The story begins in the usual way with Red Riding Hood taking a basket of goodies to an ailing grandma on the other side of the woods. The wolf convinces her to tarry, picking flowers for grandma, while he scurries off to the house to eat her up and be ready for the little girl as dessert.
With Grandma nowhere to be seen, the wolf puts on her nightgown, taking her place in bed, ready to eat the girl when she appears. But first he must wipe away his paw prints from the doorway and when he goes outside to do this, the door slams and shuts him out.
He encounters the woodsman searching for his glasss, and spies the bears, three little pigs, a prince looking for Sleeping Beauty and seven dwarves off for a shower. He sees Red Riding Hood and tries to accost her but falls flat on his face, his feet tripping over the long nightogown, so breaking his teeth and leaving him with egg on his face. He is shamefaced, not eating the two people he expected to eat that day. Too clever for his own good.
This engrossing version of Red Riding Hood will have readers recalling other versions and telling their own stories about the characters met during the reading. I do like the inclusion of the other tales as background to the wolf's meanderings in the woods, and love the turn about of the original story. The illustrations will appeal to the readers, especially watching closely the various expressions on the wolf's face as he changes from a confident and clever wolf to one despairing, embarrassed wolf at the end.
Translated from Le Plus Malin (2011) I turned the page expecting a little more.
Fran Knight
BUY IT ON
Sep 09 2019
The Astrid Notes by Taryn Bashford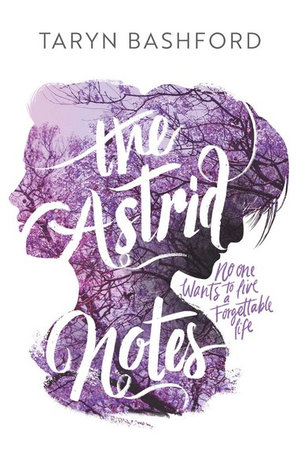 Pan MacMillan, 2019. ISBN: 9781760552213. 337p; p/b.
As Astrid Bell, classical singer, secret pop songwriter, grapples with career-threatening stage fright, and Jacob Skalicky, Indie singer, loses his bandmates to a fatal accident, their paths intertwine as they help each other overcome their fear of falling into a forgettable life. The novel is massively character-driven, so having relatable leads is important, and Bashford fleshes them out perfectly. The consistent switches of perspective help highlight their different ways of seeing the same world. Some more minor characters are less fleshed out, as comes with a lack of 'screen-time', but even that can enhance the point sometimes, as you feel like you don't know anything about Jacob's absentee parents, just like him. It also seems that some other characters may be fleshed out more in a previous novel, without this one depending at all on having read it. This depth of character allows the novel's plot to flourish, as the reader is gripped by characters coping with their tumultuous lives.
The novel juggles its three themes of loss, parentage and ambition effortlessly, weaving them into each other to become more than the sum of its parts. The dual perspectives of the novel's leads allows for multiple valid takes on each, so it never fells like the reader is being judged for how they see things, but still allowing them to open their minds.
The story is set in modern-day Sydney, which isn't anything special - but that's exactly what's right to help the leader better relate to the characters and plot.
Vincent Hermann
BUY IT ON
Sep 09 2019
Mermaid Holidays: Magic Pearl by Delphine Davis and Adele K. Thomas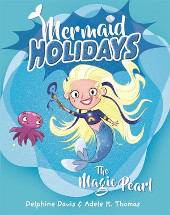 Puffin, 2019. ISBN: 9780143796497.
(Ages 6-8) Theme: Fantasy. Mermaid Holidays continues in the latest addition to the new series by Delphine Davis. This time, the story is told from Willow Waves' perspective, as she hosts a sleep-over for her friends, where they make necklaces.
This is the second book in the series. It is aimed at the same audience as the first book, for both new and returning readers, as we get to see Turtleton and the adventures through Willow's perspective. It is a story of friendship and working together, yet, at the same time, learning and growing as an individual to find a solution to the problem that Willow advertently causes.
It is enjoyable to see how the author has created the characters and stories to be fun, yet teaching young readers about responsibility in a fun, subtle way.
Ideal for students keen to dive into chapter books, it is a bit wordier than Billie B Brown or an Ella and Olivia, with pages swimming with fun illustrations to break up the text. The characters in the story are full of expression.
Donna Isgar
BUY IT ON
Sep 09 2019
Oi duck-billed platypus! by Kes Gray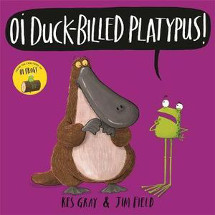 Oi duck-billed platypus! by Kes Gray
Illus. by Jeff Field. Hodder Children's Books, 2019. ISBN: 9781444937336. pbk.
(Age: 4+) Highly recommended. Themes: Animals, Verse, Word play, Alliteration, Humour. Following on from the success of the zany fun filled humour of the "Oi" books (Oi Frog (2014) Oi Dog (2016), and Oi Cat (2017)) this paperback version follows a slightly different variation as the frog finds it difficult to find a rhyme for some of the animals that appear before him, waiting to be seated. What do you rhyme with a duck billed platypus or a hippopotamus, an ostrich or a meerkat. Frog, cat and dog are puzzled and platypus is not very patient, reminding the trio that he is waiting, as he points out the queue behind him of other animals also waiting for their rhyme before being seated.
Eventually the Frog asks for their first names and they find it much easier to use their first names rather than their second to find a rhyme that fits. So Dolly the duck-billed platypus sits on a brolly, Kate kookaburra sits on a gate and Lemony lobster sits on an anemone. Everyone is satisfied, the alliterative names of the animals used to make a nice rhyming seat until a kangaroo happens to come along, with the fearful name, Amelia Esmerelda Honeydew HigginbottomPinkleponk-Johnson. The resolution will have children trying vainly to find a rhyme and like frog, telling the kangaroo to sit where she likes.
Full of humour, reflected in the appealing illustrations, the tale will bring laughter from all readers, recognising the alliteration and how it teams with the animal's name, seeing the rhyme that frog comes up with, perhaps offering an alternative, all the while looking closely at the expressions on the faces to see what a quandary frog is in. In a class emphasis could be the word play, rhyme and alliteration, while discussion with younger readers about first and last names would be appropriate.
All readers will love looking out for the seat of each of the animals and delight in the end papers with Field's platypus panorama.
Fran Knight
BUY IT ON
Sep 06 2019
Playing with collage by Jeannie Baker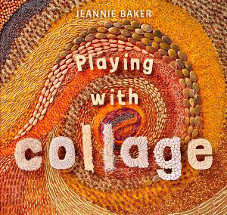 Walker Books, 2019. ISBN: 9781406378665.
(Age: 6+) Highly recommended. Themes: Collage, Arts and crafts, Invention, Recycled materials. The front cover invites the readers to look more closely at the image, working out what it is made of and what it could be. For those who know Jeannie Baker's work, the background knowledge that she plays with collected items from nature will stand them in good stead as they scan the cover. But those who do not know her work, and there can be only be a handful, then this will be an eye popping read.
Aimed at a younger audience, but with enough information and instructional images to appeal to anyone with an interest in art, Playing with Collage is a joy to read.
Each chapter involves a double page of information with illustrative photographs, allowing the reader to see just how her work is done, as she gives the most basic of instructions that will make every reader believe that they can do it too, even someone new to the field.
After the introduction, three more double pages talk about Tools, Tips and Playing with Materials. After these the book is divided into four parts, each dealing with a different aspect of collecting materials. The first is Paper which encourages readers to collect all sorts of paper, then play around with it, making different shapes and images. This is followed by Out in Nature, where she shows the readers the sorts of things they can collect when out in the field. Again, On the beach shows a range of things that can be collected while beach walking, and the last section, In the Kitchen showcases the sorts of things that are right under our noses.
Baker goes on to discuss Translucency encouraging the reader, as always, to try it out for themselves, and the last section shows a variety of found materials and asks the reader to guess what materials she has used in her egg box collage.
And this then is the aim of this beautiful book. Readers will be so entranced that they will go out and try her techniques for themselves, marvelling at her work, seeing her work with fresh eyes.
Readers familiar with her work will be astounded at the range of materials she collects to use in her collages and look more closely at the books when they come across them. For others this book will initiate collection and storage then experimentation as they try out some of the techniques she espouses.
This is a beautiful read from every point of view: an instruction manual, an art book, a book espousing the art of collage, a peep into Baker's talents, an inducement to re-look at Baker's other books.
Fran Knight
BUY IT ON
Sep 06 2019
The little wave by Pip Harry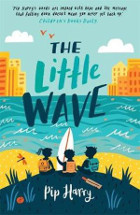 UQP Books, ISBN: 9780702260476.
(Age: 8-13) Highly recommended. Verse novel. Themes: Friendship, Pen pals, Surfing, Courage, Bullying, Families, Grief. What a wonderful heart-warming story this is! Pip Harry has written a verse story for younger children which will become a favourite. When a Manly school decides to host a country class for a visit to the seaside, the children involved all face challenges. Noah loves to surf, but doesn't know how to stop his friend from bullying him. Lottie lives with her grief stricken father who hoards enormous amounts of junk and Jack is a great cricketer, but often doesn't turn up to school and has family problems.
The free verse structure of the novel works really well and would make for a great read aloud or class novel. The story, told in the voices of the three main characters, flows along beautifully and the reader gets to know each of them really well and can easily identify with the problems that they are facing and the emotions that their challenging lives bring. The letters that each send expand on their lives and likes. I particularly liked the letters between Lottie and the teacher, Miss Waites who shows her that it is OK to be totally engrossed in something, (bugs in Lottie's case). Both Miss Waites and the teacher Mr M are warm, friendly, caring people who make a difference in their students' lives and other parents and carers are portrayed compassionately and in depth.
The contrast of the setting of the beach and surfing in Manly to Mullin, the tiny country town where Jack lives, is vividly described. Noah's love of surfing, the beach and the sand and city life is quite different to the swimming hole where Jack goes, and small town life. Themes of bullying, dysfunctional family life and friendship problems are deftly handled and will be easily recognised by children.
There is much to like in this memorable book, which would be wonderful as a Literature Circle or class novel. Teacher's notes are available.
Pat Pledger
BUY IT ON
Sep 06 2019
Argh! There's a skeleton inside you! by Idan Ben-Barak and Julian Frost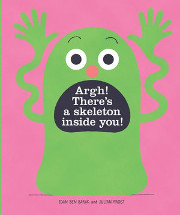 Allen and Unwin, 2019. ISBN: 9781760631635.
(Ages 4-8) Highly recommended. Themes: Human Anatomy, Skeleton, Hands. This simple, interactive and very enjoyable picture book seeks to give young children a look inside their hands to discover what makes them work. The aliens Quog and Oort need to get to a party but their spaceship needs repairs. Neither of them has hands, which makes it more difficult to make their repairs. Through some clever interaction Quog grows what he needs to make the repairs and in the process the reader comes to understand how their skeleton, muscles and nerves work together to make their hands the useful things they can be.
The bright, simple but informative illustrations make this an extraordinary introduction to human anatomy for young children. The interactive parts of the story were particularly popular with the children who heard this book read aloud; putting their hands onto the page so that Quog could see inside made the book come alive for the young audience.
At the end of the entertaining story the authors give us more detail about what is inside our hand and how it works, just in case we would like to grow another hand. Very well thought out and informative for all who read it.
The duo that produced this book also gave us Do not lick this book, (it's full of germs) and this one will be just as popular with young readers. Great addition to every primary school library.
Gabrielle Anderson
BUY IT ON
Sep 06 2019
Stuck in the mud by R. A. Spratt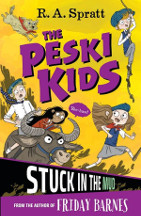 The Peski Kids, book 3. Puffin, 2019. ISBN: 9780143796350.
(Age: 8+) Recommended. Themes: Brothers and Sisters, Country Life, Competitions. Mud, mud, glorious mud, presenting the annual Currawong Mud Run Festival, where a huge muddy obstacle course is built throughout the town! The Peski kids return in another exciting, slightly dangerous, drama-filled story. While their mother (a spy) is still imprisoned in a rather horrible European jail, the family undergo some difficult changes. Ingrid the Swedish au pair from next door is about to be deported and Mr Peski has been talked into a pretend marriage to keep her in Australia. She moves into their home, much to the resentment of the kids. April and her rather aggressive little companion dog Pumpkin are also extremely upset when neighbour Loretta Viswanathan also moves in taking over April's bedroom.
All three siblings quickly become involved in the race preparations. Fin wins the opportunity to design the course with bulldozers, heavy machinery and mountains of mud to transform the town. April's temper sees her suspended from school and she joins the women's team run by an Olympic medallist keen to win the race. April's forced to run with the new student in her class who's vision impaired. Joe is tempted by baked goods from the local baker and bribes from the school staff, and he must win the race at any cost!
What could possibly go wrong on the big day? When the prize money is stolen in a well-planned bank robbery, which one of the Peski kids will step up and save the day?
R. A. Spratt's Stuck in the Mud delivers a fast-paced adventure, plenty of family drama, quirky characters and another Currawong community crazy event. Her humorous and witty style of writing make this another exciting addition to the series and a fantastic class novel for students in the Upper Primary. What's next for feisty Peski Kids? She adds a teaser - Near Extinction.
Rhyllis Bignell
BUY IT ON
Sep 06 2019
First how things work encyclopedia: A first reference book for children by DK Publishing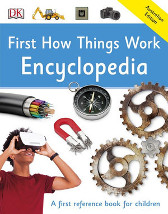 DK Australia, 2019. ISBN: 9780143795032.
(Age: 5-10) Highly recommended. Themes: Technology, Encyclopedias. DK has produced another wonderful reference book, with its characteristic high quality photographs and information. Topics include many that are studied in STEM subjects, such as inventions, machines, levers, movement, gases and liquids, energy, light and sound, computers and radio and TV and the internet. Cutting edge technology is also described. Each topic is explained in simple language and the layout of small bites of information with bold headings and complementary photographs and illustrations make a very attractive presentation of how many things work. Children and adults will be fascinated by the description of just what technology is and how it impacts on everything around us as well as learning about how everyday machines like refrigerators and electric guitars work. Timelines also put inventions into an historical perspective.
As well as containing a well-designed Contents page, there is a section at the back with quizzes and a clear Glossary and Index.
This would be perfect for any library and would also be very useful for children to have at home as a first reference book. It would really appeal to children who are interested in science and technology and its ease of use makes it an ideal tool for homework projects, or just to dip into for interesting and informative ideas.
Pat Pledger
BUY IT ON
Sep 06 2019
One small island: The story of Macquarie Island by Alison Lester and Coral Tulloch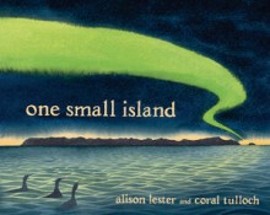 Puffin Books, 2019. ISBN: 9780143789253. pbk, 40p.
(Ages: 6-12) Highly recommended. Themes: Macquarie Island, Australian history, conservation. This is a new and updated paperback edition of the award-winning publication about World Heritage Site, Macquarie Island. In the Southern Ocean, remote Macquarie Island is a haven for both sea and land creatures. This is a non-fiction text written with an easy to follow narrative, from the geological forming of the island, to its use as a base for sealers and the introduction of destructive mice, dogs, rabbits and cats. It details the loss of native species such as elephant seals and the Macquarie Island parakeet. It touches on Douglas Mawson's connection with Macquarie Island on his way to Antarctica and his role in calling for its protection. It details the trials and challenges that have been faced in trying to protect native species while eradicating domestic species and opens young reader's eyes to the delicate balance of ecosystems and how even the smallest thing can cause major ripples. But while it is brutal and honest in depicting the destruction of Macquarie Island it maintains hope and reminds us that every effort to protect our world, however small, is important and could be transformative. There are oodles of extra information here, including a timeline, glossary, primary sources such as letters and diary entries, maps and more but the main text can be either read alone or along with the supporting information, depending on age and ability. This is both a beautiful and supremely important book for children of all ages.
Nicole Nelson

BUY IT ON