Review blog
Click here for the ReadPlus Review Blog RSS feed. Copy the link location into your feed reader.
Click here to see all reviews
Mar 29 2017
Busting! by Aaron Blabey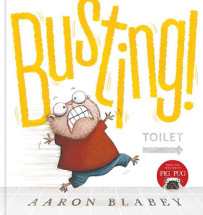 Scholastic, 2017. ISBN 9781743812389
(Age: 3+) Highly recommended, Toilets, Problem solving, Verse. All readers will instantly sympathise with the animal on the cover: eyes popping, mouth grimaced, running helter skelter following the sign to the toilet. Who hasn't been there!
Opening the endpapers reveal the almost white tiles found when the toilet is reached, but opening the book to the next pages the little animal with the problem finds that there is quite a queue to this loo.
Blabey in his wonderfully irreverent style of story telling has Lou, the hero, trying to talk his way into the loo, past the other animals in the queue. They all tell him in no uncertain words, that he is not allowed to jump the queue and to shoo. And shoo he does, trying to find somewhere to relieve himself that isn't obvious. Several spots cause him some discomfort. He can be seen behind the bamboo, the kangaroo boots him away, while other receptacles, a shoe, a boat and a cup are all too public, until he finally finds a queue free loo.
Wonderful rhyming words will intrigue the readers as they get their mouths round the words, predicting what might come next. And of course the last page will have the readers call out the obvious rhyme with Lou when he finally reaches the toilet, but they will be wrong and so laugh again at the way Blabey finishes his tale.
His illustrations are wonderful, inviting the reader to follow the hero's antics almost holding their breath with him as he searches for a place to relieve himself. Apart from being blindingly funny and a wonderful book to share and reread, this book will be an amazing introduction to the toilet procedure within schools and preschools, some of which are coping with children who are not toilet trained.
Fran Knight
BUY IT ON
Mar 29 2017
Virginia Wolf! by Kyo Maclear
Ill. by Isabelle Arsenault. Book Island, 2017. ISBN 9781911496038
(Age: 6+) Highly recommended. Mental health, Depression, Virginia Woolf. With nods to The yellow wallpaper (Charlotte Perkins Gilman 1892) on the endpapers, the story of Virginia's slide into depression, becoming a wolf, is handed with such clarity that even a younger reader can see what the story is about. They do not need to know the story of Virginia Woolf or the book The yellow wallpaper, but these echoes are there for older readers and adults to recognise and perhaps seek out.
Vanessa is dismayed when her sister begins to sound like a wolf. She keeps to her bed, growling at any attempt to calm her, her ears seem to grow larger, she is disinterested in anything and everyone around her, she tells everyone to leave her alone.
Akin to several books I have recently read, I need a hug! (Aaron Blabey, 2015), Blue whale blues (Peter Caenavas, 2015), Mr Huff (Anna Walker, 2015) and Small things (Mel Tregonning, 2016) each book in its own distinctive way tackles depression in children and young adults. Each book could be used in a group showing the readers that they are not alone, that others feel like this too, with all books depicting the child overcoming their low days with open communication and support from friends and families.
Vanessa takes to her paints, making the walls in Virginia's room bright and alive with colour and flowers, taking the word, Bloomsbury at its basic meaning. Her continued support helps Virginia overcome her depression, the ears disappear, she gets out of bed, she becomes a smiling happy child again, and together they leave her room to go out and play.
The illustrations showing Virginia often in shadow or a lump in the bed, reflect the lack of happiness in her life. As the flowers unfold, the trees become higher, the flowers brighter, the ladder is extended out of the room and into the sunshine, into the world outside. These will entice young readers to look at the reasons the illustrator has included some of the things shown. I just love the page starting with 'The whole house sank' with its topsy turvy view of the girls amid various objects, repeated near the end of the book with the line, 'The whole house lifted' with the same illustration shown from a different perspective. Illustrators that make you think and explore make a huge contribution to the success of a story, and this is a wonderful example.
First published by Kids Can Press in Canada in 2012.
Fran Knight

BUY IT ON
Mar 29 2017
Saturdays at sea by Jessica Day George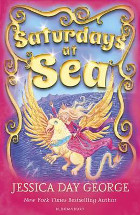 Castle Glower series bk. 5. Bloomsbury, 2017. ISBN 9781408878248
(Age: 8-11) Recommended. Saturdays at Sea is the fifth and final instalment of the wonderful, fantastical Castle Glower series! Fans of Jessica Day George's imaginative stories will be sad to reach the conclusion and with two more days to go - Sunday and Monday there are opportunities for a return to Castle Glower and a wedding or two to take place.
Written like a three act play, the story is firstly set in the flamboyant and exquisite Royal Palace of Grath and the picturesque seaside kingdom. The royal family and their entourage including their magnificent griffins visit the Kingdom of Grath for the upcoming wedding of Lilah and Lulath. They are also there to build the ship from pieces from all the kingdoms including magical pieces from the Castle Glower. Initially the ship builder Master Cathan refuses to use the other materials until Celie speaks up; she understand the reasons why the enchanted item need including.
The Grathian royal family are obsessed with customs; they change clothes continually, have hundreds of dogs, a multitude of beautiful rooms and speak in a rather poetic way. While the Castle Glower family are used to a different style of talking and dressing, they realise they must be accommodating for the sake of the engaged couple. When Grathian Prince Orlath returns from his sea adventures with his pet monkey, things begin to change. Celie, Pogue and Rolf assist the prince with the shipbuilding and Celie's feelings of missing Castle Glower are eased.
Lilah's quest to find the lost village of the unicorns directs the second act of the story. After the wonderful festivities of the betrothal celebrations, The Ship is ready for the maiden voyage. This enchanted vessel determines its own course and there is nothing to stop it. With Queen Celina's magic and her clever planning, they are able to survive. Their time aboard the speeding ship proves interesting. Magical places, mystical islands, trading ports, overcoming dangerous conditions and griffin rides make the second and third acts exciting.
Jessica Day George's fantasy series is an exciting and engaging read that leaves fans wanting to read about Celie and Pogue's future and witness the spectacle of Lilah and Lulath's wedding.
Rhyllis Bignell

BUY IT ON
Mar 29 2017
Snot Chocolate by Morris Gleitzman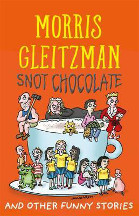 Puffin Books, 2016. ISBN 9780143309222
The blurb reads, "Stop your mum picking her nose, read the secret diary of a dog, catch a bus and then let it go, discover how one slice of toast can make you the most popular person in school, start wearing a crown and give up eating pig-nostril gruel, use a wrecking ball to defeat a bully, show your big sister the very scary secret in your wardrobe, unleash the awesome power of chips, live in a house that gets wiped clean more often than a bottom."
But there is so much more to this collection of short stories from a master storyteller who seamlessly switches between the poignancy of Two weeks with the Queen, the gaiety of Toad Rage and the seriousness and sincerity of the Once series. Gleitzman himself says, "Nine stories, and I've made them different lengths because different parents have different ideas about how long a person should be allowed to read before turning the lights out."
With a title designed to attract that reader who loves to makes sure parents and teachers have a stomach-churning moment when they see it, nevertheless there are serious undertones to each as the central character of each tries to grapple with a big problem affecting family or friends using a thought process and logic that are particular to that age group. Creativity is alive and well in children - until the formality and seriousness of school try to quell it.
Along with Give Peas a Chance and Pizza Cake, these stories which give the author "a break from the stiff neck and stiff brain you sometimes get writing book-length stories" might seem a long way from the stories Gleitzman commonly crafts and which he is so valued for, but as he says, he would "hate to forget that in stories a laugh can have a teardrop as a very close neighbour." However, despite the sombre notes this is a collection that will keep those newly independent readers, particularly boys, reading and help them transition to the next phase of their reading journey - which will probably be a Gleitzman novel - as they show that even short stories with wicked titles can have great, credible characters and a depth of plot that makes reading so worthwhile.
Parents, teachers and teacher librarians are blessed to have such a gifted writer as Gleitzman on their side.
Barbara Braxton
BUY IT ON
Mar 27 2017
The summer seaside kitchen by Jenny Colgan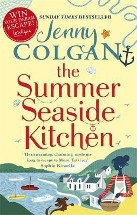 Little, Brown, 2017. ISBN 9780751564808
(Age: 16+) Recommended. Romance. Scotland. Environment. This is the first book that I have read by Jenny Colgan, a Sunday Times top ten bestselling author, and I found it immensely enjoyable. Flora is living in London, trying to cope with her job and city living and crushing on her boss, Joel. When she is asked to go back to Mure, the isolated Scottish island where she grew up and where people refuse to forget her past, she is uncertain but knows that she can't refuse. Her firm's rich client wants to stop a wind farm spoiling his view and her boss thinks that she can influence what happens on the island with her insider knowledge of people and their motivations.
Arriving back home, Flora has much to contend with - her father seems to have grown smaller and more introverted and her three brothers aren't very happy. Soon she finds herself immersed in family life and the discovery of her mother's recipe books leads to a love of cooking and also the opening of a little shop on the harbour.
Although essentially a romance, Colgan keeps the reader guessing about who Flora will end up with and the background of the island's politics and personalities play an important part in Flora's realisation of where she wants her future to lead.
The wonderful setting of a quiet Scottish island adds interest as its inhabitants struggle to keep their young people on the island and try to ensure that the millionaire building a resort actually employs some of the islanders.
This is a feel good book, peopled with relatable characters and events. Its warmth and uplifting plot made it very readable. I will certainly follow this author in the future when I want to enjoy a good escapist romance.
Pat Pledger
BUY IT ON
Mar 27 2017
Alice-Miranda holds the key by Jacqueline Harvey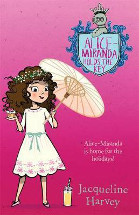 Alice-Miranda series bk 15. Random House, 2017. ISBN 9780143780700
(Age: 8+) Recommended. In popular author Jacqueline Harvey's new novel Alice-Miranda holds the key, she creatively weaves the familiar stories of school, village and home life and the annual garden party at Highton Hall with puzzling new characters, situations and mysteries to solve. Who holds the key - the runaway girl, the new neighbour who is causing problems or the saboteur involved in industrial espionage? The family grocery empire, Kennington's, is under threat as hundreds of people have fallen ill after eating products made at their factory.
After sharing their picnic lunch with friends, Millie and Alice-Miranda race their ponies through the woods back to the Academy. When Alice-Miranda is knocked off her pony and is injured, Millie's quick thinking and first aid save the day. After a few days in hospital, she is sent home to Highton Hall before the end of term to recuperate. Here everyone is in the midst of cleaning and busy preparations for the annual garden party. The young girl senses the worry and concern of her parents, caught up in the investigations surrounding the factory sabotage. Even Mrs. Oliver their cook and Kennington's food scientist is involved in solving the dilemma.
Interwoven into Alice-Miranda's story is the tale of a very unhappy girl, Francesca Compton-Hall. Chessie has been placed as a boarder at Bodlington School for Girls by her recently remarried mother. Her decision to run away from school and travel to Bedford Manor, where her mother is frantically trying to update her new ancestral home proves to play a pivotal part. Her discovery leads Alice-Miranda on the path to solving the huge problems facing her family business. The tightly woven threads of the mystery, the cast of potential criminals and the carefully placed clues build the tension and excitement, as the villagers, family, friends, and Highton Hall staff prepare for the marvellous annual garden party. Of course, Alice-Miranda's insight and intuition prove vital to solving the mystery of the sabotage and save her family from ruin.
Alice-Miranda holds the key is a wonderful addition to the series. Author Jacqueline Harvey's creative narratives will appeal to a wide audience, with wonderfully appealing characters, continued friendships, supportive families, special celebrations and a frisson of drama and mysteries to solve.
Rhyllis Bignell
BUY IT ON
Mar 27 2017
Millie loves ants by Jackie French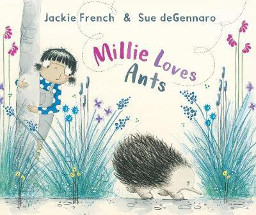 Ill. by Sue deGennaro. Angus & Robertson, 2017. ISBN 9781460751787
(Age: 5+) Recommended. Echidnas. Ants. Australian animals. Verse story. Families. Millie the echidna just loves ants and the narrator of the story follows her everywhere, as she enjoys finding ants to eat in the most amazing of places around the house and garden. In rhyming lines, French tells how the echidna finds ants amongst the gnomes in the garden, under the bath, in the kitchen and the shed, in her bed and on her picnic, in hollow trees where they make nests of leaves. French follows the ants too as they busy themselves gathering all sorts of foods to take into their nests beneath the ground. Always followed by the echidna of course, as the girl follows Millie trying to work out exactly why she eats so many. Finally we all find out when the last page is revealed. The charming story follows the trail of ants followed by the hungry echidna, showing the reader how one is dependent upon the other, and showing each animal as it stores food. In a classroom this could be a starting point for discussions about animals and their behaviour. This new book about echidnas sits well alongside French's wonderful books about wombats and both are part of an expanding group of books about Australian animals. DeGennaro's illustrations are very different from those usually seen in French's books, and readers will love looking at the detail on each page.
Fran Knight
BUY IT ON
Mar 27 2017
I'm Australian too by Mem Fox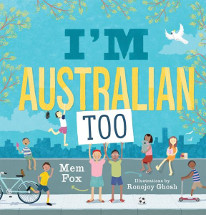 Ill. by Ronojoy Ghosh. Scholastic (Omnibus) 2017. ISBN 9781760276218
(Age: 3+) Highly recommended. Refugees, Inclusivity, Multiculturalism, Verse. In rhyming stanzas Mem Fox outlines to small children the range of people who make up Australia. The verses rhyme easily and could be readily leant by children after hearing it only once, enabling them to join in. The statement at the end of each verse underlines its impact stressing the inclusion of each of the groups of people she writes about.
But it is the last several verses that knock a punch.
In the first part of the book, each of the verses has ended with the refrain, 'I'm Australian too'. They tell of the Australian born, the English, Irish, Aborigines, those with Greek or Italian backgrounds, with hints about why some have come to live here.
Then we hear of the Lebanese, Afghanis and Syrians and Somalis, all here after fleeing war. And each verse ends with the refrain, 'I'm Australian too'.
Each page gives many points of discussion for younger readers, the illustrations adding another level of interest and information. But the last several pages highlight a different group of people.
Here the readers meet a young refugee, 'not Australian yet' but hoping to become an Australian, to line in a place which opens doors to strangers and where hearts are mended, beneath the Southern Star.
The bright illustrations will appeal to all readers as they recognise iconic places within Australia: the Melbourne tram, the Sydney Harbour Bridge, Adelaide's Elder rotunda, the Ghan train as well as the ordinary things Australians expect to be able to do, lazing at the beach or by a pool, out on a cattle station, eating pasta, watching fireworks, catching a bus, all without having to run from war, seeing their homes and families disintegrate.
My initial thoughts about the word, 'too' in the title, were overwhelmed by the heartening message in the book, that we are all Australians, no matter where we have come from. There are those who wish to be, and by implication through the illustration, we are not treating them with the fairness implicit in our anthem. This little book will arouse much thought, discussion and introspection.
Fran Knight

BUY IT ON
Mar 27 2017
Little Chicken Chickabee by Janeen Brian and Danny Snell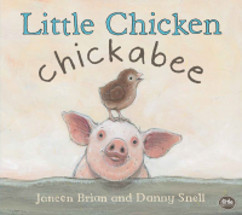 Raising Literacy Australia, 2016. ISBN 9780994385338
Crickle, scratch, crackle, hatch - four little chicks pop from their eggs of proud Mother Hen. Each one cheeps as expected except for Number 4 who says, "Chickabee." This startles Mother Hen and the other chicks who insist that "Cheep" is right and "Chickabee" is not. But Little Chicken is not deterred and goes off to see the world. However, she finds that even the other farm animals insist that chickens say "Cheep" not "Chickabee" although when Little Chicken challenges them, they have no real reason why not.
Showing amazing resilience, Little Chicken knows that while "Chickabee" might be different, it is right for her and regardless of the sound she makes, she is still a chicken. Even when her brothers and sisters reject her again, she has the courage to go back into the world and this time she meets different things that make different sounds which bring her joy and comfort. And then she meets a pig . . .
This is a charming story about difference, resilience, courage and perseverance and how these can lead to friendships, even unexpected ones. Beautifully illustrated by Danny Snell, this story works on so many levels. It would be a great read for classes early in this 2017 school year as new groups of children come together and learn about each other while even younger ones will enjoy joining in with the fabulous noises like rankety tankety, sticketty-stackety and flippety-flappity as they learn the sorts of things that are found on a farm.
Given the trend throughout the world towards convention and conservatism and an expectation that everyone will fit the same mould and be legislated or bullied into doing so, Little Chicken could be a role model for little people that it is OK to be different and that no one is alone in their difference.
Barbara Braxton
BUY IT ON
Mar 27 2017
Big Bash League series by Michael Panckridge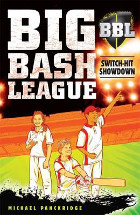 Penguin Random House Australia, 2016.
Switch Hit Showdown. ISBN 9780143782193
Captain's Clash. ISBN 9780143782216
Double Delivery. ISBN 9780143782230
Bowling Blitz. ISBN 9780143782254
(Age: Independent readers) With the cricket season well under way this is a series that will appeal to all fans of the format, both boys and girls. Each book is a separate entity focusing on fans of two of the teams in the league - Switch Hit Showdown features the Melbourne Stars and the Melbourne Renegades; Captains' Clash is Sydney Sixes and Sydney Thunder; Double Delivery is Hobart Hurricanes and Brisbane Heat and Bowling Blitz, the Perth Scorchers and Adelaide Strikers. Each has passionate cricketers involved in a local competition and having to find a way to work together to overcome obstacles.
Panckridge, well known for his sports adventure books, has cleverly included players of both genders in the stories acknowledging that cricket is not a male-only sport and the WBBL and our national women's cricket team the Southern Stars are gaining a much higher profile and respect as their success grows.
Written for independent readers, each book includes tips about the focus skill - batting, all-rounder, fielding and bowling as well as a profile of the two teams. Double Delivery even has instructions for Dice Cricket that can be played when you can't get outdoors.
A great series for those who love their sport and demand to read about it.
Barbara Braxton
BUY IT ON
Mar 22 2017
This is my song by Richard Yaxley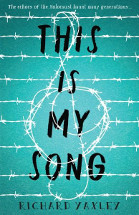 Scholastic, 2017. ISBN 9781760276140
(Age: 12+) Recommended. Jews. Holocaust. Czeck Republic. Canada. Music. In the 1940's Rafael Ullman is sent to Terezin, a Jewish ghetto, with his family. His father was a professor in German Literature at Prague University but this did not save him from the fate of many Jews in Europe during World War Two.
This story is told by Rafael as an older man as he lies dying. He has not told much of his story in the past. But we hear of the privations suffered in the ghetto before they are sent to Auschwitz.
Through it all, it is music which keeps Rafael alive, as he becomes a member of one of the orchestras set up in the camp.
No reader can be unaffected by a tale set in Nazi Germany, and it is with some easing of the emotional drain that the next two sections of the story are set in Canada and Australia, as another generation lives on. In Canada we meet lonely Anna Ullman, Rafael's daughter, and then in present time, the grandson, Joe Hawker, in Australia. Music links the three generations as they find their way in a world devoid of stability. Anna was not allowed music in the home and she and her mother secretly played Beethoven's Fifth Symphony when Rafael was out of the way. Only when he dies in Australia, does his grandson, Joe, see the tattooed number on his arm. Joe is learning singing and feels that his voice is robotic, but finding out more about his grandfather and then finding a song written by him and his friend in the ghetto, inspires him to sing with love and compassion.
Fran Knight
BUY IT ON
Mar 22 2017
I'm going to eat this ant by Chris Naylor-Ballesteros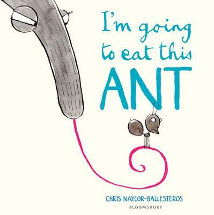 Bloomsbury, 2017. ISBN 9781408869901
(Age: 4+) Highly recommended. Ants. Anteater. Food. Cooking. Anteater is hungry. He is sick of licking up wriggly, squirmy ants, but he is hungry. He puts all of his efforts into just one ant - the trouble is that it is the wrong ant. This ant is cunning and ties the anteater in knots avoiding being licked into his mouth. This very funny look at the contest between an anteater and his quarry will have kids rolling in the aisles as they watch the contest between the eater and the (usually) eaten.
Anteater imagines all the different ways he can eat this ant: in a sandwich, sucked up through a straw, simmering in a soup, stir fried, or in a sorbet. But the ant has other ideas. While anteater is dreaming up the different ways of eating the ant, his long tongue has been wrapped around a tree, making it an excellent bridge for the ant and his friends.
Boldly outlined but spare drawings give a good impression of the antics behind the words, and small differences in the way the eyes are drawn for both creatures tells the readers lots about what they are thinking, adding to the laughs for the readers.
They will learn lots about the two animals and the story will have them seeking out more information, while the list of ways the ant will be cooked will find favour (flavour) amongst the readers.
Fran Knight
BUY IT ON
Mar 22 2017
Echoes in death by J.D. Robb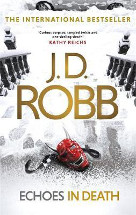 In death bk 44. Little, Brown, 2017. ISBN 9780349410869
(Age: Adult) Murder. Fans of J.D. Robb will be thrilled with the 44th book in this series featuring Lieutenant Eve Dallas and her cohort of helpers, including gorgeous husband Roarke. Eve and Roarke are on their way home one night when a young woman stumbles into the street in front of them. She has been attacked and her attacker looked like the devil.
Investigating, Eve discovers other attacks have occurred, all with a violent rape and burglary but this time the attack has resulted in murder. It is clear that the man behind the masks is becoming more violent and it is imperative that Eve finds him before more people are murdered. Eve and Peabody and the rest of her team, ably supported by Roarke, gets to grips with the backgrounds of the wealthy people who are being targeted, and the reader easily gets caught up in the police work involved in solving the crimes.
Witty repartee between Eve and Peabody gives a lift to the often dark moments in the book, and the steady and deep relationship between Eve and Roarke is as satisfying as ever. A theme of domestic violence and how it affects women pervades the book and gives the plot depth and complexity.
Books in the In depth series are always rewarding reads and ones that fans know they will enjoy.
Pat Pledger
BUY IT ON
Mar 22 2017
Eddie Frogbert by Sue deGennaro
Scholastic, 2017. ISBN 9781760276782
(Age: 4+) Warmly recommended. Frogs, Achievement, Endeavor. Eddie is the only frog that doesn't like to swim. He avoids going to the pool with the other frogs and watches on as they dive from the tower. He does at least try to emulate his fellow frogs, climbing the ladder to the diving board, but turning back at the last moment. But one day he spies a competition for diving. He desperately wants to win, so he hatches a plan. At his drawing board he maps out the steps he will take to overcome his fears. He tries little jumps at a time, hopping over a stone, a snail, a log and then a bench. He uses roller skates and a spring and then balloons to give hims the spring he needs to jump from the board. On the day of the competition, he keeps bouncy thoughts in his head and climbs the diving board with all eyes on him. Success comes because of his attitude and preparation.
DeGennaro's lively illustrations will appeal to younger readers, the soft pallet of colours contrasting with Eddie's fierce determination to overcome his fear. The humour in the illustrations will appeal to the reader. They will recognise Eddie's fear and attempts to thwart it, but the humour shown with the group of frogs and their antics, softens the anxiety Eddie feels.
Subtitled, A big leap for a little frog, readers will enjoy the word play throughout the text, having fun with words and their meanings.
Fran Knight
BUY IT ON
Mar 22 2017
Wrestling Trolls: The final countdown by Jim Eldridge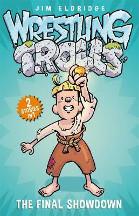 Hot Key Books, 2015. ISBN 9781471402692
(Age: 7+) Highly recommended. The Final Countdown is book 6 in the series that sees Jack, a half troll and a prince, travelling with his friends, a talking horse and a phoenix. They follow the wrestling matches around the country and are quite famous for their wrestling skills. This book is 2 stories in one. In the first story, Jack receives a message for help from his grandfather. Despite being a rather unkind person, Jack decides he needs to help his grandfather. On arrival in the town, near where Jack's grandfather is being held, villagers try to stop Jack and his friends. Luckily, Jack gets to the castle but it is not his grandfather who is there to meet him. Jack has been tricked by the wizard named Wazza. Wazza is waiting for Jack and he wants Jack's ring. How will Jack get himself out of this mess?
In the second story, Jack and his group of friends head to Veto castle to help the orcs. The orcs are being kicked out of their kingdom by a mean troll who has claimed the throne. Ironically, Veto castle and the surrounding land is Jack's kingdom. He just doesn't want it. Jack's friends Dunk and Big Rock are arrested by the troll guard. To free them and save the orcs, Jack must wrestle the new king. Unfortunately, Jack's ring has been stolen. This ring helps him turn into a troll. How will he beat a troll in a wrestling match without it?
The Wresting Troll stories are fun and entertaining and highly recommended for readers aged 7+. The characters are quirky and the adventure moves quickly. They are easy to read and new readers don't have to read them in order as each story is separate from the previous one. The wrestling troll theme is a great way to engage reluctant readers who are wrestling fans.
Kylie Kempster
BUY IT ON
Mar 20 2017
Seven days of you by Cecilia Vinesse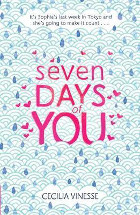 Hachette, 2017. ISBN 9781510200395
(Age: 13+) Seven days of you is a beautiful story about Sophia's last week in Tokyo before her big move back to the United States. This move was always planned and Sophia and her sister were accustomed to flying back and forth between their mother and their father throughout their childhoods. But this move was different for Sophia, from the first instant that she set foot in Tokyo a couple of years before, she knew that she'd find some sort of a home here. Through the years, Sophia became friends with Mika and David and they were the anchors within her life in Tokyo, lasting up until the week Sophia is set to leave. Mika's old best friend James is set to return from an American Boarding school exactly seven days before Sophia departs. After some complications at the last time they saw each other, Sophia is less than pleased to be seeing him again. Through some significant events within the lives of all the friends, enemies become allies and best friends become distant strangers. How much will change in the last seven days leading up to Sophia's flight from Japan, and who will still be there for Sophia when she needs it the most?
Seven days of you really captures the poetry of everyday life as Cecilia Vinesse writes the story of Sophia's last week in Tokyo so vibrantly and with so much emotion that the reader can imagine the city streets. The characters that Vinesse has created are all individual, each have a unique personality and take on life that allows readers to be able to relate with the novel. Seven days of you is aimed for a young adult audience (13+) as the characters struggle with the concepts of love, friendship, loss and family. Seven days of you is a sweet and memorable story that imparts the importance of relationships and friendships that are made in unexpected circumstances.
Sarah Filkin
Mar 20 2017
The apprentice witch by James Nicol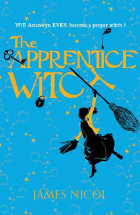 Chicken House, 2017. ISBN 9781910655153
(Age: 9+) Highly recommended. When we doubt ourselves we lose confidence. When others seem to succeed more than us we doubt ourselves. Arianwyn doubts her abilities as a witch. Her school enemy, Gimma, has berated Arianwyn throughout school and now Arianwyn has failed her witch evaluation while Gimma has succeeded. Arianwyn is still an apprentice but thanks to her grandmother's position in the community, Arianwyn has a chance to develop her skills and face re-evaluation when she is ready. Arianwyn is sent to Lull, a small village, on the outskirts of The Great Woods. The town hasn't had their own witch for many years and she has a lot to do. Arianwyn's self doubt doesn't lend itself to a successful first week but over the months her confidence improves and her skills are evident. The arrival of Gimma seems positive but will Arianwyn be able to overcome the past? Will she remember to not let Gimma get under her skin? Why does Arianwyn keep seeing a forbidden glyph? Arianwyn will develop an amazing friendship, courage and will put others before herself despite the danger and possible disaster.
The apprentice witch is a lovely story of courage, friendship, a passion for a calling and building confidence and belief in yourself. Watch Arianwyn develop, creating an amazing role model for young girls as she reminds us all to believe in ourselves. This story is easy to read and has adventure, magic and funny moments. The magical events are descriptive, creating great images in your mind as you read. These descriptive moments would be great read out loud in the classroom and are great models for developing writers. This book is highly recommended for readers aged 9+.
Kylie Kempster
BUY IT ON
Mar 20 2017
Antoinette by Kelly dePucchio and Christian Robinson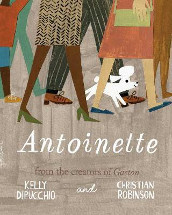 Simon and Schuster, 2017. ISBN 9781481457835
(Age: 4-8) Recommended. Paris. Bravery. Family. Dogs. A charming tale of being yourself, of following your heart has Antoinette, despairing of her place in the household, where her three brothers are known for their strengths. Rocky is clever, Ricky is fast and Bruno is strong, but she has nothing to compare with them. Mum reassures her that she has a special gift but it is not yet apparent. One day while in the park, Mrs Bulldog notices that one of the poodle pups is missing. Antoinette sees her brothers try out their special gifts, but they cannot find Oo-La-La. She decides to try for herself and follows the scent after the others have given up. Her nose takes her across the park to the Louvre, and despite being chased by a guard, she finds Oo-La-La in a most perilous position and rescues her. Her bravery and tenacity is apparent for all to see and later she becomes a famous police dog.
The stylish naive illustrations give the impression of block prints with slabs of acrylic colour used as the background to the story. The reduced pallet of colour compliments this impression, making the story stand out against a pared back setting, while the dogs have a collage appearance, which children may like to emulate after reading the book. I loved the setting with images of Paris on several pages. Readers, like me, will have a great time recognising iconic images of Parisian life and its buildings: the Louvre, an artist, poodles, a beret amongst others along with some French words to further pique interest.
Fran Knight
BUY IT ON
Mar 20 2017
Florette by Anna Walker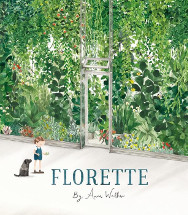 Viking, 2017. ISBN 9780670079414
For children moving house away from friends and familiar things can be tougher than parents realise, and especially so when the move is from one well-known environment to one that is completely unknown.
Mae and her family move from her house with a garden, an apple tree, daisies and daffodils, green grass and birds to an inner-city apartment that is all rooftops and tall buildings - the epitome of the concrete jungle. There are no windy paths and leafy cubbies, just statues and Keep Off The Grass signs. There are no treasures for her treasure jar, just boxes and more boxes and when she tries to draw familiar things on the pavement outside, the rain washes them away. No matter what she does, Mae cannot make this new place resemble her old one.
But one day, standing on a box peering through her binoculars at the endless rooftops, she spies an open space with swings in the distance and so she, her mum and dog set off to find it. It is a long walk through this unforgiving city and the end result is a disappointment. But as she sits forlornly on the swing, she spies a bird and follows it until it disappears into a leafy forest. But the forest is closed. And then Mae spots something that changes things...
Anna Walker is the creator of Mr Huff, winner of the CBCA Early Childhood Book of the Year in 2016, Peggy shortlisted in 2013 and a host of other books that centre around her ability to get into the head of the subject, consider "what if..." and then emerges through her gentle, detailed illustrations that bring the text to life and invite the reader to delve deeply into them.
Mae could be any child who has moved house, perhaps with little say in the decision made by parents concerned with adult things, who has discovered themselves amongst the totally unfamiliar but who has drawn on their inner reserves and resilience to try to make it work until eventually it does. Without describing Mae's feelings, but detailing her actions in words and pictures, the reader feels and understands Mae's vulnerability and bewilderment and yet throughout there is a sense of hope and a knowledge that she will prevail. Despite the bleakness of the city and its harsh facade there is a feeling that Mae will break through - perhaps it is in the children who come to view her courtyard art amidst empty plants pots or in the new budding trees as she goes through the streets, or in the swan, duck and ducklings in the river as the city awakens to spring. Florette, a small flower that makes up a bigger one, is the perfect title for this story perfectly encapsulating that concept of 'from little things...'
A look through Anna Walker's website shows a host of awards for her work - this could well be added to that list.
Barbara Braxton
BUY IT ON
Mar 20 2017
A tragic kind of wonderful by Eric Lindstrom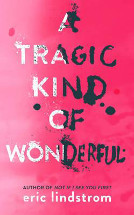 Harper Collins, 2017. ISBN 9780008183011
(Age: 13+) Themes: mental illness, bipolar disorder, friendship, family, love.
Mel Hannigan has bipolar disorder, diagnosed after a period of traumatic events, requiring a period in hospital. Her best memory is of the day her brother Nolan encouraged her to wag school and they had an amazing day of doing crazy things together. But this memory is closely tied to her worst memory, one she won't allow herself to contemplate, an ability she describes as her "superpower". We soon find out that Nolan died and this precipitated her parent's divorce, requiring Mel and her mother to move in with her aunt. On her first day at a new school Mel was bullied by a group of girls but rescued by Annie, Zumi and Connor who soon became best friends. After her breakdown Mel is reluctant to tell her friends about her illness and the friendship suffers. She is not the only one in her family to suffer this mental disorder, HJ, her aunt prefers to enjoy the highs and endure the lows rather than take medication, and it is pretty obvious that her brother's death happened while he was in the grip of a manic episode. We find that the disorder manifests itself in a wide spectrum of symptoms and Mel keeps track of her own symptoms by keeping a mood diary which helps when adjusting her medication. At school Mel describes herself as an antisocial underachiever but she works at a retirement home where she is in demand for her empathy and cheerful assistance, there she meets David, the grandson of one of the residents and they have immediate rapport. The normal highs and lows of teenage life (including mood swings with the onset of menstruation) are complicated by Mel's disorder and her unwillingness to share knowledge of it with her friends. When problems with her friends become traumatic, coinciding with a crisis in her mood, things go terribly wrong. Packaged up into a readable story about friendships and first love, readers are introduced to what it must mean for a teen to live with bipolar disorder in a way that is both detailed and insightful. Following on from Lindstrom's Not if I See you First and joining a number of recent stories about mental disorders, this novel is sure to find an enthusiastic readership especially from year 9/10 girls.
Sue Speck
BUY IT ON
Mar 20 2017
The Great Shelby Holmes girl detective by Elizabeth Eulberg
Ill. by Matt Robertson. Bloomsbury, 2017. ISBN 9781408871478
(Age: 8-10) Recommended. Shelby Holmes is a feisty nine-year-old girl detective who loves to solve mysteries in her local neighbourhood. She lives upstairs in Apartment 221B Baker Street Harlem, New York City, with her family, Mrs. Hudson their housekeeper and Sir Arthur their English bulldog. Shelby is a well-known and liked figure in her neighbourhood, where she uses her logic and skills of observation to solve crimes.
As eleven-year old John Watson and his mother move in downstairs, a loud explosion startles them. A rather dishevelled Shelby comes down to apologise for the commotion and she totally surprises them with her astute observations. She deduces that John has diabetes, that his parents were recently divorced and Mrs. Watson had been an Army doctor in Afghanistan. John's observations and feelings are openly shared with the reader; his relationship with his father, who does not keep in contact, his mother's concerns about his diabetes and his friendship with Shelby. He expresses his feelings through journal writing recording his feelings and daily adventures with Shelby.
Shelby takes John under her wing and they venture all over, meeting a diverse mix of shopkeepers and neighbourhood characters. Their first mystery to solve together involves a stolen dog, dog trainers and culminates at the Dog Show. Along the way, John meets some new friends and becomes closer to Shelby. The scenes at the Dog Show are humorous, as John sneaks Sir Arthur on to the subway train and has to handle the British bulldog in the ring.
Matt Robertson's fun drawings are entertaining; there is Shelby's frizzled hair after the explosion, the paw embellishments, Sir Arthur's poses and the colourful front cover. Author Elizabeth Eulberg has creatively woven characters and elements of the Sherlock Holmes novels into The Great Shelby Holmes Girl Detective. With themes of friendship, solving mysteries and overcoming worry and anxiety, this is an enjoyable novel suited to ages 8-10.
Rhyllis Bignell

BUY IT ON
Mar 20 2017
I don't know what to call my cat by Simon Phillip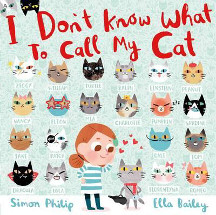 Ill. by Ella Bailey. Simon and Schuster, 2017. ISBN 9781471124136
(Ages: 3-5) A new pet brings joy, happiness and a few problems for the new owner. Where will it sleep? What to feed it and where to feed it - not the high chair as there will be food everywhere. The biggest problem of all of course, is what to name the kitten, maybe not Kitty. It may be difficult to call 'Kitty', when all the cats in the neighbourhood turn out for tea! The little girl tries Princess High and Mighty, but the cat definitively did not like the princess outfit. She tries everything from Pat, Tricia, Tracey and Betty but nothing seems right. Of course, at the vet's, she discovers an important fact - her kitten is a boy!
After trying Rocky, Arnie and Mr. Maestro, her cat tires of dressing up and of being called names that do not fit his character, so he leaves in a huff. She looks everywhere, even putting up Missing Cat posters all over the zoo. There on a zoo bench she meets Steve the gorilla, who follows her home and cheers her up. He messes up her room, enjoys painting banana pictures, and he even accompanies her to the Museum and a cafe. Unfortunately, the Bureau for Naughty Animals takes him away in the BNA van. To the young girl's surprise, her grey tabby cat returns home with a collar and a name Tricky!
Emma Bailey's delightful digital illustrations are visually appealing; they lift this simple story and bring the characters to life. She engages her young audience with her use of fresh modern colours, wide-eyed creatures and humorous scenes. Look for Tricky hiding in the gorilla scenes, carefully placed in the Egyptian room, the cafe and disguised as a BNA agent.
Simon Phillip's picture book story loses its purpose towards the end, when Steve the Gorilla enters the scene and takes over as the little girl's pet. Fortunately, the tale gets back on track when the lost cat returns home, appropriately named Tricky and prepared to be a great friend to the little girl.
Rhyllis Bignell
BUY IT ON
Feb 02 2017
Literature to support the Science curriculum Foundation -7 by Fran Knight and Pat Pledger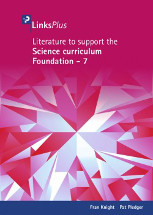 Pledger Consulting, 2016. ISBN 9781876678470
Highly recommended for educators. Subjects: Science curriculum; Fiction; Annotated bibliography. Fran Knight and Pat Pledger continue to write first-rate reference tools for teachers in primary school education, which focus on key curriculum areas. This resource links popular picture books, junior and senior novels and non-fiction books with the Australian Science curriculum. Each book listed has a review available on the ReadPlus online database.
Set out in an easy to read format, each year level and scientific topic is explored with listings presented in alphabetical order of the author. A comprehensive index is included as well.
Pamela Allen, Jeannie Baker, Phillip Gwynne and Elizabeth Honey's popular picture books support the Foundation Biological Sciences strand and the Inquiry Skills. Recent publications such as Aleesah Darlison's Spider Iggy and Roland Harvey's On the River provide up to date scientific information in a story format. The scientific and geographic books by writer and researcher Peter Gouldthorpe provide an excellent foundation for Year 6 students investigating Earth and space sciences. Content included covers Aboriginal perspectives and presents books that introduce a scientific worldview.
Fiction is an invaluable tool for introducing a new science subject, for encouraging investigation, for introducing keywords, setting up a word wall and stimulating creative inquiry and research skills.
Literature to support the Science curriculum Foundation -7 is a significant resource for educators and teacher librarians and for supporting STEM programs.
Rhyllis Bignell
Editor's note: The book is available here.

BUY IT ON
Jan 30 2017
Literature to support the Australian curriculum: HISTORY. Foundation - Year 10 by Fran Knight and Pat Pledger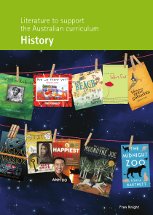 LinksPlus, revised 2016. ISBN 9781876678265
Highly recommended - for educators. Subjects: History curriculum; Fiction; Annotated bibliography. Fran Knight and Pat Pledger are committed to providing educators and librarians with excellent reference tools that support the Australian curriculum. This LinksPlus resource highlights popular picture books, junior and senior novels and non-fiction books suitable for the Foundation to Year 10 Australian History curriculum. Each book listed has a review available on the ReadPlus online database and relevant web links.
Set out in an easy to read format, each year level and history topic is covered with the listings presented in alphabetical order of the author. A comprehensive index of authors and titles is included as well. Literature specialist Fran Knight has selected each title from both newly published and familiar titles with both familiar and new authors included.
Phil Cummings, Libby Gleeson and Bob Graham's picture books support the Foundation Year curriculum of Personal and family histories. The cycle of life, family relationships, grandparents, Aboriginal and migrant family stories are included. Bob Graham, Kylie Dunstan and Katrina Germein's familiar stories support students' learning about how family stories are communicated.
Year 5 learners study Australia's colonisation, migration and democracy in the 1800's. Sofie Laguna and Gabrielle Wang's novels written for the Our Australian Girl series, provide insight into colonial life in Sydney and life on the goldfields.
Secondary students investigate historical perspectives from the Ancient to the Modern World. Fiction novels are an invaluable tool for introducing a new subject, for critical thinking, developing understandings of different worldviews and cultural insights. A diverse range of novels by a wide range of authors including Jackie French, Rosanne Hawke, Anh Do and Charles Dickens, support the development of historical understandings.
Literature to support the Australian curriculum: HISTORY. Foundation - Year 10 is a valuable resource for educators, secondary school HASS departments, curriculum specialists and school libraries.
Rhyllis Bignell
This is available here.
BUY IT ON
Feb 21 2016
Fiction gems: Recommended fiction lists for Upper Primary and Lower Secondary students by Fran Knight and Pat Pledger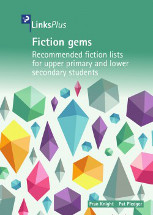 Pledger Consulting, 2016. ISBN 9781876678456
Teacher reference. What a great resource for those charged with purchasing or recommending reading material for Upper Primary and Lower Secondary students. The Middle School aged reader can have specific interests or reading demands and keeping on top of current and favourite books can be very difficult without some help from trusted reviewers. This book lists Fiction recommendations within a number of categories; some books are indicated for more mature readers, but most are well-suited to the 10-15 aged reader.
Each book is summarised with a 1-2 sentence brief overview, so it is easy to peruse for suggestions for readers. More complete reviews are accessible via the ReadPlus review blog index.
This is a book that would be a good resource on the Librarian's shelf.
Carolyn Hull
BUY IT ON