Review blog
Click here for the ReadPlus Review Blog RSS feed. Copy the link location into your feed reader.
Click here to see all reviews
May 26 2017
Contagion by Teri Terry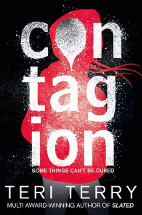 Dark Matter, bk 1. Orchard, 2017. ISBN 9781408341728
(Age: 13+) Recommended. Science fiction. Infections. Dystopian fiction. When Shay sees a poster with the face of a missing girl, Callie, she knows that she saw her get into a car with a man over a year ago. She contacts Callie's brother Kai and together they begin a search which leads them into a terrifying epidemic that is sweeping the land.
Terry immediately grabs the reader's attention with a frightening prologue and then switches to Chapter 1 and the topic of Subject 369X, who is taken off to be 'cured' in a horrendous scene. Subject 369X is Callie and she is transformed into a shocking state, able to see what is happening and to travel, but no longer having a body. After the lab she was held in explodes and oil rigs nearby disintegrate, the epidemic takes over Scotland. Kai and his doctor mother appear to be immune and Shay manages to survive the disease.
The scenes of what happens when the disease takes over, the dying people, the disposal of their bodies and the quarantine by the army are all described vividly, but it is Kai and Shay's quest to find Callie that takes centre stage. The narrative consists of short alternative chapters by Callie and Shay, each adding to the suspense and the reader's understanding of what is going on.
The action and suspense are so gripping that it is difficult to put Contagion down, and the themes of revenge, survival and romance keep the reader enthralled. There is a cliff hanger ending that will ensure the next instalment in the series is picked up immediately it hits the shelves.
Pat Pledger
BUY IT ON
May 26 2017
The twin friends by Kim Kane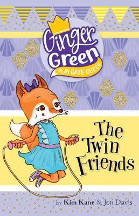 Ginger Green, Playdate queen series. Hardie Grant Egmont, 2017. ISBN 9781760129606
(Age: 5-8) Recommended. Friendship. Problem solving. Ginger Green is the playdate queen but runs into trouble when the twins Georgie and Zara, come to play. First of all Ginger has problems trying to work out who is who and then there are more problems when they start to play games that are designed for two players and not three. The twins begin to fight and Ginger has to work out ways to keep everyone happy.
Ginger is a most resourceful young girl. Determined to live up to her name of playdate queen, she decides that playing 'families' would involve three players, rather than always having one person left out when playing Connect Four and Checkers. This keeps everyone happy for a while but then the twins disappear and are found playing babies in the park. Ginger has to come up with a clever solution to include all three of them in a game that keeps them occupied for quite a while.
This is a gentle, humorous story that will appeal to children who are just moving from picture books to chapter books. The dilemma of having three people playing together is solved neatly and in a way that would give children hints on how to handle difficult social situations.
Readers who enjoyed this will be happy to find other books about Ginger Green and will delight in the gorgeous illustrations of the little foxes in clothes.
Pat Pledger
BUY IT ON
May 26 2017
Supertato: Run, veggies, run by Sue Hendra and Paul Linnet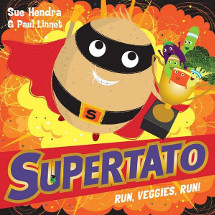 Simon and Schuster Children's, 2017. ISBN 9781471121036
(Age: 4+) Recommended. Humour. Vegetables. Sports Day. Supertato has decided that it's time for all the vegetables in the supermarket to get fit and so he organised a sports day with lots of prizes. Then along comes the Evil Pea, with Gloria, a giant watermelon, who is determined to win all the prizes. Supertato gets things going and it looks as if the Evil Pea will walk away with everything, until Supertato comes up with a brilliant idea that derails Evil Pea's dastardly plan.
The third in the series with Supertato as the star (Supertato and Veggies assemble) will keep readers giggling as they follow the antics of the vegetables on Sports Day and try and work out just what Supertato will come up to foil the Evil Pea's plan to have all the prizes. They will also have fun identifying the pictures of the vegetables in the races and in the background of the story and there is the added incentive of working out what Gloria is supposed to resemble.
The illustrations are bright and cheerful and the expressions on the faces of the veggies will bring a smile to the faces of readers and listeners.
This will be a firm favourite of young children with its original storyline, subtle hints on healthy veggies and exercise and fun characters.
Pat Pledger
BUY IT ON
May 26 2017
Tales from the Shadowhunter Academy by Cassandra Clare and others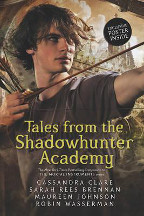 Tales from the Shadowhunter Academy bks.1-10. Walker Books, 2017. ISBN 9781406373585
(Age: 13+) Highly recommended. Fans of Cassandra Clare's series will be delighted with this compilation of ten illustrated stories previously published individually as e-books. The stories by Clare, Sarah Rees Brennan, Maureen Johnson and Robin Wasserman follow the adventures of Simon Lewis, star of The Mortal Instruments, as he trains at the Shadowhunter Academy. Simon doesn't know who he is anymore as he has lost most of his memories so he decides to train really hard to become a Shadowhunter, hoping that he will regain his identity as he goes.
This compilation is very clever and engrossing. People who have read all the books will gain insights into the backgrounds and what has happened to different characters as Simon progresses through his training. I was particularly interested to read about Tessa Gray and what happens to her as an adult, revealed in one of the stories when she is a guest lecturer at the academy. Other characters appear, like Jace Herondale and Magnus Blane, but each story grows on the back of the previous one, and the reader gets to know and sympathise with Simon as he struggles with his memories of Isabelle, his feelings of worth and his friendships at the Academy. It makes for a complete view of the Academy and what is involved in training to become a Shadowhunter.
Some big themes are touched on - class and privilege, stereotypes and duty of care, all done in an engrossing way, with Simon having to make some difficult decisions about who he is and where he belongs. Each story is illustrated at the beginning, with graphic novel type of illustrations, which are interesting to peruse.
For readers who are not familiar with the Mortal Instruments, Infernal Devices, and Dark Artifices series, there is enough in the stories to ensure that they will pick up the series, just to find out what has happened in the past and readers familiar with the books will be eagerly awaiting the upcoming Last Hours series. Readers may also want to go on and read other books by Brennan, Johns and Wasserman.
Pat Pledger
BUY IT ON
May 26 2017
Raymie Nightingale by Kate DiCamillo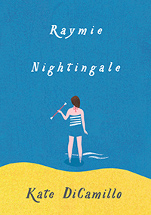 Walker Books, 2017. ISBN 9781406373189
(Age: 9+) Highly recommended. Friendship, Grief, Single parents, Aged care, Competition. When her father leaves, Raymie is distraught. She joins a baton twirling class in the hope of winning Little Miss Central Florida Tire 1975, so having her picture in the paper to lure him back home. She knows that doing a good deed will sit well with the judges and tries to find one. But her soul does not seem to be getting much bigger. At the class she meets two other hopefuls, Louisiana and Beverley, each of whom have quite different reasons for being there. Beverley is a take it as you see it type of girl, no holds barred, straight talking and often abrasive, while her cynical comments about baton twirling, cat homes, families and the outrageous Ida Nee will have the reader laughing out loud. Louisiana is an orphan but quietly determined and lives with a very odd grandmother, always on the lookout for the authorities who may take her to a children's home. All three girls are quite different but come to work together to achieve their goals.
But the class does not turn out as it should, partly because of the antics of the very odd teacher, Ida Nee, and Raymie decides to read to someone at the aged centre instead of going to class, so embroiling Louisiana and Beverley in her attempts to retrieve the library book which she loses under one aged person's bed. Beverley wants to sabotage the baton competition, while all Louisiana wants is to get her cat, Archie back. Losing any possibility of winning the money for baton twirling, the girls decide to take matters into their own hands and go to the cat shelter to get Archie, making use of Beverley's skills.
A very funny, darkly humorous episode at the end sees Louisiana in hospital with an array of parents and caregivers arriving to tend to their girls. Raymie's soul becomes larger as she develops friendships and helps solve some of their problems, while accepting that her father is not returning.
Beautifully written, this tale is most appealing in detailing the lives of three young girls who do not quite fit in and are certainly not what they seem. The story evokes understanding and pathos, sympathy and humour as The Three Rancheros set out to right some wrongs.
Fran Knight
BUY IT ON
May 25 2017
Animal activity: Cut, fold and make your own wild things by Isabel Thomas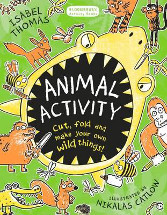 Ill. by Nikalas Catlow. Bloomsbury, 2017. ISBN 9781408870068
(Age: Independent readers) Recommended. The subtitle 'Cut, fold and make your own wild things!' gives a good indication of what the user can find inside. Once opened the words 'This book will self-destruct' are sure to intrigue and make the reader wonder just what they are going to find inside and just how one makes a book destroy itself. The instructions on 'How to wreck this book' will take any user off on an adventure learning about the natural world. Choosing 'Make a flower explode' (page 37) gives instructions on pulling a flower apart and naming its parts. 'Turn paper back into a tree' gives instructions for making a paper tree, and peopling it with creatures. The reader will have fun going outside, shaking a tree and seeing what living creatures fall out!
There are many such activities in the book, each providing hours of fun while the user learns about the natural world and animal activity. Many require scissors, glue and paint and some need an adult to supervise, but all will keep the reader occupied and interested. Certainly the book will not be intact after children start using it.
This would be a wonderful book to have on hand for holiday enjoyment or to use to pry young children away from their screens. Teachers may also find that many of the activities could be useful in the classroom.
Pat Pledger
BUY IT ON
May 25 2017
School daze by Zack Zombie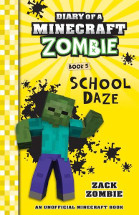 Diary of a Minecraft Zombie: Book 5. Scholastic, 2017. ISBN 9781743818312
(Age: 7+) Set in the intriguing location of Scare School and containing characters well known by all those enthralled with the game Minecraft; School daze follows the story of Zack Zombie and his aim of getting out of going on camp for the summer.
Zack tries every trick in the book to fail classes, hand in ridiculous science projects and present crazy history speeches - all in an attempt to make his parents so mad they cancel summer camp! But life for this Minecraft zombie is just not going to plan.
Written in a daily diary style, children will find this book easy to read and are sure to laugh at the funny banter recorded in Zack's diary and the classic occurrences that even us mere humans will relate to - such as school photo day and enlisting the help of your best friend (Steve Human) to help you really stuff up your Scare School work.
The book easily draws you into the life of Zack, and finishes off with lots of questions about the outcome of Zack's antics.
Readers will certainly be eager to start Book 6 in this series. It is felt that this would be a wonderful series to present to children who are either struggling or not interested in reading, but are interested in this game.
This unofficial Minecraft book would suit readers from ages 7 and up, or parents of younger children who just cannot get enough of the ever growing phenomenon - Minecraft!
Lauren Fountain
BUY IT ON
May 25 2017
The pink snowman by Alan Horsfield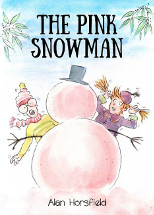 Ill. by Pat Kan. Big Sky Publishing. 2017. ISBN 9781925520439
(Age: 6-8) Snowmen. Blue Mountains NSW. Problem Solving. Krystal Clearwater is bored. She lives in the Blue Mountains and there is nothing to do. Outside there's a heavy blanket of snow covering the yard and inside her father is busy with his model train set. Dad is a joker; he's always telling stories and sometimes Krystal believes him. He suggests a bet: if she finds two matching snowflakes she will receive a fifteen dollar reward. Of course, her wise friend Jasper tells her the truth and she decides to build a snowman instead.
After building a rather disastrous looking snowman, Krystal jokingly challenges the creature to 'Stand up like a man!' Much to her surprise he does and soon the two friends are busy finding him some eyes and solving the problem of his strawberry coloured body.
Pat Kan's lively paint and ink drawings add to the fun of Alan Horsfield's narrative, suited to readers engaging with early chapter books.
Rhyllis Bignell
BUY IT ON
May 25 2017
Disappearing off the face of the earth by David Cohen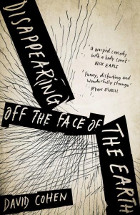 Transit Lounge, 2017. ISBN 9780995359482
(Age: 15+) This contemporary story is set in a self storage business in Brisbane. Narrated in the first person by the owner Ken, it details the decline of the business where defaulters of the storage units disappear and Ken is able to sell the contents to recoup rental costs.
Bruce, his employee, appears to be mixed up in the disappearance and 'messing' with Ken's mind and view of what is happening.
Along with the decline of the business is the mental decline of both men.
While the story is engaging and I read it in one sitting to see what happens at the end, the ending is disappointing and somewhat inexplicable.
There are a few sub-plots that confuse the main story.
Ann Griffin
BUY IT ON
May 25 2017
Dream little one, dream by Sally Morgan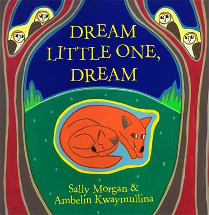 Ill by Ambelin Kwaymullina. Viking, 2016. ISBN 9780670078868
"When Moon shines and earth breathes a breath of deepest night dream, little one, dream into the peace of a wonderful world."
As the first fingers of light of the rising sun bring new life to a new day, the creatures begin to stir and go about their business. The bird soars, the koala climbs, the dolphin glides - right through the day till the moon comes again and the lizards settle down to dream.
Written with the lyrical notes of a lullaby this is a soothing, gentle tale of lives not seen by busy, rushing people as the day passes through its phases. Creatures of the skies, land and water have their own rhythm that has nothing to do with school or work or sports training or music practice - they are in peace and harmony with the world that surrounds them, suggesting a sense of routine and calm that we might well envy, perhaps be persuaded to observe.
Sally Morgan has a gift for selecting words and putting them together in a way that reaches the soul and demands we take time to breathe, relax and reflect. Accompanied by bright, stunning, striking illustrations that are in direct contrast to the gentle vocabulary, rhythm and repetition of the text, just as nature's lives are in contrast to that of humans, this is the perfect bedtime story to draw the curtains on the day, to slow the heart and take little ones off to Dreamland.
Barbara Braxton
BUY IT ON
May 24 2017
Wombat big, Puggle small by Renee Treml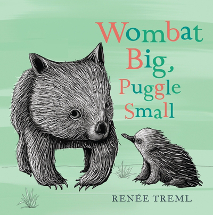 Random House, 2017. ISBN 9780143782940
Wombat is big and puggle, the baby echidna is small. But that doesn't stop them having a lot of fun is this delightful new book by Renee Treml who brings Australian wildlife to life with her stunning illustrations. Having already delighted our youngest readers with Ten little owls, Once I heard a little wombat, One very tired wombat and Colour for curlews, she again brings charm and humour to a simple story of two friends playing and discovering the world together. Even with its minimal text, there is a story to be told that parent and child can tease out together and talk about.
In hardback, and soon in board format, it is perfect for new readers to share with themselves over and over, this is perfect for helping them the discover the joy of story and setting them on their lifelong reading journey.
Barbara Braxton
BUY IT ON
May 24 2017
Wolfie an unlikely hero by Deborah Abela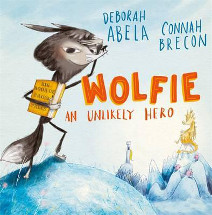 Ill. by Connah Brecon. Random House Australia, 2017. ISBN 9780143781509
(Age: 5-8) Recommended. 'I, The Wolf, am sick of being the bad guy. I'm taking over this book.'
Wolfie is cross, more than a little peeved with the negative portrayal of wolf's characteristics and actions in fairytales. In Wolfie An Unlikely Hero, the narrator repeatedly tries to move the narrative down a familiar path, but Wolfie steps in and strongly opposes these introductions. He enjoys the build up of characteristics - he is sleek and strong, perfectly nice, however he does not sneak up on innocent rabbits and sweet little piglets. He takes over the storytelling and informs the reader he's really a hero who rescued his cousin from drowning. This a battle of wits, the narrator will not stop with the conventional storyline, and once more the tale shows the wolf sneaking up on the chicken coop ready for a midnight snack.
Finally the story changes, the perfectly nice, brave wolf races across the 'rivers of ravenous crocs to rescue the princess held in a high tower'. Will this be a perfect fairytale ending? Wolfie pleads to be written as a different character, perhaps a wolf in shining armour. With a delightful and unsuspected ending, Wolfie is granted his wish, to be part of a rescue!
Deborah Abela's hilarious story is perfect for sharing at story time as her style of writing with the back and forth banter between Wolfie and the narrator is fabulous to read aloud. Connah Brecon's over-the-top stylised illustrations perfectly show Wolfie's character, and his sleek physique, turned up nose and matchstick arms with bulging muscles. His comic fairytale settings are fun to explore. They show the range of emotions felt by the main character and his potential victims, and the princess shows her own strength of character refusing the wolf's help.
Deborah Abela's Wolfie story supports the Year 1 - Year 3 English Curriculum with its persuasive text, and through investigating the representation of ideas in picture books.
Rhyllis Bignell
BUY IT ON
May 24 2017
Forever Geek by Holly Smale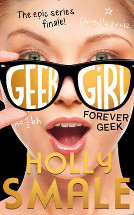 Geek Girl series. HarperCollins, 2017. ISBN 9780007574667
(Age: 11+) Recommended. Humour. Feel good book. In the finale to the very popular Geek Girl series, Harriet Manners, the geek, the model and the control freak is on her way to Australia with her grandmother Bunty and her best friend Nat. She has said goodbye to Jasper, her not quite boyfriend at home and statistically, she believes that it is unlikely that she will bump into her Australian ex-boyfriend Nat in Sydney. She is completely unprepared to see Nick and she faces quite a few sticky situations that her list making and preparation can't help her with.
This is a very fitting conclusion to a humorous series that fans will be sad to see finish. Harriet is her usual self, inundating the reader with numerous strange facts about all sorts of things. Her witty comments will give many laugh out loud moments and there is a lot of good advice about fitting in, being yourself and having friends that the reader will appreciate as Harriet comes to grips with who she is and what she wants out of life.
Readers will be waiting for whatever Holly Smale writes next.
Pat Pledger
BUY IT ON
May 24 2017
The things we promise by J.C Burke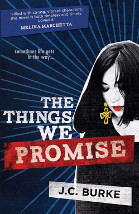 Allen and Unwin, 2017. ISBN: 9781760290405
(Age: 15+) The Things We Promise describes the year of Gemma as she looks forward to her first school formal. Set in the 1990s this novel depicts the typical aspects of growing up as teenagers during this time period. Most notably is Gemma's obsession with going to the local pay phone box to call and catch-up with gossip from her friends (something the current generation of social media always connected teenagers might find different). Most notably and the main theme of the The Things We Promise is a personal recount of the AIDS epidemic which affected the early 1990s. This is described via Gemma's older brother who is gay and has been exposed to HIV. On this theme, the novel describes all the prejudices, discrimination and attitudes that were directed at Gemma and her family because Billy was homosexual and later HIV positive. In short, Gemma's problems with her friends, boyfriends and her formal dress become less of a priority as she deals with the social and emotional issues associated with HIV and AIDS. Later in the book, the themes are heavily associated with Gemma and her family's experience of terminal illness and ultimately grief.
The Things We Promise is easily related to other texts that feature similar themes of prejudice and discrimination, particularly those related to homophobia and AIDS and would be most suited to senior high school students. It is a great reflection on how far we have come to be more accepting of 'AIDS in the burbs.'
Adam Fitzgerald
BUY IT ON
May 24 2017
The Catawampus Cat by Jason Carter Eaton
Ill. by Gus Gordon. Penguin, 2017. ISBN 9780143785583
(Ages: 4-7) Highly recommended. Cats, change, perspective. The back cover helpfully informs us that the word 'catawampus' means to be askew or at an angle. A Google search confirms that it is indeed a word, albeit usually considered a North American colloquialism. Unsurprisingly then, The Catawampus Cat has been written by an American author. While not particularly well known in Australia, Jason Carter Eaton has previously produced a small number of children's books. Here he teams up with the incredibly talented Gus Gordon (writer and illustrator of the successful Herman and Rosie, among others.)
The town Catawampus Cat walks into is super busy every day, even on a Tuesday (!), but when people start to see and do things differently amazing things happen. Miss Reade, the town librarian, accidentally pulls a book about boatbuilding off the shelf . . . and off she goes on her new boating adventure. Bushy Brows Billiam discovers he can see better if he looks at just the right angle. Soon everyone in town is tilting their head and they are all 'happy and slanty and catawampus'. The ending, in which the Catawampus Cat straightens up and walks out of town, is incredibly funny and thought provoking. It is a great discussion starter about how the cat has again become the catawampus one.
With The Catawampus Cat Gus Gordon lives up to the high expectations Herman and Rosie fans are sure to have. From the story map on the endpapers showing the cat's journey around the town to the humourous, busy and eclectic multimedia pictures within, this book is a visual feast. Each page begs the eye to travel, explore and enjoy. Repeated readings are never boring either, as new elements are just waiting to be discovered. The writing is also a joy; it is witty, uncomplicated and devoid of unnecessary detail. The overarching message is about slowing down and noticing things; it emphasises how looking at things from a different perspective can open our eyes to new opportunities or ways of doing things. Young primary school children and teachers will love this, especially if they are fans of Herman and Rosie.
Nicole Nelson
BUY IT ON
May 24 2017
I don't know what to call my cat by Simon Philip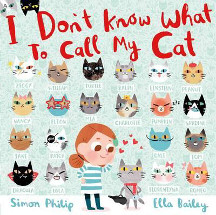 Ill. by Ella Bailey. Simon and Schuster, 2017. ISBN 9781471124129
(Age: 4+) Recommended. Cats, Family, Decision making. All readers will enjoy reading the covers of this inviting book, seeing the cats' names reflecting their attributes. I laughed out loud at Dali's moustache, Elton's eyes and Ziggy's scar, and readers will pick up the humour before they open the first page.
When a cat choses the protagonist as its owner, she has a lot of trouble finding a suitable name. She scrolls through many: Betty, Lorraine and Ethel and so on, until a visit to the vet shows her that she needs a boy's name. Then a similar scrolling through a number of boys' names occurs with the cat rejecting them with his bahviour. Readers will laugh out loud at the animal's antics, and sympathise when it appears to run away, doffing the clothes in which it has been dressed. Surprisingly the girl goes to the zoo, and selects an ape for her pet, but he destroys her house until the zoo keepers retrieve him.
When he disappears back to the zoo, her cat reappears resplendent with his name, Tricky on a plate around his neck. She is ecstatic and draws a line across the floor, delineating how they will now interreact with each other.
With detailed digital illustrations the relationships between the young girl and the animals will cause lots of laugh, as they work out their boundaries. Readers will have a great time finding the cat on the pages where he has run away, shouting out to the little girl where to find him.
As the children read this story they will assimilate information about how to look after a pet and some of the responsibilities in doing so.
Fran Knight
BUY IT ON
May 24 2017
First Baby Days series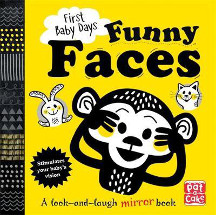 Pat-a-Cake, 2017
Funny Faces
. ISBN 9781526380005
On the Move
. ISBN 9781526380012
(Ages: 0-2) Recommended. Board books, high-contrast illustrations. These high-contrast board books have been designed to stimulate even the youngest children. Testing them out on my own two-month-old gave credibility to this claim; she was more engaged with the illustrations in these two titles than with other brightly coloured illustrations. Not only did she look at the pictures for longer but she also followed the book with her eyes. When held in front of her she also became calmer, seemingly enjoying the stimulation.
Each book contains one bright colour (yellow, red) as well as black, white and grey. The illustrations are bold with simple patterns and the text encourages the parent to interact with the child (e.g. 'Hello, little panda. Wave to little panda!'). Infants love to look at faces so will love the big expressive faces of the animals in
Funny Faces
and enjoy looking at themselves in the large, clear mirror (many mirrors placed in books are tiny and don't reflect well). They will also enjoy the noises of the vehicles in
On the Move
(Brrm! Choo! Zoom!) and tracking the impressive pull-tabs (there are pull-tabs within pull-tabs), which are robust enough to withstand rough treatment.
These two titles are great for infants but will also entertain toddlers.
Nicole Nelson
BUY IT ON
May 24 2017
Toddler's world series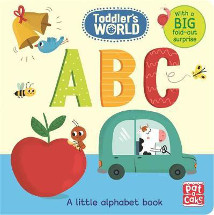 Hodder and Stoughton, 2017.
ABC. ISBN 9781526380029
123. ISBN 9781526380050
Animals. ISBN 9781526380036
Colours. ISBN 9781526380043
(Ages: 1-3) Recommended. Board books, concept books. Each of these bright, colourful board books has playful illustrations that toddlers will love to explore and big, interactive foldouts on their final page. Their simple format allows children to lead the exploration and encourages parent-child interaction. The books use toddler appropriate content to teach simple concepts and include things that toddlers love (balls, rockets, balloons, animals, vehicles, etc.). These are English publications so objects or things are not necessarily Australian (e.g., wood animals are badgers, hedgehogs, etc.) or are called something different (e.g., pepper instead of capsicum), but this doesn't greatly detract from their value. In Colours, ABC and Animals, which are separated into sections and have labelled pictures, toddlers will enjoy pointing out and naming things familiar to them. The counting book uses many number representations (figure, dots, number of items, written word, highlighted number in sequence), meaning children are exposed to number in its many forms.
The last foldout page in each of the books asks children to consolidate their learning (count how many, name the animals, etc.). All of the books are incredibly robust to withstand even the toughest toddler treatment.
Nicole Nelson
BUY IT ON
May 23 2017
But then I came back by Estelle Laure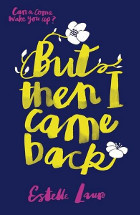 Orchard Books, 2017. ISBN 9781408342541
(Age: 14+) Recommended. Eden's life was all figured out - she was going to go to New York and dance with the Bolshoi, she was going to be a star!
After the accident however, all her plans are thrown into doubt. Having woken from a coma a month after falling into the river, Eden doesn't know whether she'll ever dance again. There goes fame, fortune, and college plans. Instead she is consumed by the depression of the displaced, and the mystery of her fellow coma girl, Jasmine, who she met on the 'other side'. Preoccupied by Jasmine and the mysterious black flowers, Eden finds herself neglecting her old life and her family in order to try and help this stranger come back. But is her determination solely because she feels close to the other girl, or because of the boy with the white roses and chocolate eyes? It seems that when everything is going so wrong, something has to be so right.
Sequel to This raging light, But then I came back can be read in addition or on its own. Intelligent and thoughtful, Estelle Laure (and Eden) make many literary references throughout the novel to the canon. It is a novel about recovery, discovery, and comfort with a pleasant possibility for what might be beyond the veil. A relatively easy read, the novel addressed issues surrounding family, depression, and future thinking. I would recommend this novel for students aged fourteen and up.
Kayla Gaskell, 21
BUY IT ON
May 23 2017
Aquatica, a beginner's field guide by Lance Balchin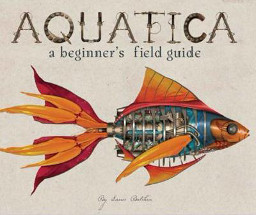 Five Mile Press, 2017. ISBN 9781760404147. Hardcover, 32 pages.
(Age: 9+) Highly recommended. Dystopian fiction. Future settings. Environmental issues. Animals. Robots. Science fiction. Lance Belchin's Mechanica introduced a futuristic world where the extensive use of fossil fuels has poisoned and destroyed the atmosphere, the ecosystems and all of nature. The sea is now a sterile place, while the red sky is filled with atmospheric fires. In Aquatica, a beginner's field guide, we discover the fantastic range of robotic sea creatures that inhabit this desolate environment. These dangerous Aquatica pose a new threat to the enclaves of humans left in the world as their population rapidly grows in the underwater energy field known as the Hum. Here these creatures are able to communicate, talking, planning, plotting, and beginning to move stealthily closer to the human settlements.
Fifteen-year-old scientific genius Liberty Crisp sets out on her first voyage in the HMS 'Beagle' from the fortified island of Madagascar. She travels with her friendly Mechanica bat, Bert, across the deadly oceans of Asia gathering data, images and recording notes on the new frightening species of wild creatures. Some of these prove to be nonviolent, able to communicate with Liberty and the other humans on her ship.
Exquisitely detailed illustrations, display each mechanical creature; there is fluidity to their lines, an amazingly seamless combination of the robotic and realistic features. Each creature is identified by its scientific name, detailed description of movement, purpose, composition, communication mode, speed, power and location. The massive Watching Squid is a dangerous creature with its two lead tentacles able to deliver a massive electrical charge as it speeds through the ocean at 190 kilometres an hour, stunning and killing its prey. The iridescent turquoise Sentinel Pleumon has a symbiotic relationship with the Hunter Shark; it transmits attack information to the shark that protects this defenceless creature.
Balchin's Aquatica brings a deep environmental message: the impact of our misuse of fossil fuels, global warming, destruction of habitats and the animal populations, all have futuristic consequences. This beautifully detailed scientific guide, with its photorealistic technical illustrations is suited to readers from nine years of age up to ninety! This is an excellent resource for educators in the Upper Primary and Lower Secondary years across the curriculum in Science, Technology and Design, Environmental education and sustainability, Geography and Art - digital illustration.
Rhyllis Bignell
BUY IT ON
May 23 2017
Welcome to Willowvale by Rebecca Johnson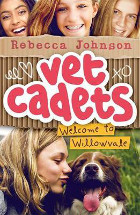 Vet cadets bk 1. Penguin, 2017. ISBN 9780143782711
(Age: 8-12) Recommended. Boarding School. Veterinary training. Animal husbandry. School life. Horse riding. Friendship. Science. Biology. Parasites. Willowvale Girls Academy offers a special Vet Cadet Program for Year 7 girls. New students Hannah, Abbey and Talika, all have different family backgrounds but they all have one thing in common, they love animals, especially horses. As they settle into boarding school life, these three girls learn to rely on each other, value each other's differences and work together to solve several mysteries.
Abbey, Hannah and Talika learn about caring for farm animals, raising lambs, shearing sheep, caring for their horses and collecting parasites for their Science lessons. Talika's fat pony Pudding has a mind of its own and both Abbey and Hannah's assistance is needed to teach riding and grooming skills. When a neighbour's aggressive dog chases Talika and her pony, Abbey's farm skills come in to help. The treasure hunt for parasites adds a quirky scientific dimension as the three friends explore a nearby dam and capture airborne insects and those living on cows and sheep. This knowledge and the use of specialised scientific equipment assist them on their journey to solving the mystery of the sheep attacks.
Rebecca Johnson's background as a science educator and her love of animals is evident in this new series for middle primary readers. Welcome to Willowvale is an exciting introduction and is just right for readers who enjoy reading information and scientific facts in a novel format with strong girl role models. Friendship, learning resilience and working together to solve problems are positive themes presented here.
Rhyllis Bignell
BUY IT ON
May 23 2017
The princess and the frogs by Veronica Bartles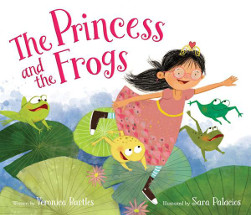 Ill. by Sara Palacios. Balzer and Bray, 2017. ISBN 9780062365910
Princess Cassandra had everything she could possibly want - hundreds of dresses, thousands of books and servants to bring her anything she wanted. She should have been the happiest princess in the world. But there was one thing she didn't have - she was lonely playing by herself and desperately wanted a best friend. In particular, she wanted a pet - one that would match her best dress, swim and jump and play all day and at night sit on her pillow and sing to her. So the Royal Pet Handler set off on a quest to find the perfect pet, but nothing was quite right. The mouse was too squeaky, the kitten refused to swim, the hippo wouldn't jump and none of them were green. The task seemed impossible until one day the Royal Pet Handler arrived with a frog. It seemed just perfect. It was able to swim, jump and play, AND it was green. But when Princess Cassandra put it on her pillow and kissed it goodnight, it turned into a prince!
"Princes aren't pets," she declared and banished it to the royal kitchens. So the Pet Handler went in search of another frog and the same thing happened. Again and again and again, until there were princes everywhere. Then one day, the princess found her own frog but the same thing happened, except this time the prince wanted to stay a frog. Will she ever get the perfect pet?
This is an hilarious take on the traditional Princess and the Frog story made even more so by the terrific pictures from Palacios who brings the characters to life through their facial expressions. Who would have thought there were so many different frogs?
A playful bedtime read that might make little ones think twice about kissing things goodnight!
Barbara Braxton
BUY IT ON
May 23 2017
The most perfect snowman by Chris Britt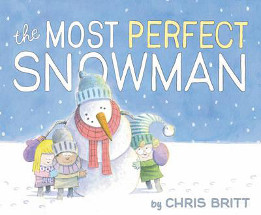 Balzer and Bray, 2016. ISBN 9780062377043
Built in the first flurry of winter snow, Drift was the loneliest of snowmen. With his stick arms, small mouth and coal eyes he stood forlorn and forgotten amongst the bare winter trees. He dreamed of having a smart scarf, warm gloves and a long orange carrot nose like the other snowmen so he could join in their banter, their fashion parades, snowball fights and other fun stuff. But he was too plain and different to be included, so his days were spent swooshing and sliding through the woods, stopping and standing in the shadows to watch the others at play.
Then one day some children gave Drift all that he wanted - a fluffy blue hat, warm mittens, a soft scarf and even a long orange carrot nose. Suddenly the other snowmen found him acceptable now that he had his new accessories and watched as he played all afternoon with his new friends. But that night a blizzard blew and Drift lost his smart new clothes and no matter how hard he looked, he couldn't find them. All he had left were his scarf and his long orange carrot nose. Then he heard a tiny voice - a little bunny was lost in the snow, frightened and shivery cold. Drift knows he can save the bunny by wrapping it in his soft scarf and giving it his long orange carrot nose but can he bear to part with them? Can he go back to being that plain snowman with skinny stick eyes, a small nose and coal eyes?
This is a charming story about what it means to be 'perfect' and whether it is about looking a particular way or having the right things or whether it runs deeper than that. What is the meaning of the old adage 'Clothes maketh the man' and is it true? Are we more visible and therefore perhaps more powerful because of our external appearance?
It also raises the concepts of selfishness and selflessness and whether even giving just a little can make any difference. Do we need to be applauded and rewarded for doing something kind or should it be enough to know that we have made a difference? Do we have to be the person giving the boldest and brightest present at birthday parties or is it the phone call saying thank you afterwards that is most remembered?
The soft palette echo the gentleness of both the story and its message but this is more than just a story to welcome winter.
Barbara Braxton
BUY IT ON
May 22 2017
Summer skin by Kirsty Eagar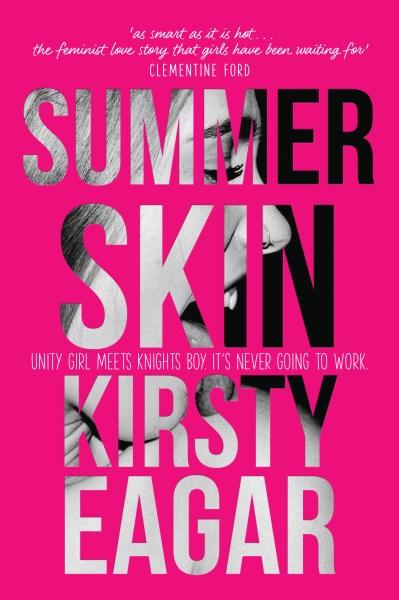 Allen and Unwin, 2016. ISBN 9781925266924
(Age: 16+) Recommended. Mature content. While this is not normally a book I would pick up and read, I was intrigued by the review on the cover, promising it to be the feminist love story all girls have been waiting for. This isn't wrong. Summer Skin dismisses the old damsel-in-distress and hero archetypes and instead replaces them with two very stubborn individuals who loath and love each other. It is a blunt and intelligent take on a love story, the kind of thing many teenage girls might want to look to when compared to other popular YA romances.
The story follows Jess in her third year of university in Queensland. Part of Unity college, she is out for revenge against the abhorrent Knights for the previous year's sweep (a challenge to be the first to bed a Unity girl). While Farren wants no further conflict between the colleges, Jess goes behind her back to initiate a Unity Sweep where the girl who brings the most humiliation to a Knight becomes named The Knight Rider. After a public announcement citing that any girl who sleeps with a Knight is a traitor to Unity, Jess soon finds herself questioning her own loyalty with the appearance of Blondie (Mitch Crawford). Mitch doesn't seem to know what he wants, other than to touch Jess. He refuses to kiss or sleep with her. It seems they each have a lot to learn about themselves and each other. Beginning with how to trust.
While this book has a strong physical focus, I would recommend for girls sixteen and up. It deals with issues surrounding consensual sex, making it an important discussion for teenagers who don't or won't listen.
Kayla Gaskell, (University student)
BUY IT ON
May 22 2017
A fearsome beast and a dumpling feast by Yves Stening and Nigel Buchanan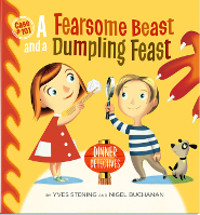 Dinner Detectives, bk 1. Publish Creative Books, 2017. ISBN 9780648008705
(Age: 5-8) Recommended. Chinese New Year. Dumplings. Detectives. Clementine and Aksel are off to celebrate the Chinese New Year banquet at their cousin Ying's house in Chinatown. When their father is uncertain about the origins of the Chinese New Year, Clementine decides it is a case for the Dinner Detectives to solve and Ying gives them the history of the brave little girl in a red dress who scared away the fearsome Nian. From that day on, people wore red every New Year in honour of the little girl. The children then watch the dragon dance and find out that the dragon is what brings good luck for the New Year. Then they are off to Ying's house where they eat dumplings and discover that Dr Zhang Zhongjing first made them to keep the villagers warm and stop their ears from freezing off.
Children will be fascinated by the two stories centering on Chinese New Year and will love to try the recipes for Aunt Lily's dumplings that is at the end of the story. There is also an opportunity for readers to put their own dumpling recipes up here and perhaps they could think of some white food other than white bread, white rice and potatoes that Aksel could eat.
The illustrations by Nigel Buchanan are bright and cheerful, giving a clear picture of the decorations for Chinese New Year with the red lanterns, fire crackers and the red dragon. The Nian is a fearsome creature with large white teeth and a huge yellow eye but readers will be reassured by the brave confident look on the face of the little girl in red, who is able to scare the beast away by staring it down. The domesticity of the New Year banquet, with the little bowls, chopsticks, large fish and steaming dumplings adds to the narrative.
This is the first in the Dinner Detectives series, and readers will want to follow their future adventures to uncover the origins or pasta and sandwiches.
Pat Pledger
BUY IT ON
May 22 2017
Ambulance, Ambulance! by Sally Sutton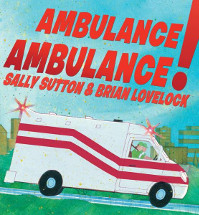 Ill. by Brian Lovelock. Walker Books, 2017. ISBN 9781925126303
(Age: 3-5) Recommended. New Zealand author Sally Sutton's popular picture books focus on introducing transport and industry to youngsters. Ambulance, Ambulance is the new addition to her previous publications Roadworks, Demolition and Construction. Her rhyming story, printed in bold text is fun to read aloud, with the noise of the ambulance sirens, the clonk of the doors and honk of the horn.
The ambulance crew race to the site of a bike accident, down a busy street, lights flashing, ready to help an injured boy. He has fallen off his bike and broken his leg. With the splint on, he is transported up the grassy slope and into the ambulance. The police and fire crew are also on the scene to direct the traffic and assist the other rider. The loud 'nee nar nee nar' of the siren sounds out as they rush down the freeway back into the city. After leaving the young lad in the emergency room, the crew take a minute to rest before they are called out again.
Brian Lovelock's bold saturated watercolours enhance Sally Sutton's informative text. His creative use of different perspectives engages the reader. The eye is drawn into each scene, delineated by vivid blocks of colour - grass green, sky blue, the bird's eye view of the blue freeway and the red and white of the ambulance.
Ambulance, Ambulance is a great resource for a Junior Primary unit on our community helpers, for Geography when exploring our urban environment and as an informative text for English.
Rhyllis Bignell
BUY IT ON
May 22 2017
LEGO DC Comics Super Heroes: The Awesome Guide by Calvin Scott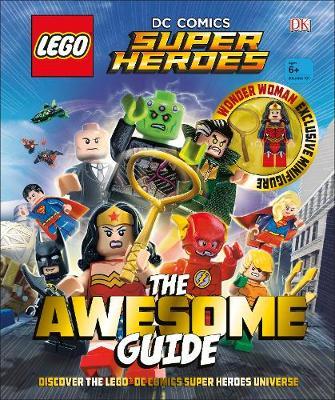 DK Children, 2017. ISBN 9780241280393
(Age: 8+) Recommended. Sure to appeal to LEGO fans, The Awesome Guide is just that. It gives details of all the super heroes, their origins and the two cities, Metropolis and Gotham City that dominate the world of DC Comics super heroes. Then there is information about the planet Krypton, the superpowers possessed by the heroes and their secret identities, vehicles and weapons. Of special fun will be the section where readers can answer a quiz to find out 'Who is your alter ego?', 'hero, friend, ordinary bystander or, gulp, villain!'
The villains found in the comics are not omitted either. There is a section based on their identities, skills and weaponry and readers can do a quiz to find out how bad they are.
Each of the sections are illustrated in a double page spread, vividly featuring the LEGO hero or apparatus, and many having small blocks of information showing a Bick-sized fact and a Stat Scan. There is a Table of Contents, a list of the LEGO sets and an index. There is also a Wonder Woman exclusive mini figure contained in the cover.
Although the reading level is definitely for an older audience, this book and especially the action figure contained in it will appeal to Lego fans who are much younger and who will appreciate an adult reading sections to them.
This would be an ideal gift for any child who enjoys Lego and superheroes.
Pat Pledger
BUY IT ON
May 22 2017
The Blue Cat by Ursula Dubosarsky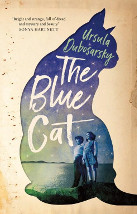 Allen and Unwin, 2017. ISBN 9781760292294
(Age: 11-14) Recommended. Themes: World War II; Childhood; Mystery; Australian War History. The Blue Cat is an interesting novelised confluence with the historical investigation of childhood life in Sydney during the time of war-time attacks on Australia, combined with some primary sources of the time and an ethereal mystery. Just as the blue cat seems to live a life of its own, the novel weaves between the 'legs' of the historical sources and the innocence of the main character, Columba and her friend Hilda. They encounter a rather unusual character, Ellery, who attends their school but is mysterious and isolated from them because he only seems to speak German. To some extent Dubosarsky has created a faintly mysterious and strange attempt to create understanding between children from both sides of the conflict. The dream-like finale may add a degree of confusion for a young reader, but a slightly older reader may be able to see the potential for interpretation. The voice of Columba has a delicate naive quality (akin to the narrator in John Boyne's The Boy in Striped Pyjamas, but perhaps with more understanding), but the enigmatic influence of the aloof and voiceless Ellery adds a degree of sophistication to the story-line. Is he real or just a reminder of those who suffer because of war? Initially this appears to be a book for younger readers - the youthful naive quality supports this - but because it is not straightforward in its resolution this makes the recommended reader slightly older.
Recommended for the thoughtful reader aged 11 - 14 years.
Carolyn Hull
BUY IT ON
May 22 2017
Captain Jimmy Cook discovers X marks the spot by Kate and Jol Temple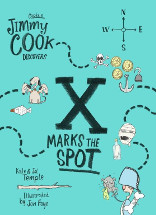 Ill. by Jon Foye. Allen and Unwin, 2017. ISBN 9781760291945
(Age: 8-9) Recommended. Jimmy Cook is an eccentric Grade 3 student and also an explorer, science whiz kid and adventurer and in this second book in the Captain Jimmy Cook Discovers series he digs for dinosaurs, digs for buried treasure, causes a major plumbing disaster at school, creates an amazing robot that saves his Dad from a lifetime of chasing flies with a vacuum cleaner, and generally creates havoc. Jimmy's general lack of awareness of the consequences of his actions lead to many twisted moments, and even a few opportunities to visit the Principal's office. With quirky line drawings that illustrate the impossible tasks that Jimmy explores with vigour, the Temple co-writers have created another book that will appeal to young readers whose main aim is to be entertained and to laugh as they read. This book will appeal to readers aged 8-9, and even older readers whose humour is locked at year 3 level will get a chuckle at the misadventures of this not-so-famous explorer.
Carolyn Hull
BUY IT ON
May 19 2017
Bad Guys: Episode 5: Intergalactic Gas by Aaron Blabey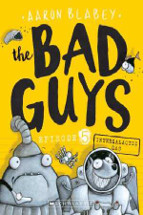 Scholastic, 2017. ISBN 9781760279479
(Age: 7-10) Highly recommended. Another in the fun graphic novel series by Blabey will be greeted with glee by fans who will laugh out loud at the latest adventure of the strange gang led by Mr Wolf. The bad news is that the world is ending, but the Bad Guys, hoping to become heroes, steal a rocket and fly off to the moon in search of the evil Dr Marmalade and his Cute-Zilla Ray. Mr Piranha might have eaten too many beans with disastrous results when Mr Wolf finds him in the space suit that he is wearing. But only the Bad Guys could come up with a solution to save the world that involves giant farts!
Children love this hilarious series and Intergalactic Gas will be another tale for them to enjoy. The humour is over the top and will raise the spirits of any child who reads the story while the illustrations add to the delicious fun. The text is short enough to encourage the newly independent reader to start the story, while bold print and funny illustrations keep the reader involved. The characters are as lively as ever, and this time Mr Wolf shows that he knows how to keep his friends when he forgives Mr Snake for shutting him out of the spaceship.
Great fun for all readers. Aaron Blabey presents a short introduction here.
Pat Pledger
BUY IT ON
May 19 2017
The Australian Animal Atlas by Leonard Cronin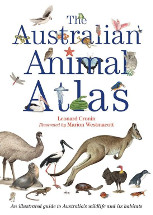 Ill. by Marion Westmacott. Allen and Unwin, 2017. ISBN 9781760294144
(Ages: 5-12) Recommended. Australian animals. This is a revised and updated edition of a 1995 Envirobook publication by the same author and illustrator. The illustrations are detailed and realistic and the author, with a background in biology, presents well-researched information regarding animal behaviour and physiology. The structure of the book is faultless and multi-layered and the contents and index pages are uncluttered and easy to navigate. The animals are organised into the habitats (e.g., deserts) in which they are found and the contents page lists these eleven habitats. Indexing is by common grouping (e.g., insects, kangaroos) as well as by full name (e.g., Bull Ant, Agile Wallaby). Each of the eleven sections contain a map showing the area/s of Australia that habitat can be found as well as a brief description and illustration of that particular habitat. The animals of that habitat (sixteen for each) are depicted both within the illustration and again within the border (labelled). Younger children will especially enjoy searching for each animal within these habitat scenes. On the following page is yet another illustration of each animal, this time including information regarding their unique behaviours and abilities. It is a credit to the publication that the illustrations are not just duplicated; many of them are different. Because the number of animals included is not exhaustive the information given is quite comprehensive for a book of this kind (not just a couple of interesting or little known titbits), with 3-5 thorough sentences for each. Westmacott's detailed and life-like illustrations bring the creatures to life.
An illustrated guide such as this is great for visual learners and allows children to read about an animal and then connect that new knowledge to the animal's appearance (e.g., to both read about and see the spade-like feet of the water-holding frog). As illustrated in the aforementioned example the descriptive language used is visual and appropriate for a young audience. The monikers (e.g., night terror, flying poison) given to each animal will draw children, including reluctant readers, into the text and encourage them to read on. The layout is easy on the eye and not text heavy; there is lots of white space and the illustrations take centre stage. The text gives each animal's scientific name as well as its body measurements.
This is a thoroughly enjoyable and educational read, both for general perusal, habitat investigations and animal research.
Nicole Nelson
BUY IT ON
May 19 2017
The world of dinosaur roar. A series created by Peter Curtis with rhyming text by Jeanne Willis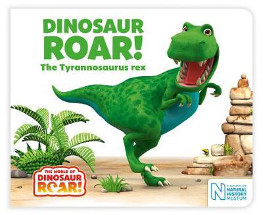 Macmillan Children's Books, 2017.
Dinosaur roar! : The Tyrannosaurus rex. ISBN 9781509835669
Dinosaur Boo! : The Deinonychus. ISBN 9781509834952
Dinosaur Munch! : The Diplodocus. ISBN 9781509835652
Dinosaur stomp! : The Triceratops. ISBN: 9781509835690
Ages: 1 - 6) Recommended. Board Book. Written in association with the Natural History Museum, this series of four rhyming texts introduces the very youngest of children to the world of dinosaurs; each character being endowed with a delightfully cheeky personality. The dinosaurs depict behaviour typical of what we have come to expect of each species. Vegetarian Diplodocus incessantly munches leaves whilst Tyrannosaurus Rex threatens the others more aggressively as we might expect of the carnivore.
The fabulous rhyming text is great fun for the adult reader too but be warned - for best results refresh your dinosaur vocabulary and pronunciation before you begin reading with your little one! The different dinosaurs from the series 'support' the main character of each individual narrative with their slapstick but just scary enough antics. The final pages of each story provide some basic facts about the dinosaur focussed on in that text. This is a very fine series for stimulating the imagination particularly of the child with a fascination for dinosaurs. I certainly would have jumped at a series like this for my eldest son who had to be restrained on a daily basis, from boring his Year 1 class to death on this subject quite a few years ago now.
Elizabeth Avery
BUY IT ON
May 19 2017
The only girl in the world: a memoir by Maude Julien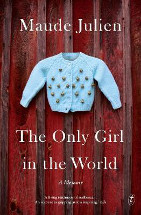 Text, 2017. ISBN 9781925498110
(Age: Mature senior secondary) Recommended for mature readers who should be given opportunities to discuss the content. Maude Julien's memoir details a horrific childhood of deprivation and suffering inflicted by parents determined to create an exceptional being who would not suffer from any intellectual or physical weakness. Maude's father was a wealthy French company director who had a Nietschzean belief in his own power and consequently despised human emotional fragility. He raised a poor miner's daughter, Jeannine, from infancy and in time she became the mother of Maude, the author. The couple isolated themselves from the world and raised their child to master all skills and eliminate all weakness. Part of her training taught her to regard other people with suspicion and fear. She is set constant endurance tests and never shown any affection. Maude's teacher is her mother, who is a victim of Louis almost as much as Maude is. Maude is woken in the night and made to sit in darkness in the cellar to overcome her fear of rats. She is forced to traverse the grounds of their mansion again at night without a light. She must sit for hours without moving. Bells are sewn onto her jacket to ensure that she does not move. Louis wants a guard dog so Linda, an Alsatian, is purchased. Linda loves Maude but her father forces Maude to shut Linda in a tiny cage during the day. Maude must not allow herself to be ruled by sentiment. She must excel academically, despite being taught by her mother who does not understand what she is teaching. She must be a gymnast, despite having no trainer, and she must learn a range of musical instruments. Oddly, despite their suspicion of the world at large, Maude's parents allow frequent contact with a vicious gardener who sexually abuses the child, and her accordion teacher is a sadist who stubs out his cigarettes on her knees. Louis has a philosophy that is a mixture of Masonism and Nazism, but the essence is that he must be recognised as godlike. He tries to force Maude to promise to watch over his grave for the rest of her life. He fails in this but he does force her to toilet and bath him, and share in his copious consumption of alcohol. He eventually organizes her marriage which he does not intend to be consummated. However Maude seizes her chance and escapes. Psychologically Maude is saved by the love her few animals, Linda the dog, Arthur, a pony, and a duck, give her, and ultimately by a fine and wily music teacher who manages to extricate the seventeen year old girl from her isolation. She begins to recognize her talents as a writer and musician, and to understand that it is possible to enjoy being with others. She has many disabilities, a damaged liver, nightmares, and chronic distrust among them, and it takes many years of different therapies before she functions as a happy and successful person. The message finally is that psychological damage can be repaired, but at a great cost over a long time. The importance of simple loving kindness in raising a child is critical. The memoir is engrossing but an emotionally difficult read. The cruelty inflicted on the child and the animals is almost unbelievable and is certainly disturbing. It can be recommended for mature readers who should be given opportunities to discuss the content.
Jenny Hamilton
BUY IT ON
May 19 2017
Rock pool secrets by Narelle Oliver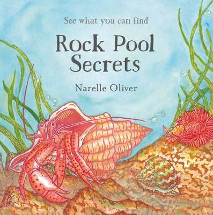 Walker Books, 2017. ISBN 9781922179357
(Age: 4-8) Recommended.
At first glance there's nothing much to see.
But the rock pools are full of secrets.
Narelle Oliver's love of the world around her, her desire to inform and engage through her beautifully crafted picture books is the wonderful legacy she leaves for us. Her final picture book Rock Pool Secrets opens up the young readers' eyes to the secret underwater world of rock pools where sea creatures hide.
Each beautifully created scene is realistically portrayed with a palette of sea blues, sandy yellows, muted greens and hermit crab reds. The layered illustrations unfold as you lift the flaps to discover the many small animals camouflaged amongst the stones and sea grasses. Her use of linocut printing adds depth and definition to the detailed scenes. Whose speckled eyes peep from a miniature cave? Why do the turban snails lie still in the sun?
Narelle Oliver's expressive text is wonderfully written, perfect for reading aloud with alliterative and descriptive phrases and questions that lead to discovery. A wealth of knowledge is embedded in the text - 'the decorator crab hides by playing dress-ups sticking seaweed pieces on its little hooks.' A glossary is included at the end for readers who want more information or for classes to use as a springboard into research.
Rock Pool Secrets is an excellent resource to introduce Junior Primary Biological Sciences, in Year 1 students investigate 'living things live in different places where their needs are met.'
Oliver leaves behind a wonderful body of work from The Best Beak in Boonaroo Bay to Sand Swimmers. Rock Pool Secrets displays her passion for the environment, the need for sustainability and the importance of protecting ecosystems and the animals that live in them. Classroom ideas are available.
Rhyllis Bignell
BUY IT ON
May 19 2017
Amazing Australians and their flying machines by Prue Mason and Kerry Mason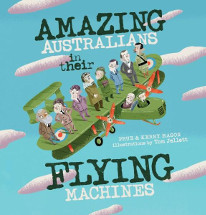 Ill. by Tom Jellett. Walker Books Australia, 2017. ISBN 9781922244635
(Age: 8 - 80) Highly recommended. Prue and Kerry Mason show their passion, insight and love of flying in this truly amazing information book Amazing Australians and Their Flying Machines. From the aeroplane printed endpapers, to the large archival photos, the index presented as a colourful timeline, to the easy to read informative text, this book delivers on every level. The history of ten leading Australian designers and aviators is presented; from Dr William Bland's Atmotic Ship designed in the 1850s, to Ross McPherson Smith's Vickers Vimy plane and the adventures of Bert Hinkler and Nancy Bird Walton. Each double-page spread includes an imagined first-person account, amazing facts, photographs, diagrams and a Did You Know section. The technical details are written in easy to understand terms and there is an update on modern aviation as well. Prue and Kerry Mason bought a vintage plane in 2000 and their love of flying led them to research Australia's aviation history. They even discovered that women were not allowed to fly until 1927 and there were no women airline pilots until 1979.
Tom Jellett's fun illustrations bring the aviators their designs and experiences to life, with their expressive faces showing the highs and lows of flying. The Great Race shows the long journey undertaken by Ross Smith and his crew across the world from London to Darwin. Small humourous scenes show the crew's activities, this includes their final stop sharing a cup of tea in Fanny Bay jail.
This is an extremely well researched, written, designed and presented information book, a fabulous resource for Primary Australian History, Geography and Design and Technology.
Rhyllis Bignell
BUY IT ON
May 18 2017
South Australia on the eve of war by Melanie Oppenheimer, Margaret Anderson and Mandy Paul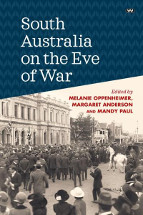 Wakefield Press, 2017. ISBN 9781743054741
In August 2014, a symposium involving History SA, the Professional Historians Association and the three South Australian Universities was held to commemorate the beginning of the First World War.
Papers presented have been selected for inclusion in this work which helps us to better understand the social conditions, political climate, gender relations and multicultural interactions which prevailed at the time. These all unavoidably influenced or were influenced by South Australia's involvement in the Great War and this book helps us appreciate what life was like in the years and months prior to this momentous event.
The late John Bannon explains South Australia's position from a political perspective, having recently evolved from a colony to being a state within a Federation. Unfortunately, whilst supporting National progress, South Australia had limited voice and power in comparison with the more powerful Eastern States.
Another chapter considers conditions for women. It's noted that on the eve of war, birth rates were declining as women accessed various forms of contraception and sought education and increasing work opportunities. Sadly the situation for many remained unchanged with unmarried pregnant women seeking illegal abortion, travelling to undergo anonymous birthing and even secretly disposing of babies. More mundane but positive developments in the home such as the connection of gas and electricity improved family life and eased the burden for women somewhat.
The euphemistic 'Protection' of Aboriginal people which in reality constituted a powerful means of state control is explained in terms of the regulation of place of residence, employment, personal relationships and custody of children. The laws and regulations which prescribed how Indigenous lived were clearly racist and ignorant but also incredibly divisive in terms of segregating Indigenous people and consigning them to specific reserves such as Point Pearce. It is pointed out that whilst Aboriginal people had voting rights, their citizenship was compromised in practical terms through administration. The trauma caused by the forced removal of children is also well known and was practiced in South Australia at this time.
Other chapters have an agricultural focus. The British Farm Apprentice scheme was implemented with British boys migrating to serve the needs of an industry which was labour intensive and crying out for employees. Life on the Eyre Peninsula, community development and the importance of the region to the State's economy is also considered in some detail.
The final chapters in this work focus on the contribution by South Australians from differing nationalities and the various tensions present prior to the Great War. We learn of the Indian community's objection to the Immigration Restriction Act (White Australia Policy) which expressly excluded migrants from Asia and Africa. Whilst officially restricting selected nationalities, successive governments had allowed labourers from those same countries when the demand for labour under harsh conditions was required, e.g. building railways. Economic downturn however caused renewed focus on the restrictions and increasing tension within the wider community.
Reference is also made to what is described as the 'myth' of South Australian Germans' bid to escape religious persecution. The author notes that economic factors were equally important in motivating German people to seek better lives and also emphasises that the S.A. German population was not in fact united by heredity and religious belief. It would appear that whilst German cultural influence and tradition was evident in many aspects of life, generally the migrants had assimilated to the point that they felt little allegiance to their former country by the outbreak of war. Being associated with the enemy in the pending conflict and considered potentially hostile in their own right clearly caused division however, and South Australian Germans suffered during and after the war accordingly.
South Australians of Irish Catholic descent could also have been regarded with suspicion prior to war, given the agitation for political independence in Ireland. Local Irish support for the Empire in opposition to Germany appears to have been almost universal and was accepted to the extent that their allegiance was accepted. The author notes however that this and military service by Irish South Australians was not enough to overcome decades of prejudice by the majority of citizens of English descent.
This book presents well researched and considered points of view on varied aspects of South Australian life by contributors who are clearly knowledgeable in their field.
Rob Welsh
BUY IT ON
May 18 2017
1, 2, pirate stew by Kylie Howarth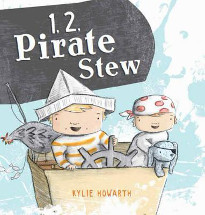 Five Mile Press, 2017. ISBN 9781760403201
(Ages: 2-5) Rhyme. Imagination. Play. Pirates. Counting. From the Australian author and illustrator of the popular Fish jam, comes this playful counting book following the same metre as the nursery rhyme 'One, two, buckle my shoe'. As two children engage in imaginary pirate play with only their pets and a cardboard box as props, the book counts from 1-22 (e.g. '1, 2, round up the crew. 3, 4, now grab an oar'). Vivid and detailed drawings depict their adventures as they really are (rather than how it looks in their imagination). Minimal background illustration allows block colours to set the scene of the imaginative play (for example, a carefully constructed blue frame gives the appearance of the children wading in water). Tufts of outlined grass take on the illusion of waves. The children are large, highlighting their facial expressions. The pet dog and chook also play lead roles, with the dog helping the pirate ship to come alive. When being pulled along in the ship by the dog they uproot half the carrots in the vegetable garden (much to their mother's dismay). The words of the story depict what is happening in the play but the pictures also give extra information (for example, '11, 12... we dig and delve' shows the children digging up and collecting the scattered carrots and '15, 16, scrub deck, quick clean' shows mum and dad helping them to wash their hands). The illustrations also show them opening the treasure chest to find their treasure gone. Oh well, dinnertime. What's in the pirate stew? Carrots of course!
This book encourages imaginative play as well as discussion around what the children have used to create props (cardboard box with cut out fish swimming from the end for a boat, plastic bottles tied to broom handles for oars, a newspaper hat). It also includes diverse pirate language (crew, marooned, deck, fort) and other unusual words (delve, bait, crate). Children will enjoy mimicking what they have seen in the book and getting ideas for their own play. On the surface this is a simple counting book, but on a deeper level it depicts wholesome family life (playing outdoors without fancy toys, productive gardening and playing together). It is especially heartening to see Dad join in the play. A perfect story for reading aloud to young ones.
Nicole Nelson
BUY IT ON
May 18 2017
Sage Cookson's Singapore sensation by Sally Murphy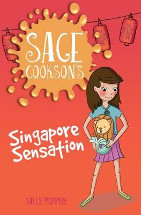 Ill. by Celeste Hulme. Sage Cookson bk 4. New Frontier Publishing, 2017. ISBN 9781925059960
(Age: Newly independent readers) Cooking. Travel. Mystery. Family life. Friendship. Ten year-old Sage Cookson travels with her famous TV chef parents Ginger and Basil all over Australia and the world. In each new destination, the crew film her parents tasting new foods, eating at popular restaurants, and learning new cooking techniques and sharing this knowledge with their large TV audience. On each trip, while Sage accompanies her parents she also becomes involved in a mystery.
Sage's new adventure begins as they catch their flight to Singapore; they are finally able to have a break after a busy year of travelling and filming. Sage catches sight of a woman with a zany haircut, short and long with a bright pink streak, and this lady seems to follow them throughout their holiday in beautiful Singapore. On board, Mum spends all her time finalising the last changes to her new cookbook 'The spice of life', while Dad and Sage relax. In the hustle and bustle of customs, sorting out bags and passports, the pink-haired lady brushes past them.
On arrival at their hotel, Mum is devastated to find her manuscript missing and their holiday plans are upset. Even with this mishap, the family enjoy exploring Singapore, going on the river, to the beautiful sculptures at Gardens by the Bay and of course enjoying all the culinary delights on offer. Sage keeps in constant contact with her best friend Lucy, texting her about all their holiday fun and about the mysterious woman who keeps appearing.
Sally Murphy's junior novel is perfect for the newly independent reader, someone who enjoys cooking, mysteries, adventure and family fun. A delicious recipe for Easy Chicken Satay is included as well. With the popularity of television cooking shows for juniors, this series is a great fit with young cooks and those who enjoy mystery and adventure.
Rhyllis Bignell
BUY IT ON
May 18 2017
Wild animals of the south by Dieter Braun
Flying Eye Books, 2017. ISBN 9781909263970
(Ages: 5+) Australian animals. African animals. South American animals. Antarctic animals. This is a translated edition of a German publication, with a second book, Wild animals of the north, also available. There are many of these artsy, illustration-based non-fiction books around for children and lots of them are extraordinary in terms of their visual appeal as well as their ability to engage young readers, many of whom are becoming more discerning about the aesthetic qualities of their reading material as well as shying away from text-heavy books. This one is organised into four regions: South America, Africa, Asia and Australia. In keeping with the visual focus, the contents are graphical (using a map) and the index, organised by region, is pictorial (confusingly not ordered alphabetically).
The introduction sets a conservationist tone for the reader as it draws attention to the many species of animal currently threatened with extinction. It opines 'We are intruders in the animal kingdom and with every animal that dies out, our life on this planet loses a part of its power and colour and beauty'. This is a wonderfully written statement with the power and clarity to resonate with adults and children alike. The author, by providing breath-taking illustrations that display their beauty and immenseness, emphasises that wild animals need to be respected and protected. The illustrations are not completely realistic, but they are scientifically accurate and incredibly detailed. The colours are bright and vibrant, but not always true to life. Many of the animals, composed of layered geometrical shapes, appear to pop off the page, piercing you with their intense eyes.
This is a book to appreciate visually but is in no way a reference or research book. Despite the introduction telling us, 'this book... tells us how and where they live, what they look like, what they eat, how they find each other or hide from one another and all the other things they get up to' the illustrations really are the main event and they deserve to be. Scientific names are given alongside common names but aside from this inclusion (which is probably done to give an exotic feel rather than for educational purpose) minimal and sometimes no information is given about the included animals. What information is given is limited in scope and often pertains to one aspect (e.g. the kookaburra's laugh). In addition, it is far from comprehensive; it includes only eighteen Australian animals and a mere eight from the Antarctic region. While clearly not intended as a reference book, it seems odd that information is not given for each animal. Nevertheless, this is a beautiful book of art sure to be treasured by animal lovers and young artists.
Nicole Nelson
BUY IT ON
May 17 2017
Into the white: Scott's Antarctic odyssey by Joanna Grochowicz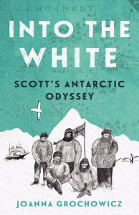 Allen and Unwin, 2017. ISBN 9781760293659
(Age: 10+) Recommended. Antarctica, Exploration, Heroism. This extraordinary story of Captain Scott and his ill fated race to be the first to make it to the South Pole, is given new resonance for younger students in this highly readable book, Into the white. Having heard of Scott and his fellow expeditioners at primary school when Social Studies was filled with stories of well known people, I knew about their heroism, their daring and some of the tales about their trek. I read this thinking I knew at least the background of the tale, but was pleasantly surprised: the story is compulsive and the detail simply mind boggling. I can hardly imagine minus ten celsius, let alone minus fifty, but these men trudged on. The description of Wilson's hands bulging with frostbite and then saying that they would keep going, paralleled the tale of another three stuck on an ice flow being circled by killer whales, the poor horses slipping into the water. Or having to kill the horses to feed the dogs, or getting into sleeping bags that were wetter than they were. All the stories in this book attest to their courage and bravery, keeping on even though they knew that Amundsen from Norway would get there first.
The comradeship of the crew is impressive, the leadership shown by Scott amazing, and above all their reasons for being there a salutary reminder of the values of those who have gone before us.
I would have loved a timeline but was able to access one quite easily on the internet, which I kept referring to as I read. Written for younger readers, it is still 256 pages long and supplemented with a cache of photographs in the middle, several maps at the beginning and appendixes at the end rounding off the story.
I hope more people will read of these brave adventurers.
Fran Knight
BUY IT ON
May 17 2017
Where's Wally? The colouring collection by Martin Handford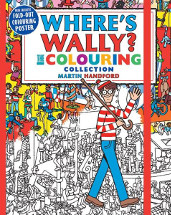 Walker Books, 2017. ISBN 9781406375701
(Age: 8+) Highly recommended. With the interest in colouring in going strong, both children and adults will find lots of pleasure in this colouring book featuring Wally. Even those who are not so keen on colouring in will still love the opportunity to find Wally in the many black and white scenes that can be found in the book. Wally is lurking near a pond, in a dinosaur park and in the middle of a medieval festival as well as many other exciting and interesting places. The pages present quite a challenge for the colourist to complete, with their small and intricate drawings, and definitely would be rather difficult for little hands to manipulate.
The paper is thick, the book sturdy and there are other challenges to complete. I was taken with the Super Sneaky Villains who all look like Wally with the exception of having mostaches and had fun trying to find Wally in the pages of villains. At the back of the book is a giant size poster featuring dinosaurs (and Wally is rather hard to find here), which could be pinned up in a library, classroom or bedroom and completed at leisure.
This book will give hours of relaxation and fun. It would also be a fabulous gift for children who have to while away hours on a long car or plane journey.
Pat Pledger
BUY IT ON
May 17 2017
Giants, trolls, witches, beasts: Ten tales from the deep, dark woods by Craig Phillips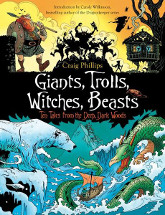 Allen and Unwin, 2017. ISBN 9781760113261
(Age: 10+) Highly recommended. Giants, Trolls, Witches, Beasts: Ten Tales from the Deep, Dark Woods is a book of ten fairy tales that readers would not have read before. The stories come from across the globe, from countries such as Germany, Ireland and Russia. Each story is told in comic form, making it appealing to all reading levels. Once readers are familiar with how to read a comic, they won't be able to put the book down. Being a collection of stories means the book can be read anytime. Readers who struggle with novels can read individual stores at different times and in any order.
Read about ogres, witches, heroes, villains and an exploding dragon. The detailed illustrations will keep readers busy as they tell the story. Inside the book is a story for all interests. Vasilisa the Brave is a female heroine with story elements very similar to Cinderella. The King of the Polar Bears tells the story of the polar bear king who receives a feather coat and must defend himself against those who ridicule him. The Boy Who Was Never Afraid has a male hero who shows kindness to even the fiercest of creatures.
This book of tales is highly recommended for all readers aged 10+. It would be a great book for students to use during the Daily Five activity 'read to self' where the reading of pictures and text is encouraged and modelled. The pictures tell the story, like all comics, and the text is descriptive and easy to follow and read.
Kylie Kempster
BUY IT ON
May 17 2017
Henrietta and the perfect night by Martine Murray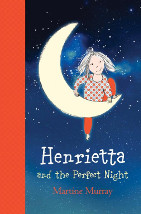 Allen and Unwin, 2017. ISBN 9781760290245
(Age: 4-8) Recommended. This fifth book continues the adventures of 'Henrietta the Great Go-Getter'. She is going to have a new sibling, start school and discover a friend. Henrietta is trying novel things such as sleepovers and performing in plays. Henrietta befriends a crying Olive Higgie on the first day of school. Although Henrietta herself is anxious, it is her kindness towards Olive that makes the first day enjoyable for them both. Henrietta's mother is quietly supportive, offering love and understanding whenever Henrietta needs it. Growing up, Henrietta the Great Go-Getter, is 'go-getting' and she believes she is very brave having a sleep over with Olive and dealing with Olive's big brother.
Henrietta feels jealous at first when Olive is given the lead part of Noah is the class play but she knows that to be a real friend she needs to congratulate and support Olive in the role. The last chapter is of course the arrival of the new baby and a surprising gift.
These small sized books are beautifully illustrated by Martine Murray and have a restricted palette of soft colours. My only complaint is that the white text on the light backgrounds are difficult to read. The simple drawings are appealing and have a child-like quality about them. Martine's stories are gentle and realistic. It is easy to submerge into Henrietta's wonderful world and experiences, enjoying apple trees, bugs and the occasional apricot slice.
Jane Moore
BUY IT ON
May 16 2017
History mysteries series by Mark Greenwood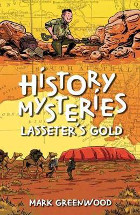 Lasseter's gold. ISBN 9780143309321
The last tiger. ISBN 9780143309253
(Age: Middle primary) Recommended. Two wonderfully enlightening tales in the History mysteries series of books, giving a fictional account of a real event in Australia's history, will be well read as they offer excitement and adventure wrapped up in a plethora of historical facts about our past.
The claim by Lasseter in 1900 that he had found a massive reef of gold somewhere in Central Australia, still holds water today as people search for it. He was able to convince people to back him in 1930 and an expedition set out from Alice Springs. But people soon tired of his secrecy and seeming inability to understand the bush. More of them began to question if he had ever been in the bush, and so most went back to Alice Springs, leaving Lasseter and a gold prospector to travel on. They split, and later Lasseter's body was found buried in a shallow grave by Aboriginal people who had tried to help him. But the story endures, especially after maps and instructions were found in the bank after his death.
The story of the last thylacine in Australia is a poignant as it is instructional, pointing to the fragility of our environment and urging us to care for it.
Two other books have already appeared in this series, Diamond Jack and The lost explorer, and the four together make great reading for middle school people, introducing them to history through a well told story with illustrations, maps and a glossary to help the early learner.
Fran Knight

BUY IT ON
May 16 2017
Harry Kruize, born to lose by Paul Collins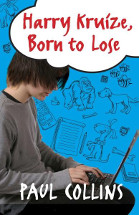 Hybrid Publishers, 2017. ISBN 9781925272628
(Age: 11+) This book draws heavily on one of the best-known poets and fiction writers of Australia's colonial period - Henry Lawson (1867-1922). One of Lawson's recurring themes in his yarns is dogs. Many a boy wants to have the mateship and loyalty of a dog. The stories Paul uses are pub yarns written for adults so many of the underlying morals to the stories will leave kids shaking their heads wandering what the connection is to the protagonist, 11 year old Harry Kruze; this is where teachers will revel in helping readers to dive into the finer details and discuss issues such as family relationships, mental health and student bullying and examine Harry's perception that life is 'all jumbled up and fragmented . . . All messed up. And back to front'.
Harry Kruize describes himself as the Hobbit, feeling like 'a walking disaster' and 'the class weirdo'. Not surprisingly he goes through each school day keeping his head down to avoid his nemesis Gavin Brickson, THE BRICK, while trying to make sense of his mother's fluctuating moods. Although having a low opinion of himself he dreams of becoming a writer and likes to think of himself as represented by font that is 'bold face', 'clear' and 'straight to the point'.
Paul Collins has cleverly interwoven Harry's voice into a class assignment where students come up with a list of wishes and diarise about them coming true or not. Without giving away any spoilers one of Harry's seven wishes is for a dog, hoping that having a dog and winning the Dog Day Race Cup might solve his lack of social skills all the while helped along by some dubious advice from a 'friend'.
Personally I like the cover but I would have preferred to see it representative of the main character's age. The pages are bordered by Microsoft Word desktop which students will feel connected to. The mix of font makes the appearance of the book attractive but a reluctant reader would benefit from increasing the spaces between lines. A warning also needs to be made regarding the graphic goriness depicted in Collins' The dog that wasn't.
Overall, this is an interesting book for readers aged 11+ years. It provides many opportunities for guided discussion about family relationships, mental health, student bullying and empathy.
Paul Collins was born in England, raised in New Zealand and immigrated to Australia in 1972. Paul is the founder of Ford Street Publishing and runs the speaker's agency Creative Net. He strongly believes in nurturing Australian talent and has selflessly dedicated his time to ensuring children continue to be challenged and entertained by their reading choices. Harry Kruize, born to lose is one of Paul's 140+ books. For more information about Paul Collins, stop by his website. There you will find information about all Paul's books, helpful tips for young writers and classroom tools for teachers.
Sharon Smith (Children's and Youth Services Librarian Riverina Regional Library)
BUY IT ON
May 16 2017
The secret science of magic by Melissa Keil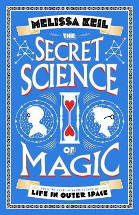 Hardie Grant Egmont, 2017. ISBN 9781760127763
(Age: 14+) Highly recommended. Coming of age. Mathematics. Magic tricks. Sophia is very smart - she loves mathematics and finds it easy to relate to logic. Joshua loves his magic tricks and is obsessed with finding a way to get to know Sophia. He decides that timing is everything and begins a campaign starting with leaving 2 of hearts card in her TARDIS wallet. As the end of school life looms, both have to come to terms with change and work out what they will do with their futures.
Melissa Keil is an award winning author (Life in outer space and The incredible adventures of Cinnamon Girl) and she continues her winning approach in The secret science of magic. Her two characters capture the reader's interest right from the first chapter. Joshua, a tall lanky boy, loves all the illusions of magic and although isolated at high school has a job and good friends away from the angst of school politics. Sophia, despite being exceptionally bright, is increasingly anxious because her best and only friend, Elsie, is planning on moving to the US for college and her relationship with her brother Toby is exceedingly tense. She has never been interested in boys, but as Joshua gains her interest with magic tricks and plays a giant illusion prank on her Drama teacher, he begins to get under her skin. Sophia's anxiety escalates during the narrative and this is handled sympathetically by Keil as is the romance between the two protagonists. Joshua is caring and understanding of Sophia's anxiety disorder and helpful when she has problems with her friend Elsie.
Keil leavens her story with wonderful flashes of humour and references to Dr Who, musicians and authors like Robin Hobb add a dimension to the story. The insights into Mathematics and Grigori Perelman, a reclusive Russian mathematician are also fascinating and will have readers researching many of the things that are mentioned.
With its humour, diversity (Sophia is of Sri Lankan descent), its sympathetic portrayal of anxiety and its gentle romance, The secret science of magic would make a fascinating Literature Circle or class text.
Pat Pledger
BUY IT ON
Feb 02 2017
Literature to support the Science curriculum Foundation -7 by Fran Knight and Pat Pledger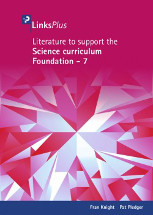 Pledger Consulting, 2016. ISBN 9781876678470
Highly recommended for educators. Subjects: Science curriculum; Fiction; Annotated bibliography. Fran Knight and Pat Pledger continue to write first-rate reference tools for teachers in primary school education, which focus on key curriculum areas. This resource links popular picture books, junior and senior novels and non-fiction books with the Australian Science curriculum. Each book listed has a review available on the ReadPlus online database.
Set out in an easy to read format, each year level and scientific topic is explored with listings presented in alphabetical order of the author. A comprehensive index is included as well.
Pamela Allen, Jeannie Baker, Phillip Gwynne and Elizabeth Honey's popular picture books support the Foundation Biological Sciences strand and the Inquiry Skills. Recent publications such as Aleesah Darlison's Spider Iggy and Roland Harvey's On the River provide up to date scientific information in a story format. The scientific and geographic books by writer and researcher Peter Gouldthorpe provide an excellent foundation for Year 6 students investigating Earth and space sciences. Content included covers Aboriginal perspectives and presents books that introduce a scientific worldview.
Fiction is an invaluable tool for introducing a new science subject, for encouraging investigation, for introducing keywords, setting up a word wall and stimulating creative inquiry and research skills.
Literature to support the Science curriculum Foundation -7 is a significant resource for educators and teacher librarians and for supporting STEM programs.
Rhyllis Bignell
Editor's note: The book is available here.

BUY IT ON
Jan 30 2017
Literature to support the Australian curriculum: HISTORY. Foundation - Year 10 by Fran Knight and Pat Pledger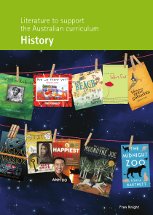 LinksPlus, revised 2016. ISBN 9781876678265
Highly recommended - for educators. Subjects: History curriculum; Fiction; Annotated bibliography. Fran Knight and Pat Pledger are committed to providing educators and librarians with excellent reference tools that support the Australian curriculum. This LinksPlus resource highlights popular picture books, junior and senior novels and non-fiction books suitable for the Foundation to Year 10 Australian History curriculum. Each book listed has a review available on the ReadPlus online database and relevant web links.
Set out in an easy to read format, each year level and history topic is covered with the listings presented in alphabetical order of the author. A comprehensive index of authors and titles is included as well. Literature specialist Fran Knight has selected each title from both newly published and familiar titles with both familiar and new authors included.
Phil Cummings, Libby Gleeson and Bob Graham's picture books support the Foundation Year curriculum of Personal and family histories. The cycle of life, family relationships, grandparents, Aboriginal and migrant family stories are included. Bob Graham, Kylie Dunstan and Katrina Germein's familiar stories support students' learning about how family stories are communicated.
Year 5 learners study Australia's colonisation, migration and democracy in the 1800's. Sofie Laguna and Gabrielle Wang's novels written for the Our Australian Girl series, provide insight into colonial life in Sydney and life on the goldfields.
Secondary students investigate historical perspectives from the Ancient to the Modern World. Fiction novels are an invaluable tool for introducing a new subject, for critical thinking, developing understandings of different worldviews and cultural insights. A diverse range of novels by a wide range of authors including Jackie French, Rosanne Hawke, Anh Do and Charles Dickens, support the development of historical understandings.
Literature to support the Australian curriculum: HISTORY. Foundation - Year 10 is a valuable resource for educators, secondary school HASS departments, curriculum specialists and school libraries.
Rhyllis Bignell
This is available here.
BUY IT ON
Feb 21 2016
Fiction gems: Recommended fiction lists for Upper Primary and Lower Secondary students by Fran Knight and Pat Pledger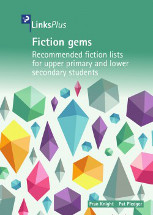 Pledger Consulting, 2016. ISBN 9781876678456
Teacher reference. What a great resource for those charged with purchasing or recommending reading material for Upper Primary and Lower Secondary students. The Middle School aged reader can have specific interests or reading demands and keeping on top of current and favourite books can be very difficult without some help from trusted reviewers. This book lists Fiction recommendations within a number of categories; some books are indicated for more mature readers, but most are well-suited to the 10-15 aged reader.
Each book is summarised with a 1-2 sentence brief overview, so it is easy to peruse for suggestions for readers. More complete reviews are accessible via the ReadPlus review blog index.
This is a book that would be a good resource on the Librarian's shelf.
Carolyn Hull
BUY IT ON