Review blog
Click here for the ReadPlus Review Blog RSS feed. Copy the link location into your feed reader.
Click here to see all reviews
Feb 23 2017
The everywhere bear by Julia Donaldson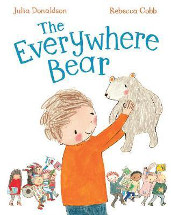 Ill. by Rebecca Cobb. Macmillan, 2017. ISBN 9781447280736
(Age: 4+) Highly recommended. Bears, Loss, Adventure. When the everywhere Bear falls from a child's backpack on the way back to school after being taken home for the night, his adventures begin. Readers will love the Bear, and his class, Class One and their teacher, Mrs McAllister, who allows each child to take home Bear after school.
But readers will be dismayed when he falls into the street to be run over by a line marking machine, and then fall into a street drain. His yellow stripe standing out, he is then flushed out to sea. Readers will follow his adventure keenly, wanting to know whether he makes it home again, concerned that he might not make it. But of course he does. He takes a most circuitous route, floating in the sea, being picked up in a fishing net by a trawler, sold on the jetty to a woman fish and chip shop owner. Once she deems him inedible, he is tossed out of her window onto a garbage truck. Transported to the tip, all seems lost until a somewhat short sighted seagull picks him up thinking he is a fish. The gull drops him to the ground where he is rescued by a woman called Bethany on her way to work. And where does she work? At the library of course, where Class One is about to begin their day. All is resolved, a cycle has taken place which will intrigue younger readers, and Bear is back to where he started.
This absolutely charming tale is told in rhyming stanzas and I can imagine many children being able to recite sections of it soon after it is read.
Julia Donaldson also wrote the hugely popular Gruffalo and Rebecca Cobb has illustrated several of her recent books and in this one has created a soft edged pictorial style most suited to the story of the lost Bear. And the range of transport used in the endpapers adds another level of understanding to the story of the lost bear, asking readers to recognise which forms of transport Bear used.
Fran Knight
BUY IT ON
Feb 23 2017
City of friends by Joanna Trollope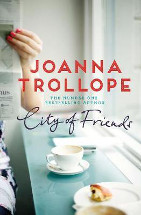 Pan Macmillan, 2017. ISBN 9781509846757
(Age: Seniior secondary - Adult) Well, I have put down this book, so reluctantly, having just finished reading it, dragging myself out of Trollope's London. This is the story of four women friends, their attachments, relationships, marriages, children, and work. Trollope situates the characters at a crisis point, for each but of varying severity, where each faces a redefining of what it means to be a mother, to be married, to work, to strive to be the best, to be successful. All of this erupts before us in a vitality, this credible story of 'real women' taking place in an authentic reality, one that we can envisage, where each women needs to find a way to manage their work and personal lives. All are eager to keep the friendship, that has sustained them, and which allows them to be frank and supportive over so many years.
While acknowledging that Trollope created this story, it seems that she has constructed the world of the narrative, the characters, and their situations, as a reflection on the shared experience of modern women striving to be the best at every single thing they do and indeed, in the many roles they are expected to play. This is about work, as much as it is about modern families, our different ways of being family, our choices, our many kinds of love. It is also about learning how to handle success and failure in work and life.
Reading this book is like chatting with women friends, hearing about their lives and joining in their joys and successes, their losses and pain. Each chapter is narrated by one woman, telling us, it seems, in this very personal narrative style, about their interactions, their fears, and the importance of support and love.
I was captivated from the opening chapter, and I felt that strange sense of being vitally interested in these women, their children, their joys, sorrows and challenges, as well, of course, as knowing and understanding their emotions, even while acknowledging that this is actually a work of fiction! It did not feel like fiction - it felt like real life, and of course, her construction of plot, her choice of characters, and her depiction of their choices and actions, seemed so true-to-life.
Trollope has created, as she does so well, a story of the demands of modern life, for men and women, of work, friendship, children, education, raising families, and of the modern ways that we are expected to support the ill and elderly. She elicits a powerful emotional response in the reader to these challenges, creating a strong sense of the poignancy of the demands of modern life, where we all face the challenge of striving to be the best at what we do, of wanting to achieve success in so many areas, particularly the specific demands that modern parents face. Trollope has embedded the narrative in the bedrock of respect for the set of values that ground us: that of loving and accepting friends, children and partners, for whom they are, and this is grounded soundly in the absolute values of love, honesty and friendship.
This novel explodes with the joy of life, it bubbles with humour, dry wit at times, and evokes a strong sense of understanding the sheer impossibility of having it all under control, despite our best efforts.
Liz Bondar

BUY IT ON
Feb 23 2017
Cast iron by Peter May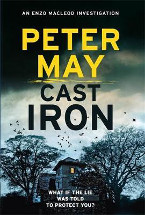 Hachette, 2017. ISBN 9781784299774
(Age: Senior secondary-adult) Highly recommended. Crime, Thriller, Cold case. Forensic expert, Enzo Macleod opens a can of worms as he investigates the second to last murder in a book of unsolved crimes, published by the journalist, Raffin. A girl's body was found on the edge of a lake some years ago when a widespread drought caused the lake to shrink. The girl had been murdered fourteen years before, and it is her murder, that Enzo is to reinvestigate, one of the unsolved crimes listed in Raffin's book, and the subject of a bet between the two men. But he is ambushed at her parent's house by another group of parents, called the Bordeaux Six, who are also keen to find out what happened to their daughters. Enzo is unwilling to take on their cases, as he sees them as insoluble, but when his daughter and her partner are kidnapped, things change.
The Bordeaux Six remain a constant thread within the story, leading Enzo and Dominique to the hiding place of one of the missing girls, hidden within plain sight.
I have not read the previous Enzo stories so felt a little disadvantaged, but the story was enough to tempt me to continue reading and eventually find out just whose cast iron alibi would crack.
Set in southern France the feel of the area is decidedly real, with chateaux, villages, forests and motorways in the background. Enzo picks away at his investigations, uncovering details left unsaid, stories left unreported and things hidden from the original investigations. He visits a murderer in prison, the man jailed for killing some of the other girls, but this only adds to another thread in his detailed investigation.
There are leads all over the place, connections and secrets unwilling to be revealed. May cleverly insinuates people around Enzo, even his daughter's lover, causing them to come under suspicion, so the reader will like me be mesmerised until the truth is revealed at the end.
Fran Knight
BUY IT ON
Feb 22 2017
A quiet kind of thunder by Sara Barnard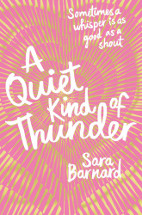 Macmillan, 2017. ISBN 9781509810987
(Age: 14+) Highly recommended. Opposites attract, but sometimes kindred spirits with shared challenges, are more likely bedfellows. In this YA romance, the narrator is an elective mute. Stephi has recently been making progress for her ongoing anxiety, particularly at school, with the help of medication. Enter Rhys, who cannot hear at all. When Mr Stafford, the head of year level, asks Steffi to take the deaf boy under her wing because she does know a little BSL (British Sign Language), Rhys' outgoing nature inspires Steffi to be louder and more present in the world. At first they complement each other. Interestingly, her other relationships evolve too - with her best friend Tem, her parents, her classmates. The one constant is her part-time job working with dogs, where she has always been communicative and content.
Steffi grapples with university aspirations not shared by her parents. After a misadventure with Rhys, she too starts to question whether her world isn't in fact shrinking because of a romance that is too intense, too quickly. A quiet kind of thunder is a thoroughly readable cross between YA Romance and the Bildungsroman genre, but sprinkled with insights about our ubiquitous challenges: grief, broken families, mental health, adolescent sexuality, our affinity with dogs; not to mention the revelational insularity of the deaf community.
The text plays with alternate texts - mostly in the form of chat exchanges and SMS messages. Sara Barnard is one of those writers who knows you and explores her character's feelings and thoughts in ways you never imagined anyone else could understand. Her debut novel, Beautiful broken things, is likewise cathartic for most teenagers, who are by default engaged in self-discovery. Many youtube vloggers have reviewed A quiet kind of thunder. Xina Hailey, for example, melds review and personal recount with artistic flair in her book trailer.
Deborah Robins
BUY IT ON
Feb 22 2017
Me and you by Deborah Kelly and Karen Blair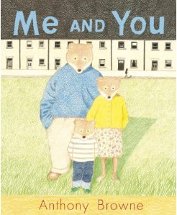 Penguin Viking, 2017. ISBN 9780670079247
(Age: 4+) Recommended. Family. Self awareness. With soft pastel illustrations full of warmth and humour, the family goes about its everyday events, each offering interaction between family members all done with lots of wit and love. The arty-crafty days sees Dad sit with the kids on the floor, having fun with paint and glue, while the next page shows the result of their glueing, a pirate costume. Yummy-scrummy days sees them in the kitchen with Mum, and pedal-pushing days sees them riding their bikes to the park, where more adventure happens. On sandy-sandwich days they are all at the beach, slippery-slidy days at the playground, grubby-garden days outdoors with the grandparents, leading through the days to stretchy-yawny days where all the family wants is to relax and read a book.
In funmy rhyming stanzas the activities are shown with a lot of movement and adventure.
All types of activities involving the family are offered, things kids will easily recognise, others needing more explanation. Each page underlines the family doing things together, the warmth that a family offers, the closeness that comes with being together. Reading aloud will add fun to the activity of the book.
Fran Knight
BUY IT ON
Feb 22 2017
Fancy pants by Kelly Hibbert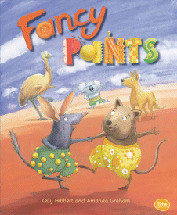 Ill. by Amanda Graham. Raising Literacy Australia, 2016. ISBN 9780994385352
'Once a year the Outback Dance is held near Bunyip's Bluff
Where animals in fancy pants arrive to strut their stuff...'
Dingo loves to dance under the desert's night sky but he doesn't have any fancy pants - just his regular coat and while he pretends not to care, deep down he really does.
Meanwhile all the other outback creatures are preparing for the big night, although not without some difficulty. Poor Emu is more suited to scarves - pants are not her thing while Bilby's britches are still on the line and Kangaroo falls over in his and tears a big hole in them! Wombat seems to have gained some weight since the last dance, Koala has too many choices and makes a big mess and poor Cockatoo is just bamboozled about how a bird can fit into pants! Only Frill-Neck Lizard seems comfortable, looking like something straight from 'Priscilla, Queen of the Desert'!
But eventually everyone gets themselves sorted, meeting together near Wombat's place - and then Dingo turns up in just his coat. At first the animals are concerned for their safety but then when he says that his coat is all he has, Kangaroo breaks the hush that has fallen...
This rollicking, rhyming yarn will not only entertain young readers with its humour and bright pictures, but will also allow them to hear the sounds and rhythms of our language and join in the delight that stories give.
Who hasn't had the dilemma of what to wear to a party and then found that their choice doesn't work - it's too small, it's in the wash, it has a scratchy tag, it's ripped, it's just not right somehow? And who has felt awkward and awful about not having a costume when everyone else is in fancy dress? Not only will young readers resonate with the situations in this story but it will also help think about Dingo and how he might be feeling and how they might respond if this was one of their friends. Would they poke fun, making him feel more miserable than he already is, or is there a better way? And what if they were Dingo with no fancy pants to wear? Would they decide to stay home or wrap themselves in a cloak of resilience and go anyway?
Team it with the 1988 classic Animals should definitely not wear clothing by Judi and Ron Barrett and have them design their own fancy dress for the story by giving them "paper doll" cutouts that they have to dress, encouraging them to think about size and structure and fit. Talk about why humans wear clothing, why our clothes are so different, national costumes, fashion, and a host of other related topics.
While illustrator Amanda Graham has many books under her belt, this is the first work of an experienced primary school teacher and to another teacher's eye it reflects so much of what we know attracts youngsters to the printed word including a strong underlying theme that opens up lots of discussions that will help children think beyond the words and pictures on the page. A book that will be read again and again and which enables a new pathway to be explored each time.
Barbara Braxton
BUY IT ON
Feb 21 2017
Love, ghosts and nose hair by Steven Herrick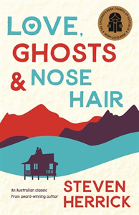 UQP, 2017. ISBN 9780702228780
(Age: 12+) Highly recommended. Love, Sex, Death, Family, Humour. The author of 22 books the first of which was published in the early 1990's, Herrick is well known for his performance poetry and verse novels which touch on the ordinary in a most extraordinary way. Love, ghosts and nose hair was first published in 1996 with loud acclaim, and its reissue along with sequel A place like this, exposes a new generation of readers to his words of wisdom, encapsulated in fragments of sentences, while giving another life to books which demand another outing.
Jack, plain Jack, narrates the story of his family: dad a journalist, often away from home for long hours, sister, Desiree, who has left school and works in a bookshop, Jack sixteen and hungry for things to happen in his life: love (sex), dealing with his mother's ghost still wondering through the house and his problem of nose hair.
Through a series of sometimes terse, often funny poems, Jack tells the reader about his family. In doing so, he tells more about himself and his dreams, especially those concerning Annabel Browning. Along the way we hear of their mother's death from cancer, including one of the most poignant lines written about a family in despair:
'They said the pills eased the pain - they only gave them to Mum' followed by the image of Desiree in her bedroom examining her breasts, and the ghost in a red evening dress who now visits their house. Dad drinks each night and seven years on has a date which ends with him telling the woman all about his wife who is still there. Finally Jack takes Annabel out and they become lovers, evincing a talk with his teacher, ending when Jack tells her he prefers orange condoms. It is pithy comments like this that send a message without being obvious. And another example that needs airing: Desiree has no boyfriend 'because she has perfect eyesight and all her brain cells'.
Some of the poems are written by Dad and a few by Desiree and Annabel giving a different perspective through the tale, but all are about Jack and how he sees himself. We know he will be alright when he begins to see that he no longer needs the ghost in his life and looks forward to what ever will happen next despite the work of the vocational guidance officer.
A superbly written series of poems makes up this tale of Jack and the ending of his childhood, and the sequel, A place like this, takes us along on his journey after leaving school. I loved it first time round and thoroughly enjoyed reading it again.
Fran Knight

BUY IT ON
Feb 21 2017
Matilda by Roald Dahl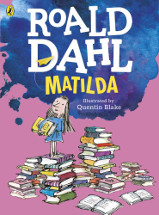 Puffin, 2016 (1988). ISBN 9780141369365
(Age: 10+) Highly recommended. School, Family, Humour. With dad a used car dealer, not averse to putting sawdust in the engine to stop it being noisy, or winding back the odometer, Matilda finds it hard to understand just where she fits in. Her brother is the apple of everyone's eye, destined to follow in dad's footsteps. When Matilda offers opinions or heaven forbid, answers arithmetical problems, she is derided. Mum cannot abide a clever girl and tells her she will not be able to get a husband. But Matilda is determined to think for herself. Making use of mum's afternoon absences at bingo, she finds the library where a helpful librarian feeds her with books, allowing her, after she has read all the children's book, to read her way through the adult library as well despite being only five years old.
Going to school means that Matilda is way ahead of all other students, and kindly teacher, Miss Honey, suggests to the headmistress, that she should be advanced from grade one. The woman in charge, the redoubtable Miss Trunchbull already enamoured of Mr Wormwood who has sold her an excellent car, takes an instant dislike to Matilda, and is determined to make her life at school as unpleasant as possible.
So follows a very funny account of how their lives interact, and how Matilda with the help of meek Miss Honey and several other students who have felt Trunchbull's wrath, eke out their revenge.
This wonderful tale has been in print since its first appearance in 1988, and with the stage show open around the world, will be sought after again.
Fran Knight
BUY IT ON
Feb 21 2017
Monsieur Chat by Jedda Robaard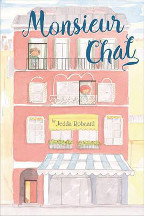 Five Mile Press, 2017. ISBN 9781760405007
(Age: 4+) Recommended. Loneliness, Cats, Friendship. When Monsieur Chat comes into their lives, the long days for Pierre and Josephine become less lonely. The cat joins Josephine for breakfast, then goes upstairs to Pierre's flat for dinner. Each of the neighbours is happy with the cat in their lives, little realising that Monsieur Chat visits each of them in turn. But one day he does not appear. Josephine and Pierre search the apartment house where they live. They go around the building, up and down the stairs, out into the cold and wet night, but the cat is nowhere to be found. Without warning they find him together and so the two are lonely no longer and have all their meals together with Monsieur Chat with them for company.
A simple story nicely told will have readers enrapt as they follow the cat's exploits in bringing the two together. As they search the cat can be seen on the pages by the audience, who will shriek with laughter at knowing something the other two do not. The cute water colour illustrations give a good impression of an apartment building in Paris, and children will learn a little of city life in the story.
The lift the flaps publication will intrigue readers longing to lift the flap on each page to see what is hidden beneath.
Fran Knight
BUY IT ON
Feb 20 2017
A rising man by Abir Mukherjee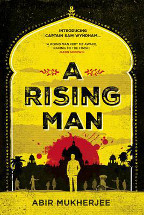 Random House, 2016. ISBN 9781910701898
(Age: Senior secondary-adult) Highly recommended. Crime fiction. India. Calcutta. British Raj. When former Scotland Yard detective Sam Wyndham is given a job by his old commander, he is happy to be leaving post war Britain. But on his first day as Detective a high ranking British official, MacAuley, is found dead in the Indian suburb of Calcutta, dressed in formal attire. A note stuffed in his mouth implies that this is a political murder by one of the Quit India terrorists. Only just beginning his investigations, he is astonished when summoned to his boss' office to find he already knows of the death. Sam sees that other forces are at work, and is torn between the secret service, the Lieutenant General and commercial interests. When he is told to investigate the murder of a train guard as well, his offsider, Digby, is more than dismissive, wondering why they have been called to the murder of an Indian when they have such an important murder of a British man to solve.
But Sam eventually links the two cases, intervening when the secret service seems to have found the culprit, Sam trying to keep the man alive and in his custody.
Sam is a flawed character: an opium addict after leaving a field hospital at the end of the First Word War, he arrived home to find his beloved wife had died during the influenza outbreak. Being offered work in the new CID in Calcutta seems to promise a new start, but he quickly finds his way to an opium den.
The writing reflects the times in 1920's India, where a sign on the door to the Bengal Club states that Indians are not allowed, where being Anglo-Indian means not being welcomed by either group, where Sam's sergeant, Banerjee, educated in Cambridge, is treated with little respect by those he works with, particularly Sam's second in command, Digby.
But romance appears in the guise of MacAuley's secretary, an Anglo-Indian girl called Annie. The mix of weather, the arrogance of the British Raj and the fight for independence shows India at a time of change and the shock of the Amritsar Massacre of 1919, occurring in the midst of their investigations, reflects the turmoil the country is in.
Mukherjee's time in Scotland has served him well. He writes nuanced characters from Scottish backgrounds with panache, and his depiction of Calcutta is so intense that many like me will resort to Wikipedia to gain a visual understanding of the wonderful descriptions presented in the book.
This book is the winner of the Harvill Secker/Daily Telegraph crime writing competition, and is the first in a series with Captain Sam Wyndham.
Fran Knight
BUY IT ON
Feb 20 2017
The fever code by James Dashner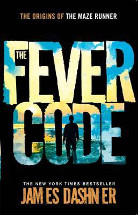 Maze runner bk 5. Chicken House, 2016. ISBN 9781911077169
(Age: Year 7-9) Utopian fiction. Lies and deceit. Science fiction. Special abilities. Science experiments. Relationships. If you are a Maze runner junkie, then you will enjoy this next instalment. Following on with the theme of the end of the world, children are snatched from their families and tested on their abilities to solve complex problems. Then they are asked to build or run through an impenetrable maze.
The hero of the story, Thomas (aka Stephen), is taken from his family when he was four. He is conditioned to use a new name to go with the identity he has within Wicked, this newest adult organisation. During the story Thomas matures and begins to recognise that the clean and calm world in which he lives is not all that it seems. He meets a girl, Teresa, whose bravery leads Thomas on a journey of discovery. He uncovers a master plan to help save the world but in the process he finds that the work he is undertaking is destroying young lives. As he grows up he is asked to do more and more complex tasks and his relationship with Teresa and Dr Leavitt changes with dire consequences.
Wendy Rutten
BUY IT ON
Feb 20 2017
Girl out of water by Nat Luurtsema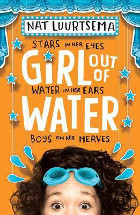 Walker Books, 2016. ISBN 9781406366525
(Age: 11+) Friendship. Humour. Swimming. Teens. Lou Brown and her friend Hannah have been best friends since they were 6; they are both tall with frizzy hair and are competitive swimmers. The 15 year olds are focused on representing Britain at the Olympics but when Lou comes last at the National Time Trials and Hannah makes it into the High Performance Training camp Lou has to face going back to school as a failed swimmer without her best friend. Lou's family is very supportive; older sister Lavender asserts that no one at school will care one way or another; her parents are separated but her dad moved back in when he lost his job so he says he knows how she feels; her mum, who teaches creative writing, keeps the family on track, comforting Lou while enjoying her own life. Lou reluctantly goes to school vowing to make new friends but she is subject to bullying by a nasty group of girls and feels clumsy and out of touch with normal school interactions after spending so much time focusing on swim training. She finds refuge in the school library 'home of the introverted and people too quiet to say 'no Lou I don't want to be your friend''. She finds an old book in the sports section called 'Swimming for women and the infirm' which makes her laugh with its emphasis on making 'ladylike shapes' in the water. It comes in useful when a group of boys who want to get on 'Britain's Got Talent' ask her to train them in a cross between dancing and synchronized swimming and Lou becomes too busy to worry about making friends or keeping in touch with Hannah at training camp. Hilarious escapades ensue as the group pursues their dream but when her friend needs her Lou bravely goes to her rescue.
Skillfully blending the emotional drama of modern teenage life with self-deprecating humour and a positive message about friendships and finding your place in the world this book will appeal to middle school girls.
Sue Speck
BUY IT ON
Feb 20 2017
Handstand by Lisa Stickley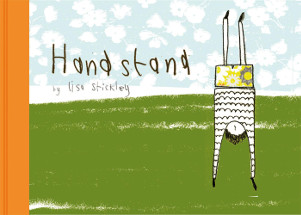 Pavilion, 2016. ISBN 9781843653127
Picture book. Little girls love to do handstands and Edith is no exception. She is teaching herself and each day she gets a little better increasing her upside-downness by a second each day. But each day something interrupts her concentration like the worm who popped up by her hand, the bird who used her hand for target practice and the spider that crawled down her shorts when she rested her legs against a tree. But nevertheless she keeps on practising...
This is an interesting book - its tagline is 'a kind of counting book' which it is as Edith manages an extra handstand and an extra second each day and the words and numbers are included in the illustrations. But it is also intriguing because as she encounters each little creature the creature gives its perspective on how Edith has interrupted it, offering an introduction to getting young readers to see things from another point of view. The worm pops his head above ground and sees 'a giant hand next to my preferred popping up place'. It could spark some discussion and drawing about how little girls and little boys appear to the creatures in their environment. Resilience is also a theme - how we must practise and practise to get better and not be deterred by trivial things like a spider in your knickers.
The appearance of the book is also interesting - harking back to a time when handstand competitions were features of recess and lunch break entertainment for girls of my era, the colours and style give it a definite retro feel. Even the name 'Edith' suggests a bygone time. The illustrations are also what a child the age of the narrator might draw adding to the impression that this is, indeed, a young girl telling her story, but the font, presented in the style of a child of this age might prove tricky for young readers to start with.
Even though this appears to be a counting book at first flick through, there is much more in it that can provide lots of chat between child and adult and even tempt them to try a new skill. I'm sure Miss 10 and Miss Nearly-6's eyes will boggle at the thought of Grandma being the school handstand champion a lifetime ago!!!
Barbara Braxton
BUY IT ON
Feb 19 2017
My sister Rosa by Justine Larbalestier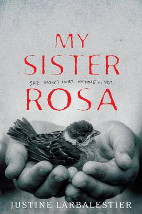 Allen and Unwin, 2016. ISBN 9781760112226
(Age: secondary to adult) Highly recommended. Crime, Thriller, Siblings, Mental health, Psychopathic behaviour. Che has always looked after his much younger sister, Rosa. Their parents are focused on their business, so the two children are taken along with them, this time to live in New York working with their father's long time friend. His children, twins of Rosa's age and a girl about Che's age, are expected to get along, but Che becomes aware that Rosa is pushing the once close twins apart, and manipulating one to be her close friend.
Che is worried. Rosa has shown these traits before, and specialists have diagnosed her as lacking in empathy, a psychopath.
Che has four things on his to do list. One is to look after Rosa, a role given him by the parents when she was born. Next is to find a girlfriend, then to spar and finally to go home to Australia.
Each of the four sections in this thrilling book tackles each of Che's aims in turn.
In looking after Rosa he talks with her often, teaching her how to be more interested, how to talk to people, how to use and decode facial expressions. In doing so, he inadvertently gives her more tools with which to to manipulate people more easily.
Rosa's character is amazing. She is able to wrap most people around her fingers, using her Shirley Temple looks to contrive and deceive.
Che reveals the extent of her ability when she manipulated one girl into killing her pet guinea pig, and so the reader is warned about what else she might be able to do. When Rosa's new friend eats peanut butter even though she has an allergy, Che realises that he must watch Rosa far more carefully as he is convinced that she is behind the event. And so a cat and mouse game evolves.
Meanwhile Che loves to box and finds a girlfriend in the gym he attends. She is bound by her religion, one of her mothers is a minister, and the discussions they have are fascinating, opening up a field not generally discussed in young adult literature. Che has promised that he will not spar but one night does so, only to find that Rosa has brought his parents to the gym. He has told her not to lie, and so she 'innocently' tells her parents of his intentions. The fourth aim on his list becomes less a focus as his relationship with Sid develops, and he becomes more used to New York.
But it is the power play between Rosa and Che that piques the interest of the reader. Tension mounts as Rosa becomes more adept at twisting words, as she and her new friend use a secret language to baffle and exclude, as Che's parents reveal some of what they know.
The climax of the book is shocking, the girl's powers mind boggling, her manipulation of events almost landing Che in jail. The subsequent medical examinations of all three children reveal yet another layer of intrigue and readers will not be able to put this one down. Packed with a huge range of diverse and multi layered characters, many hiding something they know, the atmosphere of the gym, the closeness of the two families, the pressure of Sid's religion, all contrive to make the reader feel claustrophobic, entrapped in this little world, despite being in New York with all it has to offer. Rosa seems to be pulling the strings making everyone dance for her own entertainment.
Larbalestier always enthralls: her original stories weave their way into the readers' minds, grappling with bigger issues that continue to fester long after the last page is read.
Fran Knight

BUY IT ON
Feb 19 2017
Kidnapped by Robert Louis Stevenson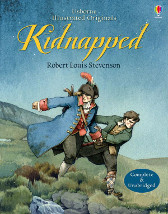 Usborne, 2016. ISBN 9781409581970
(Age: 9+) Highly recommended. Scotland, Jacobite Uprising, Adventure. When David Balfour leaves his home in 1751, after his parents' deaths, he is told by the local minister to go to the House of Shaws, there to claim his inheritance. David is baffled, he has no idea of just how he and his family could be related to the laird of this wealthy estate. But going there seals his fate when he meets his avaricious uncle, Ebenezer, the younger, who plots his death. After an unsuccessful attempt to cast David off the derelict tower, he is taken to the port on business and his uncle leaves him to be tied up and thrown into the bowels of the ship. But when the cabin boy dies, David becomes his replacement and here he sees the rescue of a boat containing several people off the Hebrides in Northern Scotland. The survivor is Alan Breck Stewart, a Jacobite with money to take to the Stuarts in their bid for the Scottish throne. David, a Presbyterian Scot from the Lowlands and so supporting George 111, and Jacobite Alan are on opposing sides of the political divide in Scotland, and each is suspicious of the other but circumstances see them cross paths several more times, developing a mutual respect and understanding between them.
A wonderfully adventurous story, Kidnapped was written in 1886 by Scottish author, Robert Louis Stevenson. This large edition has a brief outline of Stevenson and his work, a glossary which details the words modern readers may not know and an outline of the Jacobite Uprising of 1751. The whole is illustrated with pictures which reflect the times. Although seen as a 'boy's book', I thoroughly enjoyed reading it again. Some may find the language a little old fashioned, but once engrossed, the style matters not a jot. Story is all!
The Guardian's list of 100 Best Books Written in English has Kidnapped listed as number 24, after such worthies as Catch 22 and David Copperfield.
Fran Knight
BUY IT ON
Feb 19 2017
Children of Earth and Sky by Guy Gavriel Kay
Hodder and Stoughton, 2016. ISBN 9781473628113
(Age: Senior secondary) Themes: Historical fantasy, War, Gender roles, Spies and Espionage, Relationships. If you can get students to pick up this voluminous title and then get them to read though the first 100 pages then they will be in for a good read. The narrative contains a plethora of interesting characters that intersect in a variety of situations.
If students are interested in war, travels, ancient spies and espionage, gender issues, simmering plots and allegiances in a fantasy setting then this is the book for them.
Wendy Rutten
BUY IT ON
Feb 19 2017
I just couldn't wait to meet you by Kate Ritchie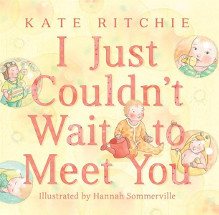 Ill. by Hannah Sommerville. Penguin, 2016. ISBN 9780857989703
(Age: 4+) Child birth, Pregnancy, Family. When Kate Ritchie was pregnant, she began to talk to her unborn child, because she could not wait to see her child. Impatient, she began to dream of the child, thinking about it everyday and night.
So evolved a text about a woman readying herself for the birth of her first child, eagerly thinking about the years ahead.
She thinks about her bump and what sex it will be, what it would look like, whether it will grow to be and strong, what toys will it like. She muses on whether she will meet its gaze.
The soft illustrations chart the woman and her bump, including little drawings of what the child may be like, until the day arrives with mum and dad delivering the baby. From here the family is shown together, being together at meal times, out in the garden, loving and caring.
For the classroom, books such as these give a strong message of families linked with love and care, how families evolve, how families are created, how families interact. A strong message is given both through the text and illustrations which will be reiterated in the classroom and at home, underlining the value of family in our society.
Fran Knight
BUY IT ON
Feb 17 2017
The Queen of Blood by Sarah Beth Durst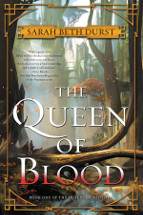 The Queens of Renthia bk 1. HarperCollins, 2016. ISBN 9780062662064
(Age: 14+) Recommended. Fantasy. Alex Award (2017). Daleina is very young when her village is attacked by spirits and everyone is killed except members of her family. Seeing them in deadly danger, Daleina is able to draw on her magical powers to stop them harming her family but can't do anything to help the rest of the villagers. This ordeal has remained with her and she is determined to fight the spirits of air, water, earth, fire, ice or wood that inhabit her country, Aratay. When she is 15 she goes to the Academy to train to become an heir to the Queen, the only person who is able to stand between the spirits and their destruction of humanity. Ven, an older man, is a champion warrior who has been banished by the Queen and who has spent his time fighting spirits on the outskirts of the kingdom. He chooses Daleina as the person to mentor and together they battle the evil that is threatening to take over the land.
This was a very exciting and engrossing read, which was difficult to put down. Not only did it have adventure and daring, but the world building was intensely interesting, with people living in the tree tops and making journey by flying from one tree to another on zip-lines. The spirits too were well drawn and Daleina's ability to find out their desires created some wonderful visions of flying through clouds and being sucked into the earth.
Durst takes a different tack in The Queen of Blood to the usual romance between the two main characters often found in books, instead Daleina and Ven are both engaged in defending their country, with one being youthful and the other older and experienced. Daleina is a quiet person who stubbornly wants to help her kingdom and works very hard at the Academy to gain the skills that she needs. She makes strong friendships with some of the other aspiring heirs. She is strong enough to undergo the arduous training that Ven insists upon when leaving the Academy, and clever enough to work out ways to overcome the spirits.
The quest and the character building draw the reader in with a fresh and original story and an unexpected and thrilling conclusion will leave the reader desperate for the next in the series, The reluctant Queen.
Pat Pledger
BUY IT ON
Feb 14 2017
Jasper Jones by Craig Silvey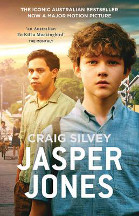 Film tie-in edition. Allen and Unwin, 2016. ISBN 9781760295929
(Age: 14+) Highly recommended. With the imminent release of Rachel Perkin's latest film Jasper Jones it seemed a good time to read Craig Silvey's novel, winner of the Indie Book of the Year 2009, ABIA Book of the Year 2010, and shortlisted for the Miles Franklin Literature Award 2010.
Dubbed Australia's To kill a mockingbird, it does share many of the themes of that novel - a child trying to solve the mysteries of the adult world, the restrained father figure, the feared outcast in the shadowy house, the narrow-minded attitudes of a small country town, entrenched racism and bigotry. But Silvey's book is most definitely Australian, set in a small country town around the time of the Vietnam War. The narrator is 13 year-old Charlie Bucktin, a bookish boy sidelined at school and friends with Vietnamese Jeffrey Lu, struggling against vicious bullying. Jasper Jones of the title is the Aboriginal boy, most despised of all, shunned and distrusted, and immediate suspect for any crime. It is Jasper Jones, that late one night, draws Charlie into a terrible secret . . .
The story immediately draws in the reader and becomes impossible to put down. It is not only the mystery and suspense that keeps the reader going, a highlight is the bizarre humour with which Charlie and Jeffrey grapple with ideas and moral dilemmas. The teenage conversation is so real and very funny, particularly their discussion of superheroes and why Batman is the bravest of them all.
The trust between the central characters is so precious, I became scared as I read along that human frailty was going to lead to some terrible betrayal, but it is not the young friends who are weak, it is the adults who are at the root of all evil. It is this idea of evil and cruelty that he sees in newspaper stories and which he witnesses in his own hometown, that confronts and challenges Charlie - can he be a witness, an observer, and be true to his friends and to himself? When is silence complicit and when do you have to take a stand?
Jasper Jones is a great novel for teenagers and adults alike, and a must for studies of Australian fiction.
Helen Eddy
BUY IT ON
Feb 14 2017
I'll love you always by Mark Sperring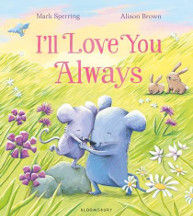 Ill. by Alison Brown. Bloomsbury, 2017. ISBN 9781408873335
(Age: 1-5) Recommended. Bedtime. Love. This warm and engaging bedtime story is sure to become a favourite with young children and the people who read it to them. When listening children will learn just how much they are loved and that it can last through days, week and beyond. In fact, in conclusion it states:

I'll love you forever, not one second less.
For that is what mummies and daddies do best.

The rhyming narration is perfect to be read aloud and it flows along beautifully. Older children would be able to remember the words and read along as well. In fact, it is a story that I can imagine will be read time and again to reassure both the child and carer that love exists and is very important.
The illustrations are very cute, with the parent mouse and little mouse surrounded by lovely soft colours, blue skies and flowers.
A perfect bedtime story, this book would also be a lovely gift for new parents.
Pat Pledger
BUY IT ON
Feb 13 2017
A hope more powerful than the sea. The journey of Doaa Al Zamel, written by Melissa Fleming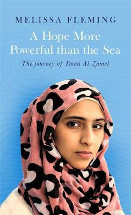 Hachette, 2017. ISBN 9781408708446
(Age: Secondary) Highly recommended. This is a true story that, in this world today, should be read. If we are to understand the wave of refugees fleeing their own beloved countries, leaving behind families who cannot escape, then we need to know what is going on. We need to know what causes such an upheaval in the lives of these people that they leave home in any way they can, hoping to find a place that will accept them, even though they face the unknown.
This is a story of ordinary people, who are not simply greedy, nor just discontented, who love their own country and culture. Yet, deeply disturbed by changes in their world that affect their daily lives, by deprivation, alienation or severe discrimination, they find that they have little choice but to flee. We become aware of the changing world of the family, the Al Zamels, in this story, from the daughter, Doaa, who relates how their daily lives were lived, how the loving family was so central to their lives, describing how they begin to be aware of the social changes that signal upheaval.
Heartrendingly told, this story, of unscrupulous offers promising escape if enough money is paid, reveals that sometimes the refugees are abandoned, left on the shore of an unknown place, or on broken-down old boats that break up in a storm, when they are left to die. Having taken much of their savings, or their borrowings from family, the people who set up the escape so often put the refugees in vastly over-crowded old boats, some of them even lacking crew. Even worse, we read that some of the 'arrangers' kill the desperate families after taking their money, or put them on boats where they are thrown overboard. This is a disturbing story yet one filled with courage and hope, and this hope, we discover, is indeed 'more powerful than the sea'.
Towards the end of her story, Doaa writes of finding a new life, after the warmth of the welcome they received from ordinary families, both in Greece and later in Sweden, that signals the beginning of the healing that will occur. It is an uplifting story, told with passion and inbued with a strong sense of justice.
Liz Bondar
BUY IT ON
Feb 13 2017
The sisters Saint-Claire by Carlie Gibson and Tamsin Ainslie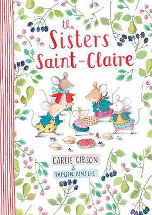 Allen and Unwin, 2016. ISBN 9781760291563
(Age: 6+) Highly recommended. Cooking. Siblings. Markets. Rhyming tale. A wonderful rhyming story about five mouse sisters, Harriet, Violet, Minette, Beatrice and Cecile, living with their parents, Odette and Pierre in France. The youngest mouse, Cecile is a wonderful cook, and the siblings love going to the market on Sunday, knowing that when they return Cecile will have cooked them a tasty array of treats. But one Sunday she asks to go with them. The girls all offer reasons for her to stay at home and cook, but her parents tell them that it is time for Cecile to see the world. She cooks before they go, setting up a stall at the market for the day. But no one buys her pies. By the end of the day when other stalls are empty and the bunting is being taken down, the Queen arrives with great fanfare. She loves Cecile's pies and tells her that she will return every week just for her pies. From that day on, Cecile takes her place at the market every week, with her family helping with the sales.
This wonderful story will be read aloud by one and all, as the readers relish getting their tongues around the names of the the pies Cecile makes. The inventive rhymes and word puns will make many readers giggle as they take in the array of words offered. I loved the inclusion of French words recognising that some French words are now very much part of our speech.
Readers will delight in this family of mice, the food words, the market and the French background, offering a view of a different way of life.
The soft pastel illustrations are a delight, reflecting the French town in which they live: the small streets, cafes, the Sunday market and the clothing. The mice prance their way across the pages, entrancing all who read of Cecile's growing independence.
Fran Knight
BUY IT ON
Feb 13 2017
Bee and me by Alison Jay
Old Barn Books 2016. ISBN 9781910646052
(Age: 4+) Highly recommended. Bees. Wordless picture book. Environment. A wordless picture book which shows the significance of bees in our cities through a young girl reviving a bee she finds in her apartment.
When the bee flies into her apartment high above the city streets she revives it with sugary water then reads all she can about bees, to ensure that it survives. This happened to the author, Alison Jay, and she uses this event to begin her picture book, but from there she has her heroine and the bee begin a fantastic journey. Together the two fly out over the city and its surrounding parks and gardens, eventually alighting in a meadow where the bee cavorts in the flowers. The girl sees what the bee really likes and makes a windowsill garden in her apartment. The boy in the flat above looks down at what she is doing and the two share the garden, attracting lot of bees.
This is a beautifully understated book encouraging children to use their eyes and see the insect world about them, encouraging them to see the relationship between these and the environment. The magnificent pictures are full of life, colour and detail, and encourage children to look closely at what is going on. The deceptive simplicity encourages deeper thought by the reader, while the unusual nostalgic feel of the illustrations creates a magical undertone.
Fran Knight
BUY IT ON
Feb 12 2017
Whisper to me by Nick Lake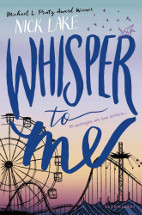 Bloomsbury, 2016. ISBN 9781408853863
A complex, absorbing and gripping read for senior secondary students. ALA Best fiction for young adults 2017. Themes: Mental illness, schizophrenia, hearing voices, family trauma, friendship, love. Cassie is a bright senior student who reads widely and particularly likes the Greek myths, partly because of her namesake, Cassandra who was condemned by the gods to foresee true prophesies about the future that no one believed, and partly because she spends a lot of time in the library, a sanctuary from social isolation and bullying at school. Her Dad an ex-Navy SEAL who now runs a pizza restaurant, suffers from post-traumatic stress disorder, not only from his war experiences but also from the violent death of Cassie's mother. When Cassie discovers a severed foot on the beach, a possible victim of a local serial killer, she starts to hear a voice which will not leave her alone. On one level she recognizes a link to the buildup of traumatic events in her life, but she is unable to ignore it, blaming and punishing her. The voice becomes all-consuming further isolating her from her dad and others, filling her summer holiday days with punishing tasks and abusive comments. Then two boys arrive to rent a room over their garage while working summer jobs at the New Jersey beach. Cass is attracted to one but at this critical moment the voice forces her to self-harm and she ends up in hospital diagnosed with psychotic dissociation and possible schizophrenia. Medication makes the voice go away but it strips her of vitality. When she meets vivacious, charismatic, bipolar Paris in the hospital it is as if she is thrown a lifeline. Their friendship develops and Cassie learns about her voice in a support group. It is not an easy trip and there are no answers but she works hard to understand her situation and regain some control. At the same time she is falling in love for the first time but she can't bring herself to be honest about her condition and ends up breaking his heart. The narrative is a letter to the unnamed 'you', finally telling him the truth and in doing so, examining the cracks in their lives and moving forward in spite of them. There is much that we never know in this novel but we gain tremendous insight into how we cope when the unthinkable happens. The author's note asserts that in spite of mental illness life can get better and with help it will. He goes on to list organisations in the USA and UK. The equivalent in Australia are: https://www.mindaustralia.org.au/ and http://hvna.net.au/
Sue Speck
BUY IT ON
Feb 12 2017
Twinkle twinkle little star illustrated by Matt Shanks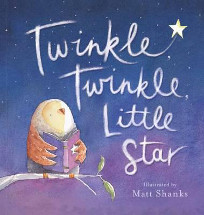 Scholastic Australia, 2017. ISBN 9781760158668
(Age: 3-5) Nursery rhyme. The familiar Twinkle twinkle little star is illustrated in beautiful watercolours by Matt Shanks. Although the first few lines of the rhyme will be remembered by the reader, the rhyme in its entirety is given in this book, giving it an added dimension of interest.
The illustrations tell a parallel story to the traditional rhyme. Set against a vivid purple/pink night sky the reader finds an owl sitting on a tree limb and reading a book with a star on the cover. There is a satchel full of books with stars on the covers and as the rhyme progresses, the reader follows the owl as it delivers books, via a parachute first to sheep in a bare brown paddock, then to birds wading in a lake, onwards to wombats, tunnelling away and travelling in the dark. Finally it finds a little person peering through a telescope at the night sky and returns home to its own little owlets to read to them.
This is an intriguing and enjoyable picture book which allows the reader to retell the story of Twinkle twinkle little star as well as having fun following the owl delivering books. New items of interest and different ideas will be found each time it is read.
Pat Pledger
BUY IT ON
Feb 12 2017
Shockwave by Peter Jay Black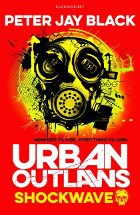 Urban Outlaws bk 5. Bloomsbury, 2016. ISBN 9781408851517
Peter Jay Black's Urban Outlaws series finishes in a taut and deadly race; the pace is even more frenetic, with the five friends pushed to their limits as their health deteriorates from the effects of by the deadly Medusa virus. Shockwave begins directly after the volatile ending of Counterstrike; Hector's men have infiltrated their underground hideout and quickly set about destroying their home, possessions and equipment. Jack and Charlie narrowly escape while young Obi is captured.
With each member suffering from the cold-like symptoms of the deadly virus, they must return to The Facility and search for the antidote. Hector is one-step ahead of them as they slowly make their way across London dressed in clothing bank outfits and The Facility is destroyed by fire. Noble their adult friend's warehouse is torched as well. As they discuss their circumstances standing near the London Eye, henchmen from a rival gang capture them and take them to their headquarters based in an old warehouse. Wheelchair-bound Tayla is the tough leader of a large gang of children and teenagers trained to pickpockets and steal goods. Tayla hates the outlaws and instructs her cronies to kill them. Of course, with some quick thinking, they talk their way out of the situation, setting up a heist plan with the promise of a rich reward.
The mission is deadly; the evil Del Sarto family are holding the whole of London to ransom as they prepare to infiltrate the waterways of London with the virus. Jack, Charlie, Wren and Slink jump off bridges, set technological traps, traverse London, survive being shot, engage in battles, using their resourcefulness and ingenuity to complete their final mission.
Peter Jay Black keeps up the rapid pace until the very end, life and death dramas, moral decisions and the interconnection and the reliance on each other in the face of adversity, make this a grand series finale.
Rhyllis Bignell

BUY IT ON
Feb 12 2017
Magpie murders by Anthony Horowitz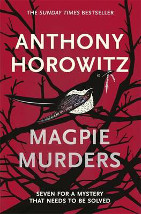 Orion Publishing, 2016. ISBN 9781409158370
(Age: 15+) Recommended. Mystery. Horowitz is a best-selling author and creator of many TV shows and in Magpie Murders he showcases his talent with a homage to vintage crime novels in this novel within a novel. Editor Susan Ryeland is given Alan Conway's latest manuscript featuring Atticus Pund, a detective very similar to Hercule Poirot, but the last chapters are missing. Then the author dies in suspicious circumstances and Susan finds herself in the middle of a real life murder while trying to find the missing chapters.
Horowitz very cleverly gathers together two stories, that of Atticus Pund's latest investigation in the manuscript and that of the circumstances surrounding Alan Conway's death. There are many nods to vintage Agatha Christie and village murders which mystery fans will recognise and really enjoy. At the same time the reader's attention is constantly grabbed by the two interweaving stories, as well as the characters in the story.
I thoroughly enjoyed this mystery within a mystery, and what was particularly good was the surprising denouement at its conclusion. I look forward to more crime stories from this very talented author.
Pat Pledger

BUY IT ON
Feb 02 2017
Literature to support the Science curriculum Foundation -7 by Fran Knight and Pat Pledger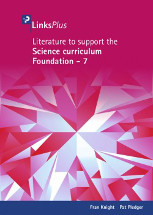 Pledger Consulting, 2016. ISBN 9781876678470
Highly recommended for educators. Subjects: Science curriculum; Fiction; Annotated bibliography. Fran Knight and Pat Pledger continue to write first-rate reference tools for teachers in primary school education, which focus on key curriculum areas. This resource links popular picture books, junior and senior novels and non-fiction books with the Australian Science curriculum. Each book listed has a review available on the ReadPlus online database.
Set out in an easy to read format, each year level and scientific topic is explored with listings presented in alphabetical order of the author. A comprehensive index is included as well.
Pamela Allen, Jeannie Baker, Phillip Gwynne and Elizabeth Honey's popular picture books support the Foundation Biological Sciences strand and the Inquiry Skills. Recent publications such as Aleesah Darlison's Spider Iggy and Roland Harvey's On the River provide up to date scientific information in a story format. The scientific and geographic books by writer and researcher Peter Gouldthorpe provide an excellent foundation for Year 6 students investigating Earth and space sciences. Content included covers Aboriginal perspectives and presents books that introduce a scientific worldview.
Fiction is an invaluable tool for introducing a new science subject, for encouraging investigation, for introducing keywords, setting up a word wall and stimulating creative inquiry and research skills.
Literature to support the Science curriculum Foundation -7 is a significant resource for educators and teacher librarians and for supporting STEM programs.
Rhyllis Bignell
Editor's note: The book is available here.

BUY IT ON
Jan 30 2017
Literature to support the Australian curriculum: HISTORY. Foundation - Year 10 by Fran Knight and Pat Pledger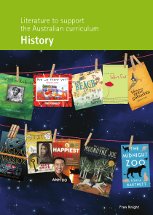 LinksPlus, revised 2016. ISBN 9781876678265
Highly recommended - for educators. Subjects: History curriculum; Fiction; Annotated bibliography. Fran Knight and Pat Pledger are committed to providing educators and librarians with excellent reference tools that support the Australian curriculum. This LinksPlus resource highlights popular picture books, junior and senior novels and non-fiction books suitable for the Foundation to Year 10 Australian History curriculum. Each book listed has a review available on the ReadPlus online database and relevant web links.
Set out in an easy to read format, each year level and history topic is covered with the listings presented in alphabetical order of the author. A comprehensive index of authors and titles is included as well. Literature specialist Fran Knight has selected each title from both newly published and familiar titles with both familiar and new authors included.
Phil Cummings, Libby Gleeson and Bob Graham's picture books support the Foundation Year curriculum of Personal and family histories. The cycle of life, family relationships, grandparents, Aboriginal and migrant family stories are included. Bob Graham, Kylie Dunstan and Katrina Germein's familiar stories support students' learning about how family stories are communicated.
Year 5 learners study Australia's colonisation, migration and democracy in the 1800's. Sofie Laguna and Gabrielle Wang's novels written for the Our Australian Girl series, provide insight into colonial life in Sydney and life on the goldfields.
Secondary students investigate historical perspectives from the Ancient to the Modern World. Fiction novels are an invaluable tool for introducing a new subject, for critical thinking, developing understandings of different worldviews and cultural insights. A diverse range of novels by a wide range of authors including Jackie French, Rosanne Hawke, Anh Do and Charles Dickens, support the development of historical understandings.
Literature to support the Australian curriculum: HISTORY. Foundation - Year 10 is a valuable resource for educators, secondary school HASS departments, curriculum specialists and school libraries.
Rhyllis Bignell
This is available here.
BUY IT ON
Nov 28 2016
Literature to Support the Science Curriculum Foundation - 7 by Fran Knight and Pat Pledger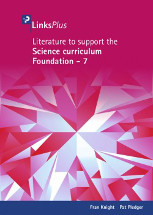 Pledger Consulting, 2016. ISBN 97801876678470
Teacher reference. Primary School. Highly recommended. Literature to Support the Science Curriculum Foundation - 7 is a collection of fiction and some non-fiction books linked to the Australian Science curriculum. Teachers and librarians will have, at their fingertips, a collection of relevant texts for each year level as well as each Science strand. This book is a great way to make sure English and Science curriculums are well linked. Each book is matched to a year level and a Science strand and they have a brief synopsis of the story. Teachers can check if the books are in their school library or have their librarian order them in. The books could be used as a class novel, to make sure the class has a selection of themed books or to guide students to borrow age appropriate texts.
Highly recommended for all primary schools. This book is supportive of South Australia where year 7 students are still in primary school.
Editor's note: It is available here.
Kylie Kempster
BUY IT ON
Nov 01 2016
Literature to support the Science curriculum Foundation - 7 by Fran Knight and Pat Pledger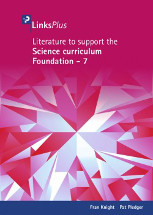 Pledger Consulting, 2016. ISBN 9781876678470
Teacher Reference.This publication is an outstanding tool for the study of science for these year levels.
Fran Knight and Pat Pledger are committed to providing insightful and intelligent reference material for use in the classroom. This title is part of the LinksPlus support program and highlights the excellent role that fiction can play in supporting the study of Science in the classroom. Too often fiction is overlooked as providing an invaluable addition to the understanding of concepts in many subject areas. For some individuals, reading a picture book related to a scientific topic, may be the means of acquiring more insight to that topic. A good example is the value of including Katrina Germein's Big Rain Coming, and John Heffernan's Two Summers in teaching and 'experiencing' the fickle nature of Australia's climate. Fiction and some non-fiction titles are listed for developing Science Inquiry skills, supporting each of the four Foundation Sciences and addressing the topics for each of the primary school years. An excellent index is included too.
Julie Wells

BUY IT ON
Feb 21 2016
Fiction gems: Recommended fiction lists for Upper Primary and Lower Secondary students by Fran Knight and Pat Pledger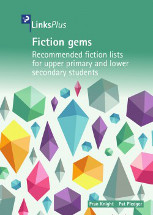 Pledger Consulting, 2016. ISBN 9781876678456
Teacher reference. What a great resource for those charged with purchasing or recommending reading material for Upper Primary and Lower Secondary students. The Middle School aged reader can have specific interests or reading demands and keeping on top of current and favourite books can be very difficult without some help from trusted reviewers. This book lists Fiction recommendations within a number of categories; some books are indicated for more mature readers, but most are well-suited to the 10-15 aged reader.
Each book is summarised with a 1-2 sentence brief overview, so it is easy to peruse for suggestions for readers. More complete reviews are accessible via the ReadPlus review blog index.
This is a book that would be a good resource on the Librarian's shelf.
Carolyn Hull
BUY IT ON