Review blog
Click here for the ReadPlus Review Blog RSS feed. Copy the link location into your feed reader.
Click here to see all reviews
Jul 28 2017
My life as a hashtag by Gabrielle Williams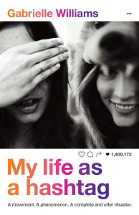 Allen and Unwin, 2017. ISBN 9781760113681
(Age: 14+) Highly recommended. This is a novel that takes adults into the world of adolescents, firmly and deliberately embedding them in the unknown aspects of their world and plummeting them into the deeply emotional world of adolescence. Marie Claude, or 'MC', is unexpectedly not invited to her best friend's party, an unthinkable event. It seems that the boy she liked is 'with' her best friend too, provoking more nastiness and venting. In response, MC goes to various internet personal rant sites, like Tindr, Snapchat, and Facebook, where she thoroughly and completely bags her best friend. Her online voice is not really hers but, as an everyday teenager in Australia, she is astonished by the power of her rant, and her sudden achievement of a global audience. Plummeting the reader into this post-modern world, we are aware that Williams deliberately shocks her protagonist by making her suddenly and frighteningly aware of the huge potential for worldwide recognition of an individual when her posts 'go viral' internationally and she becomes a hit for her virulent bagging of her friend. Her nastiness is rewarded by those who champion this kind of bagging, and the troll attacks begin too. This of course, is not what she expected, and the devastation it brings plummets her into a deep depression that reverberates with the understanding of the power of this medium. Ostracized by her friends, her school and, she feels, the world, she is terrifyingly alone except for the online champions of her nastiness.
MC has also been coping with her parents' life choices and this has caused her a great deal of angst. Things do improve, but this modern fable is a tremendously powerful 'I told you so' moment for a young woman who could not have imagined the effect of those nasty posts. This is a strong, modern, credible and very well-constructed narrative that carries a chilling warning for the power of the internet in the modern world. It is most suitable for older adolescents as it is most disconcerting in Williams' revelation of the capacity of one individual to achieve a worldwide audience that seemed to be simply waiting for such vitriol.
Elizabeth Bondar
BUY IT ON
Jul 28 2017
Six Tudor queens: Anne Boleyn, a King's obsession by Alison Weir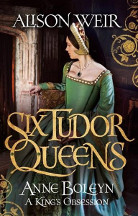 Hachette, 2017. ISBN 9781472227638
(Age: 14+) Recommended. British history, Tudor history, Kingship. Anne Boleyn is certainly a name most people will recognise as the one for whom King Henry VIII split with Rome. When all of Europe was Catholic, owing allegiance to the head of the church, the Pope in Rome, then political intrigue garnered power behind his headship and those in favour could call the shots. Henry was desperate to father a son, one to take up the rule of England after he died, to carry on the Tudor lineage. His older wife, Katherine was past her child bearing days and so Henry looked around for a new bride. He had read Leviticus which forbad a man to marrying his brother's widow, and using this Biblical reference as the reason for not having a son, lobbied Rome for an annulment. But Rome was in the thrall of the Holy Roman Emperor, Katherine's nephew, so no such annulment was forthcoming. This forced Henry to break with the church and set up the Church of England, a move which paralleled the Reformation in Europe.
But what of Anne? Alison Weir develops a page turning story of Anne's life both before and after her marriage and we see her as a young woman sent to several countries in Europe where she learnt the pattern of surviving in a court. Weir paints a rather headstrong girl, used to getting her own way, wary of the obstacles, but looking out for a likely marriage prospect. She knew her father, Thomas Boleyn well. He was rising in Henry's court, making himself useful to the great king, always on the lookout for how his children could benefit from royal patronage. The machinations behind the scenes make for fascinating reading, particularly when Anne's sister Mary becomes the king's mistress and Anne can see how problematic it is, especially when she has a child. All the court detail is given, and conversations developed from the extensive research done by Weir, making this a riveting read into the private lives of Anne and her family. A long list of the cast of characters is given at the end in the order in which they appear in Anne's life, and a useful family tree is given at the start.
Fran Knight
BUY IT ON
Jul 28 2017
Middle School mayhem Rachel Renee Russell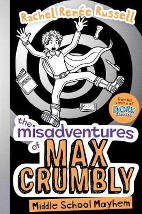 The Misadventures of Max Crumbly book 2. Simon and Schuster, 2017. ISBN 9781471164279
(Age: 9-12) 'I knew middle school was going to be challenging, but I never expected to end up DEAD in the computer lab, wearing a SUPERHERO COSTUME, with four slices of PIZZA stuck to my BUTT!' Max Crumbly returns in Middle School Mayhem, and this sequel starts immediately after the cliffhanger scene that ended the first madcap adventures of this dorky teenager. Max is desperately trying to find his dad's lost comic book and stop three thugs determined to steal the school's computers.
In Russell's familiar notebook style, punctuated by her quirky comic illustrations, Max reveals his crazy thoughts, mad antics and silly humour. Dressed in his best friend Erin's ice princess costume, he has to think quickly and creatively to stop the thieves from leaving the building with the new computers. Why he doesn't ring the police is a little hard to take, instead he sends Erin the school's computer password to allow her remote control access to the PA system, lights and security cameras. With his limited battery life in his cell phone, every minute counts as they coordinate turning off the lights and turning on the sprinkler system. The school cafeteria scene is filled with slapstick comedy as one of the thieves Moose accidentally butt-dials the stove burner, cools his burning pants at the kitchen sink, then endures being slimed, his head is stuck in the bucket and finally being plastic-wrapped.
Max's unique point of view is strong, he stops to contemplate his super-hero life, invent crazy raps and totally, totally (his favourite word) take the fans along on his crazy journey. Of course, Russell ends with another cliffhanger ensuring her audience is committed to the series.
Rhyllis Bignell
BUY IT ON
Jul 28 2017
The Usborne Big book of animals by Hazel Maskell
Ill. by Fabiano Fiorin. Usborne, 2017. ISBN 9781474928953
From the icy polar regions, the steaming tropics to the depths of the oceans, our planet is inhabited by some amazing creatures and many of them are gathered here to tempt the budding David Attenborough as they investigate the tallest, longest, fastest, heaviest and most dangerous animals in the world, complete with facts and measurements.
With easily accessible text, bite-sized facts, and fold-out pages which introduce a myriad of creatures, little ones cannot only learn about the creatures that share their environment but also that books can educate as well as entertain. They are for information as well as the imagination. And for those who want to know more, Usborne has a page of Quicklinks that offers safe, vetted links to information and activities.
The Usborne Big Book of Animals is just one in this series of early non fiction for young readers that help them find more about the world they live in and which would be quality additions to any school or home library.
Barbara Braxton
BUY IT ON
Jul 28 2017
Dinosaur Munch! The Diplodocus by Jeanne Willis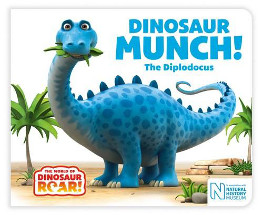 The World of Dinosaur Roar series. Macmillan, 2017. ISBN 9781509835652
(Ages: 2-4) Recommended. Board Book, Dinosaurs, Rhyme. A tactile front cover and a bright blue, cheeky-looking diplodocus will draw young children to this small board book. It is just one in a series of books (The World of Dinosaur Roar) based on the classic picture book Dinosaur Roar, which have been developed in association with the Natural History Museum in London. An initial introduction page provides the reader with a helpful pronunciation guide for those hard to pronounce dinosaur names, also giving them a cute moniker (e.g. Dinosaur Chew, Dinosaur Whack, etc.). The text length is age-appropriately short but manages to provide a basic introduction to the diplodocus's physiology, diet and habitat. The simple story is about Dinosaur Munch and his tummy that never felt full after lunch. He eats and eats and eats but he is still hungry. Facts are cleverly hidden within the main text (e.g. 'With a swish of his neck and his rows of huge teeth') and the illustrations (different types of dinosaur are shown side by side to highlight size, shape, form etc.). It uses suitable analogies that will be within young readers' realms of experience (e.g. 'long neck like a giraffe', 'as long as three buses') and appropriate and familiar vocabulary as well as some topic specific words such as 'herbivore'. The humorous ending sees the still hungry Munch chewing on his own tail. The fact page at the back reinforces all the visual information provided about the dinosaur's appearance in short, clear sentences (also represented visually). The dinosaurs are fun and cheeky and the unique traits of different species of dinosaur are emphasised both visually and textually. This book has obviously been developed with the highest regard for the prior understandings and needs of its young target audience. It is a high-quality story/information book for very young children, especially dinosaur lovers.
Nicole Nelson
BUY IT ON
Jul 27 2017
The rabbit-hole golf course by Ella Mulvey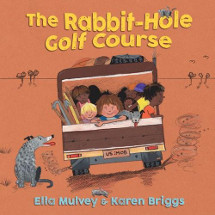 Ill. by Karen Briggs. Allen and Unwin, 2017. ISBN 9781925266290
(Age: 4+) Highly recommended. Aboriginal themes. Desert. Australian life. Rabbits. Bush tucker. Rhyme. With an eye to repetition and rhyme, this tale of a group of children going out to the golf course to find a rabbit is infectious, begging to be read aloud, encouraging kids to sing along, make the noises and predict the next lines. I can imagine a group of kids with sticks, beating to the rhythm of the story, adding noise and excitement to the tale being read out loud.
They set off in the big old ute, along the long red road to the golf course, pitted with rabbit holes. Already the excitement of finding a rabbit is infectious, and the children have lots of adventures digging holes as big as they are, finding a kangaroo, looking for rabbits, finding honey ants and maku, until finally, covered in red dirt, they sit around the hole they have dug and wait for tea. The families make tea and damper, and while there have been no rabbits found, they all sleep soundly that night in their swags under the stars.
The repetition of 'Where are all the rabbits?' encourages readers to learn those lines and predict where they will appear, calling out the line as the reader turns the page. Likewise other lines, 'the big old ute', 'long red road' and 'desert of my home' encourages kids to recognise the lines as they appear on the pages, asking them to join in.
I love the colourful illustrations, adding another level of interest and excitement to the story. Children will love picking out the slew of animals pictured in the book, along with things which make it recognisably set in the outback. The humour in the tale is reflected in the illustrations with the children seeking a rabbit so desperately but only seeing them in their dreams. I love the repetition of the opening illustration and the last, a child asleep dreaming of rabbits, although on the last page an actual rabbit appears, possibly having a laugh at the children and their efforts. The community is vividly portrayed, from its dot curtains, snuggly woollen hat, to the scattering of dogs and families working together.
And the endpapers show a mud map of where they are headed to find the rabbit-hole golf course, where no one seems to actually want to play golf (understandably). Karen also illustrated Kick with my left foot, a standout publication in 2015, earning its place on the CBCA shortlist.
Fran Knight
BUY IT ON
Jul 26 2017
Frankie by Shivaun Plozza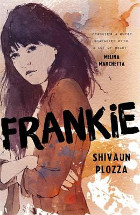 Penguin Books Australia, 2016. ISBN 9780143573166
(Age: 15+) Recommended. CBCA Book of the Year shortlist 2017. Frankie is smart, intellectually brilliant and very, very angry. Abandoned by her mother, her father not around at all, she is only just tolerated by her school peers and teachers. Frankie has been brought up by her Aunt Vinnie and has one best friend. When a half-brother suddenly appears in her life she is excited, confused and very angry with the discovery that while her mother 'dumped' her, she kept her brother, Xavier. Yet Frankie yearns to befriend him, even when she discovers that he is not a good, or even a nice, person. In fact, seeking him, she comes into the world of criminals, violence and the terrible deprivations of those who have lost everything through drugs or criminal activities.
In trouble at school, at home, and pursued by the school, and subsequently the law, for her violence, Frankie almost gives up hope. It is only with the loving intervention of her exasperated aunt and good, loyal friend that Frankie finally finds a way to crawl out of the depths of despair, declaring her independence: 'I'm nobody's daughter. Nobody's friend. Nobody's sister'.
This is a powerful novel of the world experienced by so many disenfranchised children. We are discomforted by children stealing to survive, by their experience of violent, abusive worlds, often living in abandoned houses, or on the streets, ill-treated or ignored by family or drug-addicted carers, hungry and so angry that they can barely tolerate any loving concern, school rules, or their society. This beautifully told narrative resonates long after it has been read, and the issues hit the reader starkly. Plozza passionately presents a call to witness a modern city in disarray, a world that cares little for those who have little, those who live in dirt, loneliness and poverty, who thieve and bash and threaten in order to survive in the big cities, who dwell in an underworld that few of the privileged would recognize. A brave, shining star, Plozza recognises those who are abandoned, poor and struggling to find a place to live, to find food and shelter, in this most disconcerting narrative of a troubled world.
Liz Bondar
BUY IT ON
Jul 26 2017
The shop at Hooper's Bend by Emily Rodda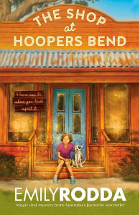 Angus and Robertson, 2017. ISBN 9781460753668
(Ages 9+) For all those who have felt drawn to a place without knowing why, this book is for you. Jonquil (Quil), an 11 year old, is heading to Summer camp in the Mountains when she feels the need to get off the train one stop early. While the premise for her not being properly accompanied is a little sketchy, the reader is drawn in. Soon enough, Quil finds herself outside Hooper's Bend store, where Bailey, a fifty-something big-shot from the city, has come to view her inherited property to decide what she will do with it. While she receives a less than warm welcome from the locals, Quil feels so drawn to Bailey, it is almost as though they share a past. Is Bailey right to be suspicious of young Quil? And what is Bailey hiding from the locals?
Quil explores a theory that people are made from exploding stars and similarly to those that believe in zodiac signs, have different traits depending on how much stardust they have of one star or another. While she spends an inordinate amount of time thinking about this thoughout the novel, Bailey uncovers the truth about Hoopers Store and rekindles some friendships long forgotten. Ultimately both characters find closure through their friendship and through what they learn. Rodda's descriptive language is enchanting, and is able to capture the sort of magic that old houses from yesteryear hold within their walls.
Clare Thompson
BUY IT ON
Jul 26 2017
Dino hunter by Mac Park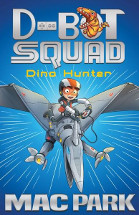 D-Bot squad book 1. Allen and Unwin, 2017. ISBN 9781760295974
(Age: 5+) Dino Hunter is the first book in a new series, D-Bot squad by Mac Park. Hunter is the main character who loves dinosaurs and through the surprising actions of the school librarian, Mrs Stegg, ends up in a cave completing a test created by the D-Bot squad.
This is an easy to read book, and as stated on the rear cover is 'a world kids will love, using words they can read'. This is certainly true. I read this with my son who is 6.5 and in year 1. He was able to read chunks of text independently, seeking minimal assistance, whilst still being able to comprehend the storyline of a longer book than he is used to reading.
Each page has good spacing between the lines, and there are lots of pictures to break up the text. This makes the book very accessible for younger readers, providing confidence and a text format that is easy to follow.
As a series, D-Bot squad reminds me of Zac Powers. The plot is simple to follow, with a basic introduction, problem and (almost!!!) a solution allowing the younger reader to gain confidence through predictability and consistency. The pictures are clear, with a similar structure to those in Zac Powers giving young children a good chance to use them for comprehension and additional understanding.
The ending is a cliffhanger which is a little different, however meant the Mr 6.5 immediately asked for the next book so he could see what happened with the Pterodactyl - this makes it a winner in my eyes!
An easy to read story that would suit dinosaur mad boys or girls from ages 5+
Lauren Fountain
BUY IT ON
Jul 26 2017
The chalk rainbow by Deborah Kelly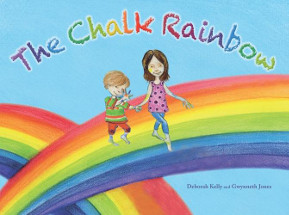 Ill. by Gwynneth Jones. EK, 2017. ISBN 9781925335453
Zane is different to other kids - he lives in his own world with his own language, a need to line things up and has an inordinate fear of the colour black. Black food, black clothes, black anything - he won't go near it. Not the pedestrian crossing, the soft fall at the playground, not even his own driveway. So Zane is trapped on the front step unable to venture further, even when his dad yells at him. Until one day his sister starts to draw a chalk rainbow on the steps to cheer him up. Zane likes colour so he joins in. And then the magic begins...
Like so many children Zane is on the Autism Spectrum and while their issues might seem unreasonable and even be unfathomable to those around them, like Zane's fear of black frustrates and angers his father, nevertheless they are very real to the child. And because of the way their brain is wired they can't overcome those fears any more than we can expect them to change their hair colour or foot size, so it is up to us as adults to adapt our way of thinking and working so we can enable the child to manage the world better. It's about acknowledging their disorder and treating them with respect and dignity. If they can't change then we must. Through imagination and love, the rainbow bridges work for Zane's family and instead of being frustrated even his dad is able to free Zane from the prison walls of black.
Kids themselves are very accepting of others whatever their differences, but they don't always understand how their actions can help or hinder. Nearly every classroom has a child with ASD these days and while that child's issues might not be the colour black, using this book as a springboard to introduce how peers can help the ASD child have a better time at school would be a brilliant start towards total acceptance and understanding. Even if there is no ASD involved, using the imagination to make something like a chalk rainbow to take that next step into the unknown is a wonderful strategy.
An essential addition to the school library's collection and the home library of the siblings of an ASD child.
Barbara Braxton
BUY IT ON
Jul 26 2017
The Eureka Key by Sarah L Thomson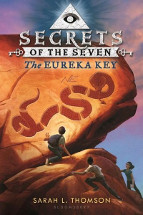 Secrets of the Seven book 1. Bloomsbury, 2017. ISBN 9781681190617
(Age: 11+) Highly recommended. When middle school puzzle master Sam and history wiz Martina win a contest for a summer trip across the US, they discover they've been drafted into something vastly more extraordinary. Joining another kid on the trip, Theo, a descendant of George Washington himself, they must follow clues to find seven keys left behind by the Founding Fathers. Together the keys unlock Benjamin Franklin's greatest invention - a secret weapon intended to defend the country. Each key is hidden in a unique location around the U.S., protected with puzzles, riddles, and traps. This has kept the weapon safe . . . until now! Gideon Arnold, a dangerous descendant of the infamous Benedict Arnold, is on the chase.
Competition heats up between Arnold and his thugs and Sam and Martina to reach the artefacts first. Sam, Martina and Theo must use their problem solving skills to solve tricky puzzles, escape death and survive booby-traps. By the end of the series, they must be able to save the USA , uncovering many deep, dark secrets.
Readers will love trying to solve the clues themselves using deductive reasoning to escape and survive the high-stress situations the characters find themselves in. Will they be able to stay one step ahead of the baddies? The story is a fast paced, action thriller that is highly entertaining. It will appeal to students aged 11 and up who will eagerly await the release of each new book in the series of which will need to be read in order. It would make a great read aloud, particularly if studying American history as many of the clues are linked to this.
Kathryn Schumacher
BUY IT ON
Jul 26 2017
Court of Fives by Kate Elliott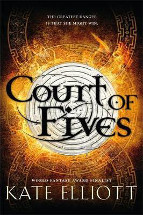 Court of Fives book 1. Little, Brown Books for Young Readers, 2016. ISBN 9780316364300
(Age: 13+) Highly recommended. Fantasy. Kate Elliott, an award winning fantasy author for adults has turned her hand to a young adult novel with exciting results. Court of Fives is a winner for readers who love fantasy and will also appeal to readers who enjoyed The hunger games, as the heroine in the story, Jessamy, trains for The Fives, a complicated athletic competition. Jessamy is one of four daughters, all with vividly described characteristics, with the author giving subtle references to Louisa May Alcott's Little Women.
Set in the land of Efea, similar to ancient Egypt, Jessamy lives in a stratified society. Her father, Captain Esladas, is a Patron from the conquering land of Saro, and an outstanding commander in the army but has chosen to live with an Efean woman, known as a Commoner. By law, he cannot marry her. The four daughters have to tread a fine line in their behaviour in this society bound by class and privilege. When her father's patron is killed he stands to lose everything, and is forced to renounce his family and marry into Patron royalty. Jes seizes the opportunity to train in The Fives and together with Kalliarkos, a Patron Prince, learns about the scheming politics of the royal family and they have to try and save her mother and sisters from a horrific death.
Written in the first person by Jessamy, the reader is carried into a whirlwind of dangerous sport and political intrigue. Jessamy is an intrepid but impetuous heroine, who has great intelligence and the ability to analyse not only the game plan of the Court of Fives, but what is happening around her.
I devoured this exciting novel in almost one sitting and am sure that it would appeal to both teens and adults alike.
Pat Pledger

BUY IT ON
Jul 26 2017
Poisoned Blade by Kate Elliott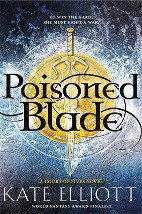 Court of Fives book 2. Little, Brown and Company, 2017. ISBN 9780316344388
(Age: 14+) Highly recommended. Fantasy. 2017 Locus Awards nominee. An exciting sequel to Court of fives by World Fantasy Award finalist Kate sees Jes now moving up the ladder as she competes in the The Fives, the difficult athletic contest that she loves. She goes to the countryside with Lord Gargaron's entourage, competing against others on the way and gaining good experience while earning enough to help her family. At the same time, she gets caught up in the political machinations that are happening in the country. An attack on her party finds Jes caught up in a battle and meeting up with Lord Kalliarkos once more.
In Poisoned Blade, Jes once more proves that not only is she an outstanding athlete, she has the capacity to think things through and to see the patterns in the events that surround her. She also has to prove herself as a warrior, taking on the enemy that is trying to slaughter the army her father leads.
This is a thrilling story with much to recommend it. Jes is a wonderful main character, her personality and bravery shine throughout the story. Her relationships with her family are complex and the reader gets to know her sisters better as they begin to take on important roles in the story. Her feelings for Kalliarkos remain strong even though it appears that this romance should be doomed because of her position as a Commoner.
Themes of class, race, belonging and power permeate the story and make it a fabulous read. It is however ideal to have read the first in the series, Court of Fives to gain the best understanding of the setting and plot.
Pat Pledger
BUY IT ON
Jul 26 2017
Dr Karl's little book of dinos by Dr Karl Kruszelnicki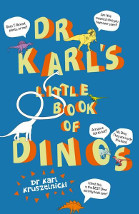 Ill. by Russell Jeffery. Pan Australia, 2017. ISBN 9781925481242
(Age: 9+) Recommended. Dinosaurs. Filled with lots of details about dinosaurs as well as puzzles, quizzes and activities this is a wonderful book for the child who loves dinosaurs as well as a useful addition to a school or public library collection.
It is divided into 5 sections. 'Who am I?' gives details about Dr Karl, while 'Who are you?' gives the owner of the book the chance to fill out personal details about themselves, including drawing a picture of what they think they will look like in the future. In 'Dr Karl says', three facts are given about dinosaurs that he really wants the reader to know: 1. They had funny lungs. 2. They got wiped out by an asteroid and 3. Half a million cubic kilometres of cooled lava, also helped to kill them. The bulk of the book, 'Dyno Dynamos', is taken up with interesting dinosaur facts, drawings and sections for the reader to fill in, e.g. they are given instructions on how to draw a tyrannosauros rex and can also do word puzzles. Russell Jeffery's black and white illustrations are a boon, helping the reader understand what dinosaurs look like and aiding in the instructions for drawing.
This is a companion volume to Dr Karl's Little Book of Space and is equally as interesting and instructive.
Pat Pledger
BUY IT ON
Jul 26 2017
Attack of the giant robot zombie mermaid by Matt Cosgrove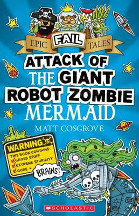 Epic Fail Tales
book 2. Koala Books, 2017. ISBN 9781743811702
(Age: 8+) Humour. On the front cover the Warning states: 'This book contains: Gross stuff Extreme stupidity Gore.' This is not an exaggeration.
Attack of the Giant Robot Zombie Mermaid
is a very twisted, almost unrecognisable version of The little mermaid, but in this instance the one true love of the mermaid are brains and she is particularly interested in the brains of the Pirate Prince. She sets off on an intergalactic journey to find that one true love. The story is filled with hilarious drawings, subversive asides, skulls, witches, and references to fairy tales, speech bubbles and a side splitting narrative this will appeal to children who like Cosgrove's gross humour.
There is even a moral to the story: 'It's good to have brains!' Children are also given the opportunity to add their own bits of costume to create their zombie mermaid and can put text into a speech bubble. Then there is the bonus story at the back of the book:
Seven Ninjas origin story
. This is also hilarious and tells how the seven boys in
Snow man and the seven ninjas
by Matt Cosgrove became ninjas.
This story will provide lots of laugh out loud moments as well as groans for its grossness. It's sure to be a winner with children who like the highly illustrated narrative and this type of humour.
Pat Pledger
BUY IT ON
Jul 25 2017
Ballad for a mad girl by Vikki Wakefield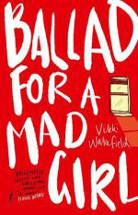 Text, 2017. ISBN 9781925355291
(Age: 13+) Highly recommended. Death. Country towns. Thriller. One night walking across the pipe outside the town, risk-taking Grace has a moment of fear. She has done this many times before, holds the record for getting across, but this time she freezes, the headlights from the kids' cars seem to go off, and she is plunged into darkness after seeing the words Hannah Holt drawn on the underside of the pipe, and one of the Hearts boys must sidle across to help her get back. Hannah disappeared twenty years ago, and although people thought they knew who killed her, William Dean was never charged but killed himself a year later. Grace, the prankster, the girl who cries wolf, feels compelled to find out more about what happened to Hannah Holt and this course seems linked with her own grief for her mother, killed in a road accident two years before. Grace invents a way of getting inside the Holt house, but Mrs Holt suspects her motives, having plenty of oglers come to her door in the past.
So begins a tightly drawn story of compulsion, as Grace feels directed by the dead girl, but trying to tell her friends draws derision as they think it just another of Grace's pranks.
Her father and brother are concerned for her changed appearance and strange behaviour, but they are not coping either after the loss of Grace's mother and more recently, their farm.
This is a gripping read. We share Grace's friends' disbelief at Grace's motives, but are engrossed by the fervour of her attempts to find the truth.
Further complicated when Grace learns that her mother's death was not accidental, Grace must settle things with her friends before she can uncover some of the truths about life in this small town.
Convinced by a psychologist that she is depressed, Grace steels herself to ignore the dreams and voices she hears, but finding a piece from a cigarette packet in the pocket of William Dean's leather jacket sets her off on a different path.
This is a gripping thriller which takes the reader into Grace's mind, following clues that come from the dead girl, but it becomes clear that it is not Hannah directing her obsession. Her friends try to help but are distanced by her odd behavior and although they come to some sort of uneasy peace, the reader knows that Grace will learn to live without them. It is her family that is the mainstay of her existence and once she is able to expose the lie at the base of Hannah's disappearance, they can release the pain and guilt that hangs between them after Grace's mother's death.
I could not put this down, and reread sections after I had finished, so gripped was I about the path taken by Grace in solving the girls's disappearance. I could picture the landscapes so carefully created by Wakefield, walk through the houses with Grace and run over the paddocks to her ailing father.
The striking cover will impel young adults to choose it to read, and they will be stunned by the extraordinary thriller within.
Fran Knight
BUY IT ON
Jul 25 2017
The tale of Angelino Brown by David Almond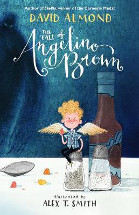 Ill. by Alex T. Smith. Walker Books, 2017. ISBN 9781406358070
(Age: 9+) Higly recommended. 'Bert Brown discovered the angel in his top pocket when he was driving his bus. Bert and Betty's friends think he's lovely. So do Nancy, Jack and Alice from Class 5K. But Acting Head Teacher Mrs Mole is not so sure. Nor is Professor Smellie. And the mysterious bloke who claims to be a school inspector. He is downright suspicious.'
Then there's big, lumbering Basher Malone. He does not like Angelino at all. In fact he just might be out to get him...(Publisher)
Strange things begin to happen to Bert and Betty, while at the same time Angelino fills the huge void left when their own son died, bringing happiness and love to the house once again.
This is a lighthearted book for those willing to believe in a little bit of magic. Imaginations can run wild and strong connections made to both the storyline and characters. I particularly love the illustrations of Angelino as it is not your stereotypical angel. Good and evil is questioned and you can not help but feel sympathetic to certain characters. It would make a beautiful read aloud for students aged 9 and up.
Kathryn Schumacher
BUY IT ON
Jul 25 2017
Revolt against the Romans by Tony Bradman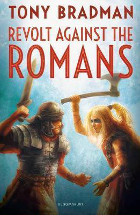 Bloomsbury, 2017. ISBN 9781472929327
Author, Tony Bradman has created a short read (115 pages) about a young Roman boy called Marcus. He has a complicated relationship with his father a high-ranking official within the Roman Civil Service. When Marcus is captured by Catuvellauni in Britannia, his father suggests that Marcus makes the ultimate sacrifice for his country. Despite the reputation the Britons have for being savages who tattoo themselves and take the heads of their enemies in battle, Marcus wins the trust and respect of the village and is adopted into a Briton family where he experiences the love and warmth he so craved.
But soon the Romans are on the march against the Britons and Marcus must face his old enemy in his father. Will he be recognised by his long-lost father? Who will Marcus support?
This is a fast-paced book, full of adventure, battle scenes and an interesting ending. Being a lover of historical fiction, I found this book left me wanting to google the period in history to learn more. Bradman has done a fantastic job of mixing fact with fiction to allow the characters to come alive throughout the book. It is difficult not to feel sympathetic towards Marcus and will him to victory. These will be a fantastic addition to read aloud if one is learning about ancient civilisations and an exciting carrot to dangle in front of reluctant readers.
I am hoping this will become a series.
Kathryn Schumacher
BUY IT ON
Jul 25 2017
Watch out, snail! by Gay Hay and Margaret Talland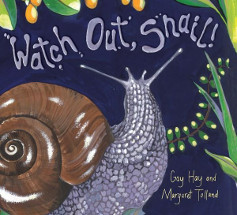 Starfish Bay Publishing, 2017. ISBN 9781760360320
(Age: 4+) Highly recommended. Snails. New Zealand fauna and flora. Introduced species. Nocturnal animals. STEM. This tactile publication had me rushing to my books on New Zealand animals as I turned the pages. The Powilliphanta Snail only comes out at night, and being carnivorous spends its time finding food, while avoiding becoming food for other predators. The stunning images of night time in New Zealand's forests glow, and I had to check whether they were three dimensional, so arresting are the illustrations.
We watch the large snail (3.6 inches across, we are told in the informative page at the end) as it makes its way over branches, twigs and leaves across the forest floor.
It encounters several animals, a possum, hedgehog, rat and pig, all pests in New Zealand, introduced in the nineteenth century. It avoids being their meal, and finally finds what it is looking for, a worm which it slurps up, but other predators await our snail. Readers will call out to the snail to watch out as a weka stalks it throughout the story. Enticingly we see a beak, or an eye, a claw or leg, as it follows its prey.
Through this seemingly simple story, we see the snail and its habitat, learn more about introduced species, and see in the forest foliage other New Zealand indigenous animals. I found several and I am sure eagle-eyed younger readers will spy others. At the end is given a page of information about the snail, as well as a double page snail trail, showing where it can be found. This is a wonderful story, well told in spare, informative prose and matched with superb illustrations that draw the eye to the page over and over again.
Fran Knight
BUY IT ON
Jul 25 2017
When Dimple met Rishi by Sandhya Menon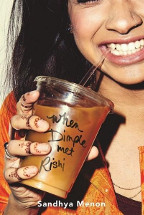 Hodder and Stoughton 2017. ISBN 9781473667402
Recommended for middle to upper high school students. Arranged marriage. Romance. Indian culture. Identity. High achieving, second generation Indian Americans, Dimple Shah and Rishi Patel have both won positions at their choice of university; Dimple to study web design at Stanford and Rishi, engineering at MIT. Behind the scenes their parents have been matchmaking so when Dimple asks if she can go to an expensive summer school on web development they unexpectedly say yes, secretly knowing that Rishi Patel will enrol, allowing them to get to know each other. Dimple is certain of what she wants and has resisted all her mother's efforts for her to use traditional Indian makeup and dress fashionably to attract the Ideal Indian Husband, IIH, so when she arrives at the summer school and a stranger approaches her and says 'Hello future wife' she is appalled. Dimple is furious with her parents for the deception and she tells Rishi she wants a career not marriage, however they are partners in a competition to create an app during the summer school and Dimple agrees to work with Rishi to develop her idea. While working together Dimple discovers Rishi's talent for cartooning and can't understand how he can put it aside to follow his father's choice of engineering rather than develop his passion. Rishi loves tradition and stability and wants to do the right thing for his family. Alternating chapters from the point of view of Dimple and Rishi highlight the funny side of their situation and their unfolding romance. Both main characters embrace their rich Indian cultural backgrounds and readers can learn a lot about the challenges and rewards of blending them with modern western aspirations in a positive way. While the main characters are well drawn the minor characters are disappointing, particularly the stereotyped rich kids and the plot features web development and app design yet we learn nothing about the process they are supposed to be spending all their time on.
Overall it is funny and romantic with a rich cultural background and about pursuing your passion. It gives an alternative view to the stories about second generation immigrants desperately struggling to overcome stifling cultural expectations like in Helen Thurloe's Promising Azra.
Sue Speck
BUY IT ON
Jul 23 2017
The Wayward Witch and the Feelings Monster by Sally Rippin
Polly and Buster series. Hardie Grant Egmont. ISBN 9781760129019
(Age: 7-9) Highly recommended. Theme: Witches, Monsters, Friendship, Resilience, Acceptance.
Standing up for a friend is being a hero, Polly. No matter who that friend might be. Witch or monster.
Polly the witch and Buster the feelings monster have a special friendship, even in a town where witches and monsters do not interact. Young witches attend the Academy, where they are educated in all area of witchcraft including how to make potions and spells. When young Polly has trouble reading her spell instruction book with disastrous consequences, she needs her special friend to help her and make her feel better. Buster the monster lives next door and they have a secret meeting spot in the tall tree at the end of the yard. When the big furry monster feels happy, he grows bigger, unfortunately sad situations and unkind words make him shrink. While Buster's family welcomes Polly into their home, feeding her delicious meals, Polly's older sister and mother find her wayward ways not up to the proper standard for witches.
When Buster's monster class and Polly's class of witches visit the museum at the same time, trouble looms. The young monster calls out a greeting to his best friend Polly; she ignores him completely trying to impress Malorie. the most popular witch in her class . Buster shrinks into the smallest, saddest monster and then even his classmates tease him. Malorie fabricates a story about Polly saving her from a horrible monster. As the problem escalates, Polly has to make some tough decisions about friendship, popularity and acceptance.
Sally Rippin's junior novel The Wayward Witch and the Feelings Monster is wonderfully written, richly rounded with description and emotion. Her fantasy world of witches and monsters is believably portrayed. The cast of characters with their quirks, faults and special qualities engage the reading audience. Buster's family is warm and comforting; they take in 'unloveable monsters who need love the most.' With the social and emotional themes of dealing with peer pressure, accepting differences and making good choices, this is a perfect novel for Middle Primary classes.
Rhyllis Bignell
BUY IT ON
Jul 23 2017
Truthwitch by Susan Dennard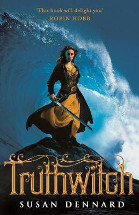 The Witchlands book 1. Pan Macmillan, 2016. ISBN 9781509825028
(Age: 15+) Highly recommended. Fantasy. 2017 Locus Awards nominee. Safiya and Iseult are two young women with uncanny powers. Safi is a Truthwitch, who can tell when something is true. This power is very valuable and empires would do anything to have a Truthwitch as a servant. She keeps her talent hidden and trains with Iseult, whose true powers are unknown, even to herself. When they encounter a Bloodwitch, who can follow on the scent of blood, they must flee their home and go into hiding. At court, Safi meets Prince Merik, a Windwitch and danger faces all three when the elderly King decides that he will marry Safi. With the Bloodwitch, Aeduan following them closely, Safi and Iseult go on the run.
This is a story to keep the reader completely engrossed with the exploits of Safi and Iseult as they come into their powers and realise that they have a part to play in the fate of their countries. The friendship of these two Threadsisters sustains the story, which is very original and compelling. They lean on each other, using each other's skills to come up with solutions and face danger together. Prince Merik's character is complex and the slight romance between Safi and him will delight any romance lovers. The Bloodwitch is quite sinister, but Iseult seems to be able to come to grips with abilities, even as he hunts them relentlessly.
The first in the Witchlands series, Truthwitch will delight fantasy lovers with the friendship between its two main characters who can save themselves, the political machinations of court, swordplay and piracy as well as romance. There is a book trailer at the author's website, and a site for the series here.
Pat Pledger
BUY IT ON
Jul 23 2017
Windwitch by Susan Dennard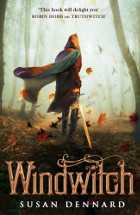 The Witchlands book 2. Pan Macmillan, 2016. ISBN 9781447282310
(Age: 15+) Highly recommended. Fantasy. Windwitch continues the story this time giving more detail about Prince Merik, who is a Windwitch convinced that his sister is not looking after their kingdom. After his ship is blown up and he just escapes with very bad burns, he is ever more certain of her treason and travels to the capital determined to fight for the weak. Meanwhile, Safi has just managed to escape with her life with the Empress of Marstok when they are shipwrecked and Iseult begins the long journey trying to find her. She is able to broker a deal with the Bloodwitch Aeduan and together they follow her trail.
There are many twists and turns in this story, which was not as easy to read as Truthwitch, as it swings from one main character to another in differing chapters. However the reader gets to know the personalities, strengths and weaknesses of the four witches and the geography of the world that they are fighting for. The complex political and power struggles begin to make sense, although Dennard gives a few tantalising glimpses of new characters who are sure to be important.
There are many dangers to face and all four meet them bravely. The reader gets caught up with needing to see Safi and Iseult reunited and to learn how Prince Merik comes to term with the reality of his relations with his sister.
This is engrossing and complex fantasy writing and I can't wait for the next in the series.
There is a site for the book.
Pat Pledger
BUY IT ON
Jul 23 2017
Olga and the smelly thing from nowhere by Elise Gravel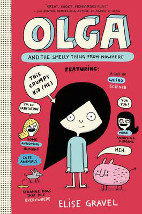 Harper Collins, 2017. ISBN 9780062351265
(Age: 7-9) Themes: Pets, Science Research. Olga and the Smelly Thing from Nowhere is a notebook novel combining easy-to-read text with red, pink and black cartoon graphics. The protagonist Olga is an unusual quirky character, who wants to be an animal scientist; in fact, she prefers animals to humans. She takes her scientific role seriously, using an inquiry-based learning style, documenting her findings in her notebook. Many bathroom humour jokes, descriptions of bodily functions and cartoons of peeing and pooping add to the humour and silliness of this story.
When Olga discovers an unusual animal that looks a cross between an inflated hamster and a three-year-old's drawing of a potato, which smells really bad, she takes it home and hides it in her bedroom. In her observation notebook she records the creature's features, actions, noises 'meh' and 'dowdowdow' when panicked. Olga tries to discover what kind of animal it is by trying to take it into the library with the help of Ms. Swoop, the tattooed punk librarian. After an interesting encounter at the dog park, where they meet Chuck a small dog with a bladder problem, they visit Mr. Hoopah's corner store. He sells a unique assortment of products including nacho-scented toilet paper, cans of live flies and meatloaf nail polish. After experimenting with some very bizarre foods, Meh the Olgamus Ridiculus falls into a bowl of olives that is his favourite. There are mean girls who transform Meh after kidnapping him, plenty of scientific observations, olive recipes and a hunt for the missing pet involving a small dog and many pee breaks.
Elise Gravel's junior novel Olga and the Smelly Thing from Nowhere is a fun story, with many bathroom humour jokes, descriptions of bodily functions and cartoons of peeing and pooping that add to the humour and silliness of this story.
Rhyllis Bignell

BUY IT ON
Jul 23 2017
Ollie's treasure by Lynn Jenkins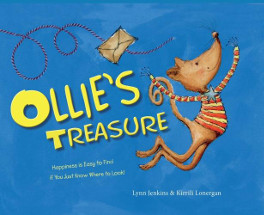 Ill. by Kirrili Lonergan. EK Books, 2017. ISBN 9781925335422
When Ollie receives a letter from his grandmother in the form of a treasure map, he is very excited. What could his treasure be? Could it be a new truck? Or walkie-talkies? Or maybe that game he had been wanting forever? Full of excitement and anticipation he sets out on the trail - looking for the tree with the biggest leaves and gazing at the sky; smelling the brightest yellow rose that reminds him of Gran; wiggling his toes in the grass by the fountain then listening to the tinkle of the water as it splashes; and tasting a plump, red, ripe strawberry in the bowl on the picnic blanket. Finally, he has to lie down and look upwards - and there is a treasure. But it is not what he thought it would be and he is angry and disappointed until he notices the note that Gran has written.
This is a wonderful story about finding joy in the simple things that are all around us just by using our senses and taking notice of what it always there. Beautifully illustrated in a gentle palette that accentuates the text, young readers could have fun talking about what they would consider to be treasure and whether it has to take the form of a physical object and discuss whether Ollie was right to be disappointed and angry when his was not what he expected. They could talk about their own favourite sights, sounds, smells and surfaces and perhaps, as a class, identify a sensory treasure trail around the school, map and travel it, taking photos and writing about their discoveries. On a more personal note, some might even get their own treasure map from their own grandmothers!
An original story with a wonderful message.
Barbara Braxton
BUY IT ON
Jul 21 2017
Shallow in the deep end by Tiwi College Alalinguwi Jarrakarlinga with Jared Thomas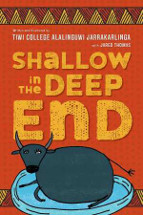 Omnibus Books, 2017. ISBN 9781742762692
(Age: 7-10) Recommended. This book has been written by joint authors, a group of women from Tiwi College Alalinguwi Jarrakarlinga with assistance from Jared Thomas and with the support of Indigenous Literacy Foundation.
Shallow is a baby water buffalo and was given to Erica by her park ranger father after she asked for a dog. Shallow befriends Bruno a young dog Erica is looking after for a friend. The animals' adventures are humorous and beyond the experiences of many mainland children. Shallow and Bruno paddle in a plastic wading pool, they frighten a group of elderly card playing women and become involved in the local football match. The chapter about the school trampoline is especially funny. Imagine a water buffalo and a dog enjoying back flips! These chapters would make great read aloud stories in the classroom.
Each chapter provides an insight into living in Erica's home and country i.e. eating turtle soup as well as the more everyday fair of cupcakes.
The book has simple line drawings provided by the authors. These are unpretentious but highly effective. The cover is brightly coloured and appealing with the curvaceous baby Shallow a strong feature.
Jared Thomas has commented that the girls 'provided readers with the joy, connection and youth of the Tiwi people, country and culture'. These stories are a delightful insight to life on the Tiwi Islands. This is the third book the group have written.
The text and illustrations will appeal to students aged 7 to 10 years old. I recommend this book to primary schools.
Jane Moore
BUY IT ON
Jul 21 2017
High flyers by Laura Sieveking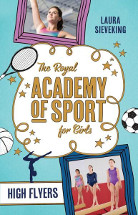 The Royal Academy of Sports series. Random House, 2017. ISBN 9781925324587
(Age: 8-11) Recommended. Themes: Gymnastics, School Life, Friendship. Abigail Rogers is a passionate young gymnast who trains hard and loves to improve on her skills. Her dream is to win a place at The Royal Academy of Sport for Girls. This elite school trains potential champions; here the focus is on both academics and sports with training from top-level coaches in specialist facilities. For Abby to win a place at the academy, she has to perform well in all areas of a special competition. Even with a small slip on landing her floor routine, Abby's excitement is hard to contain when she is chosen for a place at the academy.
With new friends, Mae, Evie and Anwen, the girls step straight into training in the world-class gym with Coach Ana pushing them to achieve their best. Training is hard and each girl is challenged to succeed. Of course, there are rivalries and jealousies with Bella Brunetti trying to sabotage Abby's routines. With Scarlet Belyakov's creative schemes to help the girls find food, life at the academy is exciting. When the friends decide to train harder and include more difficult components in their events, things do not go to plan.
Laura Sieveking understands the realities of competing, the feelings and thought processes of the individual components of the gymnast's routines. The reader gains insight into Abby's reality when the story is told from her point of view. Friendship, school life, sport and athleticism, resilience and persistence are celebrated in this first novel in The Royal Academy of Sports series. These novels are just right for preteen girls who love sporting tales.
Rhyllis Bignell
BUY IT ON
Jul 21 2017
Glitterwing's Book Week blunder by Sally Sutton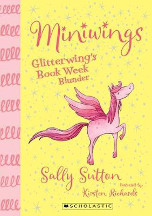 Miniwings book 1. Scholastic, 2017. ISBN 9781775434238
(Age: 6-10) This book will appeal to many young readers - flying miniature horses (including a unicorn), glitter, sparkles and hijinks. What more could you ask for! This is the first book in a series about a set of toy ponies who come alive when there are no adults watching. They belong to sisters Clara and Sophia.
These toys or Miniwings are described in full at the beginning of the book. They all have different appearances and personalities. They tend to create havoc whenever they appear and the girls always seem to suffer the repercussions.
In this book, Clara and Sophia have been tardy preparing for Book Week and have only days to make a costume for the Book Week parade. Their preparations become more difficult when the naughty Miniwings become involved.
The girls also meet their favourite author Suzie Gamble, author of the Horse Girl series. Clara and Sophia make an interesting observation, that Suzie is not as glamorous as she is portrayed by her publishers, but is just as fascinating as her stories. It is Suzie Gamble that provides the final inspiration for their costume.
The special language the Miniwings use is explained in a dictionary at the end of the book.
Sally Sutton, an award winning New Zealand author, is well known for her picture book Roadworks and she plans to write 6 books in this series, each highlighting a particular toy. Book number 2 is called Whizz's Internet Oopsie.
Kirsten Richards, the illustrator has had fun with the drawings. The cover is sparkly, intensely coloured and features Glitterwings, a pink flying horse. Every page has coloured illustrations that highlight the funny happenings in the story.
This book will appeal students who have enjoyed books such as The Ella Diaries or any young horse loving fans. Suitable for 6 to 10 year olds.
Jane Moore
BUY IT ON
Jul 21 2017
The stars are fire by Anita Shreve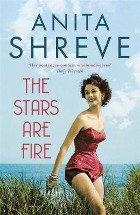 Little Brown, 2017. ISBN 9781408702994
(Age: 16+) Set in Maine, US, in 1947, the story begins with endless rain but with a season change everything turns to summer drought - the parched land and hot wind have people on tenderhooks anxious about the threat of fire. Claire is a young mother of two, trying to work out why the tenderness has gone from her marriage. When the inevitable fires break out, her husband is among the men who leave the town to fight the flames. Whilst he is gone, the fires turn and head towards her home. She and her friend Rosie have to make quick decisions in the crisis. It only Claire's clear thinking that saves their lives and their children, but there is a terrible cost. Her home destroyed, and her husband missing, Claire has to work out how to make a new life for herself and her children. Though there were problems in her marriage, the children miss their father, and Claire is torn between wishing for his safe return and the possibility of a different life where she is in control, can go to work, and find new independence and happiness. For a while it looks like it might be within her grasp. But then everything changes . . .
The characters in the novel have to fend against the challenges of extreme weather - first the rain, then the fires, later cold and snow confine them to one room trying to keep warm. The struggles with the environment mirror the struggles within - the challenge of relationships that turn harsh and unforgiving. A situation that should invoke love and compassion becomes instead a source of torment and misery. It seems like moments of happiness are transient as life continually offers yet another battle.
There is romance in this story but also very real issues of domestic violence, child protection, and finding inner strength. So while the writing style is easy to read and the story soon draws you in, the themes are suited to a more mature reader.
Helen Eddy
BUY IT ON
Jul 21 2017
Speed Zone by Stephanie Bendixsen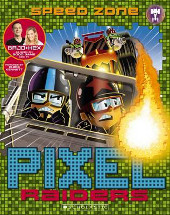 Ill. by Chris Kennett . Pixel Raiders series book 3. Scholastic Australia, 2017. ISBN 9781760275679
(Age: 8+) Themes: Digital Worlds, Computer Games, Fantasy, Adventure. Bajo and Hex's Pixel Raiders series continues with level three of the game world in Speed Zone. Every one of the other BETA testers stranded in Dig World is relying on Rip and Mei to save them. The first event at the Desert Cliff Race Track is filled with fast-paced vehicles, packed with an array of weaponry and special effects, driven by super competitive crews. Mei is in the driver's seat of their dune buggy; she manages to control the unfamiliar vehicle, with directions from the pit crew and shouted instructions from Rip. Along roads perched on cliff edges they race, facing up to the tricks and challenges of the ruthless competitors. As the action continues 'The Noobs', Mei and Rip quickly learn how to manoeuvre their buggy, shoot their weapons and avoid the crazy camels on bicycles, miniature giraffes riding on scooters and gators driving monster trucks. Their badger pit crew lead by Fixet support their team, upgrading their racing car between races. The young drivers even share a meal with the badgers underground in their sett.
Speed Zone is another action-packed gaming adventure just right for young readers. Chris Kennett's cartoon graphics liven up the action and antics of the fanatical animal racers. Maps of each battle zone, captions, bold text and speech bubbles create a visually engaging read.
Students in lower primary classes could design new racetracks and fun vehicles for Mei and Rip.
Rhyllis Bignell
BUY IT ON
Jul 19 2017
Falling by Anne Provoost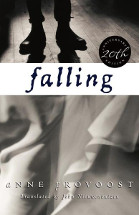 20th Anniversary edition. Allen and Unwin, 2017. ISBN 9781760293925
(Age: 15+) Recommended. Depicting racial tensions between migrants and established citizens of an unspecified region in France or Belgium, the prescience of the author is underlined in this 20th Century anniversary edition by the current refugee crisis in Europe.
Lucas is a metropolitan teenage boy who reluctantly accompanies his mother on a trip to a provincial town in order to deal with his late Grandfather's house and property. The weather is oppressively hot and Lucas is truculent and unenthusiastic until he discovers a chainsaw, reunites with Caitlin (a girl he used to play with as a child) and meets some locals Benoit and Alex.
The story starts slowly and dark details of Lucas' Grandfather's past are gradually revealed. Lucas is an object of pity and slight ridicule as he is the only one who doesn't have knowledge of these events from the past and it causes him angst and embarrassment as he deals with geographic and social displacement. Lucas' mother remains silent due to her own discomfort and bears some responsibility for later events because she fails to prepare and guide her son through this difficult matter.
The title is apt on different levels. Lucas falls in love, he falls in with the wrong crowd and falls into a great deal of trouble. The reader feels a sense of anguish and frustration when he makes such poor decisions which affect himself and others in profound ways but this is because what is portrayed is entirely realistic. This is a cautionary tale about the power of charismatic and unscrupulous individuals and their capacity to manipulate people who have vulnerabilities or who lack the worldly wisdom which would normally help them to protect themselves. The events and terrible consequences resulting from poor judgement are not limited to the circumstances depicted in the novel. Crimes of violence and drug involvement as well as deaths from misuse of motor vehicles are examples where individuals sometimes surrender their own values and better judgement in order to go along with others who somehow disable a person's capacity for self-responsibility. This is a powerful story with great relevance and is a worthy read in its own right, however the prominent message concerning who young people should trust and rely upon will not be lost upon adolescent readers and I recommend it.
Rob Welsh
BUY IT ON
Jul 19 2017
Dogs and doctors by Elen Caldecott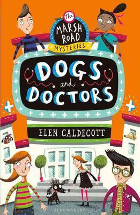 The Marsh Road Mysteries.Bloomsbury, 2017. ISBN 9781408876060
(Age: 9+) Highly recommended. In Dogs and Doctors readers meet a group of children who are rather good at solving mysteries. Sylvie has to stay in hospital and on her first night Barry, the therapeutic dog, is kidnapped. The group of friends are on the job the very next day. They interview people, steal CCTV images and lead the security guards to the laundry. Barry has been here but a chase through the parking lot enables the escape of the dog napper. Meanwhile, a piece of valuable art work, on loan to the hospital, has gone missing. Are the two crimes connected? Was Barry a decoy dog? Is Barry safe? Will the friends beat the police and solve the crimes? The group of friends undertake some rule breaking to get to the truth but they do contact their police connection when danger is imminent.
Dogs and Doctors is part of The Marsh Road Mysteries series but it is a stand-alone story. It is great to see loyalty amongst friends as well as accepting friends for all their faults. The story is an excellent read for girls and boys, especially if they love an adventure where they can't pick the culprits. Dogs and Doctors is descriptive and exciting. The text is easy to read and would make a great model for students creating their own mysteries when writing. It is highly recommended for readers aged 9+.
Kylie Kempster
BUY IT ON
Jul 19 2017
Here Kitty, Kitty by Melanie Alexander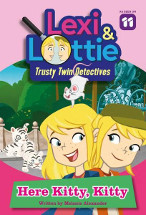 Lexi and Lettie Trusty Twin Detectives. Random House, 2017. ISBN 9780143784135
(Age: 6-10) Lexi and Lottie have their own cartoon show based on their sleuthing antics. They are centred around Appleton Animal Park where, with their parents, they are involved with a variety of animals. Their best friend is Fred, an aspiring journalist for the school paper and along with Lexi's pet mouse, Mozart, he joins the twins on their detective adventures.
Here Kitty, Kitty highlights the latest new members of the Animal Park, two white tiger cubs, Purr and Pounce. They are being shown to the public for the first time but one of the cubs is stolen and this begins the search for the culprit amongst a group of suspects listed by the girls.
The story is divided into chapters and are illustrated with the same cartoon style drawings as the animations. Intense colours are used on both the cover and throughout the book. Lists feature frequently throughout the story, which give facts about animals i.e. 'when fully grown, tigers are the biggest species of the cat family.' Lists also highlight the clues the twins have discovered which makes it easier for the reader to focus on the main points and keep track of the information gathered by the twins.
There are several suspects and Lexi and Lottie have to work their way through the information to remove the innocent from their lists. This allows the reader to try to deduce the crime with the twins and attempt to work out themselves who the true criminal is.
These books will appeal to students who have enjoyed the cartoons or those who like detective style books. Suitable for students aged 6 to 10 year olds.
There is a trailer on the books available.
The cartoons are available here.
Jane Moore
BUY IT ON
Jul 19 2017
Whizz's Internet oopsie by Sally Sutton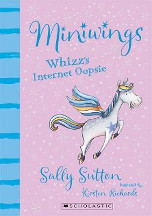 Ill. by Kirsten Richards. Miniwings series. Scholastic, 2017. ISBN 9781775434245
(Age: 6-8) Themes: Horses, Sisters, Internet, Problem Solving. Young Sophia and her sister Clara receive a special magical gift from their Nana, six colourful, little winged horses. At first, the girls think they are just cute plastic toys; however, they are naughty, talking flying creatures who love to cause trouble! Sophia's introductory letter to the readers and the gorgeous colourful paintings and description of these cute creatures begin this easy to read young novel.
When Clara and Sophie express their desire to shop online, their mother quickly responds with a firm response, 'dream on,' she says! However, while the young girls prepare for the new school term, the Miniwings take matters into their own hooves! Oceania suggests she will splash in the bathtub and Moonlight wants to make a 'scrumbly' chocolate cake when the sisters go to school. Clara and Sophie's decision to leave their computer on for the Miniwings' entertainment leads to interesting consequences. Parcels and packages begin to arrive at the house, first there's a foot spa, ordered by water-loving Oceania. The next surprise to arrive is a cordless drill perfect for Comet to decorate the bedroom walls with stars and a moon. Claire and Sophia come up with some very creative responses to their parent's questions.
The nanny goat's disastrous visit to school where she poops, eats the class rules and butts holes in the wall is comical. Luckily, for the girls their quick-thinking Nana arrives to help with their problems.
Kirsten Richards' whimsical creatures, fun cartoon characters, quirky pastel paint and ink drawings fly, swirl and frame Sally Sutton's entertaining story told from Sophie's point of view. Whizz's Internet Oopsie is a fun and fanciful story, just right for young girls who love horses.
Rhyllis Bignell
BUY IT ON
Jul 19 2017
A Canadian year -Twelve months in the life of Canada's kids by Tania McCartney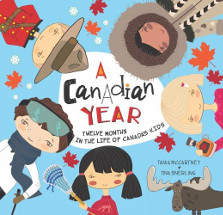 Ill. by Tina Snerling. EK, 2017 ISBN 9781925335439
Continuing this fabulous series which includes A Kiwi Year, An Aussie Year, and a host of others, young children are introduced to the children of Canada. There is Chloe, who speaks both French and English; Oki who is Inuit, Ava who is of Chinese heritage; Liam of Scottish heritage and Noah whose dream is to place ice hockey for the Vancouver Canucks - kids just like those found in every classroom in Australia but whose lives are subtly different because of their geographic location. Whoever heard of it being -30° in January and instead of being at the beach kids are skiing, skating and sledding? And as we currently shiver through early winter and another Big Wet, it's hard to imagine there are children on summer vacation for two months, kayaking, salmon fishing in the ocean, swimming, camping in the wilderness and visiting Santa's Summer House just outside Toronto. If nothing else, and there is SO much more, students will learn about the seasons being somewhat different in the northern hemisphere.
Offered as vignettes for each month, young children learn that there are places beyond their immediate horizons and there are kids who do things that are a bit different but overall, despite the timeframe, they enjoy and do the same things as kids everywhere so there is more that binds than divides.
Intercultural understanding is a mandated part of the Australian Curriculum so that students "understand how personal, group and national identities are shaped, and the variable and changing nature of culture" and this series is the perfect way to start this with young children whose concepts of the world are just developing.
As usual, there is the is a double-page spread featuring intriguing facts and figures which just invite comparisons with Australia - if 'Canada" comes from 'kanata' meaning village, where does "Australia" come from? If Canada is the world's second-largest country, what is the largest? What's the difference between large as in area and large as in population? While teachers' notes are available, the children themselves will generate enough questions to drive their own investigations.
Why not use it as a model for a class calendar, highlighting the important events of each child's life in each month visually exploring the unity and the diversity and promoting an important bond of belonging and acceptance so that lives and heritage are celebrated. Create a wall display for each month and invite the children to contribute to it, and then compare what is happening with other children in other parts of the world using this series as the key resource.
Barbara Braxton
BUY IT ON
Jul 19 2017
Finding Nevo by Nevo Zisin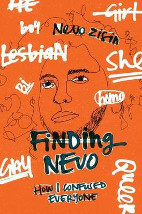 Black Dog Books, 2017. ISBN 9781925381184
(Age: 12+) Highly recommended. Sexuality, Coming out, Trans gender. In a society where male and female roles are delineated, someone growing up knowing they fit neither one nor the other will be highly confused and disorientated. So it is with Nevo.
This introspective memoir is an outstanding contribution to any discussion about transitioning, a book about someone who feels at odds with the gender roles of the society in which they live.
Nevo, a bright Melbournite is born female but always feels more at home in boy's clothes. In primary school Nevo hangs about with girls, and at high school comes out as a lesbian. But they never feel at ease. The Jewish high school is supportive to those who feel different, espousing a Safe Schools program, suggesting they join a group to develop leadership skills. Nevo feels like an outsider until meeting a girl who challenges these feelings, joining Nevo along their journey.
Nevo's confusion continues all through teenage years, leading to a decision to transition when eighteen, beginning with taking testosterone and eventually surgery for breast removal. Nevo's candid exploration of the way they feel is incredible, ensuring any reader will feel empathy not only with Nevo but others who feel confused about their sexuality.
All the confusion about growing up is there: coping with a blended family, sibling rivalry, gender politics, getting on with groups at school, mental health and bullying, but overlaid with a momentous confusion about your sexuality, makes this is a gripping read.
At a time when right wing pundits are questioning the Safe Schools program, this book offers the strongest of reason for the program to be available, underscoring the value of teens seeing that they are not alone.
And Nevo makes clear the lack of role models, the lack of these people seen in our society: the press, television and books rarely have anyone gay, let alone trans, and this makes people feel more marginalised.
If this book supports those going along the same path as Nevo and helps others empathise with those going through this process, then it has done its job. And done it well.
A glossary of terms is followed by a list of resources, particularly online, where people can find support and help.
Fran Knight
BUY IT ON
Jul 19 2017
Superstar Tapir by Polly Faber and Clara Vulliamy
Mango and Bambang, book 4. Walker Books, 2016. ISBN 9781406361490
(Age: 7-10) Highly recommended. Superstar Tapir is the fourth book in this delightful series starring Mango and the tapir Bambang. It is divided into four separate stories, each quite unique and interesting.
In Snow day, Bambang is intrigued about the idea of snow and wonders just what it, is, and even though there is no snow around, Mango comes up with lots of different ideas about what snow looks like and feels like. Their adventures culminate in a ride in George's wagon, pretending to be a snow sled and when they stand under a blossom tree they pretend that it is now and they and make a snow angel out of the blossoms.
A night at the fair sees Mango's father finally leaving his study to take them off to the fair. After he wins them toys at the hoopla stall, Mango and Bambang go to see the Egyptian treasures where they are accosted by their old enemy Cynthia Prickle-Posset. What adventures!
Their friend, Rocket the dog faces some trials in Rocket to the moon, when he is convinced that he has found a space ship to take him away. Mango and Bambang have to use all their ingenuity to find him when he disappears.
In A tiny tapir's tears, Guntur the tiny tapir reappears as a star in Minty Verbena's latest movie. Mango and Bambang are invited to the opening and here they have to rescue him when he begins to fall from a collapsing chandelier.
All the stories are a pleasure to read and the black and orange illustrations add to the interest and humour.
Pat Pledger
BUY IT ON
Jul 19 2017
Everything, everything by Nicola Yoon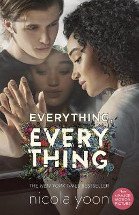 Ill. by David Yoon. Random House Children's Books, 2017. ISBN 9780552576482
(Age: 13+) Themes of romance, family relationships, illness. This is Nicola Yoon's debut novel; a touching romance between two young people wanting to experience love but it could be the death of one of them.
Bubble girl, Madeline Whittier is allergic to the outside world. She has not left the house since her father and brother died in an accident when Maddy was a child and now, at 17 years old, she yearns for a relationship that is different to those she has with her mother, her nurse and her tutor. This desire is a closeness that may only be achieved with Olly, the boy moving in next door, the boy with eyes the colour of the Atlantic Ocean.
Madeline's story unfolds with drawings, diary entries, lists, charts, and personal narratives. The illustrations, which were drawn by Nicola Yoon's husband, David, added an unusual and personal touch to the telling of Madeline's story. I particularly enjoyed Madeline's Spiral on page 233; it is an illustrative elegy to Madeline's dreams. And on pages 237-8 we come to a halt along with Maddy's heart with black pages and few words. This type of visual emphasis on emotion turns a book into a more physical reading experience which students will enjoy examining.
I did find that the story had two drawbacks. Although the characters and relationships were being developed expertly before my eyes, the most important character to the plot, Madeline's mother, was sadly a missing substance. I know that Madeline was loved by her mother but the way Nicola Yoon continuously described the same mother daughter activities and Madeleine's love and desire to save her mother any more pain was tedious to read about. The second drawback was Maddy's calm resignation to her life. If a teen was actually in this predicament would there be more teen angst, more tension, than portrayed by the fictional character of Madeline? This could be a position for debate amongst students.
For a debut novel it is very exciting that Everything, Everything is being turned into a movie and I hope it can do Nicola Yoon's work justice.
Sharon Smith

BUY IT ON
Jul 19 2017
The whole thing together by Ann Brashares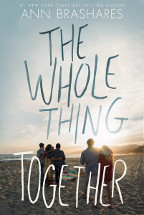 Penguin Random House, 2017. ISBN 9780141386300
(Age:12+) Recommended. The novel The whole thing together, written by Ann Brashares describes the realisation that people saving and caring for something or someone can be brought together by a sudden disaster. The whole thing together makes you rethink your family and friends because the author uses a family reunion to bring the story to life. A messy divorce years before, resulted in shared custody of Ray and Sasha's siblings. As the youngest of their respective families and unrelated, both Ray and Sasha find themselves sharing their half-siblings and holiday home bedroom - but not each other. A chance meeting sparks romance and you can imagine the result when all members of the extended families are finally brought together in the one place.
This story, set in New York, is easy to relate to, although for me it was hard to connect with the characters. This is because the author switches the perspective of the characters before the reader can connect with them.
Overall the novel was simple but enjoyable and those who read it will find comfort doing so. I recommend this book mainly to those who are looking for an easy read with a little twist - a wonderful, open and loving story targeting readers between 12-18 years of age.
Cara F. (Student)
BUY IT ON
Jul 19 2017
The naughty naughty baddies by Mark Sperring and David Tazzyman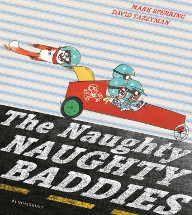 Bloomsbury Publishing, 2017. ISBN 9781408849736
(Ages: 2 - 6) Highly recommended. Picture Book. A highly improbable and amusing tale whereby 4 baddies hatch a 'dastardly' plot to steal the spots of the Queen's little dog amongst other minor naughtiness like the sticking out of tongues and the blowing of raspberries. What greater fun is there to be had than to see oneself as a 'baddy' creeping around with your friends in a quest to make as much mischief as possible? And to put oneself in a position of power over someone as powerful as the Queen herself is definitely irresistible to the average 4 or 5 year old!
There are a number of powerful words used in the text that would bear discussion with the young reader, 'dastardly' and 'fiendish' being great additions to anyone's vocab. Delightful, 'diabolically dreadful' and 'dastardly' alliteration is used throughout, and that wonderful repetition of the 'naughty, naughty baddies' is sure draw in the young reader when read aloud.
Creeping is at the forefront of the baddies' skills with 'sneaking' coming in at close second. My three year old granddaughter is quite convinced that her creeping skills are vastly superior to any adult's ability to spot her little body wending its way slowly along the lounge room curtains. If you creep well enough you can get away with anything and steal the spots off the Queen's doggy, indeed the 4 baddies do. What happens as a result of this improbable crime needs to read to be believed.
The ending was a little up in the air for me - not a particularly satisfactory resolution with the tables turned on our most powerful leaders. It may leave the little reader wondering exactly what happened.
Elizabeth Avery
BUY IT ON
Jul 19 2017
Nanette's baguette by Mo Willems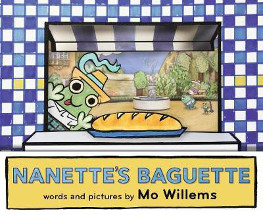 Walker Books, 2016. ISBN 9781406376210
(Age: 2 - 6) Recommended. Picture Book. It's all in the rhyme! Just exactly how many words can one get to rhyme with baguette?? You will quickly find out on reading Mo Willems' latest picture book.
Cleverly illustrated with photographs of his own purpose made paper and cardboard constructions, Nanette, the little French frog is sent to the bakery by her mother on a quest for a baguette; indeed, to 'get the baguette'. She can't resist the wonderful smell, however, and wonders how on earth she will give her mother the bad news on arriving home. The delightful ending will put a smile on the dial of every small reader; just no one can resist the smell of warm baguette.
This is definitely a book to be read aloud, the whole fun of it being in the rhyme. Whilst the plot is one all young children will relate to, it isn't particularly deep and meaningful; just crazy fun. My three year old granddaughter likes a little more of a plot than this book developed but nevertheless enjoyed thinking about how many words could be rhymed with baguette very much warmed to the thought of eating one.
Elizabeth Avery
BUY IT ON
Jul 17 2017
The perfect thing by Sally Morgan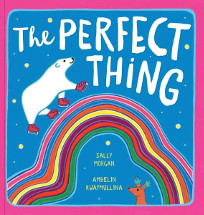 Ill. by Ambelin Kwaymullina. Scholastic, 2017. ISBN 9781742991122
(Age: 4+) Highly recommended. Aboriginal themes, Grandparents, Solutions, Family, Imagination. When Grandpa wants to go to the park, Lily thinks up all the excuses in the world She tells him that the dog has eaten her sneakers, and the cat has shredded her rain coat, she has a sore throat and the bird has taken her scarf for its nest, the wild weather will give her an ear ache and the wombat has used her warm hat to put in its burrow. Every time she finds an excuse to deflect Grandpa from going to the park, he finds a solution, and each solution is wonderfully inventive and delightfully illustrated In place of her sneakers he offers his thongs and when she tells him that they are too big, he suggests she pretend that she is a whale and that the thongs are flippers helping her to get to the park. Each of his perfect solutions offer another humorous response from Lily. His perfect thing is offered over and over again to her excuses, inviting the audience to think of perfect things for themselves when Lily offers another reason for not going to the park.
Kwaymullina's bold illustrations in bright swathes of colour are presented in framed sections on each page, asking the reader to see the story in sequences from one frame to the next.
The ending will bring more smiles as Morgan cleverly brings the story back to the beginning, with Grandpa and Lily going to the playground, the perfect thing.
This delightful story will encourage responses from the readers as they join Lily in her excuses and think along with Grandpa of ways to circumvent her reasons for not going. Imagination is all, from the invention of Lily's reasons, to the perfect things suggested by Grandpa to the two of them finding marvelous things at the playground. I loved the interaction between Lily and her Grandpa a wise old man, and the interplay between them. And younger readers will love the range of animals shown in the story.
Fran Knight

BUY IT ON
Jul 17 2017
The city bleeds gold by Lucy Saxon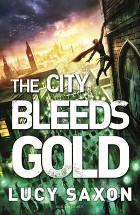 Tellus series book 3. Bloomsbury, 2017. ISBN 9781408847732
(Age: 11+) Recommended. An initial impression was one of disappointment, starting with the all too convenient map of the Tellus archipelago. Learning that the protagonist Noah has an alter ego, Daniel, who is pretty much the Spider-Man of this fantasy realm, didn't help matters - but to be fair, this is Volume 3 and the world of Tellus has already been well described in Volumes 1 and 2: Take Back the Skies and The Almost King.
The City Bleeds Gold gains momentum with Daniel's nocturnal forays into the lower city to protect his fiance, Princess Crysta. Crysta is the future Queen of Erova, the largest territory of Tellus. In her parents' absence, it is her job to organize the annual festival to ensure the favour of the Goddess and the sustainability of the kingdom. Noah, a commoner and mask-maker like his father, is not exactly the most popular choice of future consort according to just about everyone but Crysta. With both Damian, head of security, and the younger princess Rosa, in tow, they focus on protecting Crysta and the supremacy of Erova from an assortment of threats. Daniel (Noah in disguise) has both the ability and the motivation to be spying on potential enemies but is unacknowledged due to his secret identity.
A measure of romance means that the main characters are developed well. A young author of 21, Saxon expertly builds suspense as Daniel uses the roof tops to spy on and stymie the bad guys. When Daniel's intelligence gathering finally plays out, the novel becomes a heady page-turner in the milieu of the high fantasy and appropriately named, Tellus series.
Deborah Robins
BUY IT ON
Jul 17 2017
Tiny Timmy on tour! by Tim Cahill and Julian Gray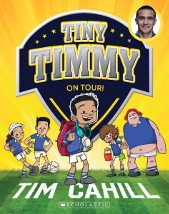 Ill. by Heath McKenzie. Tiny Timmy series, book 5. Scholastic, 2017. ISBN 9781743816509
(Age: 7-9) Recommended. Themes: Soccer, Team Sports, School stories. Tiny Timmy and his soccer team performed extremely well at the Gala Day and now they have the opportunity to play against some of the best country school teams. Coach Roach calls a lunchtime team meeting and shares the good news with the players. They are off on a five-day bus trip to play the Big Country Beasts, the Pine Hill Possums and the Wave Beach Wanderers. Timmy is both excited and nervous as this is the first time he has spent so long away from his family.
The five days away from home are filled with fun, laughter, food and plenty of soccer. While Timmy and his mates focus on eating healthy foods, team clowns Studs and Hacker overindulge at the motel buffets resulting in a loss of stamina during the games. The first game against the Big Country Beasts is too much for the Lions, they struggle with the much bigger players. Back at the motel, Tiny Timmy can't fall asleep due to Stud's snoring and the boys' late night video game playing. The Pine Hill Possums prove to be a sneaky team up to all sorts of tricks and dirty tactics but Studs saves the day with a lucky goal. Their final game is fast-paced, filled with super teamwork, great goals and a surprising outcome. After a fun celebration at the beach, the team board the bus and head home tired, but happy.
This easy to read chapter book features text with different sizes of font, words in bold and in graduated sizes, animated words and bigger spacing. Heath McKenzie's line drawings are humourous snapshots of Timmy's life, his family, friends and the soccer games. This series is great for high interest, lower reading age students as well.
Rhyllis Bignell
BUY IT ON
Jul 17 2017
Muddle and Mo's worm surprise by Nikki Slade Robinson
Starfish Bay Children's Books, 2017. ISBN 9781760360306
(Age: 3+) Goats, Friendship, Food. Friends, Muddle and Mo are going to have lunch. Muddle collects a range of worms to add to the lunch basket: big and little, fast and slow. They then must take the basket up a rather steep hill to sit beneath the tree and eat lunch. Mo does not seem too happy about his Worm Surprise, particularly after his exhausting climb, but is pleasantly surprised when Muddle reveals that Mo's lunch does not contain any worms.
I love the illustrations: the goat and chicken are very cute and will appeal to the young people who read the book. The range of expressions on the animal's faces are a mine of information for the reader, and the movement will ensure the readers' eyes are drawn across the pages.
Initially I thought the story was showcasing comparative words such as big and little, fast and slow, and expected that to continue, but the story fades a little to the climax of Mo giving his friend a Worm Surprise that contains no worms. Children will certainly sympathise with the goat's possible worm salad, and be relieved when his friend makes an exception for his taste. Children will be able to talk about things they like and what they do and do not eat when talking about this book with others, and see that friendship means not imposing your taste on your friend. First published in New Zealand.
Fran Knight

BUY IT ON
Jul 17 2017
Trouble tomorrow by Terry Whitebeach and Serafino Enadio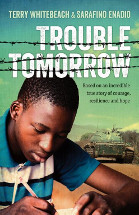 Allen and Unwin, 2017. ISBN 9781760291464
(Age: 12+) Recommended. Civil war, Refugees, Refugee camps, Survival, Sudan. Obulejo and his friends must run for their lives when rebels come, searching for boys his age to train as boy soldiers. He is living in a boarding school, St Xaviers, far from his village, where he hopes for a good education, but they are all aware of the civil war outside the confines of the school, causing alarm throughout southern Sudan.
Escaping into the bush, he is exhausted, hungry and thirsty when a woman offers him food. He meets others like him, and together they head for the border with Kenya where they hope they can get into a refugee camp and be safe.
The book falls easily into three sections, the first is his village life and its disruption by civil war and the trek to the refugee camp, next comes his survival in the camp, and finally the trip to Australia.
If the trek to Kenya was harrowing enough his survival in the camp causes him huge concern. Here he learns to steal to survive. With his upbringing and education, he knows this is wrong and it causes him great heartache, but he makes the decision to focus on his education with the hope of getting out of the camp.
Densely packed with his life story, images will stay in the readers' minds, and the question always asked of what would they do in his place. An absorbing read of a life far from our own, the tale will give a background to some of the stories seen on TV, and help younger people sympathise with the plight of displaced people, who for no fault of their own have lives totally disrupted by civil war.
At the beginning of the book is a welcome map to chart his journey and at the end, Whitebeach has included a brief history of the Sudanese Civil War, along with a photo which astounded me. Reading about the harsh bush and frightening jungle through which Obulejo walked it was a surprise to see an image of a serene village surrounded by dense jungle and a mountain. It had me looking at photos of Sudan on the internet to look further at this beautiful place.
Fran Knight
BUY IT ON
Feb 02 2017
Literature to support the Science curriculum Foundation -7 by Fran Knight and Pat Pledger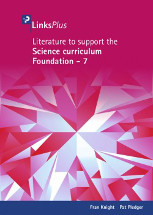 Pledger Consulting, 2016. ISBN 9781876678470
Highly recommended for educators. Subjects: Science curriculum; Fiction; Annotated bibliography. Fran Knight and Pat Pledger continue to write first-rate reference tools for teachers in primary school education, which focus on key curriculum areas. This resource links popular picture books, junior and senior novels and non-fiction books with the Australian Science curriculum. Each book listed has a review available on the ReadPlus online database.
Set out in an easy to read format, each year level and scientific topic is explored with listings presented in alphabetical order of the author. A comprehensive index is included as well.
Pamela Allen, Jeannie Baker, Phillip Gwynne and Elizabeth Honey's popular picture books support the Foundation Biological Sciences strand and the Inquiry Skills. Recent publications such as Aleesah Darlison's Spider Iggy and Roland Harvey's On the River provide up to date scientific information in a story format. The scientific and geographic books by writer and researcher Peter Gouldthorpe provide an excellent foundation for Year 6 students investigating Earth and space sciences. Content included covers Aboriginal perspectives and presents books that introduce a scientific worldview.
Fiction is an invaluable tool for introducing a new science subject, for encouraging investigation, for introducing keywords, setting up a word wall and stimulating creative inquiry and research skills.
Literature to support the Science curriculum Foundation -7 is a significant resource for educators and teacher librarians and for supporting STEM programs.
Rhyllis Bignell
Editor's note: The book is available here.

BUY IT ON
Jan 30 2017
Literature to support the Australian curriculum: HISTORY. Foundation - Year 10 by Fran Knight and Pat Pledger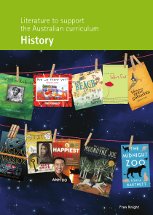 LinksPlus, revised 2016. ISBN 9781876678265
Highly recommended - for educators. Subjects: History curriculum; Fiction; Annotated bibliography. Fran Knight and Pat Pledger are committed to providing educators and librarians with excellent reference tools that support the Australian curriculum. This LinksPlus resource highlights popular picture books, junior and senior novels and non-fiction books suitable for the Foundation to Year 10 Australian History curriculum. Each book listed has a review available on the ReadPlus online database and relevant web links.
Set out in an easy to read format, each year level and history topic is covered with the listings presented in alphabetical order of the author. A comprehensive index of authors and titles is included as well. Literature specialist Fran Knight has selected each title from both newly published and familiar titles with both familiar and new authors included.
Phil Cummings, Libby Gleeson and Bob Graham's picture books support the Foundation Year curriculum of Personal and family histories. The cycle of life, family relationships, grandparents, Aboriginal and migrant family stories are included. Bob Graham, Kylie Dunstan and Katrina Germein's familiar stories support students' learning about how family stories are communicated.
Year 5 learners study Australia's colonisation, migration and democracy in the 1800's. Sofie Laguna and Gabrielle Wang's novels written for the Our Australian Girl series, provide insight into colonial life in Sydney and life on the goldfields.
Secondary students investigate historical perspectives from the Ancient to the Modern World. Fiction novels are an invaluable tool for introducing a new subject, for critical thinking, developing understandings of different worldviews and cultural insights. A diverse range of novels by a wide range of authors including Jackie French, Rosanne Hawke, Anh Do and Charles Dickens, support the development of historical understandings.
Literature to support the Australian curriculum: HISTORY. Foundation - Year 10 is a valuable resource for educators, secondary school HASS departments, curriculum specialists and school libraries.
Rhyllis Bignell
This is available here.
BUY IT ON
Feb 21 2016
Fiction gems: Recommended fiction lists for Upper Primary and Lower Secondary students by Fran Knight and Pat Pledger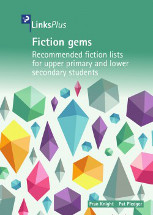 Pledger Consulting, 2016. ISBN 9781876678456
Teacher reference. What a great resource for those charged with purchasing or recommending reading material for Upper Primary and Lower Secondary students. The Middle School aged reader can have specific interests or reading demands and keeping on top of current and favourite books can be very difficult without some help from trusted reviewers. This book lists Fiction recommendations within a number of categories; some books are indicated for more mature readers, but most are well-suited to the 10-15 aged reader.
Each book is summarised with a 1-2 sentence brief overview, so it is easy to peruse for suggestions for readers. More complete reviews are accessible via the ReadPlus review blog index.
This is a book that would be a good resource on the Librarian's shelf.
Carolyn Hull
BUY IT ON