Review blog
Click here for the ReadPlus Review Blog RSS feed. Copy the link location into your feed reader.
Click here to see all reviews
Feb 20 2018
Room on our rock by Kate and Jol Temple
Ill. by Terri Rose Baynton. Scholastic, 2018. ISBN 9781742764108
(Age: 4+) Highly recommended. Themes: Refugees. By the time any child reads to the end of this book, they will be saddened by the selfish seals, reigning over their bit of rock in a vast ocean, turning away a mother and her pup who try to land. But the instructions at the end of the book tell the reader to read backwards, and in doing so, the same words are read, but reading them from back to front offers a message as old as time: welcome.
No one could be in any doubt about the message in this lovely book. The selfish seals try to keep their land for themselves, even though there is plenty of room. But in reading backwards, a welcome is given to share their rock, to join them.
The evocative watercolour illustrations give a poignancy to the animals as they lounge on their rock or swim and surf in the ocean. The vastness of the sea and waves is given sway on every page, underscoring the isolation of Australia from the rest of the world, and with the first reading of the book, a voice is raised with concern about how Australia meets its refugee responsibilities.
But the tide turns with the reading backwards, and will delight and engage young readers, revitailising discussions within the classroom about our multicultural country, its immigrants and their huge contribution to the Australian way of life. One of these books has a place in every school.
Fran Knight
BUY IT ON
Feb 20 2018
Jack's daughter: Growing up German in World War 11 Broken Hill by Christine Ellis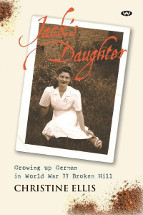 Wakefield Press, 2017. ISBN 9781743055090
Recommended for mature readers of historical biography. Christine Ellis writes a loving biography of her mother's life.
Maisie Schuster's father Jack died at the age of 54 years when she was ten years old. His illness from pneumoconiosis (caused by dust from mining) not only robbed him of his own life but also assigned Maisie to a life of hardship and pain which she would not have endured had he been present to protect and guide her through adolescence.
Maisie and Jack had enjoyed an especially close and loving relationship and the girl's life became miserable and unduly harsh as she coped with a hard, sometimes brutal mother who appears to have transferred her own suffering to the daughter. Circumstances were made worse by the depressed economy and high unemployment in their city of Broken Hill. The fact that Jack was German and World War 2 had begun a year previously also meant that the family suffered from suspicion, bullying and bureaucratic discrimination.
Given that the nation was at war, fear of enemy infiltrators is on some level understandable, except when applied to families who had been residents and model citizens for decades. Some aspects of the security measures were breathtakingly stupid and unfair.
Life was incredibly tough for everyone at the time and for Maisie's family living on the late Jack's compensation payments, frugal attention to the spending of every penny resulted in them living in what we would now recognise as desperate poverty. At the time however it was simply accepted as hard times, with an observation that the situation for others was worse.
Christine Ellis rejoices in her mother's resilience, resourcefulness and kindness to others. Whilst I completely understand her pride, I felt a great sense of sadness that this woman was perpetually dragged down by others when she showed so much promise in her achievements. Denied education by her mother, this academically gifted achiever who yearned for a nursing career was instead pulled out of school for domestic work at home, caring for her mother and brothers. Refusing to give up, she set up her own hairdressing operation and earned managerial positions in business, only to have to leave to care for her manipulative and controlling mother who subjected her to physical and emotional abuse, including savage beatings.
Sadly, it would appear that this treatment conditioned Maisie to perpetually relegate her own needs and wishes to those of her family members and later an abusive husband. At times it seems that Maisie's pain and misery will never end, yet I'm pleased to say that hope and fulfilment are also present in this account.
Whilst heartbreaking in parts, Christine Ellis emphasises all that was good in her mother's adventures and gives an affirming tribute to her mother.
Rob Welsh

BUY IT ON
Feb 20 2018
Boogie bear by David Walliams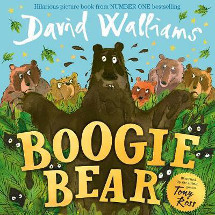 Ill. by Tony Ross. HarperCollins, 2018. ISBN 9780008172770
(Age: 5+) Highly recommended. Themes: Difference, Polar bears, Brown bears, Adventure. When the polar bear falls asleep after eating her magnificent lunch, she wakes to find that the ice on which she has slept has broken away and been swept far from where it started. She is most concerned, and the words, 'oh dear' begin to appear on the pages as her situation goes from bad to worse. The ice melts as she drifts towards a warmer climate, until finally it melts altogether, dumping her into the sea. Spying an island nearby she bear paddles towards it only to be confronted by many pairs of eyes. Her situation becomes more dire when she finds that the eyes belong to a pack of brown bears, who are not altogether happy with this interloper. She climbs a tree, only to be shaken and she falls into a muddy puddle. Here things happen which make her see things are about to get much better.
The tale of how one polar bear is accepted by the pack of brown bears underlines the idea of cooperation and acceptance, of being different but the same. The tale will make readers laugh out loud and they cannot help but understand the theme of diversity. The little additions of bear facts will further enhance the fun in the book.
Tony Ross' laugh out loud illustrations will intrigue and delight the readers, as he shows the bear in all her glory, merrily floating out to sea, falling haphazardly into the water, attempting to find land and then dealing with an angry mob of brown bears. Each illustration of the bear adds to the humour as Ross with a few seemingly simple lines can add touches of emotion to the faces of the animals. Children will be in no doubt about the polar bear's anxious moments and her finding resolution at the end, and may even see the link to climate change and the changing environments that animals now have to deal with.
Walliams' books have sold over 20 million copies around the world, and his collaboration with Ross has seen some great picture books and novels being published.
Fran Knight
BUY IT ON
Feb 20 2018
48 hours: The vanishing by Gabrielle Lord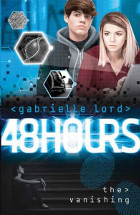 48 Hours series book 1. Scholastic, 2018. ISBN 9781743629758
(Age: 11+) Highly recommended. Themes: Kidnapping, Detectives, Murder enquiries. Jazz's best friend, Anika has been kidnapped. Her blog about a dusty old journal she found hidden in her house seems to have attracted the wrong sort of attention. Her parents are adamant that the police not be called as they wait by the phone for instructions from the kidnappers. So Jazz, an amateur detective who sees everything through a detective's eye, decides to find Anika. But she needs help, and the only other person with a brain like hers is her mortal enemy, Phoenix, whose mother just happens to be a forensic scientist with a lab at her home!
Together they search Anika's house for clues, using the correct gear from the lab, but the CCTV reveals nothing, until a loose floorboard opens up a portal ripe for avoiding being seen. Gathering DNA evidence along with fingerprints, the results lead them to a cold case.
But the 48 hours deadline is looming large over their heads, so time is of the utmost importance.
An exciting opening book in a new series, 48 Hours will have readers looking forward to the next in the series, as Lord offers a range of research techniques for the amateur detective. The Vanishing offers two new characters, sometimes at odds with each other, but combining their skills to find an answer to the question as quickly as possible.
Well written, with plot twists to keep readers going, and forensic detail to intrigue, the series offers an easy to read set of books for middle school people.
Fran Knight

BUY IT ON
Feb 20 2018
Pax by Sara Pennypacker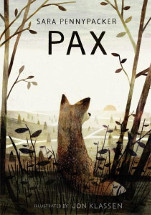 Ill. by Jon Klassen. HarperCollins, 2017. ISBN 9780008158286
(Age: 11 - adult) Highly recommended. War, peace, Animals, Foxes. When his gruff and distant father leaves to fight in the war, motherless Peter is forced to stay with his grandfather and made to abandon his pet, a fox called Pax.
At his grandfather's he learns of the dog his father once owned and cared for. They were inseparable. Duty and responsibility overwhelms Peter. He feels abject guilt at leaving his pet behind and decides he should be with Pax. He packs his rucksack, takes some water and food, and sets off, back to the place where he abandoned the fox, and in alternate chapters we learn of what Pax is doing to get back to his human.
After he falls and breaks a bone in his foot Peter meets Vola a one legged recluse living in the woods. Through her he comes to understand the effect of war, as he is maneuvered to use her marionettes to tell the story of Sinbad. She killed a man in a previous war and finding a tattered copy of the Voyages of Sinbad in his coat pocket, carved the puppets as a memorial to him, but now she needs to see it performed. Peter is forced to stay with her until his foot has healed enough for him to move on, but he is anxious to leave and she is just as anxious that he is able to survive alone. The two rub against each other just as Pax is finding it difficult surviving with the other foxes he meets, learning the skills he missed as a kit,
An involving story of survival, the author is able to get inside the fox's head to portray its survival with assured realism. She beautifully contrasts the development of all three characters as they adapt to the changes in their world, while Klassen's brittle, black and white illustrations form a majestic backdrop to the events.
Beautifully written, Pax can be read by children and adults alike. The image of war is ever present, from the father going off to war, the woman, Vola and her wooden leg and her mission to see the Sinbad story performed, and the threat of encroaching war.
Peter eventually leaves to find the fox, and a heart stopping conclusion brings the reader to rethink the idea of friendship and challenge the concept of war and its effects on the people involved.
Allusions to Sheherazade, the tale of the phoenix, the stories of Sinbad, the roc, and so on are throughout the book, impelling the reader to look further into the tale. The stories behind Vola's life too are captivating as she becomes the teacher she wanted to be, rather than the soldier she was.
This wonderful book held me to the end.
Fran Knight

BUY IT ON
Feb 19 2018
The brilliant fall of Gianna Z. by Kate Messner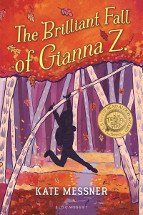 Bloomsbury, 2018. ISBN 9781681195476
(Age: 10+) Highly recommended. E.B. White Read Aloud Award 2010. On your mark... get set... go finish your science project? All Gianna Zales wants is to compete at the cross-country finals, but there's something standing in her way - a science project. She has less than a week to collect and document twenty-five leaves, and she'll lose her spot on the team if she can't pull it off. With a forgetful grandmother, a hearse-driving father, a mean-girl running rival, and new feelings toward her best friend, Gianna wishes life would just leave her alone to finish the project. Can Gianna Z. get the stroke of brilliance she needs to make it all work out?
Gianna will quickly draw people in with her infectious personality and will resonate with many tweens. With themes of family, friendship and being true to oneself, connections will be able to be made throughout the story. The various storylines including the lengths some will go to avoid completing homework, an ailing grandmother who is developing signs of Alzheimer's and the stereotypical mean girl all combine together to make an enthralling book. Gianna is torn in so many directions while trying to balance her commitment to the track team and taking on the roles of artist, daughter, friend and grand-daughter. This book will be a huge hit with a wide variety of children and I would strongly recommend it for ages 10 and up. A must have for the library collection.
Kathryn Schumacher
BUY IT ON
Feb 19 2018
Deception by Teri Terry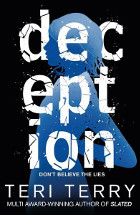 Dark Matter, book 2. Orchard Books, 2018. ISBN 9781408341742
(Age: 13+) Recommended. Themes: Science fiction. Epidemics. Dystopian fiction. Following on immediately from Contagion, the first book in the series, readers are swept into the British countryside as an epidemic sweeps the country. Shay is convinced that she is the carrier of the virus and without telling Kai, has left Shetland to give herself up to the authorities. Kai follows her trail, desperate to find her and faces danger on the way as the survivors of the plague are hunted down by vigilantes and the secret service.
This is an adrenaline fuelled story that is fast paced and very exciting. Told in short snappy chapters from three viewpoints, Shay, Kai and Callie, recount their stories and give different viewpoints of what is happening. Shay comes into her own, as she learns to use her towering intellect and new powers, while Kai's determination and skills of survival are wonderful. Some more survivors, including Spike and Freja, are introduced and enrich the plot, giving insight into how people are coping with the epidemic.
Readers with a bent for science will also find the descriptions of antimatter and matter fascinating as Terry gives an explanation of the origin of the virus and the creation of the survivor's strange powers. There is much to ponder about the misuse of scientific experimentation even if the end result might provide cures for diseases.
There are some unexpected twists and turns and conclusion which will keep the reader enthralled and waiting for the next book in the series. Both Contagion and Deception would engage anyone who likes easy to read but totally engrossing stories.
Pat Pledger
BUY IT ON
Feb 19 2018
In the city I see by Tori-Jay Mordey
Magabala Books, 2018. ISBN 9781925360790
(Ages: 0-3) Themes: Cities. Board Book. These Young Art books (other titles are At the beach I see, At the zoo I see) are simple but beautiful with each illustrated by a different Indigenous artist. They contain simple descriptions of the everyday that will encourage discussion between reader and child. This one uses a painterly art style, with bright colours bringing the city sights to life. Both moving (walking dogs, hungry pigeons) and static (big signs, tall buildings) elements are included and are things that every child will notice when driving or walking through the city.
The illustrations capture the diversity of Australian cities and how Indigenous culture is represented within them (there are Australian Aboriginal and Torres Strait Islander flags flying on the top of a building, there is a busker playing the didgeridoo and a dot style painting on the side of a bus).
This is a great book for children living in rural and regional areas, who may not be familiar with city sights, as well as for those living in urban areas.
Nicole Nelson
BUY IT ON
Feb 19 2018
Valensteins by Ethan Long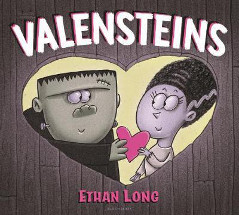 Bloomsbury, 2018. ISBN 9781619634336
(Ages: 5-10) This can be summarised simply as monsters learning about love. Fans of Long's previous book Fright Club will love this as it uses the same cast of characters and illustrative style. There are dark gritty illustrations with a smattering of pink to suit the love theme. The bright pink highlights on the front cover will definitely grab attention and the use of familiar monsters (Frankenstein, etc.) and their witty banter will even please children who think they are too old for picture books. While the rest of the Fright Club is busy working on their scaring techniques, Fran K. Stein is working with pink paper, scissors and glue. "Are you making a mask?" asks Vladamir. He is, of course, making a Valentine's Day heart. An explanation of Valentine's Day and love follows: "That's when two people feel all mushy mushy about each other". The rest of the Fright Club members respond mainly with horror and disgust, especially when they discover that love involves kissing on the lips. Fran ignores them and goes off to find his Valentine. While pondering love he decides that it isn't really about fluttering your eyes or cutting out paper hearts, but "something you feel in your real heart, even if it does feel a little funny sometimes."
This has a very American look and feel to it, perhaps owing to America's pioneering of both Valentine's Day and Halloween, as well as some of the vocabulary and phrasing ("it looks like a paper butt", "tee-hee"). I wouldn't read this to young children who still have a one-dimensional understanding of love as it may be confusing for them. In addition, they wouldn't understand the repartee between the monsters. Older children with an understanding of the difference between familial love and romantic love and a keen sense of humour are the target audience here.
Nicole Nelson
BUY IT ON
Feb 18 2018
Indigo Blue by Jessica Watson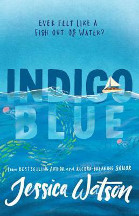 Hachette, 2018. ISBN 9780734418135
(Age: 12+) Recommended. Themes: Adventure, Friendship, Relationships, Sailing. Jessica Watson's magical story Indigo Blue explores Year 12 student Alex's move to a new school, her life with her eccentric aunt, her love of sailing and her friendship with Sam a sailmaker's apprentice. This engaging novel draws from Watson's extensive sailing knowledge, having circumnavigated the world unassisted at sixteen. Her protagonist shows her inner strength and independence, Alex chooses to restore an old sailing boat rather than being drawn into activities by her classmates.
Life in the quiet lakeside town of Boreen Point proves challenging for Alex, with her father away working in the United States, she is sent to live with her artistic Aunt Robin. Alex begins her year as a fish out of water with many hurdles to overcome. Her personal journey, struggling with friendships, supporting herself, testing the boundaries and finding her own path is captivating. When Alex asks the local sailmaker for assistance, her eyes are opened to a new underwater world. This slow change in direction, with surprising twists, character revelations and acceptance of differences adds a mystical element to the narrative. Alex and her classmate Sophie's local history research, discovering hidden diary entries, trips to explore the old lighthouse and uncovering the secrets of the lighthouse keeper and his family provide Alex with directions for her present life. Past relationships and struggles are reflected in Alex's developing friendship with Sam.
Watson's teen novel Indigo Blue is more than a coming of age story, there are mystical components, emotive settings and relatable characters suited to a wider range of teenage readers.
Rhyllis Bignell
BUY IT ON
Feb 18 2018
Julius Zebra: Entangled with the Egyptians by Gary Northfield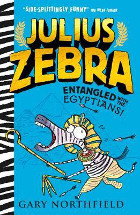 Walker, 2018. ISBN 9781406371802
(Age: 8+) Recommended. Themes: Animal Stories, Ancient Egypt. Julius Zebra: Entangled with the Egyptians is the third graphic novel written and illustrated by Gary Northfield. This is another laugh out loud story, filled with puns, jokes, sarcastic one-liners and plenty of slapstick comedy.
Shipwrecked on a foreign shore, the friends fall headfirst into a new adventure. Captured by an Egyptian Commander and his troops, they are marched off to be imprisoned. At this time, Egypt is experiencing a drought, however when Julius raises his hands to protest his capture, a fortuitous shower of rain occurs. Suddenly their luck changes and he becomes revered as Heter the horse god - bringer of good fortune.
They move quickly through the Egypt, visiting familiar landmarks, living in the palace, visiting and nearly wrecking the ancient library, generally causing drama wherever they go. Felix the antelope's exploration of an underground tomb and greediness in stealing a precious stone, intensifies the action. Factual information is included, writing Roman numerals, hieroglyphics and the art of mummification.
Northfield's hilarious cartoons highlight the perks of the zebra's reign as pharaoh and his special treatment as an Egyptian god. Palace life is luxurious, the food, the bath in donkey's milk and the special clothes, wigs and Cleopatra's beard to wear. Even the chapter headings add to the humour: "I want my Mummy", "Don't rain on my Parade" and "Wheel of Fortune". Julius Zebra: Entangled with the Egyptians delivers all the familiar characters, historical touches and humour, just right for a springboard into studies of ancient civilisations.
Rhyllis Bignell
BUY IT ON
Feb 18 2018
Quark's Academy by Catherine Pelosi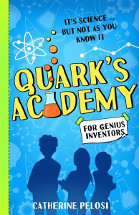 Lothian, 2018. ISBN 9780734417800
(Age: 9-12) Recommended. Themes: Science, Scientists, Mysteries. Catherine Pelosi's debut novel explores the lives of three young scientific masterminds and their mysterious adventures at summer camp. Augustine, Celeste and Oscar receive special invitations to attend Quark's Academy participating in classes taught by 'leading inventors and being exposed to cutting edge science.' Each one has a passion for science, Augustine is focussed on saving the planet, Celeste loves logic and theory and Oscar enjoys the fun of scientific experiments. Along with twelve other young scientists they have the opportunity to develop and showcase their own inventions, competing for a monetary prize offered by Inventor Quark.
Leaving behind their parents, pets, toys and technology they meet on Monday morning at 7am and are transported into another world. Here tunnels connect to spherical laboratories where different branches of science are studied. At first, the trio find everything exciting and amazing, extracting DNA from animals, travelling on advanced transportation devices and developing their own inventions in their rooms. Over the course of the week the trio begin to uncover anomalies in the running of the Academy and embark on a dangerous quest to uncover the truth.
Quark's Academy is an exciting and imaginative story stepping into a world where scientific endeavour and inquiry is explored. Author Catherine Pelosi drew inspiration for this novel after attending the Sydney Observatory Adventure. She has written a junior novel just right for the young reader who loves stories that take them into new and exciting places.
Rhyllis Bignell
BUY IT ON
Feb 18 2018
Me too by Erika Geraerts and Charl Laubscher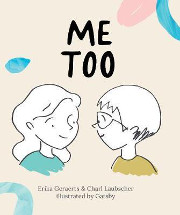 Ill. by Andy Murray 'Gatsby'. Walker Books Australia, 2018. ISBN 9781925381900
(Age: 3-6) Me too is a delightful and simple exploration of friendship as a young girl and boy express their wishes for someone to share in their activities. There is a simplicity to the dialogue, a repetition and a refrain that a young audience will quickly pick up and repeat. " 'I hope I find a someone who wants to go on adventures every day,' states the little girl. 'Me too,' replies the young boy." Their wishes include someone to dress up, stay up late and talk, build castles and a someone who will make dessert for breakfast.
This easy to read story shows the joy and entertainment two children have as they develop their relationship. No electronics, fancy equipment or expensive toys, just everyday items, dress ups from a wardrobe, a bed filled with toys, a sheet castle constructed draped across the lounge furniture, help them to have fun.
Andy Murray's minimalist illustrations use a pastel palette with line drawings to capture the simplicity of the text. Jumping on the bed, balancing on one leg on a chair, raiding the fridge for a late night snack, he portrays the development of this friendship, through a range of enjoyable scenes without a parent in sight.
Me too is a lovely story to share with a young family and in an early childhood setting as it explores the beginnings of friendships. This picture book provides opportunities to discuss the importance of sharing, listening and encouraging the development of new relationships.
Rhyllis Bignell
BUY IT ON
Feb 18 2018
Release by Patrick Ness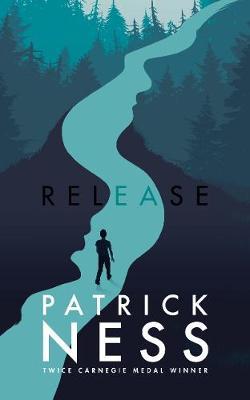 Walker Books, 2017. ISBN 9781406331172
(Age: 17+) Themes: Homosexuality; Family; Friendships; Sexual Identity; Ghosts; Freedom from the past. Patrick Ness is a patron for a group that promotes diversity in schools, and this book introduces sexually diverse representations. The central character, Adam, is exploring his identity through a series of homosexual relationships. This exploration is at odds with his family background - his father is a pastor in an Evangelical American church, and the basis of Adam's experience of family love and acceptance is derailing as he explores his sexual relationships and his view of love. A close connection to a female friend gives him a sense of connection even when things go wrong - 'she has his back', despite his 'first love' turning his back on him. The young, high school-aged Adam is sexually active with his new boyfriend, and their sexual encounters are described in detail (although some facets of the coupling are left to the imagination, mostly the descriptions are fairly overt for a YA book). This coming-of-age tale, involves deserting the expectations and influence of family, not an uncommon motif in YA fiction; Adam's parents are painted as the 'evil' spectre in the background as they grapple with their own worldview and struggle with Adam's choices. But this is also a story where sexual diversity is assumed and the opinions of the parents are maligned. Adam also becomes the target of workplace sexual harassment, that is not dealt with well.
In contra point to this story of breaking away from conventions and the critique of those norms, is the spectral appearance of the Spirit Queen who inhabits the tortured spirit soul of a recently murdered young woman as she wanders the lake shore where her body was dumped. There is struggle as she works out how to be released from the torture, and will the Spirit Queen be trapped in this metaphysical half-light? Ironically this location is where Adam will be attending a farewell party for his former 'love interest', whose influence he cannot shake. This metaphysical appearance is about being released from the holds of a past life and the story thread weaves amid Adam's story of release.
Ness has demonstrated his usual capacity to write with great finesse, but I won't be recommending this in my school context. It is far too graphic and the fact that Ness needs to state that his own father was nothing like the father in the book, is evidence that he recognises the cruelty in the representation of Adam's father. Free expression of sexuality and desire may be common in today's culture, but it may not be helpful for all young readers to have this presented so boldly.
Carolyn Hull
BUY IT ON
Feb 16 2018
My brigadista year by Katherine Paterson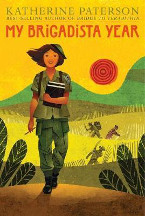 Candlewick, 2018. ISBN 9780763695088
(Age: 10+) Highly recommended. "When thirteen-year-old Lora tells her parents that she wants to join Premier Castro's army of young literacy teachers, her mother screeches to high heaven, and her father roars like a lion. Lora has barely been outside of Havana - why would she throw away her life in a remote shack with no electricity, sleeping on a hammock in somebody's kitchen? But Lora is stubborn: didn't her parents teach her to share what she has with someone in need? Surprisingly, Lora's abuela takes her side, even as she makes Lora promise to come home if things get too hard. But how will Lora know for sure when that time has come?" (Publisher)
I absolutely loved this book by award winning author, Katherine Paterson. It gave me a wonderful insight into a time in Cuba's history that I had no idea about. Many countries could take a leaf out of this plan in current times. Many teenagers during this time volunteered to teach fellow Cubans of all ages to read and write, while participating in their daily lives. There was the ever-constant threat and dangers from the counterrevolutionaries hiding in nearby hills. The author's notes and timeline at the back of the book, outlining this period in history is a great source of information. This book was an easy read, with quite large text. Themes such as hardship, bravery, friendship and perseverance are evident throughout the book. It would make a fantastic read aloud and provide great learning activities about perspective and responsibility. A must have for the library.
Kathryn Schumacher
BUY IT ON
Feb 16 2018
Three cheers for women by Marcia Williams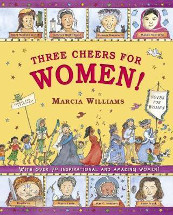 Walker Books, 2018. ISBN 9781406374865
(Age: 8-80) Highly recommended. Subjects: Women - History, Women - Biography. Popular British author and illustrator Marcia Williams (Dot) celebrates the astonishing achievements of women from all over the globe, from ancient to modern times. Her unique comic-strip style creatively showcases more than seventy brave and noteworthy role models from writers to social activists, scientists to artists. Cartoon animal and bird characters float with Dot with her friend Abe around the frames of the cartoon strips, providing fun comments and additional facts.
Brave Boudicca, Warrior Queen of Iceni led over 100000 untrained men into battle against an army of 10,000 Roman soldiers. Williams draws her charging into battle, sword raised, fiery long red hair flowing as she exhorts her soldiers to fight. Cleopatra, Joan of Arc and Queen Elizabeth 1 are included as historical figures. Each figure's childhood, formative years and adult life are told through speech bubbles, easy to read statements and sketches. Williams includes their key achievements, messages and their role in the society of their times. Eleanor Roosevelt was a Human Rights activist who refused to follow the Alabama segregated seating policy in 1936, sitting midway between the white and coloured sections.
Williams has drawn inspirational stories of girls, teenagers and women from many countries, cultures and backgrounds who have made an impact. There's Pakistani bomb survivor and human rights advocate young Malala Yousafzai, Olympian Cathy Freeman, artist Frieda Kahlo, Indian President Indira Ghandi each illustrated with engaging biographies.
Three Cheers for Women is an exciting resource for schools to use across the curriculum, teaching positive gender roles, celebrating diversity, inclusivity and the important contributions of women both today and historically.
Rhyllis Bignell 

BUY IT ON
Feb 16 2018
Beautiful mess by Claire Christian
The Text Publishing Company, 2017. ISBN 97819254988547
(Age: 17+) Winner Text Prize. Themes: Mental Illness; Suicide; Grief; Coming-of-Age. The mess that occurs in Ava's life is not going to get cleaned up easily - her best friend has died. Gideon's mess is almost paralysing as he struggles with anxiety and fear. These two teenagers are in a maelstrom of torment and nothing is working well for them. Poor choices, counselling and family are all twisting over, under and around the two central characters, and moving forward does not seem to be an easy option. Into this emotional storm involving mental illness and a sudden death, Ava and Gideon become each other's support and pinpoint of hope - but will their connection create opportunity to move forward or will it create its own whirlpool?
This is a deeply moving story as it reveals the emotional torture of enduring the very toughest of circumstances. What could have been an incredibly sad tale is cleverly sprinkled with poetry and laughter - and real hope, even when things do not go according to plan. Each of the central characters communicates their viewpoint through alternating chapters, which gives incredible insight into the impacts of their actions onto a fledgling friendship. Claire Christian has introduced two very identifiable characters and has written a very raw expose of teenage life, as some make very unwise decisions either under the influence of grief, mental illness or because of the pressures of trying to solve things on their own. Counselling is shown as a valuable resource in dealing with life's battles. The language is coarse, substances are consumed, the sexual encounters are described with some detail, and the mental health issues are incredibly confronting - even for an adult. Be cautious in placing this book in the hands of an immature or vulnerable reader.
Caution: Language issues; Drug taking; Sexual behaviour (described with some detail); Suicide.
Carolyn Hull
BUY IT ON
Feb 14 2018
The Harper effect by Taryn Bashford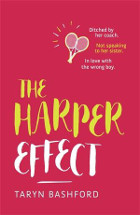 Pan Macmillan 2017. ISBN 9781760552091
(Age: 13+) Highly recommended. Themes: Tennis. Change. Coming of age. Harper Hunter has devoted the last ten years of her life to tennis. It is her past, present, and, with any luck, her future. But that future is threatened when she turns to putty on court and her long-time coach, Kominsky, dumps her. Facing the prospect of life without tennis, Harper must give it her all in a doubles match to stand a chance at reaching the top and breaking through the first-round graveyard. But she gets more than she bargained for in her doubles partner Colt Quinn, a devilishly attractive man with a huge ego and a lot to prove. Meanwhile there are problems at home as Harper and her sister, Aria, deal with the consequences of Aria's breakup with their childhood friend. Aria thinks there must be someone else and Jacob proves this by his continual advances on Harper, who has nursed a crush on their neighbour since she was thirteen. Harper's life is about to become a mess as boys become an almost bigger portion of her life than tennis.
This Australian novel, while mostly dealing with tennis, fitness, and the world-stage, is a coming of age story and a fun little romance. I would highly recommend for girls thirteen and up who find that their world is changing too fast for them to keep up. Well written and containing complex characters that are, at times, all too human, The Harper effect contains messages about staying motivated, working towards goals, embracing passions, and managing the stresses of everyday life.
Kayla Gaskell, 22.
BUY IT ON
Feb 14 2018
The Book of Dust: La belle sauvage by Philip Pullman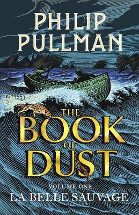 Book of dust, vol. 1. David Fickling Books, 2017. ISBN 9780857561084
(Age: 12+) Highly recommended. Many years have passed since the completion of His dark materials and now Pullman fans have been graced by the first in a prequel series following baby Lyra and her protector, Malcom. Diving back into this world was a magical experience - for this reviewer it was like coming home. A knowledge of the world of His dark materials is unnecessary for the enjoyment of La Belle Sauvage, but like the original series the book thrusts you into a world of daemons and children thirsty for knowledge.
The novel follows the unusually bright innkeeper's son, Malcom, and his need to protect baby Lyra, who was left with the Nuns at the priory for safe keeping. Working in the pub, Malcom meets all sorts of people - even strange men with three-legged hyena daemons whose presence unnerves everyone. But this strange man isn't the only to visit the Trout since Lyra's arrival - Lord Asriel, a famous explorer calls, employing Malcom to take him to the priory to visit his daughter and swearing the boy to secrecy. Befriending a librarian and a gyptian, Malcom's days are soon filled with the need to protect little Lyra - even if that means braving the Thames in flood and outsmarting the man with the three-legged hyena.
I would highly recommend La belle sauvage for boys or girls twelve years and up who love fantasy. In particular those who have already fallen in love with Lyra in His dark materials or in the 2007 film The golden compass.
Kayla Gaskell, 22
BUY IT ON
Feb 14 2018
Dino Diggers: Crane calamity by Rose Impey
Ill. by Chris Chatterton Bloomsbury, 2018. ISBN 9781408872468
The Dino Diggers have a new project - this time they are building a new house for Mr and Mrs Triceratops and all the little ceratops. But not not all of them are working hard - Ricky Raptor the apprentice is day-dreaming about being a proper Dino Digger driver and he very nearly lands in all sorts of trouble because he is not concentrating. Is he going to end up in the barrel of the cement mixer???
With its bright pictures and a cardboard model crane and brachiosaurus to build, this will appeal to young readers who like big machines and dinosaurs. Each dinosaur has its own personality so this series is great for encouraging young readers to recall what they already know and ponder on how the new story will evolve.
Barbara Braxton
BUY IT ON