Review blog
Click here for the ReadPlus Review Blog RSS feed. Copy the link location into your feed reader.
Click here to see all reviews
Apr 20 2018
The shepherd's hut by Tim Winton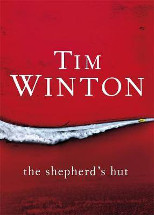 Penguin, 2018. ISBN 9780143786115
(Age: 16+) Highly recommended. The voice in this novel is Jaxie Clackton. He is 17, ok maybe 15, and he is tough, and distrusting of everybody. And he has reason - his father, regularly drunk, beats him unconscious; his long-suffering mother has died; he has no friends; he is the kid always in trouble at school. The only person he cares about is his cousin Lee and she is far away from him. But whilst Jaxie cares about Lee, he is also secretly scared that maybe he's not good for her, he has the same temper as his father, he gets into fights, maybe their relationship would become the same as his parents, maybe it's in his blood.
A violent incident finds Jaxie suddenly alone, and there is nowhere else to go, but head north, across country on foot, to find Lee. Although he is tough, the country is tougher, and thirst, hunger and exhaustion lead him to a confrontation with another outsider, Fintan MacGillis, a man with a secret, condemned to living in complete isolation in the bush. Jaxie knows enough to never let down his guard, never trust, never give too much away. But need forces them into an uneasy relationship.
It is easy to get caught up in this story, Jaxie's voice is so real, so brutally honest, we know all his doubts and fears, and we are drawn into his conflict. The pace carries relentlessly to its terrible climax.
The shepherd's hut is yet another brilliant novel by Tim Winton; the characters are very real, you can hear their voices as you read the words, and you want to know what is going to happen. No hints about the ending, but it doesn't disappoint; you will be left thinking about it all after you've finished the book.
Helen Eddy
BUY IT ON
Apr 20 2018
Everless by Sara Holland
Hachette, 2017. ISBN 9781408353622
(Age: 12+) Jules and her father are poor, not of money, but of time. In the world of Everless, payments are collected in the form of time, which is siphoned through blood. Through alchemy, this time and blood is bound to coins (the larger the coin, the more time is captured). In this world, the rich experience both the luxuries of wealth and time. The richer you are, the longer you live. To save Jules' father from spending his blood, she desperately takes a job in the city of Everless; a place of fuzzy and traumatic memories for Jules surrounding the noble Gerling family's boys, Roan and Liam.
While working as a maid, Jules learns of the arrival of the Queen (whom is known to be ancient, beautiful, and fearsome). From this point on, nothing Jules knew will ever be the same. Both her past and her future become unsteady, as she strives to understand the unravelling world around her. In a land where money, time, and blood are consumed, what more will Jules have to give to understand herself, and the truth of the realm around her.
Everless a powerful young adult novel about love, trust, mystery, fantasy, and suspense. It is a story that doesn't fade from the reader's mind after they've put it down. Sara Holland has truly created a novel that engages the reader and captures their attention as they experience the story unfold before them through the eyes and mind of Jules. Jules is a unique and complex character who is the centre of the novel and has solid historical emotions and experiences, as well as strong connections with other story characters. Holland has created a realistic character that has depth to her thinking and actions.
Jules's experiences will connect with readers (12+) and keep them engaged in a story that is full of unexpected developments. If the story and characters weren't enough to keep a reader hooked, the conclusion certainly is. Holland leaves the reader needing to know more; the next instalment will surely be strongly awaited by readers of Everless.
Sarah Filkin
BUY IT ON
Apr 20 2018
Thunder Creek Ranch by Soya Spreen Bates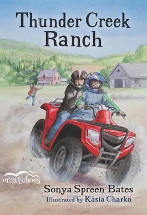 Orca Books Publishers, 2013. ISBN 9781459801127
(Age: 8+) Highly recommended. Thunder Creek Ranch is a short story full of adventure. When Jake visits the neighbouring ranch, even though he knows he shouldn't, a chain reaction of events unfolds. Jake and his younger brother Tommy are visiting their grandparents at Thunder Creek Ranch. Tommy is the annoying younger brother and Jake is expected to take Tommy wherever he goes. They are both expected to stick together and look out for each other. When Jake sees another boy at the neighbouring ranch, he can't resist heading over to see who it is. He leaves Tommy up a tree to keep watch and meets Cory, the owner's grandson. A quad bike ride, a chase, escaped cows and before the boys know it Tommy is lost and Jake is panicking. The sudden storm complicates things and the boys are about to discover why the ranch is called Thunder Creek.
Thunder Creek Ranch is an easy to read story with themes of adventure and listening to others. Jake has a great imagination and while he might forget to follow the rules sometimes he never gives up and always tries to do the right thing in the end. This short novel would be great for young readers choosing their first novels as well as for reluctant readers who prefer to avoid larger books. The boys in the story are all under 12 years of age and it is highly recommended for readers aged 8+.
Kylie Kempster
BUY IT ON
Apr 20 2018
The 1,000 year old boy by Ross Welford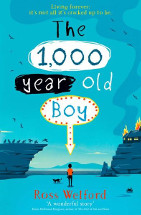 Harper Collins, 2017. ISBN 9780008256944
(Age: 10-14) Highly recommended. Themes: Youth; History-fiction; Friendship; Adventure. What if you never got old? What would you do if you were stuck as an 11 year old for 1000 years? For Alfie this is his life! The stories passed down through the ages of the people who do not age, who seem to live forever, is it possible that there is a truth behind the legends? For Alfie, surviving through history as the result of an almost impossible elixir that prevents him from aging, but not from dying, comes with a whole array of problems - not the least of which is that everyone that he might be friends with will get old and leave him where he is. The uncertainty of this kind of existence comes to the fore when disaster strikes. Two new potential friends discover his secret and the need to protect Alfie from outside influences takes them into unknown territory. What follows is a magnificent tale, with action, adventure and wonderful characters, told in an exhilarating and yet compassionate way. Friendship proves to be a powerful inspiration for change.
Ross Welford has written a book that is compelling and slightly fanciful, but in a convincing way (suspending disbelief is necessary, but plausibility is not necessary for enjoyment). This will be a book that young readers aged 10-14 will certainly enjoy and they will love the character Alfie, his quirky friends Aidan and Roxy, and the complexities of life if you are perpetually 11 years old. I could not put this book down, so expect to lose young readers while they are engrossed in the adventure of agelessness.
Carolyn Hull
BUY IT ON
Apr 20 2018
Ruby in the ruins by Shirley Hughes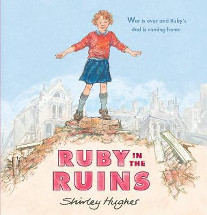 Walker Books, 2018. ISBN 9781406375893
(Age: 8+) Highly recommended. Ruby in the Ruins is a beautifully illustrated story depicting life in the ruins of London after World War Two. The war is over and Ruby and her mum are eagerly awaiting the return of Ruby's dad, a soldier. Ruby and her mum have survived the bombings of London while dad has been fighting in the war. Ruby and her mum huddled together, waiting for the bombs to finish falling and praying for their house to stay safe. When the war was declared over, many families celebrated and waited for their husbands and fathers. Ruby was excited but did not recognise the man in her home. It had been a long time without him. Ruby's family is now different and London is very different. Ruby and her friends explore the ruins around London and it is during one of these explorations that Ruby realises just how much she needs her dad.
Many of the stories published about the war are from the perspective of the soldiers or about the returning soldiers. Ruby in the Ruins is from the perspective of a child. Readers will see how London was damaged without the gruesome details of war. Each detailed picture will create a discussion and encourage the readers to ask questions about this period of time. The text is aimed at readers aged 8+ but could still be read out loud to younger children as it is descriptive but simple. It is highly recommended for readers aged 8+.
Kylie Kempster
BUY IT ON
Apr 19 2018
Dark angels by Ron Thomas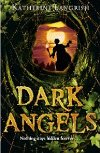 Harbour Publishing, 2018. ISBN 9781922134318
(Age:16+) Recommended. Set in Darlinghurst in the 1930s, this story centres upon Gilbert Maggs, a young teenager who is chased from the family home by a knife wielding drunken father. His only refuge is the streets which are controlled by ruthless criminals who don't hesitate to reach for a hand gun or slash with a cut throat razor to win a fight or enforce their will. Well known historical characters appear in this tale.
Without protection and support, Gilbert becomes so desperate that he steals some bananas from a shop, is apprehended and finds himself facing the infamous Guido Calletti of the Darlinghurst "Push" or gang.
Fortunately for Gilbert, the shopkeeper from whom he stole takes pity on him and provides work and a place in the back of his shop to sleep. Gilbert enjoys being well fed and safe for the first time in his life and is a loyal and hardworking employee.
Sadly however, a very realistic situation develops whereby having received a favour from Guido, Gilbert is expected to reciprocate. The fifteen year old finds himself becoming involved in criminal activity which is initially petty and relatively harmless, yet insidiously continues, gradually becoming more serious and violent. Gilbert's conscience troubles him greatly. For him there is no escape via ignorance or self-delusion and he readily understands that he makes a choice to profit from immoral behaviour.
Adolescent readers should readily identify the parallel of Gilbert's situation with that faced by those in the current era who join gangs to fulfil a sense of belonging, yet find they can't dissociate when activities become extreme. Similarly Gilbert's forays into criminal activity mirror those of youths dealing drugs. Initial experiences may appear daring or exciting yet often lead inexorably to a point of no return where what is owed to those who control them ensures that they cannot escape increasingly threatening behaviour.
Gilbert's dilemma is portrayed very well in this story. He wants to lead an honest life but struggles to avoid the attention of both Guido and the thugs who compete with him - men with no respect for law who don't hesitate to destroy property and maim people to achieve their goals.
Gilbert fears for the safety of those he has befriended and must tread warily on the road to becoming the man he wants to be.
Rob Welsh
BUY IT ON
Apr 19 2018
The book of answers by A. L. Tait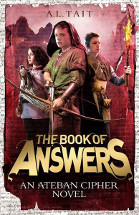 An Ateban Cipher Novel. Hachette Australia, 2018. ISBN 9780734417695
(Age: 10-12) Highly recommended. "Gabe and his companions journey to a remote mountain citadel where they learn the secret of the mysterious encrypted book that he has been tasked with protecting. But their enemies are close behind them, and new dangers lie ahead.
As Eddie seeks to regain his crown, and Merry and Gwyn race to free their father, Gabe will discover the answer to his own great mystery - his true identity." Publisher
This is the second book in the series and ideally they should be read in order. The book is full of adventure, mystery and danger and sure to be a hit with children aged between 10-12. The story takes up from the cliffhanger that ended the previous book, The book of secrets and answers a number of questions. With so many twists and turns throughout the plot and the connections to medieval times the reader will be kept on the edge of their seats. Strong lead characters representing both genders and resonating with Robin Hood and Rangers apprentice what is not to like about this series. A must have for the collection.
Kathryn Schumacher
BUY IT ON
Apr 19 2018
The new kid! by Tim Cahill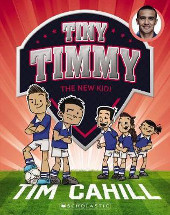 Tiny Timmy series book 7. Scholastic, 2018. ISBN 9781742993188
(Age: 6-9) Recommended. Themes: Soccer. Teamwork. Friendship.
When the new kid, Ricardo, arrives at school he comes with soccer credentials from the Representative team that means he is a rival for the 'best kid on the team' status. At first it appears to Timmy that Ricardo will not be a team player and will just be trying to claim all the glory for himself. Timmy is not impressed. After an equipment disaster and a team fundraiser, Timmy discovers that Ricardo is not so bad after all. Being new can sometimes just be very difficult, and talking to one another can often clear up any misunderstandings.
With quirky cartoon illustrations (including action flip pictures in the corner), this will be enjoyed by young sports lovers who have transitioned to chapter books. The social dilemmas of young team mates have an added spark of humour laced through the important life lessons.
Carolyn Hull
BUY IT ON
Apr 19 2018
See hear: a beginner's book of senses by Tania McCartney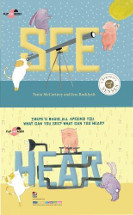 Ill. by Jess Racklyeft. EK Books, 2018. ISBN 9781925335675
"If I stop and look around, I can see so many things."
In this sequel to Smile cry, Piglet, Bunny and Cat are looking closely at the world around them and then using their words to describe what they see - the crawling spots on the ladybird; the squiggly rain down the window, the heavenly horses in the clouds. Then flip the book over and they explore the world through its sounds - baby birds tweeting in the nest, a page being turned, the sizzling of carrot chips in the pan. And then the two sides meet in the perfect observation - the endless stars and the endless quiet of outer space.
Young children find out so much of what they know about the world around them through their senses - they're not yet old enough to consult books, watch David Attenborough or search Google - so teaching them to really look and listen is such an essential skill. But also essential, and what Tania McCartney does so well, is to teach them to express what they see in words that create pictures and memories, to use all their senses to evoke and provoke emotions. Will you ever hear thunder again and not think "calamitous clouds"?
While on the surface this looks like a book for the preschooler, imagine how it could be used to encourage young writers to bring depth and richness to their words, to explore the world of metaphor and simile, to really look and listen and feel and taste and then share that with their readers. Start by having each contribute a new page for the book, making the common uncommon; the stereotype original; the banal beautiful. Watch their writing grow!
Such riches in an exquisite combination of author and illustrator that goes so far beyond the usual 'eyes see, ears hear' books for this age group.
Barbara Braxton
BUY IT ON
Apr 19 2018
The little mermaid by Alex Field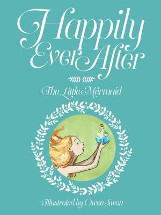 Ill. by Owen Swan. New Frontier, 2018. ISBN 9781925059816
In 1837, Hans Christian Andersen gave the world his classic story of Ariel, The little mermaid who falls in love with a human prince and in exchange for legs so she can walk on earth with him, she gives up her voice. It is very much a tale of 'Be careful what you wish for.'
Retold many times and in many formats, probably the most well-known version being that of Disney, this is a new retelling that goes back to the original without all the 'trimmings'. For younger readers who are emerging as independent readers, it is retold simply in a straight-forward manner with beautiful new illustrations in watercolour and coloured pencils.
While teachers' notes are available, it could be used as one of a number of versions of this story to compare and contrast additions, alterations and omissions that the various retellers have chosen to make. Others in this series include The ugly duckling, The princess and the pea, Little Red Riding Hood and Beauty and the beast.
Barbara Braxton
BUY IT ON
Apr 18 2018
I have lost my way by Gayle Forman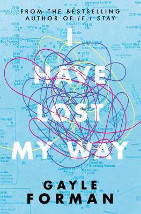 Simon and Schuster, 2018. ISBN 9781471173721
(Age: 15+) Highly recommended. Themes: Mental illness. Friendship. Homosexuality. Diversity. Gayle Forman the author of the bestselling If I stay and the sequel Where she went among others, has done it again. I have lost my way is a powerful, memorable and engrossing stand-alone story that delves into the lives of three young people, all who have problems. Freya, on the verge of becoming a star, has lost her voice while recording her first album, Harun is running away from his boyfriend, too afraid to come out to his family and Nathaniel has come to New York totally alone. When Freya falls on Nathaniel in the park and this is witnessed by Harun, the three unite and while taking Nathaniel to the hospital the reader finds out their stories. All have lost their way.
The book is written from different points of view and the reader gets to know each character in depth and is able to sympathise with their crises and with their backgrounds. Freya has not only lost her voice, she has lost her sister who she once sang with and her father who has returned to Ethiopia to live. Harun has been so successfully in hiding his sexuality that he is being sent off to meet his bride and Nathaniel, that brave boy, has lost his grandmother and his father, who he has cared for over many years.
This is an unforgettable story. Each character is so well described that you feel you know them very well and can relate to their problems and applaud their strengths. The power of friendship shines through this book and will be a beacon for readers who see how friends who are there for you can make a huge difference. Other themes like mental health, children who are left to be the main carers of adults, manipulation by the music industry and suicide all make it a book not to be missed.
An article from Publishers Weekly notes that Forman had lost her own way before writing this compelling story. She had started seven projects, none of which satisfied her and finally decided to face her problem by writing about it. This article also links to a recording of A little white dress, a song that resonates for Freya in the story.
This is a very satisfying and uplifting story, sure to become a firm favourite for many readers.
Pat Pledger
BUY IT ON
Apr 18 2018
Nobody real by Steven Camden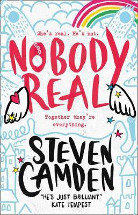 HarperCollins, 2018. ISBN 9780008168384
(Age: Older teens and young adults) Recommended. What an unusual style for a novel, loaded with great imagery and poetry.
I found this novel difficult to understand at first as I was challenged with following who was narrating at different times. Once I started to recognize how the different fonts related to different characters and scenarios, it became easier to follow.
It has a very unique storyline of imaginary friends and growing up in a society where young people are expected to follow the usual 'future paths' - school, university, university debt, work; where imaginary friends are not only real to the creator, but real in another world. The creativity and 'make believe' of artists and authors perhaps are fueled by not only their imagination but also by the strength that they feel from someone 'not real'.
The overall story is relate-able to today's young people - full of references to up-to-date technology and the way that young people use these in their social interactions. The issue of broken families, abandonment and surviving with guilt and grief, lends this novel to perhaps help readers and others to gain perspectives and empathy for people who experience these very real issues.
The characters are realistic and I felt that I could easily depict various 'real' people that I know as the characters. Thor and the other 'non real' people, are also very realistic with their thoughts and reactions. The only 'unreal' aspect of the imaginary people are their descriptions (bear) and their super powers (flying). They suffer, feel and react just as real people would which makes them more credible as 'imaginary FRIENDS'. No friend wants to be forgotten and just fade away from the memory of someone who is dear to them.
Steven Camden as an author, has been brilliant in his ability to add poetry in a teen novel which enhances the important focal points and which (I think) promotes the power and beauty of poetry as a literary creative art form.
Maria Burford
BUY IT ON
Apr 18 2018
Go Go and the silver shoes by Jane Godwin and Anna Walker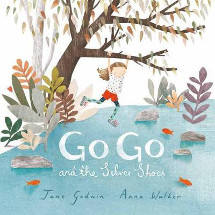 Penguin Viking, 2018. ISBN 9780143785521
When all your clothes are the hand-me-downs from your three wild brothers, it is important to make the most of what you have. Even though they were fourth-hand, Go Go had a knack for making them interesting and wore them proudly even if "friends" like Annabelle made unkind comments. And when the only new things you get are your knickers and sneakers, then it is especially important to choose the most beautiful you can find. So when Go Go chose a pair of silver sneakers that sparkled in the sun she wore them everywhere. She loved them and was so proud of them, even if they were a bit big to last longer. But disaster struck the day the family went on a picnic and while Go Go and her brothers were having an adventure down through the rocks in the river, one of the precious shoes is lost. Go Go is heartbroken and very cross as her mum points out that perhaps she should have worn older shoes that day.
But undeterred and despite her brothers' suggestions for what she could do with the remaining shoe, Go Go is determined to wear it still - even if it means teaming it with an odd shoe and facing the jeers of Annabelle. This is a decision that leads to an unexpected friendship as both Go Go and the lost shoe have their own journeys to make.
There is so much to love about this story - as the grandmother of one who never wears matching socks and is so unaffected by a need to be trendy, I love Go Go's independence and confidence in creating her own style and being a bit different; as one who grew up in the middle of eight boys (all but one cousins), I love that she is me 50+ years ago and all the memories that evokes; and I love Anna Walker's illustrations that are so subtle and detailed and tell a story of their own. And I love the ending - you just never know where or how lasting friendships are going to happen. From its sparkly cover to its stunning endpages, this is a unique story that had me enthralled to the end.
So many will identify with Go Go and draw strength and confidence from her independence and ability to get to the nub of what being a child is about without all the frills and fripperies.
Barbara Braxton
BUY IT ON
Apr 18 2018
Lyla: Through my eyes by Fleur Beale
Through My Eyes Natural Disaster Zones series. Allen and Unwin, 2018. ISBN 9781760113780
(Age: 13+) Highly recommended. Themes: Earthquakes; Disasters; Mental Health; Resilience; Loss and grief; Overcoming difficulties. This series is an amazing chance to step inside a disaster zone (something that no one really seeks) and to develop empathy for those who have really experienced the circumstances of that disaster.
We walk alongside Lyla, a Christchurch teen, who survives the horror of having her city and her life shaken violently. Her amazing story of resilience and fortitude, and the incredible responses to what was a truly horrifying piece of New Zealand's recent history is both challenging and honest. The horrors of the original ground-shaking horrors, the initial damage and the liquefaction, when even the 'sold ground' was no longer to be trusted as secure, are brilliantly related. Lyla and her family must make so many adjustments, while experiencing the repeated uncertainty of after-shocks and building destruction. The honesty of this book is such that we recognise the need for support to those who have experienced great trauma, even when they seem 'to be holding it all together'.
This is a book that is full of great characters who are adjusting to change and the cracks that have opened up as great chasms in their life. With no control over what they are experiencing and with such incredible change that most of us would have no idea how to find any sense of normal, these characters are quite inspiring. Fleur Beale has written this in very compelling way, showing great understanding of the circumstances and of teens in general, and there is humour and personality in every chapter despite the awfulness of the quake zone and the struggles of the main character.
Recommended highly to young readers aged 13+.
Note: mental health issues are discussed . . . not surprisingly considering the circumstances.
Carolyn Hull
BUY IT ON
Apr 18 2018
Dig, dump, roll by Sally Sutton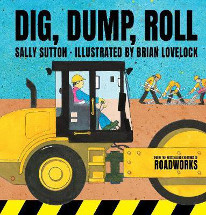 Ill. by Brian Lovelock. Roadworks series. Walker Books, 2018. ISBN 9781760650056
(Ages: 2-5) Themes: Construction vehicles. This new instalment in the Roadworks series (Roadworks, Demolition and Construction) will delight young lovers of big vehicles. An eye-catching front cover with black and yellow construction tape and large, bold, heavy text matches the theme of the book, as do the bitumen endpapers. Each page gives the sound the machine makes (eg. "Crash-a-rumble smash-a-grumble") and some clues (picture clue as well as a clue about what it does), asking "What's at work?". The featured machines, all favourites of small children, are bulldozer, digger, dump truck, roller, concrete mixer and builders. As we find out at the end, a school is being built, "just for you". This does seem a little strange when the interested audience will mainly be pre-schoolers. In addition, the sounds are a little odd and when said aloud they don't particularly sound like the machine they are trying to emulate. The repeated rhyme "What's at work? Here's a clue: it will . . . for you" is great and young ones will love joining in with the simple refrain (e.g. "Digger, Digger, Coming through!".
Quite realistic, detailed pictures show the machines in profile, making it easy to compare and contrast the features of each. The last page showing labelled pictures of the machines is a fantastic feature as it uses proper terminology such as boom, swing gate and piston, although this could be a bit more detailed for this age group.
Nicole Nelson
BUY IT ON
Apr 17 2018
The story of Tantrum O'Furrily by Cressida Cowell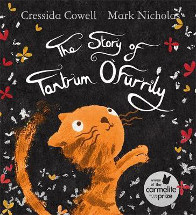 Ill. by Mark Nicholas. Hodder Children's Books, 2018. ISBN 9781444933802
(Age: 4+) Highly recommended. Themes: Cats. Survival. Stories. Cautionary tales. When Tantrum pads across the roofs in search of food with her three hungry kittens in tow, they ask for a story. So she tells them a story about Smallpaw, a pampered kitten living comfortably in a house where no stories are told. She has a lovely bed but each night after her tea, she presses her nose at the window and wonders what it is like outside. Mrs Worrykin, her owner, has told her that outside is full of dangerous stray cats, bad cats that fight with each other and with dogs. Smallpaw tries hard to be a good cat, but she is bored, so one night when the cat flap is left unlatched, she creeps outside. There a fox talks to her, encouraging her to take another step and hear his story. She comes closer until he leaps upon her telling her he will eat her. Suddenly another cat comes out of the gloom and fights off the fox. The stray cat tells her that she can write her own story, all it takes is courage.
After that Smallpaw is allowed outside and a saucer of milk is left for her, but she only drinks half, leaving some for the brave cat that saved her.
With that, Tantrum climbs down and shows her kittens the saucer of milk, half full, left for them.
This delightful fable of good and bad, a cautionary tale encouraging children to see beyond the words, would be a great read a loud, children joining in with the conversations between the fox and the cat, or between the cats when the kitten is rescued, and calling out when the fox attacks.
With the wonderfully ingenious illustrations washing across each page, the brush making sweeps of colour evoking movement, children will be entranced as they see the animals that make up the story and recognsie danger when they see it. This modern fable tells us all that being aware of the dangers is good, but these fears cannot rule our lives, it takes courage to take that first step.
Fran Knight
BUY IT ON
Apr 17 2018
How to be a fashion designer by Lesley Ware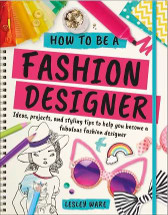 Ill. by Tiki Papier. DK, 2018. ISBN 9781465467614
The world of fashion, with its perceived glamour and glitz, always appeals to a certain number of students who care about what they wear and have the ability to make the proverbial sack look good. Sadly though, enduring emphasis on body image continues despite all that is done to combat it and many soon realise they don't have "the look" to be a top model and turn away. But in this easy-to-read manual other avenues in fashion are explored, particularly those of the designer and the stylist. "While designers create their clothes, stylists know how to put them together."
Using themed double-spreads students are taken through the basic steps with typical DK layout pizzazz, illustrations galore, tips and challenges that encourage them to start designing now. The last 20 pages offer opportunities to design a t-shirt, trousers, skirt, hat, shoes and accessories with outlines already provided so new knowledge can be applied immediately as the reader learns about colour, texture, patterns and shape while being encouraged to be inspired by the event and the environment. Recycling and upstyling are explored so not only is waste minimised but even those with few dollars do not need to be deterred.
Ware believes that those who can "speak up with fashion" have the courage to speak up in other ways too so as teachers we should look to those who dare to be different as being more than clothes horses. A close-to-home example is a student I taught a few years ago who always made the compulsory school uniform a personal statement, who was a whizz at design puzzles like tangrams and who, at 17, starred in a local show in a country town and then six months later in 2017, had her designs on the catwalk in Vancouver and more recently, Nassau in the Bahamas! Her story alone should give students confidence to continue.
Written to support a STEAM curriculum, the suggestions in this book offer an entire term's curriculum for those with this sort of interest but even those who aren't particularly interested in fashion can learn how to step out with a bit more style to give themselves a confidence boost.
Barbara Braxton
BUY IT ON
Apr 17 2018
O horsey by Christopher Barnett
Wakefield Press, 2018. ISBN 9781743055212
(Age: Adult) Once described as 'The greatest Australian poet you've never heard of' (The Conversation, 2013), Chrisopher Barnett is a poet from Adelaide who has lived in France since 1990. His previous work When they came/ for you: elegies/ of resistance which received critical acclaim, was about the violent and political death of Turkish American activist Furkan Dogan.
Angleo Loukakis describes Barnett's latest work O horsey as a "work of raw, brutal power", "a battle for the soul, for survival":
"All the while the sense is of one standing alongside the teller, listening as he proclaims what the edge of life and the threat of the void ahead most utterly feels like".
There are references to the Maralinga bombs, nuclear weapons, war and death, as the words of the poet describe devastation and ruin. He cries in out despair, longing, hope, to the beautiful ebony horse - the cover shows the divinely bred immortal horse of Greek mythology. The words of the poem are powerful and intone with many emotions - well suited to performance poetry, and to repeated readings, to gradually add layers of understanding.
Helen Eddy
BUY IT ON
Apr 17 2018
The walkabout orchestra by Chloe Perernau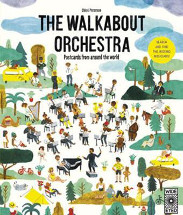 Quarto, 2018. ISBN 9781786030795
The orchestra have an important concert to play - but all the musicians have gone walkabout! But each has sent a postcard to the Maestro saying where they are. So the challenge for the reader is to help him and his faithful assistant find them using the clues in those postcards.
From Reykjavik to Rio young readers will enjoy this search-and-find tour of the world that introduces them to the instruments of the orchestra as they test their powers of observation using the pictures of each in the introductory pages as a starting point.
With busy pages that test the eye (although not quite as busy as Where's Wally?) this book encourages readers to examine the details in things rather than just glancing quickly at them and moving on. To add to the mix there is a little yellow bird on each double-spread with his own quest that adds a further challenge. All eventually come together in a concert hall with some interesting audience members, and for those who just can't find them, an answer key is provided.
While this ostensibly introduces children to the instruments of the orchestra, it works better as a search-and-find book which is much more fun and informative.
A great addition for those who have pored over Where's Wally and who are looking for a new challenge in that collaborative reading activity that is so important to emerging readers, particularly boys.
Barbara Braxton
BUY IT ON
Apr 17 2018
The last peach by Gus Gordon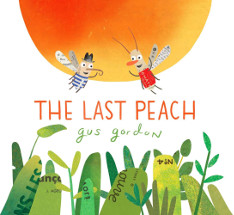 Viking, 2018. ISBN 9780670078912
As summer draws to a close, a delicious golden peach hangs in front of the two bugs, tantalising them with its perfection. But which of them should eat it? Indeed, should it be eaten at all? Should it remain beautiful and perfect or should they satisfy their hunger?
Discussing the problem and examining the pros and cons, the story is told entirely in dialogue and illustrated using mixed media, particularly paper collage, making the pictures as diverse as the bugs' dilemma.
It is ideal for encouraging students how to look at the many sides of a situation because even the simplest set of circumstances can have many perspectives and possible solutions, and perhaps even examining motive and bias. Does the bug that tells them it's probably "all stinky and rotten on the inside" covet it for himself?
This is an intriguing read with a most unexpected outcome that will encourage lots of discussion and debate.
Barbara Braxton
BUY IT ON
Apr 16 2018
The great Shelby Holmes meets her match by Elizabeth Eulberg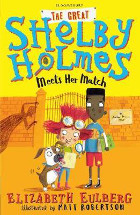 Bloomsbury, 2018. ISBN 9781408871492
(Age: 8-10) Recommended. Themes: Detective stories, School stories, Juvenile Diabetes. Feisty nine-year-old girl detective Shelby Holmes returns to solve a new mystery and confront an old enemy. With her friend and mystery-solving partner John Watson they are ready to face new challenges. Both are attending a new school - the Harlem Academy of the Arts, in the same year level because Shelby's 'brain attic', her knowledge and deductive abilities have helped her skip two grades.
John has experienced new schools and different places and as an army kid, and is confident about their fitting in, however he's concerned about Shelby's unique style, her lack of reading social cues and bluntly pointing out everyone's secrets which causes problems. Shelby delves into the background of the mysterious new teacher Mr. Crosby and his missing heirloom watch. They face problems caused by Shelby's nemesis Moira who hacks the school director's email, steals Mr. Johnson's watch and locks Shelby and John up in a basement boiler room. Here, John who has juvenile diabetes suffers a medical incident and Shelby desperately and creatively finds someone to help him.
Eulberg includes numerous references to the original Sherlock Holmes stories, which may be beyond her reading audience's background knowledge. Interestingly, she includes descriptions of the white students' skin tones as a point of reference. Matt Robertson's cartoon drawings are entertaining: there's Shelby's unique hairstyle, smoke bombs exploding and eyes appearing from the darkness.
Shelby Holmes meets her match has themes of friendship, solving mysteries and overcoming worry and anxiety, and is an enjoyable novel suited to ages 8-10.
Rhyllis Bignell
BUY IT ON
Apr 16 2018
Count with Little Fish by Lucy Cousins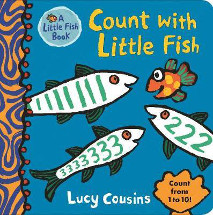 Walker Books, 2018. ISBN 9781406374193
(Ages: 0-3) Themes: Counting, Fish, Board Book, Rhyming. This is a Little Fish Book, featuring the same titular fish from Where is Little Fish and Hooray for Fish. It counts from 1 to 10 using a variety of fish (fin-fin fish, funny fish, etc.) and is tactile and visually appealing. Shiny illustrations are smooth to the touch and everything is patterned with spots and stripes of varying vibrant design. Both the colours and the tone of the book are bold and cheerful. Playful illustrations encourage discussion about shape, size, colour, pattern, and fish body parts (big, small, long, short, spotty, stripy, sharp teeth, long fins etc) and the last page encourages further discussion ("How many new fish have you found?). This final page also shows all the fish from the book so helps children with recall and reflection. Large numerals, which have the written word underneath, assist with number recognition. The numerals are eye-catching because they are patterned the same as the fish on that page. Visual appeal and a nice rhythm ("One little fish swimming in the sea, Two twin fin-fin fish, as pretty as can be") makes this a simple but effective first counting book.
Nicole Nelson
BUY IT ON
Apr 16 2018
Yay! It's Library Day by Aleesah Darlison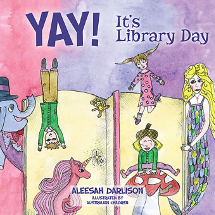 Ill. by Australian children. Wombat Books, 2018. ISBN 9781925563238
(Ages: 3-6) Themes: Books, Libraries, Reading. Illustrated by children from around Australia, Yay! It's Library Day reminds readers of the importance of libraries and books. Oliver and Ivy visit the library with Dad and on follows all the adventures they have from the comfort of the giant library chair. Off they go, gasping "in horror at the pirate captain's motley crew", hearing tales of "giant creatures swimming in oceans cold and deep" and entering into "lands where dragons breathe fire and smoke".
The name of each child illustrator is next to the page number. There is a nice assortment of different illustration styles, some fantastic, some not as great (despite there being over 600 entries for Wombat Books to choose from).
Overall, this is a nice little romp through the worlds we can enter through books and a reminder to children that they too could be an illustrator (this is the second book that Wombat has done in this style so there may be more to come).
The end sums up the joys of reading: "Today we were heroes, today we were kings. Today books taught us so many things." This could prompt discussions about favourite places to visit in books or students could even work together to compile a similar book. While this concept feels familiar (exploring the worlds we explore through reading) I cannot name a comparable title. A nice one to share on special library appreciation days and during Book Week.
Nicole Nelson
BUY IT ON
Apr 16 2018
Message in a sock by Kaye Baillie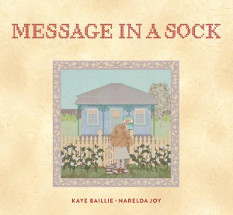 Ill. by Narelda Joy. MidnightSun, 2018. ISBN 9781925227383
Highly recommended. Picture book. One hundred years ago and Australian soldiers are fighting in the waterlogged, mud-filled, rat-infested trenches of the Western Front and almost as great an issue as the enemy's bullets is trench foot where the feet literally rot from being constantly cold and wet. So the call goes out for 150 000 pairs of socks and the women and girls left back home start knitting.
Click clack click clack click clack - no matter where you go, needles are working and socks are rolling off them - long woollen ones that go up to the knees for added protection and silk knitted into the heels to make them extra strong. Tammy's father is one of those away fighting and her mother one of those at home knitting. Day and night, whenever her hands aren't doing something else, they are knitting. Tammy's job is to wash the socks before they are sent away and into each of the ten pairs her mummy knits, she places a special message to her daddy.
"Dear Daddy, Bless your poor feet. Every stitch is made with love to help bring you safely home. From Tammy". Then the socks are wrapped in special paper and taken to join all the other pairs about to be shipped.
Will her daddy get a pair of socks knitted by Mummy with their special message?
Based on a true exchange between Lance Corporal A. McDougall and a young girl, Message in a sock is another touching and intriguing story that helps put a human face on World War I making it easier for young children to understand this nation-shaping conflict and why the commemoration of its centenary is so important. Told by Tammy herself, young girls can put themselves in her place and imagine what it would be like to have their father in mortal danger each day, far away in an unimaginable place and how even something as seemingly insignificant as putting a message in a sock can have such an enormous impact. The tiniest stone thrown into a small pond can still make a ripple that spreads ever outwards.
With its muted colours but detailed pictures that contain so much interest, this is another unique story from a time long ago that, like the impact of Tammy's message in a sock, has the ripple effect of impacting understanding and perhaps lives. An essential in your ANZAC Day collection.
Barbara Braxton
BUY IT ON
Apr 16 2018
The tale of the Anzac tortoise by Shona Riddell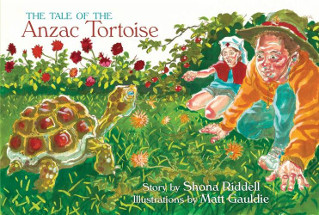 Ill. by Matt Gauldie. Tortoise Shell Press, 2015. ISBN 9780473318949
(Age: 5-8) Recommended. Matthew and Marama loved playing soldiers in the backyard of the old big, old house they had just moved into. Using water pistols and plums as weapons, there were plenty of bushes and shrubs to hide in or seek shelter. But most of all, Marama liked to attend to any wounds using the medical set she had been given for Christmas. It even had fake blood!
One day their games lead them to a hole in the hedge and when they crawled through it, they found themselves in a neat, manicured garden that had lawn as soft as carpet. And in the middle of the lawn, a strange creature was munching on dandelions. But rather than being the baby dinosaur they thought it was, it turned out to be Kemal an ancient tortoise with an amazing story - a story the children find themselves in when they touch the tortoise and find themselves transported back to the battlefields of World War I.
The centennial commemorations of World War I have inspired many to delve into their family histories to explore what part their relatives played in it, and from this many unique and unusual stories have emerged. The Tale of the Anzac Tortoise is one such story. It is based on the true story of Peter discovered in the trenches of the Western Front by a wounded soldier who popped him in his pocket for safe keeping. After being evacuated to the Middle east for treatment, Pete was given to Nora, a New Zealand nurse stationed there, and she, in turn, took him back to New Zealand where he lived as a family pet until his death in 1994.
Told by Nora's great-great niece and illustrated by a former former NZ Defence Force artist, this is yet another previously unknown but utterly intriguing story to emerge from World War I that helps to put a human face to the tragedies of so long ago that are so important to our nations' histories but hard for little people to comprehend. The final pages in the book tell a little of the story behind the story but since the book was written it has become more widely known and there is much online that the curious can explore.
If for no other reason than it helps to illuminate to Australian children who put the NZ in ANZAC, this book deserves a place in your Anzac Day collection.
Barbara Braxton
BUY IT ON
Apr 13 2018
Lightning men by Thomas Mullen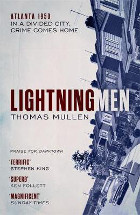 Little, Brown, 2017. ISBN 9781408710623
(Age: Senior secondary-adult) Highly recommended. Themes: Crime, Atlanta, USA, Historical novel, Racism, Jim Crow laws. Atlanta, Georgia in the 1950's is laid bare for all to see in this stunning new crime story by Thomas Mullen.
Listening to him at the recent Adelaide Writers' Week ensured buying the book, finding another friend already had his first book, Darktown (2016), set in Atlanta just two years before, and exposing the conflicts within the police department, only just admitting eight Negro policemen. For many, this is the last straw, and those in the force who are Klansmen or who sympathise with their aims, make sure these newcomers never forget their place. They are only allowed to patrol the Negro neighbourhoods, not allowed to arrest white men, and for Boggs and Smith, coming across a drug transfer, which results in the death of a white man, the consequences prove to be dangerous.
This is an unequivocal look at 1950's USA, where Negroes returning from Europe after World War Two, enthused by the freedom and responsibility they had as soldiers, expect better treatment back home. But for many it is back to being the lowest paid workers, ineligible for GI loans to buy a house, few opportunities, living under the Jim Crow Laws and the overarching racism of the Ku Klux Klan and its offshoot, the Columbians (the Lightningmen) to deal with. For the lucky few able to buy a house in the transition areas where Negroes are buying into white areas, notices appear on the street poles, vicious letters are sent to their homes, some are beaten and neighbourhood groups mobilise to keep them out.
For Tommy Boggs his life as a policeman and as a family member come together when his girlfriend's ex lover turns up newly released form jail, stretching Bogs' belief in her. He tries to find out more about Jeremiah but attracts the attention of the federal agency.
And his investigations collide with a sympathetic white detective, Rake when his brother in law admits to doing the bidding of a klansman, resulting in a death.
In Rake's neighbourhood, his wife is happy to support a group collecting money to buy the Negro family out and one night when this money is stolen, all blame is leveled at the Negro household, where Smith's sister lives.
Rake follows the clues from afar, realising that the men who stole the money were much closer to home, but proving this means defending the Negro household, raking up the ire of his brother in law. Calling to see his sister's husband, the last chapters of the book bring all the threads together as Rake becomes involved in a shoot out in the white neighbourhood.
A gritty crime novel, the moral edges are blurred as each of the main protagonists both white and black make decisions which cause them grief and sleepless nights.
The novel gives an amazing insight into the issues of Atlanta at this time, and reflects serious research into the times through archives and newspaper accounts. It was reading one such newspaper article about Negro police being appointed in Atlanta that started Mullen on this series of books.
Not only does this book reflect the division between black and white in the USA of the time, it will impel Australian readers to think about such injustice here.
Fran Knight
BUY IT ON
Apr 13 2018
Trans mission : My quest to a beard by Alex Bertie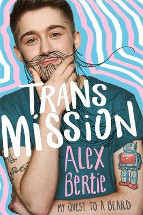 Hachette, 2017. ISBN 9781526360687
(Age: Adolescent) This well written and easy to understand autobiography goes a long way to helping you understand the struggles facing transgender men and women.
Bertie's honest account of his childhood, the difficulties he faced with family, peers and professionals is eye opening and informative.
Born and raised as a girl, Alex Bertie enjoyed his childhood as a tomboy, unaware of the gender conflict that grew with him as he got older and for a long time unable to put a name to the pain it was causing within him.
A keen youtube blogger, Bertie shares his journey of self-discovery and how he had to navigate the medical system in the UK to find doctors who were at least knowledgeable and even sympathetic about his condition. Waiting until he was legally an adult to access the drugs and surgery that would help to make his body more masculine. Only in his early 20s, Bertie's advice is sound and mature as only those who have experienced personal trauma and come through with a positive outlook, can give.
Written in a pragmatic and uplifting tone, I found Bertie's story interesting and educational. He uses everyday language to explain the medical procedures available and the correct terminology that helped him name his feelings as he came to terms with being trapped in the wrong body.
Although I believe everyone would benefit by reading this autobiography, I think his writing style and the layout is targeting adolescents.
Joyce Crawford
BUY IT ON
Apr 13 2018
A garden of lilies: Improving tales for young minds by Judith Rossell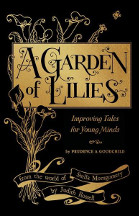 ABC Books, 2017. ISBN 9780733338229
(Ages: 9+) Recommended. Themes: Morality tales, Social life and customs, Manners, Alphabet books. Judith Rossell's award-winning novel Wormwood Mire, referenced the cautionary tales of the fictional Victorian writer Prudence A. Goodchild. Young Stella Montgomery's aunts had gifted her with this little book 'full of depressing stories of children who did wrong and met with tragedy.' Reminiscent of Hilaire Belloc's witty parodies containing sage advice on children's manners and life skills, Rossell's short volume written in alphabetical order is beautifully written and beautifully presented. From the black hardcover with the title debossed in gold, surrounded by a bouquet of lilies to the marbled endpapers and detailed sketches of Victorian life, this is a visual delight. Each of the children are given delightful Victorian names, Drusilla, Zenobia, Yaxley and Hubert and the settings redolent with period features.
Each tale begins with a large letter entwined with foliage and ends with a witty and pertinent moral. When Florence and Gilbert wander off the path to the way to their grandmother's cottage, they are 'unexpectedly eaten by an escaped tiger from a nearby circus.' The moral reflects their untimely choices:
'Always go the way you should
When you are walking through a wood.'
Horatio's untidiness and grubby clothing sends him below deck to change and unable to advise the ship's captain of impending disaster, a crash with an iceberg. Euphemia's dreadful table manners and her inability to use the correct cutlery lead to her disappearance, tumbling into an oubliette, a secret dungeon. Rossell's dark humour is creatively demonstrated by the choice of the children's fates, gobbled by an enormous fish, whirled away in a waterspout and squashed by a marble bust of Prince Albert. As a counterpoint, the author includes household hints, recipes, crafts and parlour games perfect for the nineteenth century child.
Stella Montgomery read this 'vivid and rather unpleasant book' three times on her long train journey to the boarding school. Judith Rossell's A Garden of Lilies: Improving Tales for Young Minds opens up conversations and discussions comparing children's lives and their social life, etiquette and customs with current norms and lifestyles. Inspirational, humorous, a little tongue in cheek, Judith Rossell's Victorian short novel is picture-perfect, just right to share across the generations.
Rhyllis Bignell
BUY IT ON
Apr 13 2018
The lost puppy by Clara Vulliamy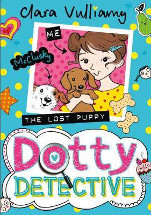 Dotty Detective series. Harper Collins Children's Books, 2017. ISBN 9780008248376
(Age: 6+) Recommended. Themes: Detectives; Pets. Dot is an amateur detective - she uses clues to join the dots to solve her cases. In fact her detective agency is called: "Join the Dots Detectives"! With the help of her friends and her very special assistant, McClusky (her pet dog), she is engaged in solving the mystery of the missing dachshund, just before the summer fair and her class's Pets Corner stall.
Written in a very simple style with cartoon style drawings, this is a cute and easy to read school-based story. It will appeal to young readers just finding their feet with chapter books.
Carolyn Hull
BUY IT ON
Apr 13 2018
A boat of stars: New poems to inspire and enchant ed. by Margaret Connolly and Natalie Jane Prior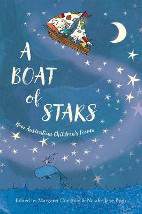 ABC, 2018. ISBN 9780733337932
A boat of stars came down tonight
and sailed around my bed -
it sprinkled stardust on my eyes,
put dreams inside my head . . .
Poetry, with its vocabulary, rhythm and sometimes rhyme, and its nuances that are the sounds of our spoken language is a critical part of helping our young readers not only learn to speak but also to fire their imaginations and create dreams. Sadly, though, it has been a long time since we have had a new anthology of children's poems that is appealing enough to attract the eyes and ears of our younger generation and so, to them, poems have become something you dissect for structure and syllables and struggle to emulate, missing the magic and meaning in the poet's words.
In this new collection put together by Margaret Connolly & Natalie Jane Prior because, like many parents and teachers, they struggled to find something that would engage, many of Australia's renowned writers and illustrators have plied their craft with words and media to bring a joyful, diverse, and thoroughly engaging posse of poems that will re-ignite the beauty of the format and have children feeling satisfied that despite the brevity, they have visited a new place, thought new thoughts and heard a story.
With topics ranging from zucchinis to giraffes to balls and beyond, each one is different in topic and structure and each reaches out to the everyday lives of our children, drawing them into something they are familiar with but told in a brand new way. Something as common as a new baby coming into the family is given a whole new spin by Sophie Masson and Julie Vivas; as ordinary as getting a new hat (Alexa Moses and Matt Shanks) or even just digging a hole (Kate Mayes and Matt Shanks) are brought to life in a way that inspires the imagination and suggests that poetry really does have a special place in their reading menu. Being able to tell a story in just a few words and even fewer lines is a gift that few have but to the listener/reader it highlights the beauty of our language and shows how it is possible to make every word work hard to stir the brain and the heart.
This really is "a boat of stars" for the imagination and dreams, one that is accessible to all as a shared experience and a welcome addition to a critical area of literature and language that has been neglected for too long.
Barbara Braxton
BUY IT ON
Apr 04 2018
In the lamplight by Dianne Wolfer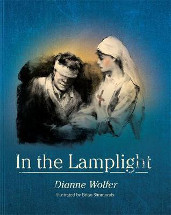 Ill. by Brian Simmonds. Fremantle Press, 2018. ISBN 9781925591224
(Age: 10+) Highly recommended. Themes: World War One, Hospitals, Nursing, Spanish influenza, Armistice. With copious charcoal illustrations, archival material and a story told through diary entries alternating with text, this highly readable tale of two people surviving the rigours of World War One is intense, intimate and involving.
Following the success of her two books, the award-winning Lighthouse Girl (2013) and Light Horse Boy (2009), Wolfer has followed the journey of Light Horse Boy, Jim as he languishes in a rehabilitation hospital in Harefield village in what is now Greater London, unsure of whether he will see again.
Here he is nursed by Rose a local girl from the nearby village, and it is her diary we read as she falls in love with this Australian soldier, one of the 50,000 Australians and New Zealanders nursed at this hospital. Each time a coffin makes its way to the cemetery from the hospital, it is draped with a Union Jack and that flag made its way to Adelaide High School, where it has been recently restored by Artlab and will be on display for the celebrations marking the centenary of the end of World War One.
Through Rose's diary entries we hear of her life in Harefield before the war, which contrasts with life during war as privation set in, and the thousands of wounded come back from Europe. She decides to become a nurse to help care for these men, despite her family's anxiety. A girl in the village sends white feathers to those men who have not joined up, some mothers receive telegrams about their sons' deaths, but the village opens its heart to these wounded soldiers.
The archival material gives a wonderful impression of life at Harefield Hospital, with photos of the recovering soldiers, their dormitories, the funerals, celebrations, nursing staff and mascots.
I found this an engrossing read, one which gives a sound background to the lives of those we rarely read about, the men in hospitals, the staff who cared for them, those who remained home.
I can imagine many readers poring over the detail, and checking out the story of the flag that draped the coffin, which can be found here.
The map, background information and even the acknowledgements make for fascinating reading after the book has been read.
I thoroughly recommend this as a highly readable account of how war affects lives far beyond the battlefield. In joining Jim in Australia, Rose leaves her country and her family for ever, taking a risk on a man who has never seen her. It's an amazing thought, but one which parallels the changes taking place for women after World War One. Teacher's notes are available.
Fran Knight
BUY IT ON
Apr 04 2018
Digger by Mike Dumbleton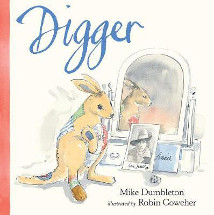 Ill. by Robin Cowther. Allen and Unwin, 2018. ISBN 9781760296735
(Age: 5+) Highly recommended. Themes: World War One, Kangaroos, Children in war, Villers-Bretonneux. A link between Australia and France is created in Dumbleton's stunning picture book concentrating on the battle around the village of Villers-Bretonneaux in 1918. It is a reminder of the people behind the armies, the child back home, wondering about her older brother, the young girl in France, doing something for one of the soldiers who saved her village.
When James leaves Australia to fight in France, his sister, Annie makes him a present of her scrap material kangaroo, which she renames Digger. The little kangaroo is tucked into James' pocket and letters home to his sister tell of their time getting to France, then being in the trenches. When he is wounded he recuperates with a French family and their little girl, Colette, mends Digger for him. Again the little mascot is tucked into James' pocket and goes back to war, but this time, the kangaroo is returned to Colette alone, hardly recognisable in James' slouch hat.
Again Colette repairs the little animal, and the mascot is sent back to Annie with a name tag and slouch hat added, along with a letter from James' friend.
It is at the village that Colette leaves flowers on James' grave, and in Australia, Digger takes pride of place in the family's remembering James and the little girl in France who cared for the animal just as she cared for her brother.
This is a fresh look at the links between war sites and the people who fought and died there. As 2018 commemorates the battle of Villers-Bretonneaux, this picture book serves to give younger children a feel for the links that bind Australia and France through this battle and many like it. The book depicts a small moment but one that exemplifies the strong attachment many Australians felt for those they fought for, and for those back home.
The soft water colour illustrations draw the eyes to the images on each page, faithfully recreating James' involvement in war. We feel his expectation as he looks out to sea over the side of the ship on the way to France, the uniformed men trying to survive as the night sky lights up with gunfire and they hunker down into trenches and dugouts. Happy times recuperating at the French house are replaced by the sadder moments articulated simply by a much damaged Digger lying in his owner's slouch hat, being given to the girl, and the last four double page spreads shows each girl caring for the kangaroo in Australia and the grave site in France. The paralleling of each child strongly reinforces the sacrifices each country made for the other, as each girl goes about her life with the memories of James not far from their thoughts.
A memorable picture book with which to acquaint readers with the sacrifices of those behind the scenes, and the battle at Villers-Bretonneaux. Scroll down for Teacher's tips on the publisher's website.
Fran Knight
BUY IT ON
Apr 04 2018
The war I finally won by Kimberly Brubaker Bradley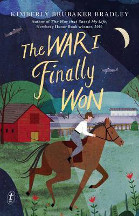 Text, 2017. ISBN 9781925498851
Highly recommended. Sequel to the award winning The war that saved my life. "When Ada's clubfoot is surgically fixed at last, she knows for certain that she's not what her mother said she was - damaged, deranged, crippled mentally as well as physically. She's not a daughter anymore, either. What is she? World War II continues, and Ada and her brother, Jamie, are living with their loving legal guardian, Susan, in a borrowed cottage on the estate of the formidable Lady Thorton - along with Lady Thorton herself and her daughter, Maggie. Life in the crowded cottage is tense enough, and then, quite suddenly, Ruth, a Jewish girl from Germany, moves in. A German? The occupants of the house are horrified. But other impacts of the war become far more frightening. As death creeps closer to their door, life and morality during wartime grow more complex. Who is Ada now? How can she keep fighting? And who will she struggle to save?" Publisher
I absolutely loved this book. I found myself wanting to read it any spare moment I had. Although I had not read the other books about Ada I did not have any trouble following the storyline - although I will be seeking out the first book! The characters are so lifelike and it is extremely easy to make emotional connections with each and every one of them. The story touches on persistence, love, friendship and ignorance.
It would make a fantastic read aloud although it would need to be for upper primary students as there are references to the abuse and neglect Ada faced prior to being evacuated from London. It provides a fantastic insight into the hardships that affected all during the war - from the very poor to the wealthy. A must have for the library collection. Teacher's notes are available.
Kathryn Schumacher
BUY IT ON
Apr 04 2018
Gladys goes to war by Glyn Harper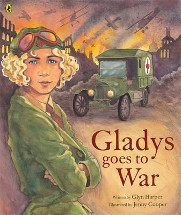 Ill. by Jenny Cooper. Picture Puffin, 2016. ISBN 9780143507208
Auckland, New Zealand in the very early 20th century when girls were still supposed to be seen and not heard, despite having had voting rights since 1893 - still very much an English colonial mentality where they busied themselves with music, needlework and other "feminine" tasks. However, unlike her sisters, Gladys was not good at such things, preferring instead to spend her time under the bonnet of her brothers' cars and those of their friends.
"No one will want to marry a mechanic" her mother told her, echoing the feelings and the culture of the times. But her mother was wrong and in 1912 she met and married William Henning who taught her to drive and then set up a car sales business in Auckland. Being competent and comfortable in this "men's world" meant that it was no surprise that when her husband and brothers enlisted when World War I broke out that Gladys wanted to go too. But her efforts were met with the typical chauvinistic response of the times . . . "If you want to help the war effort, you should stay at home and knit socks and balaclavas."
But they had underestimated Gladys's determination and in 1916 with the assistance of the
New Zealand Volunteer Sisterhood
she was reunited with her husband in Egypt becoming an ambulance driver, and when he was sent to France she went to England. But again male-dominated bureaucracy determined her place was in the hospital scrubbing floors not driving ambulances. Until one evening, there was a shortage of drivers . . .
This is the story of just one of the
many women
who played an active part in World War I as doctors, nurses, ambulance drivers and so much more, rather than being the stereotype wife/mother/ sister/ daughter who 'kept the home fires burning'. Despite their important contribution throughout history, so many women have been written out of it and when a request through a local network for a book for younger readers about World War I from a female perspective there was a paucity of replies. Yet there are so many
stories
that could be told from both New Zealand and Australia.
Gladys was a pioneer in so many fields - in 1927, having survived both the war and Spanish flu, she and her friend Stella Christie became the first women to transverse Australia east to west and north to south in a car - and so bringing her wartime service to light is just the beginning of the stories that could be told about this remarkable woman. But as well as her personal chronicle, this could be a springboard for having students investigate and retell the stories of other women whose contributions have been overshadowed by those of their male counterparts. Searching the
Australian War Memorial
's site for "women in war" is a good starting point.
However, even if Gladys's story is just shared as a standalone, it is a sound representation of #nevertheless,shepersisted
Barbara Braxton
BUY IT ON