What Snail knows by Kathryn Apel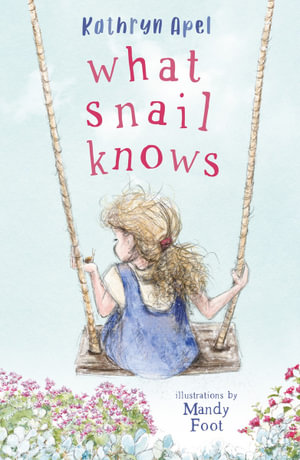 This heart-warming verse novel expands the story which started with Kathryn Apel's 2017 CBCA Notable book Too many friends. In that book, popular Tahnee befriends Lucy, a quiet new girl at school. What Snail knows explores Lucy's own tale via a first-person narrative.
Lucy moves around a lot with her dad. It's just the two of them since her mum died – they don't have much, but Lucy's dad always says they don't need anyone else. She finds a snail (a treasure of her very own!) and takes great care of him. Snail is her only friend, and she can tell him anything.
Lucy and Dad do okay on their own, but Lucy is lonely and desperate to put down roots, make friends and fit in. When Lucy starts in Year 2 at yet another new school she quickly finds that kind-hearted and confident Tahnee makes an effort to get to know her, and almost inexplicably seems to enjoy spending time with her.
When Dad is suddenly unavailable Lucy gets a glimpse into settled family life. For the first time she feels what it's like to have others who care and on whom she can rely. She allows herself to consider if this new community might be a place she and Dad could stay.
This book's chapters are each made up of multiple short verses. The verses hold interest throughout in varying ways: sometimes the words are in shapes (e.g., snails, a car, a jellyfish); some of the verses rhyme; there are numbered lists, recipes, play-like dialogue, and variations in font size. The illustrations by Mandy Foot are beautifully sketched in the ample empty space on the pages – Lucy (complete with her knotty hair) comes to life while Snail leaves lazy trails across the pages.
Lovely themes of community, environment, bravery and belonging wind throughout this gentle and moving story which gives a real insight into what it's like to be the disadvantaged new kid who doesn't fit in, and the enormous difference that kindness and friendship can make.
Comprehensive teachers' notes are available including discussion of themes and writing style.
Themes Friendship, Environment, Community, Poverty, Belonging.
Kylie Grant