Seal child by Robert Vescio and Anna Pignataro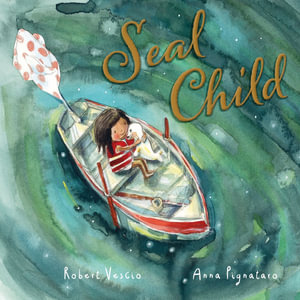 A child loses her bearings when a storm hits her village. She cannot find anyone else and all she knows has disappeared. Going to the beach to find a boat, she spots a baby seal, a pup, and takes it with her as she guides the boat out into the sea. The two form a companionship which keeps them both alive as they are tossed about on the waves, searching for home. They huddle together for warmth during the cold nights, perilously watch the storm as it passes by, see frightening monsters rising from the deep, and fish when the water is calm. Eventually mother seal comes nearby and the pup is happily reunited. The seal guides the child to an island where she is also reunited with her family.
This lovely story of loss and longing will touch those who read of the young girl's plight, separated from her family, alone in a hostile world, wondering what will become of her, a seal pup her only companion.
Children will recognise that there are many such children alone in our world and talk about the children they see on the TV news and when charity ads are shown. The readers will be able to discuss why children are so separated from their families, and form opinions about what is needed to make sure children are safe.
Empathy and compassion will be show by the readers as they take in the child's loneliness, tossed on the sea of life.
Pagnataro's beautiful illustrations reveal a sea at once frightening, with waves seeming to crash around them, the deeper blues hiding a host of monsters and the unknown, while the calmer days are overlaid with colour and stillness and warmth.
The contrast between the different stages on the ocean will not be lost on the readers and they will search each page for hints of lurking dangers and clear skies ahead. Teacher's notes are available.
Themes Empathy, Compassion, Loss, Belonging, Sea, Refugees, Hope.
Fran Knight