Nestling cockatoos by Angela Robertson-Buchanan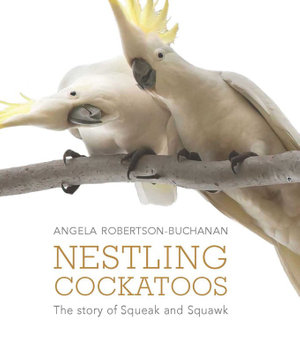 I was amazed to learn that the sulphur-crested cockatoo is as intelligent as a two-year old child. Flocks of them feed and nest in a local park near my home and I will now view them with a completely different approach thanks to this beautifully produced book.
The author Angela Robertson-Buchanan has trained as a wildlife rescuer for WIRES and specialises in the care and rehabilitation of birds and this expertise shows in her amazing photographs that vividly show the life cycle of the cockatoo. Readers will be guided through a general introduction to cockatoos (they can live up to 90 years in captivity) and then will meet Squeak and Squawk, two little cockatoos who were rescued from their tree hollow when their tree was cut down. They were only two weeks old. I was especially intrigued by the photographs of Squeak and Squawk when they were babies. More photographs follow showing them grow feathers and crests until they were three months old and were moved to an outside aviary.
The text is presented in large black print and flows easily and in a very interesting way, sure to hold the attention of very young children. Older children would be tempted to read this book for themselves, captivated by the story about these fascinating birds. A section of Cockatoo Facts summarises information about cockatoos for the avid bird watcher.
The combination of outstanding photographs and interesting text makes Nestling Cockatoos a keeper for me and an excellent resource for the classroom, school, and public library.
Themes Cockatoos, Birds, Life cycles, Photography.
Pat Pledger