The amazing case of Dr Ward by Jackie Kerin and Tull Suwannakit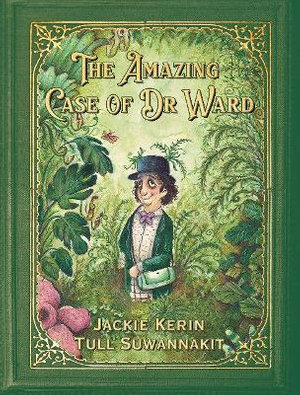 The amazing case of Dr Ward is a delightfully illustrated picture book which will open the minds of young readers to another time, place and person in history.
Jackie Kerin is an Australian author of non-fiction storybooks for children. Other titles by Jackie are Lyrebird! Phar Lap and Gold! Tull Suwannakit is a Melbourne based childrens' book illustrator and author. Other titles illustrated by Tull are Morphing Murphy, Sad the dog and Thimble. The amazing case of Dr Ward is the result of a powerful collaboration between Kerin and Suwannakit.
This book will provide a segue into both science and history for young readers as it is non-fiction presented through a narrative and human interest lens. In year four and five in the Australian Curriculum, children learn about the colonial period, important figures from that time and the impact of colonial endeavours on Australia. Nathaniel Ward, the chief protagonist, was a very interesting but little known (nowadays) English medical doctor and amateur botanist from the Colonial era. He developed the Wardian case. This enclosed glass case enabled live plant specimens to be moved around the world safely for the first time in the harsh conditions of sailing ships. As a result of the Wardian case, tropical plants could be brought back to the Kew Gardens and likewise exotic plants could be transported and grown in Australia.The development of the Wardian case fuelled the collection of beautiful and exotic plants and changed the global environment...but that is something for the children to research later. The book itself is a celebration of Dr Ward and his endeavours.
The illustrations are just gorgeous- softly coloured and detailed. There are detailed interiors and much beautiful greenery including scientifically labelled sketches of plants. There is a map of the world showing the path of ships between Australia and England.There are front pages of The Times from 1833 and 1842. Throughout there are delightful illustrations of Dr Ward as he pursues his project. The lovely authorial voice of Jackie Kerin, tells the story and includes the quirky little thoughts and conversations of the characters. Dr Ward is depicted as a very pleasant, gentle, possibly slightly eccentric man.
The Amazing Case of Dr Ward will be a welcome addition to libraries and childrens' home collections. It is a story which is full of warmth and wit that is sure to inspire children to think about the contribution of people in the past to our lives today. It is refreshing to read about a little-known historical figure. This unusual choice of subject matter will inspire children and teachers to think about the contributions of a greater variety of historical people than have been previously on the curriculum menu and to ask more divergent questions too.
Themes Australian landscape, Colonisation, Establishment of Botanic Gardens, Seed/plant transportation.
Wendy Jeffrey