Trouble is my business by Lisa Walker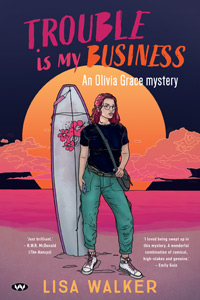 If you enjoyed Lisa Walker's last novel The girl with the gold bikini, you'll enjoy this sequel even more, though it must be said it reads perfectly well as a stand-alone. Walker has really settled into her groove, and I found this second story about private investigator Olivia Grace a more smooth flowing mystery with plenty of laughs along the way.
The descriptions of her undercover disguises are hilarious, the fake tans, dyed hair, hippy clothes, as are the thought comments of her assumed persona 'Nansea', the comments she worries might be a throwback to the imaginary friends she had as a kid, something she thought she'd outgrown. Her inner Nansea is really cool, 'the girl who gets her man, never takes no for an answer, and always looks stylish'. However the reader picks up clues that perhaps the disguise is not as convincing as she thinks, and maybe Rosco, her former employer and love interest, finds it all a bit amusing.

This latest adventure has the lot, a missing girl, environmental activists, a bizarre cult, hippies and surfies, cryptic clues, and numerous suspects, all with names starting with the letter A. It's a lot of fun, and the mystery will keep you guessing until the end.
Themes Detectives, Mystery, Gold Coast, Surfing, Humour.
Helen Eddy