Zoo crew by Guy Edmonds & Matt Zeremes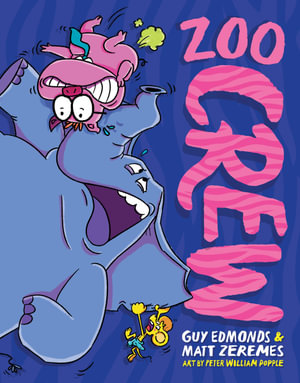 This is book one of a new series by the comedy-writing duo behind the award-winning children's TV show, Hardball. It is highly illustrated and packed full of over-the-top silliness and groan-out-loud grossness, including a principal called Phaart who drinks her own wart-pus smoothies .. eww!!
It is the day of the school sports carnival and animal friends Eddie, Mabel and Princeton are determined to beat cheater Echo this year. They support each other in a series of unlikely sporting events and are encouraged by the not-so-lofty aim of coming in second last, rather than last.
The story moves fast and has a host of characters to meet. As there is a lot going on, younger children may enjoy having this read to them or alongside them (if parents can handle the grossness!) while readers from around 8+ could be let loose on their own to enjoy.
With such a silly story I was pleasantly surprised to find that a moral was snuck in towards the end – a pep-talk given to one of the animals about there being no need to be the fastest, most fearless, or fittest but that the main thing was just having each other's backs and being a team. After that it really doesn't matter who wins!
The cover title is neon-pink and very appealing for young readers; the text inside includes an abundance of large bold fonts for actions and emphasis, and the story is generously supported by heaps of zany greyscale illustrations. The back of this book contains an epilogue titled 'the bit after the end ends' which neatly wraps up the story while including a book two teaser.
Themes: Sportsmanship, Friendship, Animals, Humour.
Kylie Grant