Zoe, Max and the bicycle bus by Steven Herrick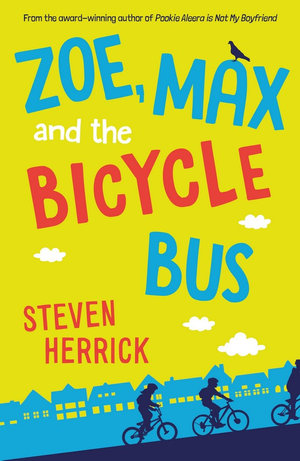 This is a terrific heartwarming story about a group of seven 10-year-olds who are inspired by their teacher, Ms. Dillon, to ride their bikes to school. Beginning at the start of a new school year, we learn about the children's personalities, homes and family through their individual voices. They also report on what is happening in class from day to day, friendships and the development of the "bicycle bus" project. Finally, Max and Zoe take on a big challenge of fixing a road that is unsafe for bike riding, with a little help from kind Mr. Bertoldi, the lollipop man. The children realise that in small ways they are saving the planet. All of them grow in confidence and overcome fears.
Steven Herrick is known for his award-winning verse novels, which subtly take on real world issues from a child's perspective. He is humorous and doesn't have an overly didactic touch. Valid examples of dangers for bike riders, in part due to our car-focused society, are compared with the practice of how Japanese children safely go to school. He also manages to incorporate funny lessons about homophones and homonyms. The class visits by Fire Officer William provide comical moments and show the spirit of the class but were a little lame for me! Nevertheless, I like the way wise quotes were used and the optimistic goodness which pervades this book. It would be really effective as a middle primary class novel and the students could take on reading the roles of the different students.
Jo Marshall