Zadie Ma and the dog who chased the moon by Gabrielle Wang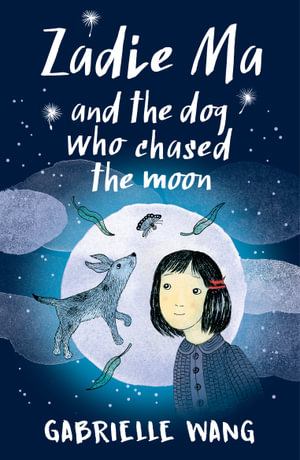 Gabrielle Wang, Australian Children's Laureate for 2022–23, has written a beautiful middle-grade novel about one young girl's dream. Zadie Ma, a fourth-generation Chinese Australian girl growing up in post-war Melbourne, desperately wishes to have her own dog to love and cherish. Zadie also has a hidden talent for story writing and magically often what she writes has a way of becoming reality. Hence, she begins to write her story of 'The Great Beyond' where she creates her dog, Jupiter. She shares this with her younger much-loved brother Teddy, who truly believes that Zadie has a superpower to make things happen.
Zadie's family situation is one of great stress. Her father has returned from World War Two a changed man and it is left to her mother to run the local Milk Bar and raise Zadie and Teddy. Zadie and her mother have a strained relationship which is central to the story. A young adventurous neighbour, who calls herself Sparrow, becomes Zadie's new friend. Together their friendship grows, and quiet, reserved Zadie is brought out of her shell. Their friendship is tested by a bully and a hurtful racial misunderstanding, but the girls weather the storm. Zadie does find her own Jupiter, and after some difficult challenges he finally has a place with her family.
Zadie Ma and the dog who chased the moon has a distinctive and appealing presentation. It engages young readers with the main story, interspersed with other short symbolic and connected stories, as well as the use of graphic novel features.  A truly wonderful read that would be a welcome addition to a home, school or public library and would make an excellent class novel.
Themes: Friendship, Diversity, Chinese Culture, Racism, Dogs, Family, Courage, Storytelling, Neighbours, Hope, Kindness.
Kathryn Beilby