You're the best, Mum! by Charles Fuge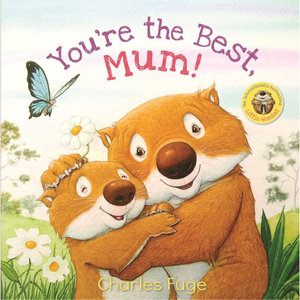 You're the best Mum is a joyous book. Part of the internationally best selling series featuring Little Wombat, You're the best Mum!, like the rest of the series, exudes warmth in the rhythmic pace and soft watercolour illustrations. Little Wombat is full of open delight and his experiences with his mum are all about security as she takes him everywhere to experience and learn about the world.
In every illustration, Little Wombat displays open hearted joy and delight. His mother is always with him as a very physical presence. The typesetting comprises two large and fun fonts which catapult about the book matching the swirling fun of the action of the story as Little Wombat swings in the air, dances in the rain and learns to love "... all the living things."
Children will enjoy finding new things in every picture so You're the best Mum will withstand multiple rereadings. It's happiness provoking and the experience of having this read by a loved one will ensure that this book will be requested again and again.
In the Australian context, I'm not sure that a wombat is seen often in the snow and Halloween is an introduced American custom - not really Australian. However, perhaps this is forgiven as it could be part of the whimsy of the story.
Themes: Mothers, Security.
Wendy Jeffrey