You can't take an elephant on holiday by Patricia Cleveland-Peck and David Tazzyman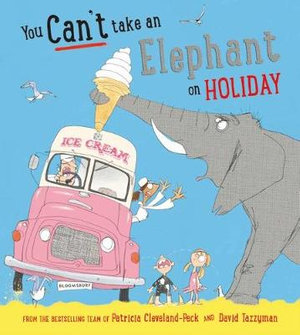 After the successful You can't take an elephant on the bus (2015), You can't let an elephant drive a digger (2018), and You can't call an elephant in an emergency (2020) comes the equally hilarious expose of an elephant and other animals going on holiday. Kids will laugh out loud as they spy the elephant trying to grab the ice cream cone from the top of the ice cream van, or the surfing orangutan, the meerkats playing mini golf, the bison sitting on a very small boat in the English Channel shipping lane surrounded by rather large container ships, or even piranha fish in the backyard wading pool. Each illustration accompanies a verse outlining the plight of the holiday makers having to contend with a strange assortment of animals.
The very funny verses will attract children immediately, putting themselves in the place of the hapless holidaymakers, wondering what might happen when such an animal becomes part of their family holiday. Kids will love predicting the rhyming words, learn some of the verses to read with the adult, and join in with the merriment as the story unfolds. The illustrations will certainly delight as the ostrich tries to sit on a deck chair, the lion's efforts at being a tour guide fall flat, the rhino finds camping a little messy and the albatross makes a bee line for candy floss.
Each illustration is intriguing, detailed and hilarious, adding to the humour of the book. And the last few pages where the animals group together, complaining that they only want to have fun, putting aside their attempts at a family holiday where after all, they can enjoy all the fun of a fair, signals the next outing of this hilarious story. Can't wait!
Themes: Animals, Holidays, Humour.
Fran Knight