Wolf Girl 4: The Traitor by Ahn Do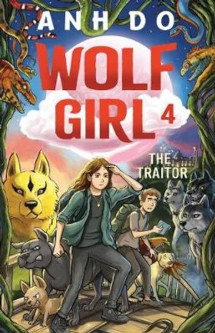 The Traitor is the fourth thrilling book in the Anh Do series about Gwen, her newest companion Rupert, a pack of dogs and an eagle who are searching for lost humans in this dystopian setting. The dogs are searching for their owners and the two children are on the trail of their parents. In this story the pack are attempting to follow the scent of Gwen's mother's scarf and heading into unknown territory. When the wolf Sunrise splits mysteriously from the pack after sniffing the scarf, Gwen is both devastated and disappointed as she strongly felt the pack was bound by trust. The pack then makes a decision to track Sunrise. It is up to Nosey to follow her trail and they are lead into a dangerous reptile park where gigantic lizards, Komodo Dragons, anacondas, rattlesnakes and iguanas do their best to trap the intruders. After a challenging battle and difficult escape the pack are led by Sunrise's scent to a heavily guarded mansion with satellite towers and guards, both human and animal. It is there they find Sunrise who has reunited with her family. Will Sunrise choose her family over her new pack? Will Gwen, Rupert and the pack escape from the dreaded Captain Stone? Will Gwen and Rupert find a new lead to tracking down their parents? Two of these questions will be answered but one will be revealed in further books.

The pack has a difficult journey ahead but Anh Do keeps the young reader on the knife-edge wanting to know more and see a resolution for all who are searching.
Lachlan Creagh's illustrations continue to support the text making this series an excellent read for those reluctant readers who enjoy visuals images to maintain their interest.
Kathryn Beilby