Wild bush days by Penny Harrison and Virginia Gray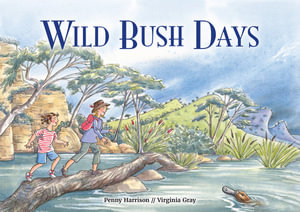 The eye-catching cover of this soon-to-be released picture book, Wild Bush Days, will entice the reader to explore this new and unfamiliar story. Written as historical fiction, the story is based upon the life of Jessie Hickman, an Australian Lady Bushranger. The story is cleverly told through the eyes of two young adventurers searching for the cave where Jessie would hide from the police. Set in what is now the Wollemi National Park, the story begins with the two children following the path Jessie Hickman may have taken and excitedly search for the cave she used as a hiding place.
Born in 1890 Jessie's early years were spent performing in a circus, walking the tightrope, and riding horses around the ring. In her later years, Jessie became a notorious cattle duffer and gang leader with her circus skills enabling her to evade police often and live in a cave in Nullo Mountain. Jessie's life was one of adventure, wildness, and freedom. The two children searching her mountain home reflect the joy of spending time in the bush climbing rocks, balancing on logs, running, falling, slipping and sliding, and loving the freedom to explore.
The stunning double page illustrations by South Australian born artist, Virginia Gray, are filled with energy and perfectly complement the short but beautifully crafted prose by author, Penny Harrison. A wonderful addition for a school or public library.
Themes: Lady Bushranger, Australian Bush, Adventure.
Kathryn Beilby