When the sakura bloom by Narisa Togo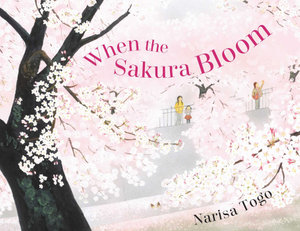 Beautifully translated from the Japanese, When the Sakura Bloom is a gentle insight into the sensibilities of the Japanese way of life and the cultural significance of cherry blossom season. It's a busy morning on a busy street and everyone is rushing: to work, to school, to the station. The days following are the same and as the people walk they are staring at phones, at the ground or straight ahead, focussed on where they are headed. But as the weather warms, up above them something is happening. The Sakura, (or cherry blossom) trees are preparing for spring. Exquisite and detailed illustrations show the progression of the pale pink petals emerging from the buds until the flowers are in full bloom and birds flock to the branches. Now people are starting to notice, phones are being pointed up to take photographs and excitement is in the air; it is Festival time! And so, the city stops to pause, to be together under the trees and to appreciate the changing season and the beauty of the moment. In apprecation of cyclical nature we then see as the blossoms fade, the leaves grow and the fruit appears and the people are back to rushing past the trees again.
This is a beautiful timeless tale that, while distinctively Japanese, is universal in its relatability and message. At heart, it is about accepting that while busy lives don't allow us to be mindful in every moment, nature's constant and predictable patterns give us the perfect opportunity to pause, reflect and rejuvenate. There is also a lovely metaphor of the fleeting nature of the cherry blossoms (there one minute and gone the next) and of life itself. This could be used with many age groups on many levels and with a wide variety of focus areas.
Themes: Cherry blossoms (Sakura), Seasons.
Nicole Nelson