What Zola did on Sunday by Melina Marchetta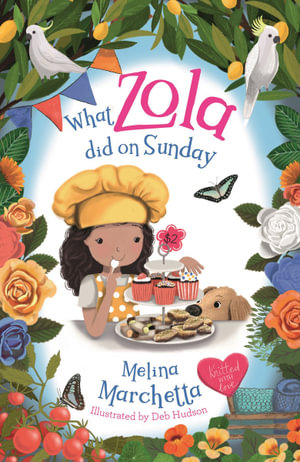 The last day of the week sees Zola participate in St Odo's community fete in her street, Boomerang Street where she lives with her mother and Nonna, Rosa. This beautifully crafted set of stories about Zola, offering a different tale for each day of the week has won many fans.
Zola is a confident young girl who is yet to understand why she gets into trouble. She tries so hard but things just seem to happen. One day her dog escapes and digs up Nonna Rosa's special tomato plants, a reminder of times past when her husband tended the garden. In another story she introduces a police dog, trained by a neighbour, to school with hilarious results. And in another, she and her friends upset their cranky neighbour, Mr Walton, and must set things right. All the stories have a strong multicultural flavour, reflecting the inner city location where Italians settled after World War Two and now welcoming people from the Middle East.
For St Odo's fete on Sunday, Zola makes some cakes to enter the competition and gets her dogs ready for judging at the dog show. What could go wrong?
When Zola takes Omar's cat, Tim Tam to hold and pat, her two dogs, Monty and Gigi run to her, causing the cat to run off, initiating a dog chase around the grounds of the fete. And of course, they head for the cake stall with expected consequences.
But everyone pitches in to help, Mum and Zola cleaning up the mess left by the upturned cake stall and gratefully accepting the pizza and scones brought along by the baker and pizza shop owner in the area.
This delightful story rounds off a warm hearted series about Zola's life and activities. Full of warmth and centred on family life, Zola is a charming character who kids love. It's a pity there are not more days in the week.
Themes: Family, Pets, Community, Humour, Fete.
Fran Knight