What we all saw by Mike Lucas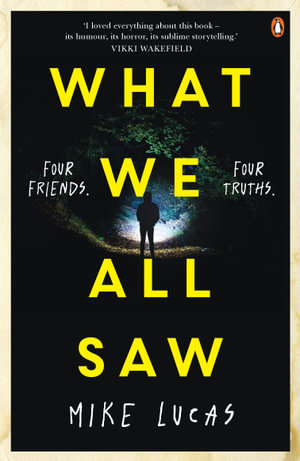 On the cusp of their teenage years, four friends growing up in the south-west of England, share a disturbing summer holiday. Sam, Charlie, Gray and Shell have all very different personalities and characteristics yet are all strongly connected to each other. Blind Shell is intuitive and wise yet allows the boys to think they are stronger than her. Asthmatic Charlie appears the weakest of the three boys, yet his persuasive storytelling leads them into a situation out of their control. Tough and unpredictable Gray with a difficult home life, quick to be provoked and to do the provoking, is always searching for something more. Finally, there is Sam who tells the story of that summer. He is the follower, the quiet one experiencing the throes of first love, lacking confidence to express his own opinion when it is so desperately needed.
The four children do what they have been told not to their whole lives, they go into the woods and to the Old Quarry where a shocking tragedy takes place. They panic and keep their part in the tragedy a secret as they are not certain of what they all actually saw, and if what happened really took place as they each think it did. But they cannot let it go and begin to search deeper until what they feared they imagined becomes very real.
This YA debut by South Australian author Mike Lucas will have readers on edge as they follow the frightening journey of the children to uncover the truth. A wonderful read.
Themes: Friends, Witches, Danger, Family, Childhood, Revenge, Summer Holidays.
Kathryn Beilby